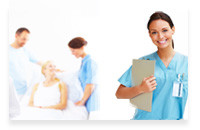 Residents care is the most important part of your CNA exam. Almost half of the questions in the test, will be about various skills you will need as a CNA.
The most important resident care skills you will need are- personal care skills, restorative skills, psychological skills and recording and reporting the condition of the patients in your care.
Restorative Skills –Restorative skills are the duties of the nurses to be performed to residents in order for them to restore their old self in functioning normally in the utmost potential level.
Psychosocial Care Skills-Residents who are in long-term facilities need a holistic care, which includes both the physiological aspects and psychosocial care aspects.