Free CNA Classes in Boise, ID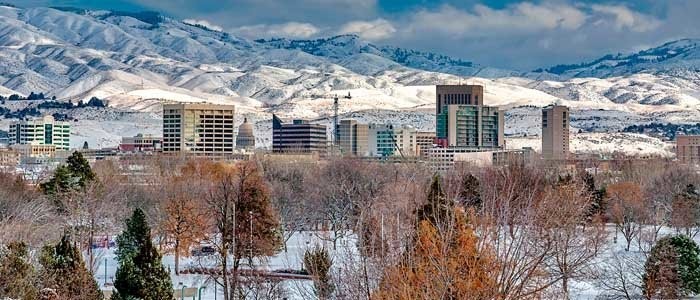 Becoming a Certified Nursing Assistant is a great opportunity to work in the healthcare field. There are several institutions in need of CNA's because of the growing need for long-term care from baby boomer generation. Thus, those who become CNAs have a stable career ahead of them. If you are interested in this career and live in Idaho, you will find free CNA classes in Boise to train you to pass the state certification exam. It only takes a couple of weeks to a few months to finish the program so you can launch a healthcare career in no time. To begin the process, inquire at these institutions about free CNA classes in Boise, Idaho.
Boise State University
Boise State University is offering a CNA training program that allows students to become an entry-level healthcare professional in the state of Idaho. The program for aspiring nursing assistants is a combined format of classroom instruction and clinical practice, together providing basic knowledge and skills. Upon enrollment, interested individuals have to provide a high school diploma or GED equivalent, a complete immunization record, TB test, drug screening and recent chest X-ray. They also have to pass the interview and exams of the institution since only a few students are admitted per session. During the training, students will go through some concepts and applicable skills like vital signs monitoring, basic nursing care, activities of daily living, anatomy and physiology, nutrition, medical terminology and many others. After classroom lectures are finished, students will then have a clinical practice in a healthcare facility, either in a hospital or nursing home. Graduates of the program will get the chance to take the state certification exam and become a CNA.
Life Care Centers of America Careers
Life Care Centers of America Careers offers free CNA classes in Boise, Idaho. Individuals who are interested in a healthcare career can apply at this facility and be one of the qualified applicants who will receive a free CNA training with guaranteed employment after completion. The program is offered several times in a year, and prospective applicants can apply directly at 808 N. Curtis Rd., Boise, Idaho, 83706, USA. Among the needed requirements are a high school diploma or GED equivalent, a clean criminal background check, and negative TB and drug screening results. Since there are only a few seats available in the program, applicants are advised to apply as soon as possible and be able to meet the criteria of the facility.
The CNA training program offered by Life Care Centers of America Careers includes classroom instruction, skills training, and hands-on clinical practice. Participants are provided with the necessary equipment and uniform they need. They are also trained by licensed clinical instructors who have years of experience in the medical field. Individuals who graduated in the CNA training program will be eligible to take the certification exam, and those who made it in the test will be offered a full-time or part-time employment in Life Care Centers of America Careers.
CNAs who will be working in their facility will receive a competitive monthly salary, paid vacation, holidays, sick days, 401k, medical, vision, dental, life and short-term disability coverage. They will also enjoy a working environment that fosters growth and lifelong learning.
Safe Haven Healthcare
Safe Haven Healthcare is a skilled nursing facility in Boise, Idaho that offers paid CNA training programs. Since there has been a shortage of nursing assistants, particularly in their facility, they have been providing free CNA classes to qualified and interested applicants. Participants also get paid for completing the course. The paid CNA training program is an initiative made by Safe Haven Healthcare to invite more people to work as Certified Nursing Assistants. Prospective applicants must be committed and willing to work for them for a certain period. They also have to show compassion to serve the residents, their families, and other members of the healthcare team. Moreover, a high school diploma or GED equivalent is the minimum educational requirement, but applicants must pass the required criminal background check, drug screening, and TB testing.
The paid CNA class of Safe Haven Healthcare will run for several weeks. Absences are not allowed in training, and completed attendance is necessary to graduate. Like any other CNA training, the program includes classroom lectures, skills enhancement, and clinical practicum. It will be a rigorous program taught by expert CNA instructors who have years of experience in the field. Those who pass the certification exam will work at Safe Haven Healthcare right away. Aside from flexible work schedules, Certified Nursing Assistants are also entitled to competitive wages, health, and life insurance, 401k, night and weekend differential, as well as a sign-on bonus of $500.
College of Western Idaho
The College of Western Idaho offers a Certified Nursing Assistant training program which allows graduates to sit for the certification exam and work as a CNA in various healthcare facilities. The program can be taken in a traditional classroom setting and a hybrid type of learning. The traditional CNA training program covers 88 hours of classroom instruction and 32 hours of hands-on clinical practice. The hybrid program, on the other hand, covers 12 weeks of online lessons, 4 hours of onsite skills training every week, and 32 hours of hands-on clinical practice. Upon completing the course, students can take the state examination to earn a Certified Nursing Assistant status.
The minimum age requirement of the CNA training program is 16 years old. Prospective students have to undergo a criminal background check, random ten-panel drug urinalysis, complete vaccination for Hepatitis B, TB screening, and a current CPR or BLS for healthcare providers. The program fee is approximately $825 which does not include the costs of books, uniforms, immunizations, drug test, background check, medical supplies, and Nurse Aide test. Fortunately, the College of Western Idaho provides a variety of scholarship opportunities to students who qualify. Some of them will cover the entire cost of the training while others do not. Nevertheless, these scholarship programs are helpful for those who cannot afford to pay the tuition even in a particular payment option. There are certain requirements for it, usually depending on the type of scholarship obtained.
Nursing homes that might offer free CNA classes in Boise, Idaho;
Boise Health & Rehabilitation Center
Capitol Care & Rehabilitation Center