CNA Classes In Washington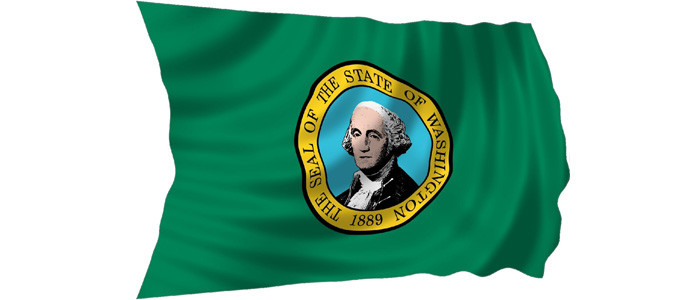 Getting a CNA certification in Washington only requires a high school diploma or GED. This exciting and rewarding career is one of the most in-demand jobs nowadays because it does not only provide a sense of fulfilment but it also entails a great compensation. If you want to start a career in the healthcare field, becoming a Certified Nursing Assistant is a good option. There are a number of facilities in Washington that provide CNA training programs. In fact, most of these facilities are regulated by the state in order to produce the best and the most competent Certified Nursing Assistants.
To become a Certified Nursing Assistant (CNA) in Washington, you must successfully complete a Nursing Assistant training program approved by the Washington State Department of Social & Health Services. An approved CNA program is designed to prepare a nursing assistant to care for residents in hospitals, long-term care facilities, and nursing homes throughout the state of Washington.
A Certified Nursing Assistant (CNA) is a healthcare professional who works under the direct supervision of a registered nurse or a licensed practical nurse, assisting patients in daily activities such as bathing, dressing, toileting and feeding, measuring their vital signs and helping them move.
Also, overall safety tasks of a Certified Nursing Assistant (CNA) in Washington may include maintaining an orderly environment with the necessary equipment and adequate ventilation as well as maintaining a sterile environment to reduce the spread of microorganisms.
CNA Training Requirements in Washington
Admission requirements to CNA schools include a high school diploma or GED certificate, a copy of a current driver's license or ID, proficiency in English, a Washington State Patrol criminal background check that is no older than six months, and evidence of a negative tuberculosis skin test. If you have prior experience in health care education or clinical experience, you can waive the prerequisite coursework requirement. It takes at least 6-12 weeks to complete the training, but this also might vary depending on the individual school.
Most programs include the following curriculum and requirements for completion:
Introduction to healthcare, infection control, psychology, physiology, anatomy, nutrition and advanced patient care
Clinical experience in helping patients, with daily activities like eating, bathing and grooming in the hospital, long-term care clinics and nursing homes
Laboratory exposure and understanding basic medical terminology
Also, there are several nursing homes in Washington State which offer free CNA training. Though, most of the nursing homes fail to offer you the CNA training directly. You can take your training at another facility while you work for these nursing homes that pay for your CNA training.
Basically, Washington requires more coursework compared to what is imposed by the federal government. They require 85 hours of training inclusive of classroom sessions and hands-on training. In addition to that, a class focusing on HIV and AIDS should also be taken. Once the entire program is completed, a CNA certification exam should be obtained. You have to pass this in order to get certified. If not, you can re-take it 3 times.
Starting a career can be difficult at first especially if you do not know where to undergo the training program. A few healthcare facility options include Kamanga CNA Training, CNA Vancouver, Divine CNA Training, Washington Nursing Assistant Training and Federal Approved NA Training. There are still more available and you can check it through the state's official site or at the Nurse Aide Registry. The CNA training program will require certain fees and if you cannot afford it, there are grants available. Several healthcare facilities are offering grants to those who are interested in becoming a CNA. However, you have to work for them after getting certified. This is a great opportunity to have a job right away once the certification is obtained.
The state of Washington has more expensive CNA trainings compared to other states. If you are willing to take risk and invest on this short term study, be sure to do it only at state approved facilities.
CNA Certification in Washington
Before practicing as an aide in Washington, candidates need to take one of Washington's certification courses. The department of health is responsible for certifying or licensing the nursing assistants.
After the student completes the CNA classes, he can appear for the CNA competency test. On successfully passing it, he is issued a license to practice and his record gets added to the nurse aide registry of Washington. The test is known as OBRA examination.
Once you have successfully completed the training and testing you are eligible to certified or licensed through the Department of Health.
To apply for certification, a student must undergo 85 hours of CNA classes from an approved training program. Out of 85 hours, 35 hours must be dedicated to classroom instruction and classroom coursework completion, which again includes at least 7 hours of AIDS education. 50 hours must be given to clinical practice, which includes 40 hours of supervised clinical coursework in a real clinical setting.
Renewal of the Nursing Assistant's certification is every two years, and must provide proof of working in a for-pay capacity during the previous twenty-four months.
The CNA certification exam in Washington has two parts; the written part and clinical tests. This will be administered through the Pearson Vue and test takers have to abide on the requirements. Results will be released right away and if you successfully passed, your name will be placed on the Washington Nursing Aide Registry.  Employers cannot hire you if they do not find your name on the registry. So make sure to pass the certification exam and renew it every two years.
CNA Salary & Job Opportunities in Washington State

Average Salary for CNAs in Washington State is around $29,430  annually according to BLS.
Common working places for Certified Nursing Assistant (CNA) are hospitals, nursing homes and long term care centers. CNAs can also expect to find employment at nursing homes, care and assisted living facilities and hospitals such as the University of Washington Medical Center, Sacred Heart Medical Center and Harborview Medical Center and Swedish Medical Cente.
When you work as a Certified Nursing Assistant in Washington, you can always have a room for growth and career advancement. If you are ambitious about your career you can also take additional college credits and become a Licensed Practical Nurse or a Registered Nurse.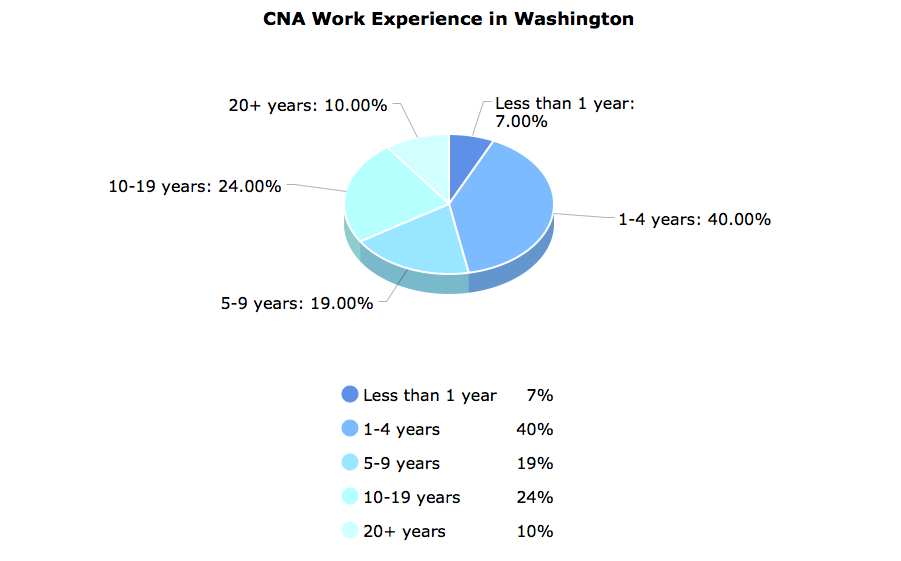 All Washington State Approved CNA Programs
| LOCATION | FACILITY | ADDRESS | PHONE |
| --- | --- | --- | --- |
| Aberdeen, WA | Grays Harbor College | 1620 Edward P Smith Drive  | 360-538-4244 |
| Aberdeen, WA | Twin Harbors Branch Skills Center | 410 North G Street  | 360-538-2038 |
| Auburn, WA | Green River Community College | 12401 Southeast 320th Street | 253-833-9111 |
| Bainbridge Island, WA | Bainbridge Island Health And Rehabilitation | 835 Madison Avenue North | 206-842-4765 |
| Bellevue, WA | Bellevue College | 3000 Landerholm Circle Se | 425-564-5604 |
| Bellevue, WA | Sammamish High School | 100 - 140th Avenue Se | 425-456-7617 |
| Bellevue, WA | Evergreen Nursing School | 16326 Se 15th St | 425-449-8229 |
| Bellingham, WA | Bellingham Technical College | 3028 Lindberg Avenue | 360-752-8423 |
| Bellingham, WA | Whatcom Community College | 237 W Kellogg Rd | 360-383-3530 |
| Bellingham, WA | Alderwood Park Convalescent Center | 2726 Alderwood Ave | 360-733-2322 |
| Bellingham, WA | Avamere Bellingham Healthcare | 1200 Birchwood Ave | 360-734-9295 |
| Bellingham, WA | Avamere St. Francis | 3121 Squalicum Pkwy | 360-734-6760 |
| Blaine, WA | Stafholt Good Samaritan Center | 456 C St | 360-332-8733 |
| Bremerton, WA | Olympic College | 1600 Chester Ave | 360-475-7764 |
| Bremerton, WA | West Sound Vocational Skills Center | 101 National Avenue N | 360-473-0550 |
| Brewster, WA | Harmony House Health Care Center | 100 River Plaza | 509-689-2546 |
| Burien, WA | Puget Sound Skills Center | 18010 8th S | 206-631-7300 |
| Burien, WA | Dt&t Na Training School | 148 Sw 153rd St, Suite 201 | 206-439-6715 |
| Centralia, WA | Centralia College | 600 W Locust | 360-753-3433 |
| Chehalis, WA | Career In Caregiving | 1570 Bishop Road | 360-748-3112 |
| Chewelah, WA | Providence St. Joseph's Hospital | 500 E. Webster Avenue | 509-685-5455 |
| Colfax, WA | Whitman Health And Rehabilitation Nursing Assistant Training Program | 1150 West Fairview Street | 509-397-4603 |
| Colville, WA | Buena Vista Healthcare | 151 Buena Vista Drive | 509-684-4539 |
| Colville, WA | Prestige Care & Rehabilitation Pinewood Terrace | 1000 E Elep Ave | 503-330-4110 |
| Davenport, WA | Lincoln Hospital District #3 | 10 Nicholls Street | 509-725-7101 |
| Dayton, WA | Columbia County Health System | 1012 South 3rd Street | 509-382-8349  |
| Des Moines, WA | Highline Community College | 2400 South 240th Street | 206-592-3615 |
| Des Moines, WA | Excel Health Careers Training | 22659 Pacific Highway South, Ste 301 | 206-271-1946 |
| Ellensburg, WA | Prestige Care Post Acute & Rehabilitation Center | 1050 East Mountain View | 503-330-4112 |
| Enumclaw, WA | Enumclaw Health And Rehabilitation Center | 2323 Jensen St | 360-825-4351 |
| Everett, WA | Everett Community College | 2000 Tower St | 425-388-9468 |
| Everett, WA | Sno-isle Tech Skills Center | 9001 Airport Road | 425-348-2227 |
| Everett, WA | Bethany At Pacific | 916 Pacific Avenue | 425-259-5508 |
| Everett, WA | Medprep Vocational Training Center | 1830 Broadway | 425-257-9888 |
| Everett, WA | Nac Essential Prep | 2937 Broadway | 425-252-3239 |
| Everett, WA | Sunrise Services | 7003 Evergreen Way | 425-212-4210 |
| Federal Way, WA | Crystal Point Cna Training School | 32105 1st. Avenue South Ste B2 | 253-874-0516 |
| Federal Way, WA | Divine Cna Training | 1707 S. 341st Place, Unit D | 253-874-0174 |
| Federal Way, WA | Health Professionals Institute | 33305 1st Way South Suite B-207 | 253-252-3956 |
| Forks, WA | Forks Community Hospital District No. 1 | 530 Bogachiel Way | 360-374-6271 |
| Gig Harbor, WA | Cottesmore Of Life Care | 2909 14th Avenue Nw | 253-851-5433 |
| Issaquah, WA | Issaquah Health And Rehabilitation Nac Training Program | 805 Front Street | 425-392-1271 |
| Kennewick, WA | Tri-tech Skills Center | 5929 West Metaline | 509-222-7300 |
| Kennewick, WA | Regency Canyon Lakes | 2702 S Ely Street | 509-582-5900 |
| Kennewick, WA | Columbia Safety Training Center | 418 North Kellogg Street Ste-a | 509-820-3883 |
| Kennewick, WA | Legacy Training Services | 404 N Conway St | 509-783-4680 |
| Kent, WA | Renton Technical College At Kentlake - Kentlake High School | 21401 Se Falcon Way | 425-235-5728 |
| Kent, WA | Blossom Nursing Assistant Training Program | 24437 Russell Road Ste-108 | 253-301-3418 |
| Kirkland, WA | Lake Washington Institute Of Technology | 11605 132nd Avenue Ne | 425-739-8344 |
| Kirkland, WA | Washington Network For Innovative Careers | 11605 132nd Ave Ne | 425-739-8400 |
| Lakewood, WA | Clover Park Technical College | 4500 Steilacom Blvd Sw - Bldg 14 | 253-589-6013 |
| Lakewood, WA | Clover Park Technical Nac/esl | 4500 Steilacoom Blvd Sw | 253-589-6013 |
| Lakewood, WA | Clover Park High School | 11023 Gravelly Lake Drive Sw | 253-589-6013 |
| Lakewood, WA | Nw Career And Technical High School | 4500 Steilacoom Blvd Sw | 253-589-6013 |
| Lakewood, WA | Blossom Nursing Assistant Training | 8730 S. Tacoma Way, Unit 102 | 206-228-9990 |
| Lakewood, WA | Procare Academy Of Washington - Lakewood | 9116 Gravelly Lk Dr Sw | 888-960-2553 |
| Longview, WA | Lower Columbia College | 1600 Maple Street | 360-442-2865 |
| Longview, WA | Kelso School District | 1405 Deleware Street - Sjmc | 360-414-2848 |
| Longview, WA | Frontier Rehabilitation | 1500 3rd Avenue | 360-423-8800 |
| Longview, WA | Care Careers Academy | 872 15th Avenue | 360-636-1000 |
| Longview, WA | Cna School Of Longview/health Education Center | 5612 Ocean Beach Highway Suite 112 | 360-747-7716 |
| Lynden, WA | Christian Health Care Center | 855 Aaron Drive | 360-354-4434 |
| Lynnwood, WA | Edmonds Community College | 2000-68th Avenue W | 425-640-1691 |
| Marysville, WA | Med Smart Academy | 1410 7th Street Suite C-2 | 425-737-1605 |
| Medical Lake, WA | Lakeland Village | 2320 South Salnave Road | 509-299-1036 |
| Monroe, WA | Regency Care Center At Monroe | 1355 W Main St | 360-794-4011 |
| Moses Lake, WA | Big Bend Community College | 7662 Chanute Street Northeast | 509-793-2130 |
| Moses Lake, WA | Columbia Basin Technical Skills Center | 900 Yonezawa Blvd | 509-793-7000 |
| Moses Lake, WA | Columbia Basin Job Corps | 6739 24th Street | 509-762-2341 |
| Moses Lake, WA | Columbia Crest Care And Rehabilitation | 1100 East Nelson Road | 509-768-6788 |
| Moses Lake, WA | Lakeridge Solana Alzheimer's Care Center | 817 E Plum St | 509-765-7835 |
| Mount Vernon, WA | Skagit Valley College-ibest | 2405 E College Way | 360-416-7600 |
| Mount Vernon, WA | Northwest Career And Technical Academy | 2205 W. Campus Place  | 360-848-0706 |
| Mountlake Terrace, WA | Edmonds-mountlake Terrace High School | 21801 44th Ave West | 425-431-7120 |
| Mt. Vernon, WA | Skagit Valley College: Main Campus | 2405 E College Way | 360-333-8802 |
| Mt. Vernon, WA | Sunrise Services | 1908 Riverside Drive | 360-755-3801 |
| Newport, WA | River Mountain Training Center | 100 Scott Ave | 509-447-9469 |
| Oak Harbor, WA | Skagit Valley College Ibest Whidbey Island Campus | 1900 Se Pioneer Way | 360-679-5323 |
| Odessa, WA | Odessa Memorial Hospital | P.o. Box 368 | 509-982-2611 |
| Olympia, WA | South Puget Sound Community College | 2011 Mottman Road Sw | 360-596-5200 |
| Olympia, WA | Puget Skilled Nursing | 4001 Capital Mall Dr Sw | 618-792-8877 |
| Olympia, WA | Procare Academy Of Washington - Olympia | 3773 Martin Way E Suite A102 | 888-960-2553 |
| Olympia, WA | Simmons And Holliday | 2103 Harrison Ave | 360-350-0037 |
| Omak, WA | Wenatchee Valley College - Omak Campus | P.o. Box 2058 | 509-442-7952 |
| Othello, WA | Avalon Care Center - Othello Llc | 495 North 13th Street | 509-488-9609  |
| Pasco, WA | Columbia Basin College | 2600 North 20th Avenue | 509-544-8300 |
| Pasco, WA | Avalon Pasco Nursing Assistant Training Program | 2004 North 22nd Ave | 509-547-8811 |
| Pomeroy, WA | Garfield County Hospital District | 66 North 6th Street | 509-843-1591 |
| Port Angeles, WA | Peninsula College | 1502 East Lauridsen Boulevard | 360-452-9277 |
| Port Angeles, WA | North Olympic Peninsula Skill Center | 905 West 9th Street | 360-565-1566 |
| Port Orchard, WA | Stafford Healthcare At Ridgemont | 2051 Pottery Avenue | 360-876-4461 |
| Port Orchard, WA | Care Plus Home Health, Inc | 1950 Pottery Ave Suite 160 | 360-373-8016 |
| Poulsbo, WA | Martha And Mary Health And Rehab | 19160 Front St Ne | 360-394-3292 |
| Prosser, WA | Aging And Long Term Care Of Eastern Washington - Prosser | 125 North Wamba Road | 509-458-2509 |
| Puyallup, WA | Pierce College | 1601 - 39th Avenue Se | 253-840-8400 |
| Puyallup, WA | Clover Park Technical College At Emerald Ridge High School | 12405 84th Street East | 253-589-5679 |
| Puyallup, WA | Clover Park Technical College At Puyallup High School | 105 7th St. Sw | 253-589-5679 |
| Puyallup, WA | Clover Park Technical College At Rogers High School | 12801 86th Ave. E. | 253-589-5679 |
| Puyallup, WA | Pierce County Skills Center | 16117 Canyon Road East | 253-589-6013 |
| Puyallup, WA | Life Care Center Of Puyallup | 511 10th Ave Se | 253-845-7566 |
| Puyallup, WA | Linden Grove | 400 29th Street Ne | 253-840-4400 |
| Redmond, WA | Redmond Care And Rehabilitation Center | 7900 Willow Road Ne | 425-885-0808 |
| Renton, WA | Renton Technical College | 3000 Ne 4th Street | 425-235-5728 |
| Republic, WA | Ferry County Memorial Hospital | 36 Klondike Road | 509-775-3333 |
| Seattle, WA | North Seattle Community College | 9600 College Way North | 206-934-6067 |
| Seattle, WA | Seattle Central Community College | 1200 12th Ave S | 206-934-4347 |
| Seattle, WA | South Seattle Community College | 6000 - 16th Avenue Sw | 206-934-5310 |
| Seattle, WA | Seattle Skills Center- Medical Careers | 3000 California Ave Sw Room #230 / Skill Center | 206-252-0730 |
| Seattle, WA | Avamere Queen Anne Healthcare | 2717 Dexter Ave N | 206-284-7012 |
| Seattle, WA | American Healthcare Cna School | 6951 Martin Luther King Jr Way S, Suite 201 | 206-838-4094 |
| Selah, WA | Yakima Valley School | 609 Speyers Rd | 509-698-1245 |
| Sequim, WA | Sequim Health And Rehabilitation | 650 West Hemlock | 360-582-2400 |
| Shelton, WA | Olympic College | 937 Alpine Way | 360-475-7764 |
| Shoreline, WA | Shoreline Community College | 16101 Greenwood Ave North | 206-546-4101 |
| Shoreline, WA | Nursing Assistant Training Institute | 18336 Aurora Ave. N. #102 | 206-546-1120 |
| Snohomish, WA | Delta Rehabilitation | 1705 Terrace Avenue | 360-568-2168 |
| Spokane, WA | Spokane Community College - Spokane Campus | 1810 N Greene Street (Ms2090) | 509-533-7120 |
| Spokane, WA | Newtech Skills Center | 4141 N Regal Street | 509-354-7409 |
| Spokane, WA | Avalon Care Center At Northpointe | 9827 North Nevada | 509-468-7000 |
| Spokane, WA | Franklin Hills Skilled Nursing | 1140 North Mullan Avenue Room 102 | 208-610-1661 |
| Spokane, WA | North Central Care Center | 1812 N. Wall | 509-328-6030 |
| Spokane, WA | Prestige Care Brighton Court Assisted Living Center | 1308 N Vercler Rd | 503-330-4112 |
| Spokane, WA | Rockwood Retirement Nursing Assistant Training Program | 2903 East 25th Ave | 509-536-6650 |
| Spokane, WA | Aging And Long Term Care Of Eastern Washington (Opportunities For Industrialization Center) | 1222 N Post St | 509-458-2509 |
| Spokane, WA | Health Care Training Center | 112 N. University Suite 102 | 509-893-1776 |
| Spokane, WA | New Chapters In Healthcare Education | 320 W Spofford Ave | 509-847-5202 |
| Sunnyside, WA | Yakima Valley Technical Skills Center - Sunnyside | 437 Barnard Blvd | 509-930-2708 |
| Tacoma, WA | Bates Technical College | 1101 South Yakima Avenue | 253-680-7328 |
| Tacoma, WA | Tacoma Community College | 6501 S 19th St | 253-566-5085 |
| Tacoma, WA | Avamere Heritage Rehabilitation Of Tacoma | 7411 Pacific Avenue | 253-474-8456 |
| Tacoma, WA | Avamere Transitional Care Of Puget Sound | 630 S Pearl. St | 253-671-7300 |
| Tacoma, WA | Orchard Park Care Center | 4755 S 48th | 253-475-4611 |
| Tacoma, WA | Excel Health Care Careers Training | 1612 S Mildred Suite A | 253-426-5000 |
| Tonasket, WA | North Valley Extended Care Nvec Blended Learning | 203 S Western Ave | 509-486-2151 |
| Tukwila, WA | Nursing Assistant Training School | 699 Strander Blvd.suite B | 206-575-2010 |
| Tukwila, WA | Royal College Of Medical Training | 1035 Andover Park West, Suite 210 | 206-575-7961 |
| Tumwater, WA | New Market Vocational Skills Center | 7299 New Market Street | 360-570-4434 |
| Vancouver, WA | Clark College | 1933 Fort Vancouver Way Ms Ctc 245 | 360-992-2939 |
| Vancouver, WA | Clark County Skills Center | 12200 Northeast 28th Street | 360-604-1050 |
| Vancouver, WA | Henrietta Lacks Health And Bioscience High School | P.o. Box 8910 | 360-604-6340 |
| Vancouver, WA | Clark County Career Development Center | 9120 Northeast Vancouver Mall Loop Suite 120 | 360-574-1535 |
| Vancouver, WA | Cna Training School Of Nursing | 5317 Northest Street Johns Road Suite F | 360-546-0098 |
| Vancouver, WA | Northwest Nac Training | 11606 Northeast 66th Street Suite #103 | 360-882-0101 |
| Walla Walla, WA | Walla Walla Community College | 500 Tausick Way | 509-527-4462 |
| Walla Walla, WA | Sea Tech Skills Center | 525 Campus Loop Drive  | 509-526-2000 |
| Walla Walla, WA | Park Manor | 1710 Plaza Way | 509-529-4218 |
| Walla Walla, WA | Washington Odd Fellows Home | 534 Boyer Ave | 509-525-6463 |
| Wenatchee, WA | Wenatchee Valley College | 1300 5th Street | 509-682-6662 |
| Wenatchee, WA | Wenatchee High School | 1101 Millerdale | 509-663-8117 |
| Wenatchee, WA | Prestige Care Colonial Vista | 625 Okanogan Ave | 509-663-1171 |
| Woodinville, WA | North Shore School District / Health Occupations Program | 19619-136th Ave Ne | 425-408-7400 |
| Yakima, WA | Yakima Valley Community College | 16th And Nob Hill Boulevard | 509-574-4902 |
| Yakima, WA | Yakima Valley Technical Skills Center | 1120 South 18th St | 509-573-5522 |
| Yakima, WA | Crescent Health Care | 505 N 40th Ave | 509-248-4446 |
| Yakima, WA | Landmark Care Center | 710 North 39th Avenue | 509-248-4102 |
| Yakima, WA | Willow Springs Care | 4007 Tieton Drive | 509-966-4500 |
| Yakima, WA | Hillcrest At Summitview | 3801 Summitview Avenue | 509-853-1830 |
CNA Classes In Other States: