You need to obtain a CNA certification if you want to be a Certified Nurse Aide in Texas. As soon as you got it, you will be eligible to pursue your career in this healthcare profession.
To begin with, it is important that you choose the best CNA classes in Texas. The state requires a minimum of 75 hours; 51 hours of which is for classroom sessions and 24 hours is for clinical training. It is important that you pass the training program because there will be a certification exam afterwards. The classes will cover topics on personal care, long term care for seniors, infection control, mental health, basic restorative care, basic nursing skills, resident's rights, residents independence, emergency procedures and basic communication skills.
After the CNA classes, a competency exam will follow and this is provided by the state. You will be given three chances to pass the exam and if you fail the third time, you will be asked to re-train. However, if you successfully passed the exam, you will be certified and your name will be listed on the Texas Nurse Aide Registry. Just make sure to provide a background check and fingerprints in order to be qualified to take the test. You will not get a CNA job if you are not certified because employers will always look for your name in the Registry list. Hence, it is important to take the training program seriously and review prior to the exam.
Moreover, the renewal of certification or license is done every two years. The state of Texas requires all Certified Nursing Assistants to have a minimum hours of working experience in order for you to keep your licence. This is to ensure that CNAs are competent and equipped with the necessary knowledge and skills. If you cannot present this, you will be asked to undergo a training again and take the certification exam once more.
Becoming a Certified Nursing Assistant provides you with several opportunities. Aside from the fact that it is financially rewarding, you will also grow and learn from this job.
CNA Salary and Job Outlook in Texas

Texas is one of the states with highest number of nursing assistants working in the healthcare field today. The number is over 80,000 and growing. Becoming a CNA in Texas allows you to earn an average annual salary of $24,500 according the Bureau of Labour Statistics.  CNA certification is also an opportunity to move towards other, even better paid, medical careers like RN or LPN. However, before you do that, you need to undergo CNA training first and take the competency exam given by the state.
Some of the healthcare facilities in Texas that you can work for are Amarillo Area Center for Advanced Learning, Coastal Bend College, Coronado Nursing Center, Academy School of Careers, Accurate Care Health Institute, PRCC Nurse Aide Training Program, Trinity Valley Community College, Austin Community College, and Healthcare Careers Alliance.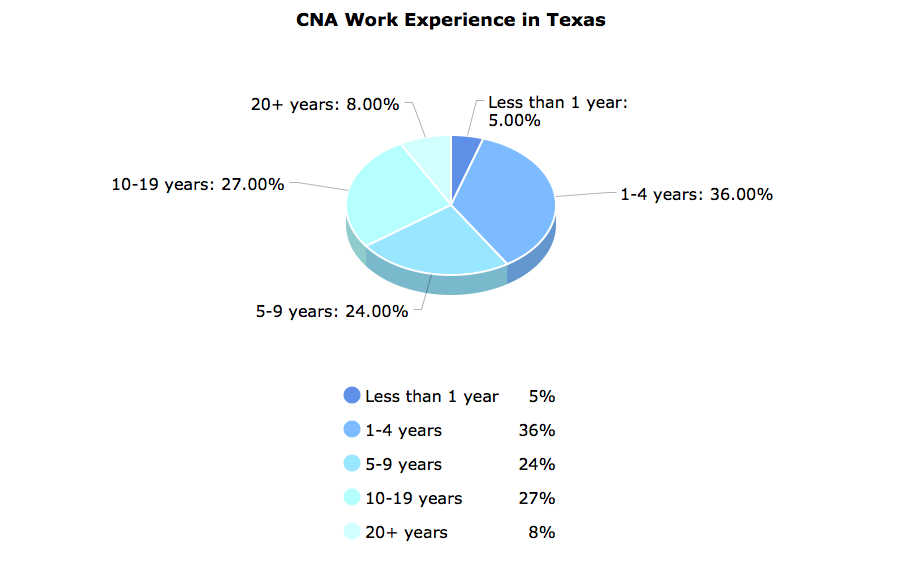 All Texas State Approved CNA Programs
| LOCATION | FACILITY | ADDRESS | PHONE |
| --- | --- | --- | --- |
| Abilene, TX | Cisco College | 717 E Industrial Blvd | 325-794-4411 |
| Abilene, TX | Patty Hanks Shelton School Of Nursing | 2149 Hickory St | 325-671-2399 |
| Amarillo, TX | Amarillo College-center For Continuing Health Care | 6222 W. 9th | 806-354-6085 |
| Amarillo, TX | Amarillo Va Medical & Community Living Center | 6010 Amarillo Blvd West | 806-468-1540 |
| Amarillo, TX | Vista College N.a. Program | 3440 South Bell Street, Suite 100 | 806-372-3700 |
| Arlington, TX | Springpack Healthcare Institute | 1144 A West Pioneer Pkwy | 817-460-2000 |
| Ausin, TX | Austin Community College-highland Business Center | 5930 Middle Fiskville Rd | 512-223-7271 |
| Austin, TX | Central Texas Nurse Network, Inc | 313 E. Rundberg Ln, Ste 208 | 512-836-3442 |
| Baytown, TX | Lee College Continuing Ed-baytown | 511 S Whiting | 281-425-6544 |
| Beaumont, TX | Vista College - Beaumont | 3871 Stagg Dr, Ste 194 | 409-291-4900 |
| Belton, TX | Central Texas Council Of Governments/area Agency | 2180 North Main Street | 254-770-2358 |
| Big Spring, TX | Howard College-lamesa Campus | 1001 Birdwell Ln | 432-264-5070 |
| Borger, TX | Frank Phillips College | 1301 Roosevelt | 806-457-4200 |
| Bryan, TX | Blinn College/bryan | 301 Post Office St. | 979-209-7565 |
| Center, TX | Panola College Continuing Education | 678 Roughrider | 936-591-9075 |
| College Station, TX | Vista College - College Station | 2704 Texas Ave, Ste 2 | 979-703-1306 |
| Corinth, TX | North Central Texas College-corinth | 1525 West California Street | 940-668-4272 |
| Crockett, TX | Garden Of Gethsemane Center/housing Authority | 160 George Briggs | 832-382-1549 |
| Dallas, TX | Agape | 10501 North Central Expressway Suite 308 | 214-295-2962 |
| Dallas, TX | Alliance Career Institute | 9304 Forest Ln, Ste 107 | 214-575-4774 |
| Dallas, TX | B & M Career Institute | 9550 Forest Ln., Ste 125 | 972-876-8226 |
| Dallas, TX | Companion Training Center | 10925 Estate Lane, Suite 240 | 972-310-6070 |
| Dallas, TX | Dallas Career Institute | 8499 Greenville Avenue #200 | 214-691-0555 |
| Dallas, TX | El Centro College | 801 Main Street | 214-860-2243 |
| Dallas, TX | Metromed Nursing Institute | 11325 Pegasus St., Ste W-165 | 469-867-1149 |
| Dallas, TX | Vinepress Training Center | 9550 Forest Lane, Suite 114 | 214-874-8647 |
| Denison, TX | Grayson County College | 6101 Grayson Dr | 903-463-8765 |
| Denton, TX | Disd-lagrone Advanced Technology Complex | 1504 Long Rd | 940-369-4850 |
| Dumas, TX | Amarillo College Moore County Campus | 1220 East First Street | 806-934-7220 |
| Edinburg, TX | Six Rns Institute | 1018 W. Wisconsin Rd, | 956-513-1748 |
| El Paso, TX | Ace Nursing Education Services | 6500 Boeing Suite L208 | 915-244-3955 |
| El Paso, TX | El Paso Community College-site 1 | 100 W Rio Grande | 915-831-4029 |
| Fort Worth, TX | Roham Medical Careers, Llp | 8650 Meadowbrook Blvd, Ste 116 | 817-795-3782 |
| Fort Worth, TX | Springpack Healthcare Institute, Llc - #2 | 6263 Mccart Ave. Suite 202 | 817-294-1991 |
| Fort Worth, TX | Springpack Healthcare Institute, Llc  #3 | 6715 Meadowbrook Dr | 817-446-4441 |
| Fort Worth, TX | Stone Academy | 3516 Williams Rd | 817-691-9790 |
| Fort Worth, TX | Tarrant County College Certified Nurse Aide Training | 300 Trinity Campus Circle | 817-515-1104 |
| Friona Tx , TX | Parmer Medical Center C.n.a. Program | 1307 Cleveland | 806-250-2754 |
| Ft. Stockton, TX | William Regional Technical Training Center Midland | 1309 West Ih-10 | 432-336-7882 |
| Galveston, TX | Health Initiatives Learning Center | 5301 Broadway Street #2 | 409-741-3992 |
| Garland, TX | Bah Career Training | 2433 Goldfinch Ln | 972-272-5820 |
| Garland, TX | C. E. Global Health Education Network Inc. | 2121 Northwest Hwy #106 | 972-698-7792 |
| Garland, TX | Centric Nursing Institute | 1301 Northwest Highway Suite 205, | 214-556-7766 |
| Gatesville, TX | A Med Ed School Of Nurse Aide Training | 4620 Fm 1783 | 254-223-2062 |
| Goldthwaite, TX | Tb Nurse Aide Training | 815 Fisher St., | 325-451-0372 |
| Grand Prairie, TX | Teamwork Services | 307 East Pioneer Pkwy | 972-642-5466 |
| Harlingen, TX | Texas State Tech. College | 1902 North Loop 499 | 956-364-4797 |
| Hawkins, TX | Progressive Learning Center - Natcep | 669 Francis St | 903-374-4799 |
| Houston, TX | Academy Of Exceptional Healthcare Training | 8449 West Bellfort Suite 140 | 713-777-4262 |
| Houston, TX | Ace Training Institute | 10101 Harwin Suite #110 | 713-771-7737 |
| Houston, TX | American Medical Institute | 6902 Cook Rd | 713-772-5300 |
| Houston, TX | Assurance Academy, Llc | 2600 Gessner, Ste 203 | 281-865-8533 |
| Houston, TX | Avalon Medical Career Academy | 10101 Fondren Rd Ste 311 | 713-272-6820 |
| Houston, TX | Bc Houston Career Training Academy | 2626 South Loop West, Ste 670 | 713-636-2746 |
| Houston, TX | Excel's Health Inst & Home Care Inc | 9898 Bissonnet #380 | 713-773-1701 |
| Houston, TX | Faith Health Training Institute | 10814 S. Kirkwood | 281-498-3200 |
| Houston, TX | Gulf Coast Nursing Career Institute Inc | 8876 Gulf Freeway, Ste 240 | 713-946-3377 |
| Houston, TX | Immaculate Heart Health Institute | 7400 Harwin Drive Suite #340 | 281-769-5121 |
| Houston, TX | Nursing Bridges College | 8700 Commerce Park Dr. Suite #225 | 281-856-0405 |
| Houston, TX | Smithwood Medical Institute Llc | 7100 Regency Square, Ste. 210 | 713-975-0971 |
| Houston, TX | Springville Academy Inc | 16903 Red Oak Dr Suite 278 | 281-919-1624 |
| Houston, TX | Sterling Health Careers, Inc. | 9950 Westpark Dr, #604 | 713-952-9955 |
| Houston, TX | Taylor Medical Institute | 8240 Antoine Dr, Ste 208 | 281-416-4063 |
| Huntsville, TX | Sam Houston State University - Office Of Cont. Ed. | 1806 Avenue J | 936-294-4568 |
| Irving, TX | Ctk Healthcare And Career Institute | 3455 N. Beltline Road, Ste. 203 | 214-441-3556 |
| Killeen, TX | Vista College/killeen | 1001 S. Fort Hood St | 254-432-5680 |
| Lake Jackson, TX | Brazosport College Community Education | 500 College Drive | 979-230-3600 |
| Laredo, TX | Laredo Community College | W. End Washington St | 956-721-5255 |
| Laredo, TX | Laredo Job Corps | 1701 Island St | 956-727-5147 |
| Livingston, TX | Abundant Light Of Colita | 1309 Colita | 936-329-0478 |
| Livingston, TX | The Abundant Light Of Livingston | 301 Hwy 59 Loop, Ste E | 832-527-3322 |
| Longview, TX | Vista College - Longview | 1905 W. Loop 281 Suite 21 | 903-704-0544 |
| Lubbock, TX | Destiny Staffing Career Center, Llc | 2402 52nd Street, Suite 12 | 806-748-1666 |
| Lubbock, TX | Vista College - Lubbock | 4620 50th Street, Suite 14 | 806-785-2100 |
| Lufkin, TX | Angelina College | 3500 S. First Street | 936-633-5377 |
| Mcallen, TX | New Start School | 709 N. Main Street | 956-682-5670 |
| Mcallen, TX | South Texas College | 1101 E. Vermont | 956-872-3019 |
| Midland, TX | Nurse Aide For Health Care Organization I | 3200 W. Cuthbert | 432-681-6364 |
| Odessa, TX | Odessa College-cont. Ed | 201 W University | 432-335-6539 |
| Pasadena, TX | Aides For Home Health Care Services | 4008 Vista Rd. 108 - Bldg C | 713-910-7575 |
| Pasadena, TX | San Jacinto College Central | 8060 Spencer Hwy | 281-542-2059 |
| Perryton, TX | Frank Phillips College - Perryton | 2314 South Jefferson Street | 806-648-1450 |
| Pharr, TX | South Texas Training Center | 213 E. Ferguson | 956-782-7100 |
| Plano, TX | Sira Career Training | 2115 Teakwood Suite 100 | 972-758-8700 |
| Plano, TX | Superior Medical Training, Inc | 4800 Preston Park Blvd | 214-636-9336 |
| Rio Grande City, TX | South Texas College-starr County Campus | 142 Fm 3167 | 956-872-3109 |
| San Antonio, TX | The Healthcare Institute | 1822 Fredericksburg Rd | 210-692-3262 |
| San Antonio, TX | Palo Alto College Continuing Education Natp | 1400 W. Villaret | 210-486-3406 |
| San Benito, TX | South Texas Training Center - San Benito | 1901 West Hwy 77 | 956-399-9698 |
| San Marcos, TX | Health Training Services, Llc | 102 Wonder World Dr, Ste 304 | 512-754-9647 |
| Seabrook, TX | Active Nursing Assistant Training Of Clear Lake | 2511-b Nasa Rd, Ste 102 | 832-265-2824 |
| Texas City, TX | College Of The Mainland | 1200 Amburn Rd | 409-933-8512 |
| Tyler, TX | Tyler Junior College Continuing Studies-west Campus | 1530 Ssw Loop 323 | 903-510-2968 |
| Uvalde, TX | Southwest Texas Junior College-crystal City H. S. | 2401 Garner Field Rd | 830-278-4401 |
| Victoria, TX | Victoria College - Cuero | 2200 E. Red River | 361-572-6446 |
| Waxahachie, TX | Navarro College Corsicana | 1900 John Arden Dr | 972-923-6440 |
| Wharton, TX | Genesis Education And Training | 1506 N. Alabama Rd. Suite F | 979-282-2225 |
| Wichita Falls, TX | Vernon College/vocational Center At Haskell | 4105 Maplewood Ave | 940-696-8752 |
Classes In Other States