CNA Classes In Rhode Island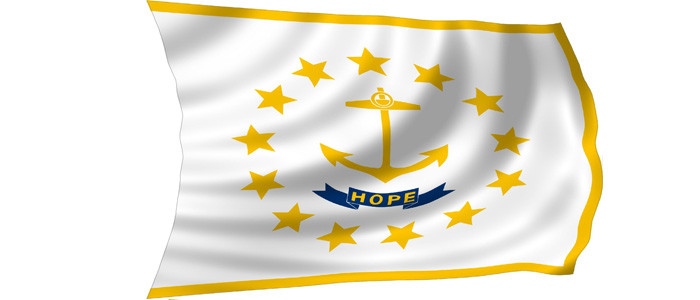 The profession of Certified Nurse Assistants (CNA) continues to become more popular in Rhode Island; the job opportunities in the healthcare are increasing, and the demand is expected to rise further in the future years. This is due to more emphasis on preventive care, more improved medical care in the state, and the increasing number of older people.
Community colleges and vocational schools are typically the most widely used choices for those who wish to become Certified Nursing Assistants in the state of Rhode Island. Also, there are approved programs offered through private nursing training facilities and online programs provided through distance education schools, and some free programs offered by local health facilities requiring you to work for the facility upon completion of training for a specific period of time. Finally, the Red Cross has been offering nationally approved training courses, understanding the need for well-trained nursing assistants in health care field.
All training programs are designed to help candidates pass the CNA national certification exam, in order to work as a Certified Nurse Assistant (CNA) in the state of Rhode Island. CNAs usually assist patients with the daily needs of maintaining their living environment safe and clean, bathing, dressing and feeding. Also, help nurses, in controlling infection, in taking vital signs and proper operating and maintaining medical equipment.
If you happen to live in Rhode Island, many opportunities for Certified Nursing Assistants are waiting for you. There are numerous healthcare facilities that are looking for CNA's and qualified nurses normally find jobs quite easily.
Rhode Island CNA Training Requirements
Anyone who is over the age of 18, has high school diploma or a similar educational credit and has clean criminal record is eligible to enroll in an approved training program. A behavior check may also be run if applicable.
CNA training programs, which meet Rhode Island's standards and the Federal requirements, contain a total of 100 hours of instruction, with a minimum of 20 of those hours spent in clinical/hands-on training and 80 hours of classroom instruction.
The Rhode Island Department of Health (RIDH) requires that any program offered by healthcare facilities be completed within 90 days. However, a CNA training can be completed in 6 to 10 weeks.
Clinical and classroom instruction, cover topics such as interpersonal and communication skills, safety and emergency response, nutrition, infection control, respecting patients' rights, promotion of patients' independence, care of cognitively impaired patients, restorative care and basic nursing skills. Other covered topics include basic nursing skills, emergency care, patient care, grooming, bathing, human anatomy and many others. Choosing the right school is important because it will be vital for becoming a competent Certified Nursing Assistant.
Some of the few options in Rhode Island include Warwick Adult Learning Center, Pine Grove Health Center Nursing Course, Lincoln Tech Institute, Golden Crest Nursing Center Nurse Aide Training, Woonsocket Area Technical Career Center and Community College of Rhode Island. Read more about the possible training options on Rhode Island Nursing Board website.
CNA Certification Exam in Rhode Island
Upon successful completing a CNA training program, candidates should study and pass the licensing exam (NNAAP) controlled by Pearson VUE on behalf of National Council of State Boards of Nursing (NCSBN), and includes a written exam multiple-choice for technical understanding, and a manual skills evaluation in which students must demonstrate the clinical techniques they learned through the training program. In this office, you can also get information and practice tests that will help you in the examination.
You will be given three tries to pass the exam but if you failed, a re-training on CNA classes is required. Once you completed the exam, you will undergo a background check and fingerprinting.  Then, their details are recorded in the Rhode Island nursing aide registry and they can work as a Certified Nurse Assistants (CNAs) in the state of Rhode Island.
In order to remain active in the Rhode Island Nurse Aide Registry, must renew their registration every two-years and must have a minimum of eight working hours in the healthcare field during that time period.
The certification you have will be valid for two years and renewal should be done prior to expiration. The state requires a proof of employment or at least 8 hours of work for the past two years. If you cannot present this, you will be asked to take the exam again.
Choosing a career as Certified Nursing Aide entails great advantages. It does not only provide good compensation, but it also allows room for growth. There are several grants and scholarships in Rhode Island if you cannot afford the CNA training program.
CNA Salary and Employment in Rhode Island (RI)
CNA Salary in Rhode Island

There are many possibilities of employment in the medical field for the Certified Nurse Assistants (CNAs) in Rhode Island. CNA's in Rhode Island have an average annual salary of $29,090, which depends on individual experience. The Bureau of Labor Statistics (BLS) has predicted a rise in the need of CNAs to go up 19 percent over the next years and therefore their salaries could also increase.
Nursing homes, public health organizations, private care centers, hospitals and healthcare facilities throughout the state, including the Rhode Island Hospital, Kent Hospital, Our Lady of Fatima Hospital and The Miriam Hospital, are some of the facilities that offer good employment opportunities for nursing assistants that have attended approved training programs.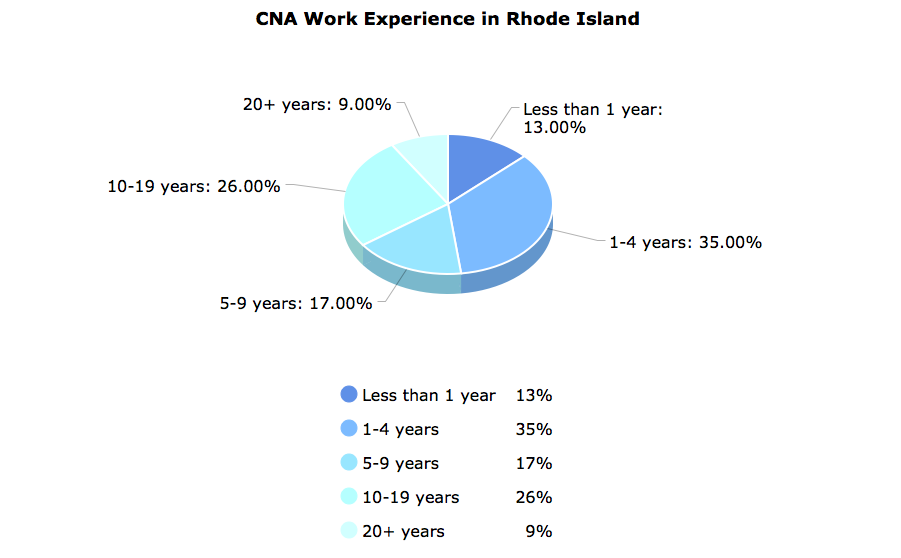 All Rhode Island State Approved CNA Programs
| LOCATION | FACILITY | ADDRESS | PHONE |
| --- | --- | --- | --- |
| Bristol, RI | Silver Creek Manor | 7 Creek Lane | 401-253-3000 |
| Bristol, RI | Saint Elizabeth Manor | 1 Dawn Hill | 401-253-2300 |
| Bristol, RI | The Walker School Of Allied Health Llc | 490 Metacom Avenue | 401-842-7411 |
| Coventry, RI | Regional Career Ctr At Coventry H S | 40 Reservoir Road | 401-822-9491 |
| Coventry, RI | Alpine Nursing Home | 557 Weaver Hill Road | 401-397-5001 |
| Cranston, RI | Phenix Home Care Inc | 227 Phenix Avenue | 401-943-6230 |
| Cranston, RI | Cranston Adult Education Programs | 83 Rolfe Street | 401-270-8166 |
| Cranston, RI | Cranston Area Career And Technical Center | 100 Metropolitan Avenue | 401-270-8070 |
| Cranston, RI | Homefront Health Care | 40 Sharpe Drive | 401-437-6559 |
| Cranston, RI | Hope Nursing Home Care Llc | 478 Reservoir Avenue | 401-467-8588 |
| Cranston, RI | Medical Skills Training Center | 681 Park Avenue | 401-272-4500 |
| Cranston, RI | Ace Training School Inc | 815 Reservoir Avenue | 401-453-4545 |
| Cumberland, RI | Ocean State Nursing Services Inc | 3929 Mendon Road | 401-405-3810 |
| East Greenwich, RI | Saint Elizabeth Home East Greenwich | 1 St Elizabeth Way | 401-471-6060 |
| East Providence, RI | New England Emergency Medical Training | 860 Waterman Ave Suite 4 | 401-434-3120 |
| East Providence, RI | Access Healthcare Inc | 702 Warren Avenue | 401-438-4747 |
| East Providence, RI | East Providence Career & Tech | 1998 Pawtucket Avenue | 401-435-7815 |
| Exeter, RI | Health Care Educational Resources | 567 South County Trl # 301 | 401-667-0471 |
| Greenville, RI | Greenville Center | 735 Putnam Pike | 401-949-1200 |
| Johnston, RI | Cherry Hill Manor | 2 Cherry Hill Road | 401-231-3102 |
| Johnston, RI | Briarcliffe Manor | 49 Old Pocasset Road | 401-944-2450 |
| Lincoln, RI | Ccri Center For Workforce And Community Education | 1762 Louisquisset Pike | 401-333-7283 |
| Lincoln, RI | Wm M Davies Jr Career & Tech | 50 Jenckes Hill Road | 401-728-1500 |
| Middletown, RI | Aquidneck Island Adult Learning Ctr | 740 West Main Road | 401-847-7171 |
| Middletown, RI | Grand Islander Genesis Health Care | 333 Green End Avenue | 401-849-7100 |
| North Kingstown, RI | Scalabrini Villa | 860 North Quidnesset Road | 401-884-1802 |
| North Smithfield, RI | St Antoine Residence | 10 Rhodes Avenue | 401-767-3500 |
| Pascoag, RI | Overlook Nursing And Rehabilitation Center | 14 Rock Avenue | 401-568-2549 |
| Pawtucket, RI | New England Medical Training Institute | 301 Concord St Unit 463 | 401-400-8988 |
| Pawtucket, RI | Attentive Academy | 678 Central Avenue | 401-919-6309 |
| Pawtucket, RI | Lifetime Medical Support Services | 235 Londsdale Avenue | 401-333-3333 |
| Pawtucket, RI | Nursing Placement Inc | 334 East Avenue | 401-728-6500 |
| Pawtucket, RI | Ri Allied Health And Safety Institute | 50 Power Road | 401-276-9141 |
| Providence, RI | Coastal Career Academy Inc | 807 Broad St | 508-536-5366 |
| Providence, RI | Hitep Inc | 515 Elmwood Ave Suite B | 401-785-2202 |
| Providence, RI | International School For Health Careers | 297 Elmwood Avenue | 401-523-3031 |
| Providence, RI | Crossroads Rhode Island | 160 Broad Street | 401-521-2255 |
| Providence, RI | American Safety Programs & Training Inc | 150 Niantic Ave | 401-273-6900 |
| Providence, RI | Ri Nurses Institute Middle College | 150 Washington Street | 401-680-4900 |
| Riverside, RI | Health Care Connections Nursing Services Inc | 425 Willet Avenue | 401-437-3515 |
| Wakefield, RI | Elderwood Of Scallop Shell At Wakefield | 55 Scallop Shell Way | 401-789-3006 |
| Warren, RI | Grace Barker Nursing Center | 54 Barker Avenue | 401-245-9100 |
| Warwick, RI | Kent Regency | 660 Commonwealth Ave | 401-739-4241 |
| Warwick, RI | Warwick Area Career & Technical Center | 575 Centerville Road | 401-734-3150 |
| Warwick, RI | 911 Programs Inc | 175 Metro Center Blvd Unit 1 | 401-773-7716 |
| Warwick, RI | Brentwood Nursing Home | 4000 Post Road | 401-884-8020 |
| Wood River Junction, RI | Chariho Adult Education Vta | 459 Switch Road | 401-315-2871 |
| Woonsocket, RI | Friendly Home Inc The | 303 Rhodes Avenue | 401-769-7220 |
| Woonsocket, RI | Woonsocket Area Career And Technical Center | 400 Aylsworth Avenue | 401-767-4660 |
| Woonsocket, RI | Oakland Grove Health Care Center | 560 Cumberland Hill Road | 401-769-0800 |
CNA Classes In Other States: