CNA Classes In Pennsylvania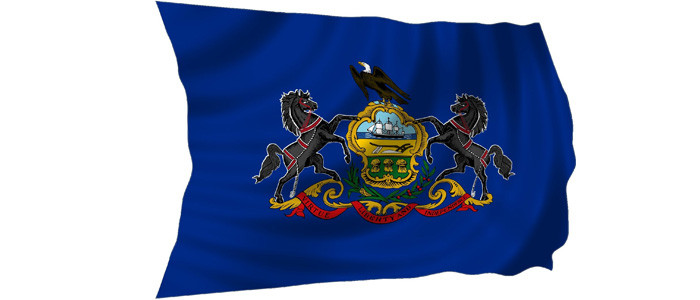 Are you ready to start an exciting career path in the medical field? If yes, take the CNA training program in Pennsylvania and work as a Certified Nursing Assistant. There are a number of healthcare facilities looking for CNA's and they offer great benefits. If you are interested in this rewarding career, know where to take the training program. The state of Pennsylvania requires 75 hours of classroom sessions and 100 hours of clinical exposure for those who wanted to become Certified Nursing Assistants. If you want to pursue this career, it will just take you 13 weeks to complete. Hence, taking the training program is a good start to become a CNA.
Certified Nursing Assistant positions are increasingly popular in the state of Pennsylvania and they continue to fill an important role in the healthcare community, by providing vital care to patients in healthcare field. CNAs also offer significant support as facilitate the workload of nurses, by taking vitals, recording medical histories, in controlling infection, preparing, proper operating and maintaining medical equipment. They work directly under a registered nurse or a licensed practical nurse in a hospital, clinic, or nursing home setting.
Community colleges, vocational schools offer approved training programs by Pennsylvania State Board of Nursing that are designed to train students to be eligible to pass CNA certification exam and begin a career as a certified nursing assistants in Pennsylvania. There are some hospitals, nursing homes, hospices or other healthcare facilities offering their own training programs and a job position upon completion of the education. Finally, the American Red Cross offers online training classes that make it easy to access the experiential learning. All the approved programs meets Pennsylvania's guidelines and the Federal regulations.
CNA Training Requirements
A student must be at least 18 years old, needs a high school diploma or GED, a physical exam and two tuberculosis tests and should have clean criminal record before registering in a CNA training program that has been approved by the Pennsylvania Board of Nursing.
Those who qualify must attend at least 75 hours of classroom instruction and clinical/hands-on training, with 30 different subjects that are covered during the training, including hygiene and patient care, human biology, infection control, interpersonal and communication skills, patient rights, emergency procedures, nutrition, to handle and use medical equipment properly and other essential nursing skills.
Other topics covered are patient care, vital signs taking, infection control, interpersonal skills, proper nutrition, safety and emergency procedures, medical terminologies, basic anatomy and many others. It will also expose you to the clinical field so that you will be able to practice your profession.
These programs lasts for about six to nine months and upon the completion, a comprehensive examination must be given in order to pass and receive your credentials.
After completing the training, students have 24 months to take an certification exam before added on the Pennsylvania Nurse Aide Registry, otherwise should take lessons again.
The good thing in becoming a CNA is you have a lot of opportunities to look forward. You can be a LPN or RN if you take some college credits for advanced studies. However, if you simply want to remain as a CNA, you can upgrade your skills and earn more. Before all these things are conceptualized, you need to take CNA classes first in a state approved facility. There are several facilities in the state of Pennsylvania that offers CNA training programs. A full list of accredited CNA classes in Pennsylvania can be found on Pennsylvania State Board of Nursing website.
Pennsylvania CNA Examination
In state of Pennsylvania, the final examination (NNAAP) consists of two sections administered by the American Red Cross and taken through Pearson VUE. The first section is a written multiple-choice test consisting of 50 questions, which assess the technical understanding of being a nursing assistant and the medical concepts involved. The second section is a clinical evaluation consisting of five randomly skills and are selected from a list of 25 essential skills that were taught to the trainee during the 75-hour training program.
Trainee must pass both sections in full within three attempts to become Certified Nursing Assistant (CNA), before re-take a training program.  Once you passed it, you will be required to complete certain documents. The state and federal government will require a criminal background check and fingerprinting. If you had a criminal offense in the past, you will not be certified. Only after these steps can the candidate be added to the Pennsylvania Nurse Aide Registry, that contains the record of all the Certified Nursing Assistant (CNA) of the state.
The certification must be renewed every two years and CNA must fill out the paperwork sent by the state. Also, must has worked at least eight hours in healthcare field during certification period.
CNA Salary & Job Outlook in Pennsylvania
CNA Salary in Pennsylvania

If you become a Certified Nursing Assistant in Pennsylvania, you will have no worries in finding a job. There are a lot of nursing homes, hospitals and long term healthcare facility looking for CNA's so you will always have the chance to get employed.
CNA can work anywhere, in hospitals, clinics, nursing homes, hospices, government agencies and other healthcare facilities in the state including the Albert Einstein Medical Center, Saint Luke's Hospitals, Temple University Hospital and University of Pittsburgh Medical Center. Daily duties include feeding, bathing, dressing, toileting, administering medication, light housekeeping duties, basic treatment care and maintaining a daily patient progress report.
The average pay for a Certified Nursing Assistant in Pennsylvania is $28,460. The U.S. Bureau of Labor Statistics (BLS) reports that the demand for nursing assistants is likely to increase over 18 percent in future years. This means that there will be thousands of new jobs available for those who have completed the training.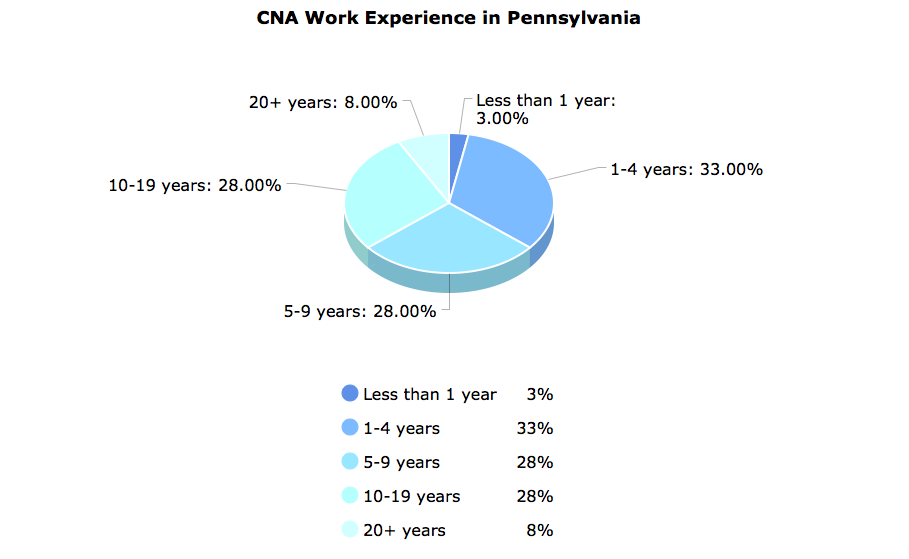 All Pennsylvania State Approved CNA Programs
| LOCATION | FACILITY | ADDRESS | PHONE |
| --- | --- | --- | --- |
| Allentown , PA | Cedarbrook Lehigh Co Home | 350 South Cedarbrook Rd | 610-336-5635 |
| Allentown , PA | Lehigh-carbon Comm. College | 718 Hamilton Mall | 610-799-1206 |
| Allison Park , PA | A. W. Beattie Career Ctr | 9600 Babcock Blvd | 412-366-2800 |
| Altoona , PA | Altoona Ctr. For Nursing Care | 1020 Green Ave | 814-946-2700 |
| Altoona , PA | Greater Altoona Ctc | 1500 Fourth Ave | 814-946-8469 |
| Apollo , PA | Quality Life Services | 151 Goodview Dr | 724-727-3451 |
| Baden , PA | Concordia At Villa St. Joseph | 1030 State St | 724-869-6314 |
| Bala Cynwyd , PA | The Healthcare Training Institute Of Greater Philadelphia | 1 Bala Avenue Suite | 610-295-5104 |
| Bartonsville , PA | Monroe Career & Tech Inst | 194 Laurel Lake Dr | 570-629-2001 |
| Beaver Falls , PA | Providence Health Care | 900 Third Ave | 724-846-8504 |
| Bethlehem , PA | Falcon Institute Of Health & Sci | 3045 Avenue B | 484-809-0698 |
| Bethlehem , PA | Northampton Community College | 511 East 3rd St | 610-332-6585 |
| Bloomsburg , PA | Columbia-montour Avts | 5050 Sweppenheiser Dr | 570-784-8040 |
| Bradford , PA | Bradford Area Hs | 81 Interstate Parkway | 814-362-3845 |
| Bradford , PA | Bradford Manor | 50 Langmaid Lane | 814-362-6090 |
| Bridgeville , PA | Bridgeville Rehab & Care Ctr | 3590 Washington Pike | 412-257-2474 |
| Brockway , PA | Highland View Health & Rehab | 90 Main St | 814-265-1164 |
| Brookville , PA | Jefferson Manor Health Center | 417 Route 28 | 814-849-8026 |
| Butler , PA | Quality Life Services | 612 North Main St | 724-431-0770 |
| Butler , PA | Sunnyview Home | 107 Sunnyview Circle | 724-477-1039 |
| Cabot , PA | Concordia Lutheran | 134 Marywood Rd | 724-352-1571 |
| Canonsburg , PA | Western Area Ctc | 688 Western Ave | 724-746-2890 |
| Carbondale , PA | Just Believe Education Center | 141 Salem Ave | 570-504-4787 |
| Chambersburg , PA | Franklin County Ctc | 2463 Loop Road | 717-709-0778 |
| Charleroi , PA | Mon Valley Career & Tech Ed | 5 Guttman Ave | 724-489-9581 |
| Cheswick , PA | Harmar Village Care Ctr | 715 Freeport Rd | 724-274-3773 |
| Collingdale , PA | Olalus Institute | 320 Macdade Blvd | 610-237-7199 |
| Conneautville , PA | Rolling Fields, Inc. | 9108 State Highway 198 | 814-587-2012 |
| Connellsville , PA | Connellsville Area Ctc | 720 Locust St | 724-626-0236 |
| Cornwall , PA | Cornwall Manor | 1 Boyd St | 717-273-2647 |
| Corry , PA | Corry Manor | 640 Worth St | 814-664-9606 |
| Coudersport , PA | Sweden Valley Manor | 1028 East Second St | 814-274-7610 |
| Coudersport , PA | Cole Memorial Hospital | 1001 East 2nd St | 814-260-5246 |
| Cranberry Twp , PA | Sherwood Oaks | 100 Norman Drive | 724-776-8100 |
| Cranberry Twp , PA | Upmc - Cranberry Place | 5 St. Francis Way | 724-772-5350 |
| Dallas , PA | Meadows Nursing & Rehab Ctr | 4 East Center Hill Rd | 570-675-8600 |
| Drums , PA | Keystone Job Corps Center | 235 West Foothills Dr | 570-708-0608 |
| Dubois , PA | Christ The King Manor | 1100 West Long Ave | 814-371-3180 |
| Dubois , PA | Dubois Nursing Home | 212 South 8th St | 814-375-9100 |
| Easton , PA | The Gardens At Easton | 498 Washington St | 610-258-2985 |
| Ebensburg , PA | Admiral Peary Avts | 948 Ben Franklin Highway | 814-472-6490 |
| Edinboro , PA | Edinboro Manor | 419 Waterford St | 814-734-5021 |
| Elmhurst Twp , PA | St. Mary's Villa Nursing Home, Inc | 516 St. Mary's Villa Rd | 570-842-7621 |
| Elverson , PA | People Technical School, In. | 148 Church Rd | 610-384-1361 |
| Emporium , PA | Guy And Mary Felt Manor | 110 E 4th St | 814-486-3736 |
| Erie , PA | Erie High School | 3325 Cherry St | 814-874-6200 |
| Erie , PA | Healthcare Ventures Alliance | 4631 West Lake Rd | 814-833-1609 |
| Erie , PA | Edinboro University | 219 Meadville St | 814-732-1420 |
| Erie , PA | Pleasant Ridge Manor | 8300 West Ridge Rd | 814-474-5521 |
| Erie , PA | Lecom Senior Living Center | 5535 Peach St | 814-454-2831 |
| Everett , PA | Bedford Co Technical Center | 195 Pennknoll Rd | 814-623-2760 |
| Exeter , PA | Highland Manor Nursing Home | 750 Schooley Ave | 570-655-3791 |
| Fairless Hills , PA | Bucks County Technical Hs | 610 Wistar Rd | 215-949-1700 |
| Fairview , PA | Fairview Manor | 900 Manchester Rd | 814-838-4822 |
| Folcroft , PA | Delaware Co Tech School | 701 Henderson Blvd | 610-459-3050 |
| Ford City , PA | Lenape Technical School | 2215 Chaplin Ave | 724-763-7116 |
| Frackville , PA | Schuylkill Tech Center | 101 Technology Dr | 570-874-1034 |
| Franklin , PA | Sugarcreek Station | 351 Causeway Dr | 814-437-0100 |
| Franklin , PA | The Caring Place | 103 North 13th St | 814-432-4491 |
| Gibsonia , PA | St. Barnabas, Inc. | 5827 Meridian Rd | 724-444-5504 |
| Greensburg , PA | Greensburg Care Center | 119 Industrial Park Rd | 724-836-2480 |
| Greensburg , PA | Hempfield Manor | 1118 Woodward Dr | 724-836-4424 |
| Greensburg , PA | St. Anne Home | 685 Angela Dr | 724-837-6070 |
| Greensburg , PA | Redstone Highlands | 6 Garden Center Dr | 724-832-8400 |
| Greenville , PA | St. Paul Homes | 339 East Jamestown Rd | 724-588-7610 |
| Greenville , PA | The Grove At Greenville | 110 Fredonia Rd | 724-588-8090 |
| Grove City , PA | Grove Manor Nursing Center | 435 North Broad St | 724-458-7800 |
| Hamburg , PA | Laurel Center | 125 Holly Rd | 610-562-2284 |
| Hanover , PA | Homewood At Plum Creek | 425 Westminster Ave | 717-637-4166 |
| Harleysville , PA | Peter Becker Community | 800 Maple Ave | 215-256-9501 |
| Harmony , PA | The Grove At Harmony | 191 Evergreen Mill Rd | 724-452-6970 |
| Harrisburg , PA | Colonial Park Care Center | 800 King Russ Rd | 717-657-1520 |
| Harrisburg , PA | Dauphin County Tech School | 6001 Locust Lane | 717-652-3170 |
| Harrisburg , PA | Harrisburg Area Comm College | 1 Hacc Dr | 717-221-1352 |
| Harrisburg , PA | Tlc Institute | Box 6567 | 717-671-7110 |
| Hazleton , PA | Penn State Hazleton | 76 University Drive | 570-450-3110 |
| Hazleton , PA | Hazleton Area Career Center | 1451 West 23rd St | 570-459-3172 |
| Hazleton , PA | Nsb Trainers | 103 Rotary Dr | 570-582-4556 |
| Hazleton , PA | Penn State-hazleton | 76 University Drive | 570-450-3110 |
| Hermitage , PA | Health Link Services | 2921 East State St | 412-981-7888 |
| Home , PA | The Rapha School | 17 Griffith Dr | 724-549-4700 |
| Jamison , PA | Middle Bucks Institute Of Technology | 2740 Old York Rd | 215-343-2480 |
| Jeannette, PA | William Penn Care Center | 2020 Ader Rd | 724-327-3500 |
| Jefferson Hills , PA | Steel Center For Cte | 565 Lewis Run Rd | 412-469-3200 |
| Jim Thorpe , PA | Carbon Career And Tech Inst | 150 West 13th St | 570-325-3682 |
| Jim Thorpe , PA | Lehigh-carbon Cc - Carbon Site | 1100 Center St | 570-669-7010 |
| Johnstown , PA | Commonwealth Tech Inst | 727 Goucher St | 814-254-0400 |
| Johnstown , PA | Greater Johnstown Hs | 222 Central Ave | 814-533-5601 |
| Johnstown , PA | Greater Johnstown Avts | 445 Schoolhouse Rd | 814-266-6073 |
| Johnstown , PA | Laurel Wood Care Center | 100 Woodmont Rd | 814-255-1488 |
| Kane , PA | Kane Area Hs | 6965 Route 321 | 814-837-6821 |
| Kane , PA | Lutheran Home At Kane | 100 High Point Dr | 814-837-6706 |
| Kingston , PA | West Side Ctc | 75 Evans St | 570-288-8493 |
| Kittanning , PA | Kittanning Care Center | 120 Kittanning Care Dr | 724-545-2273 |
| Lancaster , PA | Conestoga View Nursing Lp | 900 East King St | 717-293-7240 |
| Langhorne , PA | Genesis Healthcare Crestview Center | 262 Toll Gate Rd | 215-968-8167 |
| Lansdale , PA | Dock Woods Community | 275 Dock Dr | 215-368-4438 |
| Lansdale , PA | North Montco Tech Cte | 1265 Sumneytown Pike | 215-368-1177 |
| Laporte , PA | Highland View Health & Rehab | 918 Main Street | 814-265-1164 |
| Latrobe , PA | East Westmoreland Ctc | 4904 Route 982 | 724-539-9788 |
| Lebanon , PA | Lebanon County Career & Tech | 833 Metro Dr | 717-273-8551 |
| Lebanon, PA | Cedar Haven-lebanon Co Home | 590 South Fifth Ave | 717-274-0421 |
| Leesport , PA | Berks Career Tech Center | West 1057 County Rd | 610-374-4073 |
| Leesport , PA | Berks Heim Nursing And Rehab | 1011 Berks Rd | 610-376-4841 |
| Lewistown , PA | Wm Penn Hlthcare And Rehab Center | 163 Summit Dr | 717-248-3941 |
| Lewistown , PA | The Academy: Mifflin Co Sci & Tech | 700 Pitt St | 814-658-3216 |
| Lima , PA | Fair Acres Geriatric Center | 340 N Middletown Rd | 610-891-5793 |
| Lincoln University , PA | Lincoln Univ Hlth Sci Academy | 1570 Baltimore Pike | 484-365-7752 |
| Lock Haven , PA | Susque-view | 22 Cree Dr | 570-748-9377 |
| Marienville , PA | Snyder Memorial Healthcare Center | 156 Snyder Memorial Rd | 814-927-6670 |
| Markleysburg , PA | Quality Life Svc-markleysburg | 252 Main St | 724-329-4830 |
| Mars , PA | St. John Lutheran Care Center | 500 Wittenberg Way | 724-652-1571 |
| Martinsburg , PA | Homewood At Martinsburg | 437 Givler Drive | 814-793-3728 |
| Mcconnellsburg, PA | Fulton County Avts | 151 East Cherry St | 717-485-5813 |
| Mckeesport , PA | Riverside Nursing Ctr | 100 Eighth St | 412-664-8860 |
| Meadville , PA | Crawford County Ctc | 860 Thurston Rd | 814-724-6024 |
| Mechanicsburg , PA | Cumberland-perry Avts | 110 Old Willow Mill Rd | 717-697-0354 |
| Media , PA | Delaware Co Comm. College | 901 S. Media Line Rd | 610-359-5029 |
| Mercer , PA | Mercer County Avts | Box 152, 776 Greenville Rd | 724-662-3000 |
| Mill Creek , PA | Huntingdon County Ctc | 11893 Technology Dr | 814-643-0951 |
| Monaca , PA | Beaver County Ctc | 145 Poplar Dr | 724-728-5800 |
| Monaca , PA | Cc Of Beaver County | One Campus Dr | 724-775-8561 |
| Monroeville , PA | Woodhaven Care Center | 2400 Mcginley Rd | 412-856-4770 |
| Muncy , PA | Susquehanna Health Nurs & Rehab Ctr | 215 East Water St | 570-546-4040 |
| Nanticoke , PA | Luzerne County Comm. College | 1333 South Prospect St | 570-740-0489 |
| Nanticoke , PA | Guardian Hlthcare And Rehab Ctr | 147 Old Newport St | 570-735-7300 |
| Nazareth , PA | Northampton Co. Home-gracedale | 2 Gracedale Ave | 610-746-1900 |
| New Berlin , PA | Sun Area Technical Institute | 815 East Market St | 570-966-1031 |
| New Kensington , PA | Northern Westmoreland Ctc | 705 Stevenson Blvd | 724-335-9389 |
| New Wilmington , PA | The Grove At New Wilmington | 520 New Castle St | 724-946-3511 |
| Newtown , PA | Bucks Co Cc/nsg & Allied Health | 275 Swamp Rd | 215-968-8482 |
| Norristown , PA | Dotlen Academy Of Science | 837 Dekalb St | 610-277-8800 |
| Oakdale , PA | Parkway West Avts | 7101 Steubenville Pike | 412-923-1772 |
| Oakmont , PA | Presbyterian Sr. Care Nurse | 1215 Hulton Rd | 412-435-8968 |
| Oil City , PA | Venango Tech Center | 1 Vo-tech Dr | 814-677-3097 |
| Olyphant , PA | Revolutionary Education Center | 1619 Main St | 570-483-3600 |
| Orwigsburg , PA | Orwigsburg Center | 1000 Orwigsburg Manor | 570-366-2999 |
| Perkasie , PA | Upper Bucks County Tech School | 3115 Ridge Rd | 215-795-2911 |
| Philadelphia , PA | American Red Cross- East Chapter | 2221 Chestnut St | 215-299-4154 |
| Philadelphia , PA | Chapel Manor Center | 1104 Welsh Rd | 215-676-9191 |
| Philadelphia , PA | Entry Level Nurse Aide Program | 6761 Germantown Ave | 215-843-4262 |
| Philadelphia , PA | Health And Tech Training Institute | 100 South Broad St, 10th Fl | 215-568-2220 |
| Philadelphia , PA | Mercy Career & Technical Hs | 2900 W. Hunting Park Ave | 215-226-1225 |
| Philadelphia , PA | New World Business School | 9857 Bustleton Ave | 215-856-7316 |
| Philadelphia , PA | Phila Academy For Nurse Aide Trng | 958 Bustleton Ave | 215-495-3473 |
| Philadelphia , PA | Prism Health Aide Training, Inc | 8040 Roosevelt Blvd | 215-329-1322 |
| Philadelphia , PA | Phila Job Corps Life Science | 2810 S. 20th St, Bldg 12 | 215-471-9693 |
| Philadelphia , PA | Penn Asian Vocational Institute | 6926 Old York Rd | 215-572-1234 |
| Philadelphia, PA | Community College Of Philadelphia Corporate Solutions | 1700 Spring Garden St C1-9 | 267-299-5933 |
| Philipsburg , PA | Windy Hill Village Of Presby Home | 100 Dogwood Drive | 814-342-6090 |
| Pittsburgh , PA | Cc Of Allegheny County | 808 Ridge Ave | 412-237-4470 |
| Pittsburgh , PA | Cc Of Allegheny County- North | 8701 Perry Highway | 412-369-4136 |
| Pittsburgh , PA | Highland Park Care Ctr | 745 North Highland Ave | 412-362-6622 |
| Pittsburgh , PA | Pittsburgh Job Corps Ctr | 7175 Highland Dr | 412-441-8700 |
| Pittsburgh , PA | Southwestern Nursing Ctr | 500 Lewis Rd | 412-466-0600 |
| Pittsburgh , PA | Southwinds, Inc. | 2101 Greentree Rd | 412-446-1080 |
| Pittsburgh , PA | Marian Manor | 2695 Winchester Dr. | 412-440-4424 |
| Pittsburgh , PA | Upmc Senior Communities | 310 Fisk St | 412-864-3524 |
| Pittsburgh , PA | Vincentian Home | 111 Perrymont Rd | 412-366-5600 |
| Pittston , PA | Wesley Village | 209 Roberts Rd | 570-655-2891 |
| Pleasant Gap , PA | Central Pa Inst Of Sci & Tech | 540 North Harrison Rd | 814-359-2793 |
| Plymouth Meeting , PA | Central Montco Tech Hs | 821 Plymouth Rd | 610-277-2301 |
| Port Allegany, PA | Seneca Highlands Ctc | 219 Edison Bates Dr | 814-642-2573 |
| Pottsville , PA | Schuylkill Center | 1000 Schuylkill Manor Rd | 570-622-9666 |
| Punxsutanwney , PA | Mulberry Square | 411 ½ West Mahoning St | 814-938-6020 |
| Quakertown , PA | Quakertown Center | 1020 South Main St | 215-536-9300 |
| Quakertown , PA | Belle Haven Healthcare And Rehab | 1320 Mill Road | 215-536-7666 |
| Reading , PA | Reading Area Cc – 2 Gateway Ctr | 10 South 2nd St | 610-375-8180 |
| Reading , PA | United Community Svc For Working Families | 1251 N Front St | 717-755-5001 |
| Royersford , PA | Parkhouse Operating Llc | 1600 Black Rock Rd | 610-948-8800 |
| Schnecksville , PA | Lehigh Career & Tech Institute | 4500 Education Park D | 610-799-1459 |
| Scotland , PA | Institute For Caregiver Edu | 3583 Scotland Rd | 717-263-7706 |
| Scranton , PA | Allied Services | 303 Smallacombe Dr | 570-348-1445 |
| Scranton , PA | Ctc Of Lackawanna County | 3201 Rockwell Ave | 570-346-8471 |
| Scranton , PA | Lackawanna College | 501 Vine St | 570-961-7813 |
| Scranton , PA | Marywood University | 2300 Adams Ave | 570-348-6292 |
| Sellersville , PA | The Community At Rockhill | 3250 State Rd | 215-257-2751 |
| Shippenville , PA | Clarion Co. Career Center | 447 Career Rd | 814-226-4391 |
| Sligo , PA | Clarview Nursing & Rehab Ctr | 14663 Route 68 | 814-745-2031 |
| Smethport , PA | Sena Kean Manor | 17083 Route 6 | 814-887-5601 |
| Somerset , PA | Patriot, A Choice Community | 495 West Patriot St | 814-445-4549 |
| Somerset , PA | Somerset Co Tech Center | 281 Vo-tech Rd | 814-443-3651 |
| Souderton , PA | Souderton Mennonite Homes | 207 West Summit St | 215-723-9881 |
| Springville , PA | Susquehanna County Ctc | 2380 Elk Lake School Rd | 570-278-9229 |
| St. Marys , PA | Elk Haven Nursing Home Assoc | 785 Johnsonburg Rd | 814-834-2618 |
| St. Marys , PA | Pinecrest Manor | 763 Johnsonburg Rd | 814-788-8488 |
| St. Marys , PA | St. Marys Area Hs | 977 S Street Marys Rd | 814-834-7831 |
| State College , PA | State College Area Hs | 653 Westerly Parkway | 814-231-1111 |
| Towanda , PA | Northern Tier Career Center | 120 Career Center Lane | 570-265-8111 |
| Troy , PA | Bradford County Manor | 15900 Route 6 | 570-297-4111 |
| Tyrone , PA | Epworth Healthcare & Rehab | 951 Washington Ave | 814-265-1164 |
| Uniontown , PA | Cherry Tree Nursing Center | 410 Terrace Dr | 724-438-6000 |
| Uniontown , PA | Community Training Institute | 140 North Beeson Ave | 724-430-3027 |
| Uniontown , PA | Fayette County Cti | 175 Georges Fairchance Rd | 724-437-2721 |
| Uniontown , PA | Mount Macrina Manor | 520 West Main St | 724-430-1179 |
| Upper Darby , PA | Successful Aging Nurses Assist | 48 Garrett Rd | 484-461-9342 |
| Upper St. Clair , PA | Friendship Village Of S. Hills | 1290 Boyce Rd | 412-941-3100 |
| Warren , PA | Warren Manor | 682 Pleasant Dr | 814-723-7060 |
| Waynesburg , PA | Waynesburg Healthcare And Rehab Ct | 300 Center Ave | 724-852-2020 |
| Wellsboro , PA | Broad Acres Health & Rehab Ctr | 1883 Shumway Hill Rd | 570-724-3913 |
| West Chester , PA | Chester County Oic | 790 East Market St, Ste 100 | 610-692-2344 |
| West Chester , PA | Pocopson Home | 1695 Lenape Rd | 610-793-1212 |
| Wexford , PA | Wexford Healthcare Center | 9850 Old Perry Highway | 412-847-7153 |
| Wilkes-barre , PA | Jolie Health & Beauty Academy | 125 North | 570-825-8363 |
| Wilkes-barre , PA | Little Flower Manor Of The Diocese Of Scranton | 200 South Meade St | 570-823-6131 |
| Williamsport , PA | Williamsport Home | 1900 Ravine Rd | 570-323-8781 |
| Willow Street , PA | Lancaster County Ctc | 1730 Hans Herr Dr | 717-464-7050 |
| York, PA | York County School Of Tech | 2179 South Queen St | 717-747-2135 |
| Youngsville , PA | Rouse-warren County Home | 701 Rouse Home Rd | 814-563-6469 |
| Youngwood , PA | Westmoreland Co Comm Coll | 145 Pavilion Lane | 724-925-4082 |
| Zelienople , PA | Passavant Retirement Center | 105 Burgess Dr | 724-452-5400 |
CNA Classes In Other States: