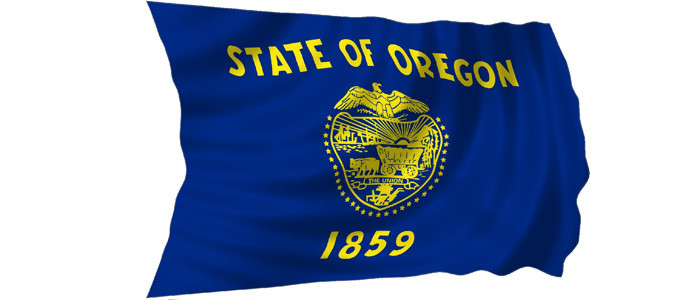 CNA classes in Oregon are an exciting way to start a career in the medical field. It only takes few steps to become a Certified Nursing Assistant and the process is straightforward. You have to undergo a CNA training program and get certified. After that, you can work in different healthcare settings like nursing homes, hospitals or private rehab clinics.
Certified Nursing Assistants (CNAs) provide crucial support for doctors and nurses working in healthcare field, play a critical role as support staff in hospitals, outpatient clinics and various medical facilities.  In the state of Oregon, there is a distinct necessity for more nursing assistants to meet the needs of a growing population. The Oregon State Board of Nursing (OSBN) has approved many CNA training programs that offered at community colleges, vocational schools and in other educational facilities, as well as online CNA programs or distance learning courses, that meet Oregon's guidelines and the Federal regulations.
Following the completion of training courses and passing the national certification exam, Certified Nursing Assistant (CNA) listed in the Oregon Nurse Aide Registry, and might find work in hospitals, nursing homes, public health clinic, and other healthcare facilities in the state.
The role of any CNA in Oregon, is to provide support to doctors or nurses, to offer health care in patients, controlling infection, preparing, proper operating and maintaining medical equipment, as well as take vitals signs (such as pulse and temperature) and recording the patient's medical history.
CNA Training Requirements
Before being accepted into a training program, a student must be at least 18 years old, needs a high school diploma or GED (although not necessary for some programs), a proof of immunization, a clear tuberculosis test and should have a clean criminal record.
Oregon provides two levels of Certified Nursing Assistants, each with their own training and exams: the CNA1 level training must contain at least 150 hours of instruction. Includes 75 hours of classroom education and 75 hours of clinical training, with subjects such as medical terminology, communication with patients, nurses and other healthcare professionals, maintaining patient safety and hygiene, nutrition and transporting patients.
CNA1 helps people at permanent nursing facilities, and taking additional training – that include another 40 hours of classroom instruction and 40 hours of clinical training – may become a CNA2. A CNA2 can work more with patients with health problems and disabilities which could permit them to develop an independent way of life.
There are several facilities in Oregon that offer CNA classes. Among them are the Chemeketa Community College, Cornerstone Care Option, Oregon Coast Community College, Klamath Community College, Life Care of Oregon, Clatsop Community College and Caregiver Training Institute and all of the schools above. You can find a full list of Oregon State approved CNA classes here.
If you are worried about the tuition fee, there are a number of facilities that offer it for free as long as you work for them after getting certified. This is a great opportunity to be employed right away without spending lot of money on the CNA training program. Just make it sure to pass the training and the certification exam.
CNA Certification in Oregon
The candidates must take a licensing exam within 12 months of completing the CNA program, that is administered by D&S Diversified Technologies LLP which costs $106. The exam consists of two sections: a written portion with 77 multiple-choice questions, that checks technical understanding, and a skills demonstration section in which examinees are asked to prove they know the clinical techniques they were trained during the training program. Of the 20 – 30 skills taught during the training, five will be tested.
Failure to pass the licensing exam with three tries requires that the student re-take training. In Oregon, certified nursing assistants have to renew their certificates every two years the day before their birthday and must provide proof that they have worked at least 400 hours in the healthcare field during that time period. The fee to renew is $60.
Once you completed and passed the exam, you have to undergo three more steps. First, you have to submit yourself for a background check. The state of Oregon does not admit a Certified Nursing Assistant having a criminal record so make sure that you have not done such in the past. Second, you must give two sets of fingerprints. The first set is submitted to the state while the second one is submitted to the federal government. Third, sign up in the state's Oregon Nurse Aide Registry. Employers will run through the Registry list if they are looking for a Certified Nursing Assistant so make sure to register beforehand. After completing these three processes, you can work as a CNA in any healthcare facilities of Oregon. Simply renew your license every two years so that you can continuously work as a CNA.
If you choose to become a CNA in Oregon, there are a number of opportunities that will wait for you. Aside from the fact that you will have a stable job, you can sometimes also enjoy the health and dental benefits given by your employer. On top of that, you can later upgrade your profession to LPN or RN, which are better paid.  Still it all starts from taking the first step. So why wait? Find your closest CNA classes in Oregon today!
CNA Salary and Job Outlook in Oregon

Normally, Certified Nursing Assistants in Oregon receive an average salary of $30,140 based on the 2015 salary survey conducted by Bureau of Labor Statistics. Of course this is just the average statistics and your particular figures may vary considerably.  Still, if you are looking for a stable career, becoming a CNA is a good option.
The profession of Certified Nursing Assistants in Oregon is fast growing and offers a multitude of job opportunities. The predicted job outlook is expected increase faster than in other careers. Most graduates of an Oregon CNA training program find employment quickly after they pass the licensing exam, and may work in nursing homes and long-term care facilities, public health organizations, private care centers and in some of the largest hospitals and healthcare facilities throughout the state including the Providence Saint Vincent Medical Center, Oregon Health & Science University Hospital, Sacred Heart Medical Center and Salem Hospital.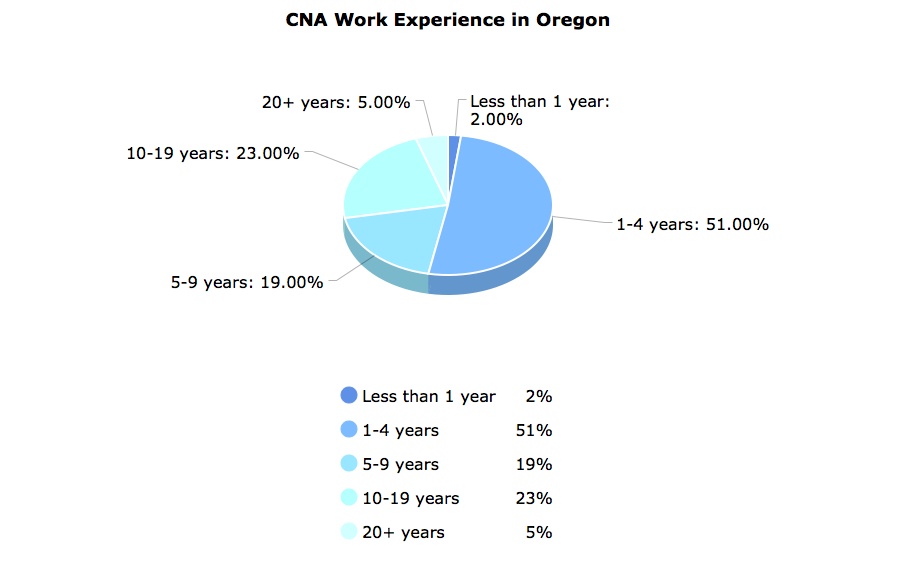 All Oregon State Approved CNA Programs
| LOCATION | FACILITY | ADDRESS | PHONE |
| --- | --- | --- | --- |
| Albany, OR | Linn Benton Community College | 6500 Pacific Blvd Sw | 541-917-4738 |
| Astoria, OR | Clatsop Community College | 1651 Lexington Avenue | 503-338-2436 |
| Baker City, OR | Baker Technical Institute | 2500 E Street | 541-524-2651 |
| Bellevue, OR | Regency Pacific | 3326 160th Ave Se Ste 120 | 541-382-5531 |
| Bend, OR | Central Oregon Community College | 2600 Nw College Way, Health Careers Center #350 | 541-383-7586 |
| Central Point, OR | Pacific Healthcare Training | 512 Manzanita | 541-941-7732 |
| Coos Bay, OR | Southwestern Oregon Community College | 1988 Newmark Ave. | 541-888-7298 |
| Coos Bay, OR | Life Care Center Of Coos Bay | 2890 Ocean Blvd | 541-267-5433 |
| Coos Bay, OR | South Coast Healthcare Academy | Po Box 1118 | 541-269-2013 |
| Coos Bay, OR | Southwestern Oregon Community College | 1988 Newmark Ave | 541-888-7298 |
| Corvallis, OR | Samaritan Nurse Assistant | 3600 Nw Samaritan Drive | 541-768-7981 |
| Cottage Grove, OR | Knight's Training Services | 1509 E Washington | 541-513-1601 |
| Dallas, OR | Dallas Retirement Village Healthcare Center | 377 Nw Jasper St | 503-623-5581 |
| Elmira, OR | Holy Cross Nursing Assistant Ed | Po Box 56 | 541-968-4596 |
| Eugene, OR | Dare 2 Care | 1050 Willagillespie Rd Suite 6 | 541-688-4262 |
| Eugene, OR | Emt Associates | 2275 Rock Ln | 541-844-1328 |
| Eugene, OR | Lane Community College Eugene | 101 W 10th Ave | 541-463-6100 |
| Gresham, OR | Mt Hood Community College | 26000 Se Stark St | 503-491-7235 |
| Happy Valley, OR | Clackamas Nursing Assistant Training | 11875 Se 129th Avenue | 503-709-6560 |
| Hermiston, OR | Good Shepherd | 610 Nw 11th Street | 541-667-3400 |
| Hillsboro, OR | Moore Nurse Consulting | 328 West Main Street, Suite B | 503-523-4806 |
| Independence, OR | Oregon Empres Healthcare - Ind. Health And Rehab | 1525 Monmouth Avenue | 701-367-2388 |
| Keizer, OR | Sherwood Park Nursing And Rehab Online | 4062 Arleta Ave Ne | 503-390-2271 |
| Klamath Falls, OR | Klamath Community College | 7390 S 6th St | 541-882-3521 |
| Lakeview, OR | Lakeview Gardens | 700 South J Street Po Box 682 | 541-947-7306 |
| Mcminnville, OR | Chemeketa Yamhill Valley Campus | 288 Ne Nortan Lane | 503-399-5058 |
| Milwaukie, OR | Clackamas Community College | 7738 Se Harmony Rd | 503-594-0663 |
| Milwaukie, OR | Marquis Companies | 4560 Se International Way Ste 100 | 971-206-5200 |
| Mount Angel, OR | Providence Benedictine Nursing Center | 540 S Main St | 503-845-6841 |
| Newport, OR | Oregon Coast Community College | 400 Se College Way | 541-867-8548 |
| Ontario, OR | Treasure Valley Community College | 650 College Blvd | 541-881-5940 |
| Pendleton, OR | Blue Mountain Community College | 2411 Nw Carden Po Box 100 | 541-278-5878 |
| Portland, OR | Caregiver Training Institute Llc | 12790 Se Stark St Suite 100 | 503-257-0117 |
| Portland, OR | City Christian Schools | 9200 Ne Freemont St | 503-252-5207 |
| Portland, OR | Holgate Community Training | 4616 Se 31st Ave | 503-232-5573 |
| Portland, OR | West Hills Health And Rehabilitation Center | 5701 Sw Multnomah Blvd | 503-244-1107 |
| Roseburg, OR | Umpqua Community College | 1140 Umpqua College Rd | 541-440-4614 |
| Salem, OR | Chemeketa Community College | 4000 Lancaster Drive Ne | 503-399-5058 |
| Salem, OR | Institute Of Technology | 4700 Silverton Rd. Ne | 503-363-9001 |
| Salem, OR | Salem Health | 890 Oak St Se | 503-561-5200 |
| Springfield, OR | Emt Associates | 1144 Gateway Loop #136 | 541-844-1328 |
| Springfield, OR | Avalon Health Care | 1077 Gateway Loop | 541-672-1631 |
| The Dalles, OR | Columbia Gorge Community College | 400 E Scenic Dr | 541-506-6000 |
| The Dalles, OR | Oregon Veteran's Home | 700 Veterans Dr | 541-296-7190 |
| Vale, OR | Treasure Valley Tech | 363 A Street W. | 541-473-3138 |
| Vancouver, OR | Prestige Care Inc | 7700 Ne Parkway Drive Suite 300 | 360-735-7155 |
| Wheeler, OR | Nehalem Valley Care Center | 280 Rowe Street | 503-368-5171 |
| Wilsonville, OR | Avamere Health Services | 25117 Sw Parkway Ave Ste F | 503-570-3405 |
CNA Classes In Other States: