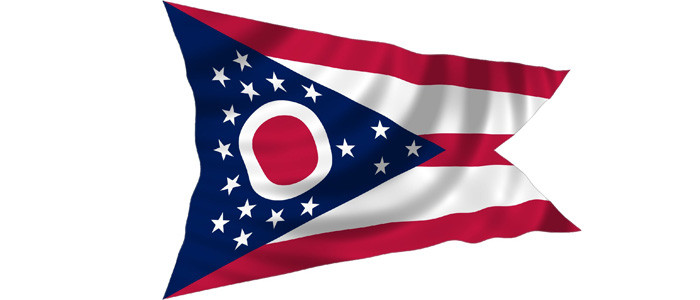 If you begin a career in the medical field, you have just taken the right path. There are a number of available positions for Certified Nursing Assistants in the state of Ohio. In fact, as the years go by, the need for healthcare professionals is growing. Working as a Certified Nursing Assistant in Ohio is a rewarding option and the process of becoming one can take few months only. If you are not familiar about the benefits of becoming a CNA, here are some of the few facts that you have to keep in mind.
First, CNA schools will just charge you around $800 to $1,200 for the books and training program. This is affordable compared to a college course in different universities. Second, the state of Ohio requires 75 hours for classroom sessions and 100 hours for clinical experience. Overall, it will take you 10 weeks to complete the CNA training program and there are several schools offering CNA training programs. You can see all the accredited CNA class providers in Ohio state on the Ohio State Board of Nursing website.
Among them is the Lincoln College of Technology, Sanford Brown College, Ohio Valley College of Technology, Brown Mackie College, Kaplan College and New Castle School of Trades. If you wished to enrol in a facility offering a CNA training program, make sure to see if it is accredited and approved by the state of Ohio. You will just waste a lot of your time and money if the facility is not state approved because you will not be allowed to take the CNA exam and practice your profession.
As soon as you finished the entire CNA course work, you will be required to take a CNA certification exam given by the state. This exam will test your knowledge and skills regarding the lessons learned from the training program. If you cannot pass the exam, you will be given three tries. If on the third time you still failed, you will be asked to undergo a re-training on a CNA school. However, if you successfully passed, your name will be listed on the Nurse Aide Registry of Ohio. Employers will not hire you if your name is not on the list that is why you have to process the license right after passing the exam.  To know more about this, check the state's registry website and see the requirements needed for CNA certification.
The license of a Certified Nursing Assistant is valid for two years only and renewal is necessary prior to expiration. Getting a CNA certification in the state of Ohio is just easy. Simply follow the steps required by the state in order not to be disqualified. There are great opportunities waiting for you if you become a Certified Nursing Assistant. Start it right away and make a research on the schools offering CNA training programs. Working in the medical field is certainly rewarding and exciting. You can even upgrade your skills to get greater compensation and stability in your career life.
CNA Salary and Job Outlook in Ohio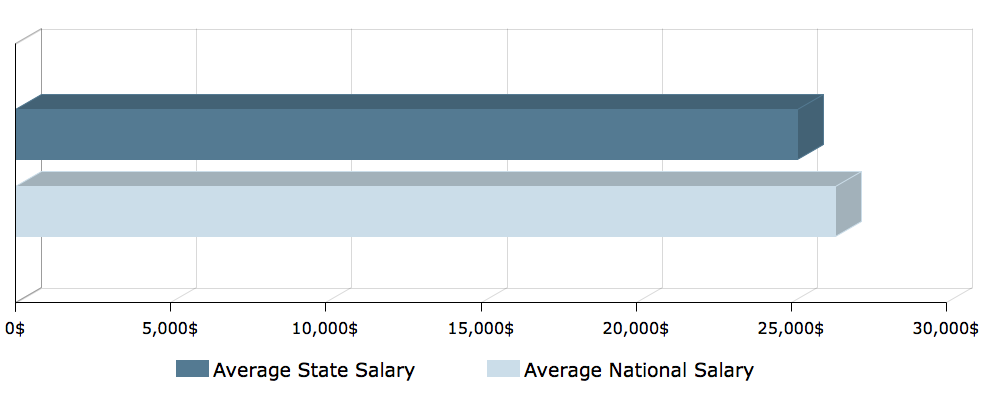 In 2015 the average salary for nursing assistants in the state of Ohio was $25,150 annually or  $12.09 hourly. There are quite a lot of CNAs working right now in Ohio, just under 68 000. This number is expected to grow even more in the coming decade as the population is ageing and the need to staff in nursing homes is increasing rapidly.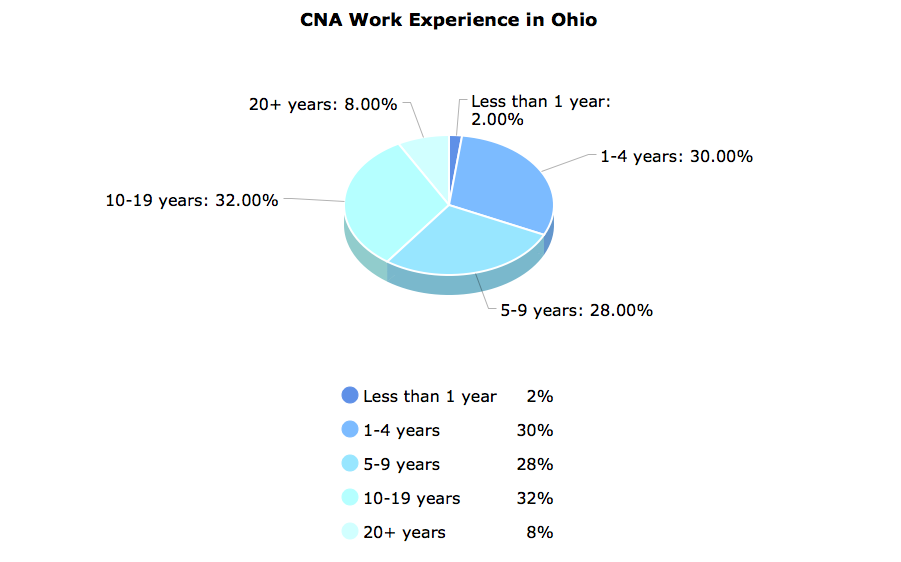 All Ohio State Approved CNA Programs
| LOCATION | FACILITY | ADDRESS | PHONE |
| --- | --- | --- | --- |
| Bay Village, OH | Bradley Bay Health Center | 605 Bradley Road | 440-871-3474 |
| Beachwood, OH | Montefiore Home | 1 David Myers Pkwy. | 216-360-9080 |
| Bedford, OH | Advanced Health Career Systems, Ltd. | 1 West Interstate Street | 440-735-9743 |
| Brecksville, OH | Cuyahoga Valley Career Center | 8001 Brecksville Road | 440-526-5200 |
| Brook Park, OH | East Park Care Center | 8 East Park Circle | 216-267-7229 |
| Cincinnati, OH | The Health Care Management Group | 12500 Reed Hartman Hwy. | 513-605-2700 |
| Cincinnati, OH | Grace Health Career Center, Llc | 10979 Reed Hartman Hwy, Suite 207 | 513-226-9436 |
| Cleveland, OH | American Red Cross Cna Program | 3747 Euclid Ave. | 216-431-3010 |
| Cleveland, OH | Cleveland Job Corps | 1020 Bolivar Rd. | 216-541-2500 |
| Cleveland, OH | Cuyahoga Community College | 700 Carnegie Avenue | 216-987-4000 |
| Cleveland, OH | Health Careers Center High School | 3122 Euclid Ave. | 216-579-9984 |
| Cleveland, OH | Kethley House At Benjamin Rose Place | 11900 Fairhill Rd. | 216-791-8000 |
| Cleveland, OH | Lutheran Metropolitan Ministry | 1468 West 25th Street | 216-696-0370 |
| Cleveland, OH | Menorah Park Center For Senior Living | 27100 Cedar Road | 216-831-6500 |
| Cleveland, OH | Rudwick Manor Special Care Center | 17322 Euclid Ave | 216-486-2280 |
| Lakewood, OH | Aristocrat Lakewood Nursing Home | 13900 Detroit Rd. | 216-228-7650 |
| Middleburg Heights, OH | Polaris Career Center | 7285 Old Oak Blvd. | 440-891-7600 |
| Middleburg Heights, OH | Royal Oak Nursing And Rehabilitation Center | 6973 Pearl Road | 440-884-9191 |
| North Royalton, OH | Patrician Skilled Nursing Center | 9001 West 130th Street | 440-237-3104 |
| Strongsville, OH | Altenheim | 18627 Shurmer Road | 440-238-3361 |
CNA Classes In Other States: