CNA Classes in New York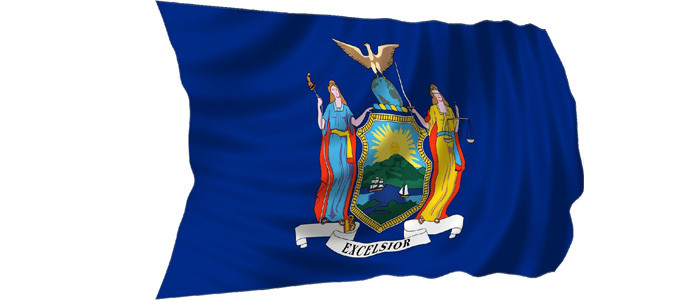 Due to the expansion of health industry, interest for Certified Nursing Assistants (CNAs) will continually grow. The state of New York provide several opportunities available for individuals interested to enter the healthcare field.
CNAs work under the supervision of a registered nurse or any qualified professional and offer usually long-term care in patients with physical hardships, such as feeding, mobility and communication. Also,they record patient's health information, taking vital signs, administering medication, in controlling infection and they assist in the proper operating and maintaining medical equipment.
Students pursuing careers as Certified Nursing Assistants in the state, must enroll in any recognized school that offers CNA approved training program. There are a variety of approved training programs are offered in community colleges, vocational and technical schools, online schools, and in many healthcare facilities and long-term care facilities.
All programs approved by the NY State Education Department and recognized by the NY Department of Health, meet guidelines and Federal regulations, and are designed to prepare students to pass the competency exam and incorporate clinical and work experience.
Also, you will find free CNA training courses offered through some nursing facilities in exchange the employment to that facility, after completing CNA training and certification. Additional, many private schools accept grants, scholarships and student loans.
Becoming a Certified Nursing Assistant in New York is one of the most rewarding jobs you can have. This career offers short training programs between 12 to 13 weeks of classroom sessions and clinical training. Even if you recently graduated from high school, you can undergo the training and become a CNA. Just imagine being in the medical field in less than four months!
Basically, a certified Nursing Assistant serves as the primary healthcare professional to care for the patients. They work together with Licensed Practical Nurses, Registered Nurses and Physicians. If you would like to be a part of the healthcare team, start the CNA training program in a state approved facility. Hence, you should start picking a school that will train you to become a Certified Nursing Assistant.
New York CNA Training Requirements
As per the federal requirements, students who wish to enroll in an approved CNA training program must be at least 18 years old, have a high school diploma or GED, and clean criminal record. The training include 175 hours of learning, which consists of 100 hours clinical practice and 75 hours classroom instruction. Most instructors are health professionals.
The courses include a wide variety of topics, such as life management skills, anatomy, basic nursing skills and the study of medical terminology, nutrition and infection control, clinical practicum, personal care skills, mental health and social service needs, taking vital signs, workforce preparation, interpersonal skills and communicating with patients and their rights. The fees required to be submitted during enrollment, may range from $800 to $2200.
In New York, there are a lot of training facilities offering CNA classes. These include Bronx Community College, Finger Lakes Community College, Mohawk Valley Community College, Broome Community College, New York College and Lincoln Tech Nursing. You need to complete 130 hours of classroom and clinical sessions in order to be eligible for the certification exam. The training program will enable you to learn different nursing topics needed in the field. Aside from that, it will let you know the responsibilities of a CNA in hospitals, nursing homes and long term care facilities.
If you find the training program expensive, there are schools offering low cost tuition fee. Some of them even offer grants and scholarships to those who are really interested for this course. However, you have to agree to work in their facility after getting certified. This will serve as your payment for the free CNA training you have undergone on their institution. Working on this facility also means that you can have a job right away. Thus, becoming a CNA is never difficult in New York. The state of New York wants to have competent CNA's so make sure that you have what it takes to be a healthcare professional.
CNA Certification in New York
Upon completion of the training program, student becomes eligible to apply for a CNA certification in New York. The certification test is administered by Prometric in cooperation with the New York State Department of Health (NYSDOH) and is divided into two sections: a written exam with multiple-choice questions based on curriculum of nurse aide training program, and a clinical test on three to five practical skills. Examinee required to pass both sections of competency exam within 24 months from education, to qualify for certification and then be added on the New York Nurse Aide Registry which keeps a record of all the Certified Nursing Assistants (CNAs) in the state. Once certified, a new nursing assistant may find work in any healthcare facility.
Examination fee of clinical skills test is $68 and of knowledge test is $57. The certification must be renewed every 2 years, and nursing assistant must have worked at least 8 hours in healthcare field as a paid employee during that period. Recertification fee is $40.
Meanwhile, if you passed the certification exam, you have to go through a background check and fingerprinting prior to the certification. The Nurse Aide Registry of New York will place your name on their list so that employers will know how eligible you are to work as a CNA. Take note that the license will be valid for two years only so renew it prior to expiration. Certified Nursing Assistants in New York receive great compensation and if you like it, take the first step now by undergoing the training program.
CNA Salary and Job Outlook in New York

Certified Nursing Assistants (CNAs), function as section of a group of healthcare professionals and work under the supervision of medical doctors, registered nurses, doctor assistants or nurse practitioners. Hospitals, nursing care facilities, assisted care homes, long-term care facilities, and even private homes are common places to find job, including the Brookdale Hospital, Bellevue Hospital, Jamaica Hospital Medical Center, Presbyterian Hospital, and St. Luke's Hospital.
The CNA salary in New York is greatly affected by the experience that the CNA has. However normally CNAs in New York earn around $33,390 annually, which is considerably more than nationwide average. Experienced CNAs will enjoy many benefits. All those who work in a rural area, usually will be paid less than those who work in a city, where the cost of living is higher.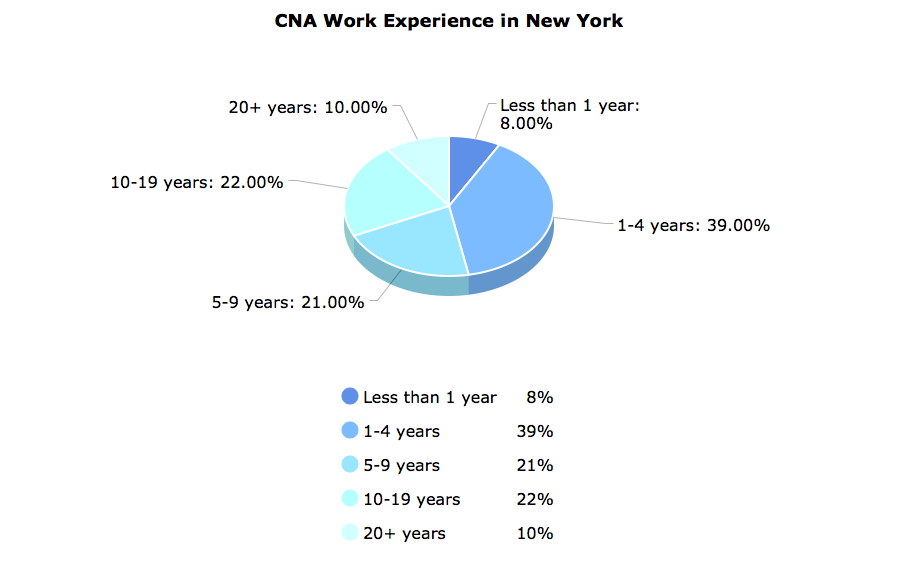 All New York State Approved CNA Programs
| LOCATION | FACILITY | ADDRESS | PHONE |
| --- | --- | --- | --- |
| Binghamton, NY | Broome Community College | P.o. Box 1017 | 607-778-5060 |
| Brentwood, NY | Long Island Eoc Farmingdale State College Brentwood Campus  | 1090a Suffolk Avenue | 631-434-3740 |
| Bronx, NY | Hostos Community College | 560 Exterior Street  | 718-518-6744 |
| Bronx, NY | Lehman College | 2501 Grand Concourse | 914-231-5064 |
| Brooklyn, NY | Asa College | 81 Willoughby Street | 877-470-9638 |
| Brooklyn, NY | Kingsborough Community College | 2001 Oriental Boulevard | 718-368-5052 |
| Brooklyn, NY | Medgar Evers College- Adult & Continuing Education | 1650 Bedford Avenue, | 718-804-8846 |
| Brooklyn, NY | Nyc College Of Technology Division Of Continuing Ed | 25 Chapel Street | 718-552-1180 |
| Buffalo, NY | Buffalo Eoc | 465 Washington Street | 716-849-6737 |
| Canandaigua, NY | Finger Lakes Community College | 3325 Marvin Sands Drive  | 585-785-1000 |
| Corning, NY | Corning Community College | 132 Denison Parkway East | 607-962-9222 |
| East Setauket, NY | University Hospital At Suny Stony Brook Department Of Clinical Education | 14 Technology Drive, Suite 1 | 631-444-4319 |
| Farmingdale, NY | Long Island Eoc Farmingdale State College Hooper Hall | 2350 Broadhollow Road | 631-420-2280 |
| Garden City, NY | Nassau Community College | One Education Dr. | 516-572-7489 |
| Geneva, NY | Marion S. Whelan School Of Practical Nursing | 196 North Street | 315-787-4003 |
| Hempstead, NY | Long Island Eoc Farmingdale State College Hempstead Campus | 269 Fulton Avenue | 516-489-8705 |
| Jamaica, NY | York College | 94-20 Guy R. Brewer Boulevard | 718-262-2790 |
| Johnstown, NY | Fulton-montgomery Community College | 2805 State Highway 67  | 518-736-3622 |
| New York, NY | City College Of New York Continuing & Professional Studies | 160 Convent Ave Shepard Hall 2 | 914-843-7983 |
| New York, NY | Manhattan Eoc | 163 West 125th Street | 212-961-4320 |
| Ossining, NY | Westchester Community College Ossining Extension Site | 22 Rockledge Avenue | 914-606-7400 |
| Rochester, NY | Rochester Educational Opportunity Center | 161 Chestnut Street  | 585-232-2730 |
| Schenectady, NY | Schenectady County Community College | Center City Campus 433 State Street 2r | 518-621-4007 |
| Spring Valley, NY | Westchester Eoc | 16 East Church Street | 914-606-7646 |
| Staten Island, NY | Cuny College Of Staten Island Office Of Continuing Education & Professional Development | 2800 Victory Blvd. | 718-313-0843 |
| Syracuse, NY | Suny Syracuse Eoc | 100 New Street | 315-472-0130 |
| Troy, NY | Capital District Eoc | 431 River Street  | 518-273-1900 |
| Utica, NY | Mohawk Valley Community College | 1101 Sherman Drive | 315-792-5300 |
| Utica, NY | Mohawk Valley Community College | Center For Corporate & Community Education 1101 Sherman Drive | 315-792-5305 |
| Yonkers, NY | Cochran School Of Nursing Andrus Pavillon St. John's Riverside Hospital | 967 North Broadway | 914-964-4283 |
| Yonkers, NY | Westchester Eoc | 26 South Broadway, 8th Floor | 914-606-7646 |
CNA Classes In Other States:
Related topics:
Weekend CNA Classes in New York
Paid CNA Training in New York
Free CNA Classes in Long Island New York
CNA Classes Online in New York
CNA Classes in Western New York
CNA Classes in Queens New York
CNA Classes in Manhattan New York
CNA Classes in Long Island New York
CNA Classes in Brooklyn New York
Accredited CNA Programs in Bronx
Accredited CNA Programs in New York