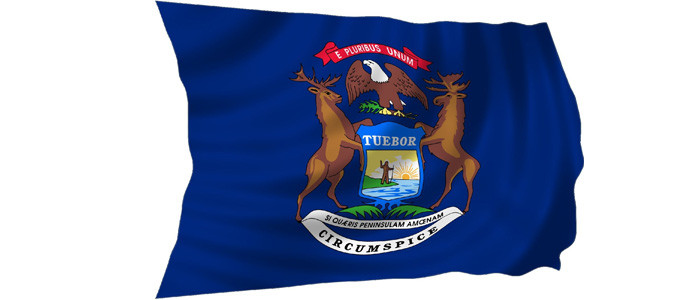 Due to the improved patient care, increasing emphasis on preventive care of aging population, most healthcare facilities need more employees to serve in the health field, and therefore the demand for Certified Nursing Assistants (CNAs) is growing rapidly and is expected to continue to grow for several years to come.
Individuals interested in a career as a CNA in the state of Michigan must complete a CNA training program approved by the Michigan Department of Community Health, including classroom and clinical training, as well as pass a state exam in order to achieve certification.
The training programs meet the national guidelines and Federal regulations and are usually offered at community colleges, technical and vocational schools, private schools, online courses through distance education schools, the American Red Cross and other medical facilities. Also, some facilities may offer free CNA training programs and a job position upon completion of the training and successful certification.
The duties include the daily care of patients with basic personal hygiene, such as toileting, bathroom, dressing, feeding, taking vital signs and keeping the patient's environment clean, changing bed linens, transporting patients, providing support in ambulation, proper maintenance and sterilizing of medical equipment, etc.
CNA Training Requirements
An individual who desires to become a CNA in Michigan must be at least 18 age to get enrolled in a CNA program, and she / he should have a high school diploma or GED certification before applying for admissions. Additional, must have the ability to read and write in English, a clean criminal record and a medically documented negative TB status.
The fee that has to be submitted before enrollment, may range from $700 to $1600, and the usual duration of a program is between six to twelve weeks. In Michigan, there are more than 200 approved CNA training programs and an aspirant must complete at least 75 hours of training to meet the minimum education requirement, with at least 56 hours in a classroom setting and 16 hours at clinical practice to prepare the students for the actual job requirements prior to entering the workforce. Although each facility has a different number of training hours, the Michigan Department of  Community Health requires a minimum of 75 hours of training. Additionally, this training will prepare students for the CNA licensing exam in Michigan.
There are no general education courses and the program focuses solely on the main skills and procedures of nursing. The training courses often cover medical terminology, anatomy and physiology, infection control, basic nursing skills, communication, hygiene issues and environmental cleanliness issues, emergency response procedures, and many other nursing related subjects.
Additonally, it will often cover topics like hand washing, body mechanics, seizure information, foot care, wheelchairs, hydration and nutrition, universal precautions, bathing and toileting, walker or cane assistance, body mechanics, back care, taking vital signs, dealing with patients having bleeding, burns or unconscious, personal protective equipment, personal care, dressing or bed operation and manual or mechanical lifts.
Since there is a certain fee for the training program, you can always find grants from different facilities like community colleges or find them in nursing homes. As a return of their sponsorship, you will be required to work for them in a span of time. However this means that you will immediately get a job right after the process of certification.
Michigan CNA Certification
The certification examination will be given after the training program. This will test your knowledge on the different nursing topics covered and it will assess your capabilities to perform certain skills. The state of Michigan has contracted with Prometric for administration of CNA exams, and the examinee must pass the certification exam within 24 months of completing the CNA training program. Examination has two sections: a written knowledge test that is an objective test assessing theoretical knowledge, as well as a clinical exam that is a test of practical competency skills.
You have to pass the written exam first before you can proceed to the skills exam. If you failed for the third time, you will be asked to undergo a re-training. All the information regarding the exam can be obtained from Prometric. Check their site to keep updated. Ensure that you gather all the required documents because you will not be allowed to take the exam if you cannot present a certification stating that you completed the training or a Social Security number and a photo ID. Results will also be given by Prometric whether you passed or failed the exam.
Failure to pass the examination in three tries will result in the student being required to re-take the training before sitting for the exam again.
If you successfully passed the CNA exam, your name will be included in the Michigan Nurse Aide Registry. The registry operates under MI Department of Licensing and Regulatory Affairs (LARA).
The registration is valid for two years only and you have to renew it in order to work eligibly as a Certified Nursing Assistant in Michigan. You will have to present a document stating that you worked a minimum of 8 hours for the last two years. This is very important because the Nurse Aide Registry will make sure that you have practiced your profession and you are updated with the latest nursing skills.
Working as a Certified Nursing Assistant is such a rewarding experience. It comes with a sense of fulfilment and a lifetime enhancement of expertise. Start undergoing the training program and see how fulfilling this profession is!
CNA Salary in Job Outlook in Michigan

There are a lot of opportunities when you work as a Certified Nursing Assistant in Michigan. CNA is a rewarding career and one may expect a starting salary around $25,000 a year plus dental and health benefits. Experience, job location and the employer are important factors that affect how much money one can earn as a CNA. On average CNA salary is $27,990 annually.
Certified Nursing Assistants (CNAs) in Michigan, work under the direct supervision of a licensed health care professionals like nurses and doctors. They are employed in hospitals, nursing homes, healthcare facilities and related medical facilities, including the Children's Hospital of Michigan, Henry Ford Hospital, Traverse City State Hospital and William Beaumont Hospital.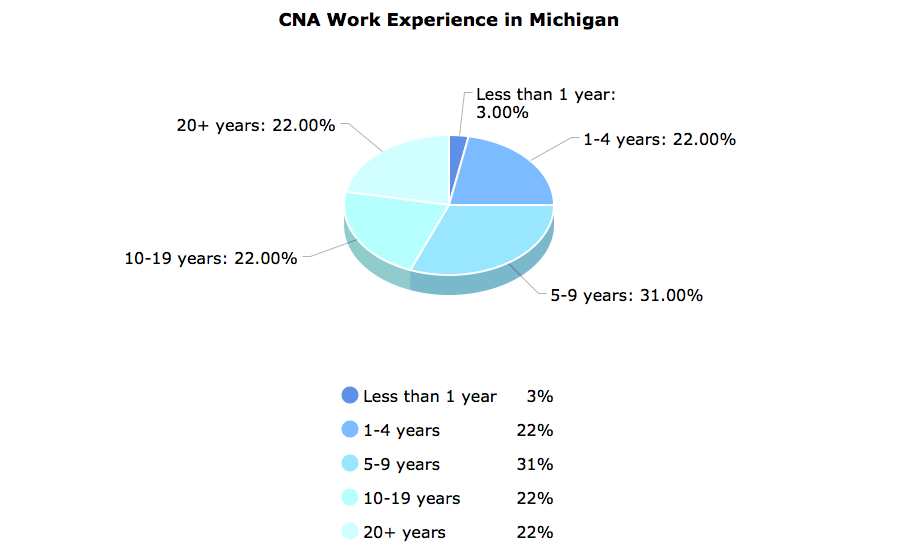 All Michigan State Approved CNA Programs
| LOCATION | FACILITY | ADDRESS | PHONE |
| --- | --- | --- | --- |
| Adrian, MI | Lenawee Medical Care Facility | 200 Sand Creek Hwy | 517-263-6794 |
| Albion, MI | Kellogg Community College – East | 14055 26 Mile Road | 517-630-8169 |
| Allegan, MI | Ely Manor | 1200 Ely Street | 269-673-1500 |
| Allen Park, MI | Health Care Solutions And Career Group | 8040 Allen Road | 248-595-4195 |
| Alma, MI | Mt. Pleasant Area Voc/tech | 1500 North Pine Avenue | 989-463-3111 |
| Alma, MI | Prestige Training Center | 414 Prospect Ave. | 989-763-0127 |
| Alpena, MI | Health Care Occupations Nurse Asst. Alpena High School | 3303 S. Third St. | 989-358-5221 |
| Alpena, MI | Tendercare Alpena Hlth & Rehab Ctr | 301 Long Rapids Road | 989-356-2194 |
| Ann Arbor, MI | Washtenaw Community College | 4800 East Huron River Drive | 734-973-3474 |
| Attica, MI | Lapeer Ed And Tech Center | 690 North Lake Pleasant Road | 810-664-1124 |
| Bad Axe, MI | Huron Isd - Huron Area Technical Ctr | 1160 S. Van Dyke | 989-269-9284 |
| Battle Creek, MI | Calhoun Co. Medical Care Facility | 1150 Eat Michigan Ave | 269-962-5458 |
| Battle Creek, MI | Kellogg Community College | 450 North Avenue | 269-965-3931 |
| Bay City, MI | Bay Nurse Assistant Program | 1111 N. Sherman | 989-894-2151 |
| Bay City, MI | Bay-arenac Career Center – Voc Ed | 4155 Monitor Road | 989-686-4770 |
| Benton Harbor, MI | Lake Michigan College | 2755 E. Napier Avenue | 269-926-4296 |
| Benton Harbor, MI | Mi Career & Technical Institute | 499 W. Main Street | 269-664-9255 |
| Big Rapids, MI | Mecosta-osceola Career Center | 15830 190th Avenue | 231-796-5805 |
| Bloomfield Hills, MI | Covenant Academy | 43996 Woodward Ave.#210 | 248-481-6602 |
| Brighton, MI | Caretel Inns Of Brighton | 1014 E Grand River Ave. | 810-220-5222 |
| Cadillac, MI | Agape Health Care Schools | 2141 Plett Road, Suite B | 231-577-9885 |
| Cadillac, MI | W.m.a. Career Technical Center | 400 Hobart Street | 231-876-6090 |
| Caro, MI | Tuscola Intermediate School | 1385 Cleaver Road | 989-673-5300 |
| Caro, MI | Tuscola Technology Center | 1401 Cleaver Road | 989-673-5300 |
| Caseville, MI | Great Lake Medical Training | 7075 Main Street, Po Box 1614 | 989-545-9395 |
| Cassopolis, MI | Back To Basics Wellness, Life | 812 East State Street | 269-484-4647 |
| Centreville, MI | Glen Oaks Community College | 62249 Shimmel Road | 269-467-9945 |
| Cheboygan, MI | Tendercare Of Cheboygan | 824 S. Huron St. | 231-627-4347 |
| Chelsea, MI | Chelsea High School Swwc | 740 N. Freer Rd. | 734-732-6188 |
| Chesterfield, MI | Career Health Studies | Training 47031 Gratiot Ave. | 586-229-2484 |
| Coldwater, MI | Branch Area Careers Center | 366 Morse Street | 517-279-5721 |
| Coldwater, MI | Kellogg Community College | 125 Seeley Street | 517-278-3300 |
| Coloma, MI | Coloma High School | 300 West St. Joseph St. | 269-468-2400 |
| Crystal Falls, MI | Iron County Medical Care Facility | 1523 West Us 2 | 906-875-6671 |
| Dearborn, MI | Henry Ford Community College | 3601 Schaefer Road | 313-845-9661 |
| Detroit, MI | American Red Cross Southeastern Michigan Region | 100 Mack Avenue | 313-833-4440 |
| Detroit, MI | Genanscot Services | 17800 E. Warren | 313-647-9860 |
| Detroit, MI | Greater Horizon Training Institute | 619 Griswold, Suite 1520 | 313-871-2600 |
| Detroit, MI | Health Care Solutions And Career Group | 15800 West Mcnichols, Suite 233 | 313-270-4550 |
| Detroit, MI | Helping Hands Training Programs For Cena's Llc | 430 Mack Ave. | 313-585-8723 |
| Detroit, MI | Laersi Era Medical Training Llc | 5555 Conner Ave. | 313-571-3398 |
| Detroit, MI | Michigan Career & Technical Inst. | 2600 Garland St. | 269-664-9255 |
| Detroit, MI | N.u.r.s.e.s. (Ecorse High School) | 27225 W. Outer Dr. | 313-577-8605 |
| Detroit, MI | Odyssey Educational Center | 18455 James Couzens Hwy. | 313-341-7512 |
| Detroit, MI | Wayne County Community College | 8200 West Outer Drive | 313-943-4493 |
| Dowagiac, MI | Southwestern Michigan College | 58900 Cherry Grove Road | 269-782-1237 |
| East Jordon, MI | Grandvue Medical Care Facility | 1728 South Peninsula Road | 231-536-2286 |
| Eastpointe, MI | Irving's Professional | 17036 Nine Mile Road | 586-777-8500 |
| Escanaba, MI | Bay De Noc Community College | 2001 N. Lincoln Road | 906-786-5802 |
| Escanaba, MI | Delta-schoolcraft Isd Career Center | 2525 Third Avenue South | 906-341-4300 |
| Farmington Hills, MI | Advanced Care Training For Health Care Professionals | 31600 West 13 Mile Rd., Ste 118 | 248-702-6459 |
| Farmington Hills, MI | Excelling Nursing Academy Inc. | 25820 Orchard Lake Rd. | 248-313-2275 |
| Farmington, MI | Rapha Care Academy Corp. | 31822 Grand River | 888-772-9322 |
| Flint, MI | Charter Health Care Training Center | 1055 Charter Drive | 810-600-6000 |
| Flint, MI | Genesee Area Skill Center | G-5081 Torrey Road | 810-760-4462 |
| Flint, MI | Genesee Health Careers | G3306 Miller Road | 810-407-8126 |
| Flint, MI | Mott Community College | 1401 E. Court Street | 810-762-0317 |
| Flint, MI | Mott Community College | 711 N. Saginaw Street | 810-232-2939 |
| Fort Gratiot, MI | Medilodge Of Port Huron | 5635 Lakeshore Road | 810-385-7447 |
| Frankfort, MI | Maples Nurse Aide Training Program | 210 Maple St. | 231-352-9674 |
| Fremont, MI | Stepping Stone Educational Sys. | 4715 Trillium Springs Blvd. | 231-722-7111 |
| Fremont, MI | Newaygo County Career-tech – Voc Ed Center | 4645 West 48th Street | 231-924-0380 |
| Garden City, MI | Phlebotomy Career Training | 28050 Ford Road, Suite C | 734-762-3220 |
| Gaylord, MI | Agape Health Care Schools | 825 N. Center Ave. | 231-577-9088 |
| Gaylord, MI | Tendercare Gaylord Hlth & Rehab. Ctr | 508 Random Lane | 989-732-3508 |
| Grand Rapids, MI | Flat River Medical | 2025 East Beltline Suite 105 | 989-287-0228 |
| Grand Rapids, MI | Michigan Career And Technical Institute | 215 Straight Ave. Nw | 269-664-5850 |
| Grand Rapids, MI | Flat River Medical | 2025 East Beltline, Ste 105 | 989-287-0228 |
| Grand Rapids, MI | Gerald R. Ford Job Corps Center | 110 Hall Street Se | 616-243-6877 |
| Grand Rapids, MI | Grand Rapids Community College Holland Homes | 143 Bostwick Ave. | 616-234-4599 |
| Grand Rapids, MI | Health Care Associates | 3101 Prairie Street Sw | 616-531-9973 |
| Grand Rapids, MI | Health Science Academy | 435 Ionia St. Sw | 616-364-8421 |
| Grand Rapids, MI | Kent Career/tech Center | 1655 E. Beltline Road Ne | 616-364-8421 |
| Grand Rapids, MI | Michigan Career And Technical Institute C/o Michigan Works | 215 Straight Avenue Nw | 269-664-92554 |
| Grand Rapids, MI | Ross Medical Education Center | 1624 Woodworth Ne | 616-856-6277 |
| Grand Rapids, MI | Walker Medical Instruction | 1035 4 Mile Road Nw | 616-784-3001 |
| Grandville, MI | Goodwill Industries Of Greater Gr | 3035 Prairie Street Sw | 616-532-4200 |
| Grayling, MI | Grayling Nursing & Rehab Comm. | 331 Meadows Dr. | 989-348-2801 |
| Greenville, MI | Flat River Medical | 202 S. Lafayette St. | 989-287-0228 |
| Grosse Ile, MI | Dctc/grosse Ile High School | 7800 Grays Drive | 734-362-2808 |
| Hamtramck, MI | Career Essentials Learning Center | 11816 Joseph Campau | 313-365-3700 |
| Hancock, MI | Copper Country Isd | 809 Hecla Street | 906-482-4250 |
| Harrison, MI | Mid-michigan Community College | 1375 S. Clare Avenue | 989-386-6622 |
| Hart, MI | Oceana County Medical Care Facility | 701 E. Main Street | 231-873-6066 |
| Hillman, MI | Medilodge Of Hillman | 631 Caring Street | 989-742-4581 |
| Hillsdale, MI | Hillsdale Isd | 310 W. Bacon Street | 517-437-0990 |
| Holland, MI | Careerline Tech Center #02 | 13663 Port Sheldon Road | 877-702-8601 |
| Holland, MI | M-tec At Holland | 6364 136th Pvt | 616-738-8935 |
| Holland, MI | Mtec | 121 Clover Street | 616-834-3526 |
| Houghton, MI | Gogebic Community College | 47420 Highway M-26, Ste. 107 | 906-932-4059 |
| Howell, MI | Howell High School (Not Open To Public) | 1200 West Grand River | 517-540-8300 |
| Howell, MI | Lansing Community College-livingston Center Campus | 402 Wright Road | 517-483-1568 |
| Howell, MI | Medilodge Of Howell | 1333 W. Grand River | 517-584-1900 |
| Howell, MI | Mott Community College-livingston Center | 1240 Packard Drive | 517-552-2163 |
| Hubbardston, MI | Schafer'slodge | 7222 Beahan Road | 616-755-8505 |
| Ionia, MI | Heartlands Institute Of Technology 250 | E. Tuttle Road | 616-527-6540 |
| Ironwood, MI | Gogebic Community College | E4946 Jackson Road | 906-932-4231 |
| Jackson, MI | Jackson Area Career Center Ad Ed | 6800 Browns Lake Road | 517-787-2700 |
| Jackson, MI | Jackson Area Career Center Voc Ed | 6800 Browns Lake Road | 517-768-5200 |
| Jackson, MI | Premier Medical Academy Llc | 437 Ferry Ave., Suite A | 517-796-9452 |
| Kalamazoo, MI | Comstock Public School – Adult Ed | 3010 Gull Road | 269-250-8930 |
| Kalamazoo, MI | Ross Medical Education Center | 5177 W. Main St.,suite A | 810-956-3299 |
| Kalkaska, MI | Kalkaska Memorial Health Center | 419 South Coral Street | 231-258-7616 |
| Kingsford, MI | Dickinson-iron Tech Ed | 300 North Boulevard Avenue | 906-779-2697 |
| L'anse, MI | L'anse Area Schools | 201 N. Fourth Street | 906-524-6121 |
| Lanse, MI | Dr. Louis & Ann Guy Bayside Village | 832 Sicotte St. | 906-524-6531 |
| Lansing, MI | Career Quest Learning Centers | 3215 S. Pennsylvania Avenue | 517-318-3330 |
| Lansing, MI | Drm Ilc | 809 Center St., Suite 9a | 517-882-3544 |
| Lansing, MI | Lansing Community College Hhps 3400 | Po Box 40010 | 517-483-1568 |
| Lapeer, MI | Lapeer County Medical Care Facility | 1455 Suncrest Drive | 810-664-8571 |
| Lapeer, MI | Mott Community College | 550 Lake Drive, Suite A | 810-667-6546 |
| Lawrence, MI | Van Buren Isd – Adult Ed | 701 South Paw Paw Street | 269-674-8001 |
| Lawrence, MI | Van Buren Isd – Voc Ed | 490 South Street | 269-674-8001 |
| Livonia, MI | Future Healthcare Careers | 28800 Seven Mile Road | 248-773-1491 |
| Livonia, MI | Schoolcraft College | 18600 Haggerty Road | 734-462-4400 |
| Manisitique, MI | Schoolcraft Co. Medical Care Fac. | 520 Main St. | 906-341-6921 |
| Manistique, MI | Delta-schoolcraft Intermediate | 100 North Cedar At Main Street | 906-341-4300 |
| Manistique, MI | Manistique School District | 100 N. Cedar Street | 906-341-4300 |
| Marie, MI | Sault Area High School & Career Center Adult Ed | 904 Marquette Avenue Sault St. | 906-635-6605 |
| Marquette, MI | Norlite Nursing Center | 701 Homestead Street | 906-228-9252 |
| Marquette, MI | Superior Pro Training | 5099 Us41 & M28 | 906-273-2225 |
| Marysville, MI | St. Clair County Career Tech Ed. Center | Po Box 5001, 499 Range Road | 810-364-8990 |
| Mason, MI | Capital Area Career Center Voc Ed | 611 N. Hagadorn Road | 517-244-1303 |
| Mcbain, MI | Autumnwood Of Mcbain | 220 S. Hughston St. | 231-825-2990 |
| Midland, MI | Education And Training Connections Etc – Midland | 884 E. Isabella Road | 989-755-7347 |
| Midland, MI | Ross Education, Llc Dba Ross Medical Education | 2600 N. Saginaw | 989-633-3068 |
| Milford, MI | Medilodge Of Mildford | 555 Highland Ave. | 248-685-1460 |
| Monroe, MI | Advanced Career Training | 2059 N. Monroe Street | 734-652-7197 |
| Monroe, MI | Fountain View Of Monroe | 1971 N. Monroe St. | 734-243-8835 |
| Monroe, MI | Medilodge Of Monroe | 481 Village Green Lane | 734-242-6282 |
| Monroe, MI | Monroe County Community College | 1555 S. Raisinville Road | 734-242-7300 |
| Mt. Pleasant, MI | Career Quest Learning Centers, Inc. | 2116 Mission Street | 517-853-7213 |
| Mt. Pleasant, MI | Mt. Pleasant Area Voc/tech | 1155 South Elizabeth Street | 989-775-2210 |
| Munising, MI | Tendercare Health Center Munising | 300 W. City Park Drive | 906-387-2273 |
| Muskegon, MI | Healthy Focus Llc | 845 Oak Ridge Rd. | 231-755-2223 |
| Muskegon, MI | Michigan Career And Technical Institute C/o Orchard View Adult Ed | 2900 Apple Ave. | 269-664-5850 |
| Muskegon, MI | Muskegon Community College | 221 S. Quarterline Road | 231-777-0254 |
| Muskegon, MI | Stepping Stone Educational Sys. | 955 W. Norton Avenue, Suite A | 231-722-7111 |
| Negaunee, MI | Eastwood Nursing Center | 900 Maas Street | 906-475-7500 |
| Newberry, MI | Helen Newberry Joy Hospital – Ltcu | 501 W. Harrie Street | 906-293-9229 |
| Oak Park, MI | Hazy Institute Of Learning | 21700 Greenfield Road, Suite 264 | 248-850-7110 |
| Oak Park, MI | Quality Healthcare Training Llc | 25900 Greenfield Rd., Suite 138 | 248-277-8731 |
| Owosso, MI | Baker College Owosso | 1020 S. Washington Street | 989-729-3416 |
| Peck, MI | Sanilac Career Center – Adult Ed | 175 East Aitken Road | 810-648-4700 |
| Petoskey, MI | North Central Michigan College | 1515 Howard Street | 231-348-6600 |
| Petoskey, MI | Nursing Assistant Training The Villa At The Bay | 1500 Spring St. | 231-347-5500 |
| Plainwell, MI | Michigan Career & Technical Center | 11611 W. Pine Lake Road | 269-664-9200 |
| Plymouth, MI | Medilodge Of Plymouth | 395 W. Ann Arbor Trl. | 734-453-3983 |
| Port Huron, MI | St. Clair County Community College | 323 Erie Street, Po Box 5015 | 810-989-5675 |
| Rochester, MI | Oakland University School Of Nursing | 426 O'dowd Hall | 248-370-4510 |
| Rogers City, MI | Tendercare Health Center – Rogers City | 555 North Bradley Hwy | 989-734-2151 |
| Roscommon, MI | Coor Intermediate School District | 11075 N. Helen Road | 989-275-9580 |
| Roscommon, MI | Kirtland Community College | 10775 N. St. Helen Street | 989-275-5000 |
| Roseville, MI | Career Health Studies | 26447 Gratiot Avenue | 586-773-5329 |
| Saginaw, MI | Education And Training Connections Etc – Saginaw | 2415 N. Charles St. | 989-755-7347 |
| Saginaw, MI | Latoya's Health Education | 1000 Brockway | 989-797-4602 |
| Saginaw, MI | Saginaw Career Complex | 2120 Weiss Street | 989-399-6150 |
| Saline, MI | S & W Washtenaw Voc Consortium | 1300 Campus Parkway | 734-429-8060 |
| Sault St. Marie, MI | Medilodge Of Sault St. Marie | 1011 Meridian | 906-635-0151 |
| Sault Ste Marie, MI | War Memorial Hospital | 500 Osborn Blvd. | 906-440-3161 |
| Sidney, MI | Montcalm Area Career Center | 1550 W. Sidney Road | 989-352-7221 |
| Sidney, MI | Montcalm Community College | 2800 College Drive, Sw Po Box 300 | 989-328-1240 |
| Southfield, MI | Abcott Institute | 16250 Northland Drive, Suite 205 | 248-440-6020 |
| Southfield, MI | Med Training Center Llc1 | 27215 Southfield Road | 248-223-9870 |
| Southfield, MI | Mi Health Institute Llc | 15565 Northland, Suite 201e | 248-327-6421 |
| Southfield, MI | Serenity Healthtraining Inst. | 20245 W 12 Mile Rd., Suite 217 | 586-925-0115 |
| Spring Lake, MI | M-tec At Comfort Keepers | 18000 Cove Street | 313-300-0028 |
| Spring Lake, MI | Mtec @ Heartwood Lodge North Ottawa Care Center | 18525 Woodland Ridge Dr. | 616-638-6259 |
| St. Ignace, MI | Mackinac Straits Long Term Care | 1140 N. State St. | 906-643-0427 |
| St. Johns, MI | Clinton Co. Resa-career Connections | 1013 S. Us-27, Suite A | 989-640-8015 |
| St. Joseph, MI | Ciena Healthcare-royalton Manor | 288 Peace Blvd. | 269-556-9050 |
| St. Marie, MI | Sault Area High School & Career Center Voc Ed | 904 Marquette Avenue Sault | 906-635-6605 |
| Stephenson, MI | Roubal Care And Rehab Center | 306 Maple Street | 906-753-4981 |
| Street Tawas City, MI | Tendercare Of Tawas | City 400 W. North | 989-362-8645 |
| Stugis, MI | Froh Community Home | 307 N. Franks Ave. | 269-651-7841 |
| Tawas City, MI | Iosco Intermediate School District | 27 North Rempert Road | 989-362-3006 |
| Taylor, MI | Cdh Healthcare Solutions Llc | 26100 Eureka Rd. | 248-506-2727 |
| Temperance, MI | Hickory Ridge Of Temperance | 951 Hickory Creek Blvd. | 734-206-8200 |
| Traverse City, MI | Agape Health Care Schools | 10781 E. Cherry Bend Rd. | 231-577-9885 |
| Traverse City, MI | Career Tech Center – Ad Ed | 880 Parsons Road | 231-922-6280 |
| Traverse City, MI | Grand Traverse Pavilions | 1000 Pavilions Circle | 231-932-3000 |
| Traverse City, MI | Integrity Health Training School | 2062 N. Us31 South, Suite A | 231-946-3000 |
| Traverse City, MI | Northern Michigan Health Training | 1396 Douglass Drive | 231-941-1000 |
| University Center, MI | Delta College | 1961 Delta Road | 989-686-9000 |
| Wakefield, MI | Gogebic County Nurse Aide Training | 402 North Street | 906-224-9811 |
| Warren, MI | American Red Cross Southwestern Region | 13260 E. Eleven Mile Rd. Rm.306 | 313-833-4440 |
| Warren, MI | Macomb Community College | 14500 East 12 Mile Road | 586-445-7252 |
| Waterford, MI | Warren Health Academy | 3691 Sashabaw Road | 248-461-6620 |
| West Branch, MI | Ogemaw Heights High School | 960 M-33 | 989-343-2020 |
| Westland, MI | Wm. D. Ford Vocational/tech Center | 36455 Marquette Street | 734-419-2100 |
| Whitmore Lake, MI | Regency At Whitmore Lake | 8633 Main St. | 734-449-4431 |
| Wixom, MI | Oakland Technical Center Sw Campus | 1000 Beck Road | 248-960-5600 |
| Woodhaven, MI | Applewood Nursing Center | 18500 Van Horn Rd. | 734-676-7575 |
| Ypsilanti, MI | Heart To Heart Healthcare Training | 317 Ecorse Rd., Suite 5 | 734-890-9574 |
| Ypsilanti, MI | Mi Health Careers | 1145 Ecorse Rd. | 313-461-6668 |
CNA Classes In Other States: