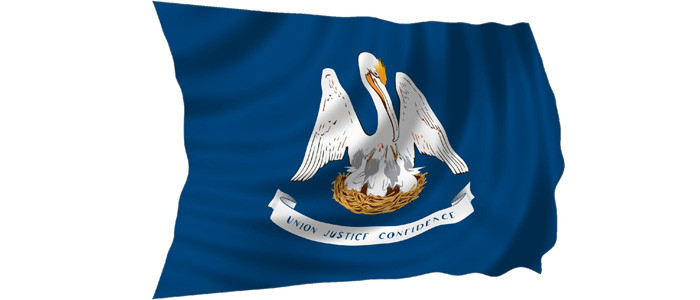 Certified Nursing Assistants (CNAs) in Louisiana, are in great demand at private nursing homes, hospitals and long-term care facilities as play an important role in the personal care of patients, provide essential health care, actively take a role in the patient's wellbeing always under the direction and supervision of a Registered Nurse (RN) or a Licensed Practical Nurse (LPN).
Individuals interested in a career as a CNA in the state of Louisiana, must first attend an approved CNA training program that is regulated by Louisiana Department of Health and Hospitals, and then pass the competency exam and listed as eligible on the Louisiana Nurse Aide Registry.
There are noumerous nursing training programs throughout the Louisiana that meet the guidelines and the Federal regulations. Those are mostly offered at community colleges, online schools, universities or specialized schools, as well at several healthcare facilities. Also, the American Red Cross offers regular CNA training classes.
Additional, some hospitals and nursing facilities provide free training, in exchange the employment for a specified period of time upon completing training and certification. However, a majority of the nursing homes in the state of Louisiana do not provide direct CNA training, but they sponsor your training at another facility.
CNA perform tasks like, taking vital signs, tidying patients' room, dressing, feeding, bathing, transporting of patients, stocking supplies, operation and maintenance of medical equipment, safety and emergency procedures (CPR), etc.
CNA Training Requirements in Louisiana
The Louisiana Department of Health and Hospitals approves CNA programs in Louisiana. A high school diploma or GED certification is recommended for CNAs, but not required by the state. The applicant must be 18 years of age, must have proof of immunizations as well as a clean criminal background report, and an application fee ($35) to enroll.
General requirements for training programs in Louisiana stipulate that a student must complete a minimum of 80 hours of training. Out of the 80 hours, the initial 40 hours will have to be in a classroom training, and the next 40 hours will require clinical practice in a nursing home or hospital in Louisiana. These programs can last for 6 to 12 weeks and their fees may range from $800 to $2000. If it is more than you can afford, it is possible to ask sponsorship from the healthcare facility offering the program.
Aspiring Certified Nursing Assistants will learn several nursing skills as well as techniques that are essential for their certification exam and clinical duties. The subjects taught will range from the basic nursing skills like bedside manner, recognizing and dealing patients with different personalities, infection control and even hand washing. The training programs cover subjects that will instruct students to effectively handle the medical, psycho-social, physical and emotional needs of patients in healthcare facilities. Also, the trainees have to study subjects related to anatomy and physiology, nutrition, body mechanics, resident rights, communication and interpersonal skills, personal care, infection control, how to understand medical terminologies, how to handle medical equipment and how to respond to health emergencies. The CNA classes in Louisiana are often conducted by a nurse educator.
Louisiana CNA Certification
Before you take the training program, ask the facility about the date of certification exam and where it will take place. At the end of the program, students are prepared to take the Certified Nursing Assistant test at any one of the test locations that is approved by the Louisiana State Board of Nursing in cooperation with the National Council of State Boards of Nursing (NCSBN).
There will be certain requirements needed for the exam such as a clear TB test, a criminal background check, photo ID, a social security number, and a $100 fee. If you cannot complete all of these, you will not be allowed to take the exam. The certification exam in Louisiana is a multiple-choice questions test and a skills check exam. You have to pass both of them in order to get the certification and work as a CNA.
The test is called 'National Nurse Aide Assessment Program (NNAAP)' and consist of a written test, where there are multiple-choice questions related to physical care, psychosocial care, and role of a nursing assistant, and in clinical examination, where examinees have to demonstrate any five nurse aide skills out of a set of 25 competency skills. Clinical exam is often administered after one or two weeks from written test. Examinee will need to re-take the training course if they fail three times in competency exam.
If you pass the exm Louisiana Board of Examiners of Nursing Facility Administrators will inform you about it. Upon successful completion of training and the certification examination, candidate's name is placed as eligible on the Louisiana Nurse Aide Registry that maintains records of all those who work as CNA in state. Nursing assistant licenses remain valid for a period of two years and then must be renewed. There are no fees involved in placing your name on the Nurse Aide Registry including the renewal of certification. However, you have to pay $12 for the CNA ID card in case you want to have it.
CNA Salary and Job Outlook in Louisiana

There is a positive trend for CNA career path in Louisiana and a promising future in the healthcare field. The career opportunities are many and varied for those who are willing to develop and advance their careers. Experience is usually the most important aspect in determining the CNA salary in Louisiana. Experienced CNAs will enjoy many benefits if are able to build on their knowledge, experience and abilities.
Certified Nursing Assistants are high in demand in several healthcare facilities and the need for these healthcare workers continue to grow about 3% yearly.  Majority of jobs are found in larger cities like Bossier, Shreveport, Baton Rouge and Lafayette. Areas with higher population have also more job vacancies. Right now there are 23,950 nursing assistants working in the state.
Even though nursing assistant salaries are some of the lowest in the country (only Puerto Rico nursing assistants make less), the average salary of $20,910 can be increased once the person gets certified and gains some experience.
Hospitals are of the facilities where CNAs usually want to work because of the higher pay and better benefits but there are other places, such as government agencies, nursing homes, rehabilitation centers, and home health agencies where a CNA can work.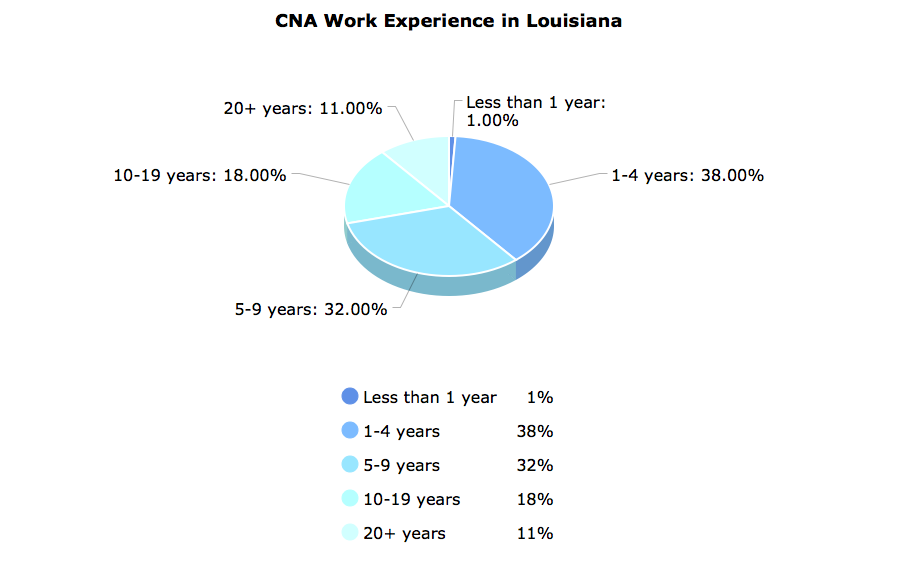 All Louisiana State Approved CNA Programs
| LOCATION | FACILITY | ADDRESS | PHONE |
| --- | --- | --- | --- |
| Abbeville , LA | South La Community College-gulf Area Campus Lpn Only | 1115 Clover Street | 337-893-4984 |
| Abbeville , LA | Vermilion Parish School Board@abbeville High Schoo | 1305 Wildcat Drive | 337-893-1874 |
| Albany , LA | Livingston Parish School Board-albany Hs | 29710 Mulberry Street | 225-686-7044 |
| Alexandria , LA | Central Ltcc - Alexandria | 4311 South Macarthur Drive | 318-487-5443 |
| Alexandria , LA | La Comprehensive Medical Academy, Llc | 3717 Government Street, Suite 8 | 318-528-8856 |
| Alexandria , LA | Lexington House | 16 Heyman Lane | 318-442-4364 |
| Amite , LA | Grace And Favor Training Academy, Llc | 1005 N.w. Central Avenue | 985-748-7005 |
| Arnaudville , LA | J. Michael Morrow Memorial Nursing Home | 883 Main Street | 337-754-7703 |
| Bastrop , LA | Louisiana Delta Community College - Bastrop Campus | 729 Kammell St. | 318-283-0836 |
| Baton Rouge, LA | Advance Healthcare Institute | 16851 Jefferson Hwy., Suite 10a | 225-335-4705 |
| Baton Rouge, LA | Aspire Medical Training Academy | 4148 North Blvd | 225-272-5894 |
| Baton Rouge, LA | Baton Rouge Community College - Acadian Campus | 3250 N. Acadian Thruway East | 225-359-9310 |
| Baton Rouge, LA | Baton Rouge Community College Rn Only | 201 Community College Dr. | 225-216-8044 |
| Baton Rouge, LA | Camelot College | 2618 Wooddale Blvd | 225-928-3005 |
| Baton Rouge, LA | Central Community School District-central High Sch | 10200 E Brookside Drive | 225-261-3438 |
| Baton Rouge, LA | Delta College Of Arts And Technology-lpn Only | 7380 Exchange Place | 225-928-7770 |
| Baton Rouge, LA | Ebr Career And Technical Education Center | 2101 Lobdell Blvd. | 225-414-1663 |
| Baton Rouge, LA | Flannery Oaks Guest House | 1642 North Flannery Road | 225-275-6393 |
| Baton Rouge, LA | Franciscan Missionaries Of Our Lady University-rn Only | 7500 Hennessey Blvd | 225-490-1698 |
| Baton Rouge, LA | Glen Oaks Hs | 6550 Cedar Grove Drive | 225-356-4306 |
| Baton Rouge, LA | Heritage Manor Of Baton Rouge | 9301 Oxford Place Dr. | 225-291-8474 |
| Baton Rouge, LA | Med-advance Training | 1200 South Acadian Thurway, Suite 110 | 225-448-5738 |
| Baton Rouge, LA | Mia's Medical Academy, Llc | 7525 Florida Boulevard | 225-250-5199 |
| Belle Chasse, LA | Riverbend Nursing And Rehab | 13735 Hwy 23 | 504-656-0068 |
| Bogalusa , LA | Northshore Tcc-sullivan Campus | 1710 Sullivan Dr. | 985-732-6640 |
| Bossier City, LA | Bossier Parish Comm. College | 6220 E. Texas St | 318-678-6015 |
| Bossier City, LA | Bossier Parish School For Technology And Innovative Learning | 1020 Innovation Drive | 318-759-2918 |
| Bossier City, LA | Riverview Care Center | 4820 Medical Drive | 318-744-1857 |
| Breaux Bridge, LA | St Agnes Healthcare And Rehabilitation Center | 606 Latiolais Road | 337-332-4808 |
| Breaux Bridge, LA | St. Martin Parish College And Career Readiness Cen | 702 West Bridge Street | 337-332-1270 |
| Chalmette , LA | Nunez Community College-generic College Students | 3710 Paris Road | 504-278-6380 |
| Cottonport , LA | Central Ltcc - Ward H. Nash - Avoyelles Campus | 508 Choupique Street | 318-876-2401 |
| Coushatta , LA | Green Meadow Haven | 1110 Ringgold Avenue | 318-932-5202 |
| Coushatta , LA | Red River Parish School Board-red River Hs | 550 Jim Moore Road | 318-932-4913 |
| Covington , LA | Forest Manor Nursing And Rehabilitation Center | 1330 Ochsners Boulevard | 985-892-6900 |
| Covington , LA | Ntcc-sullivan Campus @ Covington Hs | 73030 Lion Dr. | 985-732-6640 |
| Crowley , LA | South La Community College Acadian Campus-practical Nursing | 1933 West Hutchinson Ave | 337-788-7521 |
| Denham Springs, LA | Golden Age Healthcare & Rehabilitation Center | 27090 La Highway 16 | 225-665-5544 |
| Denham Springs, LA | Livingston Parish School Board-denham Springs Hs | 1000 North Range Ave | 225-686-7044 |
| Denham Springs, LA | Livingston Parish School Board-live Oak Hs | 36079 Hwy 16 | 225-665-8858 |
| Denham Springs, LA | Woodland Healthcare Training | 133 Aspen Square Suite E | 225-295-5015 |
| Donaldsonville , LA | Ascension Parish School Board-st. Amant Hs | 12035 Hwy. 431 | 225-473-7981 |
| Donaldsonville , LA | Ascension Public School@donaldsonville Hs | 100 Tiger Drive | 225-391-7000 |
| Eunice , LA | Eunice Career And Technical Education Center | 421 South 10th St | 337-457-8686 |
| Ferriday , LA | Central Ltcc - Ferriday Campus | 2100 E E Wallace Blvd North | 318-757-6501 |
| Ferriday , LA | Central Ltcc - Ferriday Campus @ Ferriday Hs | 801 E. E. Wallace Blvd. | 318-757-6501 |
| Ferriday , LA | Central Ltcc - Ferriday Campus Lpn Only | 2100 E.e. Wallace Boulevard | 318-757-6501 |
| Gonzales , LA | Jw Training Center | 1434 N. Burnside Ave. Suite 26 | 225-450-2810 |
| Gonzales , LA | River Parishes Commmunity College (Rpcc) - Lpn Only | 925 West Edenborne Parkway | 225-743-8500 |
| Greensburg , LA | Northshore Tcc-florida Parishes Campus | 137 College St. | 225-222-4251 |
| Greensburg , LA | Northshore Tcc-florida Parishes Campus Lpn Only | 7067 Hwy 10 | 225-222-4251 |
| Hammond , LA | Compass Career College | 42353 Deluxe Plaza, Suite 16 | 985-419-2050 |
| Hammond , LA | Northshore Tcc - Hammond Area Campus | 111 Pride Ave. | 985-543-4120 |
| Hammond , LA | Petra College | 1814 N. Morrison Blvd. Suite A | 985-419-2430 |
| Hammond , LA | Southeastern Louisiana University-rn Students Only | 400 Tennessee Avenue | 985-549-2156 |
| Harvey , LA | Andrea's Career Institute, Llc | 2010 Woodmere Boulevard Ste P | 504-265-8206 |
| Holden , LA | Livingston Parish Public Schools-holden Hs | 13120 Hwy.441 | 225-686-7044 |
| Houma , LA | Heritage Manor Of Houma | 1701 Polk Street | 985-851-2307 |
| Houma , LA | L E Fletcher Technical Community College | 310 St Charles Street | 985-858-5861 |
| Houma , LA | Learning Bridge Career Institute | 1340 W. Tunnel Blvd,suite 110 | 985-262-4685 |
| Houma , LA | Louis Miller Terrebonne Career & Technical High School | 3051 Patriot Drive | 504-851-1163 |
| Houma , LA | The Oaks Of Houma | 400 Monarch Drive | 985-876-9652 |
| Independence , LA | Tangipahoa Parish-independence High Magnet School | 470 Tiger Avenue | 985-878-9436 |
| Jackson , LA | Baton Rouge Community College - Jackson Campus | 3337 Highway 10 | 225-634-2636 |
| Jackson , LA | La War Veterans Home-jackson | 4739 La. Hwy 10 | 225-634-5265 |
| Jena , LA | Central Ltcc - Rod Brady Campus | 521 East Bradford Street | 318-992-2910 |
| Jena , LA | Cltcc Rod Brady Campus@ Jena High School | 243 East High School Drive | 318-992-2910 |
| Jennings , LA | Jefferson Davis Parish Cna Program | 2110 N. Sherman Street | 337-824-1834 |
| Jennings , LA | Southwest Louisiana War Veterans Home | 1610 Evangeline Rd. | 337-824-2829 |
| Jennings , LA | Sowela Technical Community College-morgan Smith | 1230 N Main Street | 337-824-4811 |
| Jennings , LA | Sowela Technical Community College-morgan Smith Lpn Only | 2110 N. Sherman Street | 337-824-4811 |
| Jonesboro , LA | Forest Haven Nursing & Rehabilitation Center, Llc | 171 Thrasher Drive | 318-259-2729 |
| Jonesboro , LA | Jackson Parish School Board-jonesboro Hodge Hs | 225 Pershing Highway | 318-259-4456 |
| Kaplan , LA | Kaplan Healthcare Center | 1300 W 8th Street | 337-643-7302 |
| Kenner , LA | Bonnabel Magnet Academy High School | 2801 Bruin Drive | 504-443-4564 |
| Kenner , LA | Chateau Living Center Of Kenner, Llc | 716 Village Rd. | 504-464-0604 |
| Kenner , LA | Healthcare Training Institute | 322 Williams Blvd. | 504-467-2155 |
| Kentwood , LA | Tangipahoa Parish School System-kentwood High Magn | 603 9th Street | 985-229-2881 |
| Kinder , LA | Kinder Retirement & Rehabilitation Center | 13938 Hwy 165 | 337-738-5671 |
| Lacombe , LA | Lacombe Nursing Center | 28119 Hwy 190 | 985-882-5417 |
| Lafayette , LA | Delta College Of Arts&technology-lafayette Campus-lpn Only | 200 Republic Avenue | 337-988-5455 |
| Lafayette , LA | Infinity College | 117 West Pinhook Road | 337-261-9009 |
| Lafayette , LA | South La Community College - Lafayette (Preceptor) | 1101 Bertrand Drive (Ardoin Building) | 337-521-9628 |
| Lafayette , LA | South La Community College- Ardoin Building Lpn Only | 1101 Bertrand Dr | 337-262-5962 |
| Lafayette , LA | W.d. And Mary Baker Smith Career Center | 200 18th Street | 337-521-7570 |
| Lake Charles, LA | Landmark Of Lake Charles | 2335 Oak Park Boulevard | 337-478-2920 |
| Lake Charles, LA | Resthaven Nursing And Rehabilitation Center | 1103 W Mcneese Street | 337-477-6300 |
| Lake Charles, LA | Sowela School Of Nursing (Rn Only) | 3820 Sen. J. Bennett Johnston Ave. | 337-421-6584 |
| Lake Charles, LA | Washington-marion Magnet Hs | 2802 Pineview | 337-217-4080 |
| Lake Providence, LA | Louisiana Delta Community College-lake Providence | 156 Hwy 833-1 | 318-559-0864 |
| Laplace , LA | Compassionate Healthcare Training, Llc | 421 W. Airline Hwy | 504-606-0151 |
| Leesville , LA | Central Ltcc - Lamar Salter Campus | 15014 Lake Charles Hwy | 337-537-3135 |
| Leesville , LA | Leesville Hs | 502 Berry Ave. | 337-239-3464 |
| Livonia , LA | Pointe Coupee Parish School Board-livonia Hs | 3118 La Highway 78 | 225-638-9036 |
| Lockport , LA | Lafourche Parish Career Magnet Center | 6419 Hwy 308 | 985-532-6596 |
| Mandeville , LA | Heritage Manor Of Mandeville | 1820 W. Causeway Approach | 985-626-4798 |
| Mandeville , LA | Ntcc-sullivan Campus/fontainebleu High School | 100 Bulldog Dr. | 985-892-7221 |
| Mandeville , LA | Pontchartrain Health Care Center | 1401 Florida Street | 985-626-8581 |
| Mansfield , LA | Northwest Ltc-mansfield Campus Lpn Only | 943 Oxford Road | 318-872-2243 |
| Mansura , LA | Louisiana Medical Certifications-avoyelles Campus | 8269 Hwy 1, Suite #6 | 225-240-2981 |
| Many , LA | Cltcc-sabine Valley Campus | 1255 Fisher Rd. | 318-256-4101 |
| Marrero , LA | Academy Of Our Lady High School | 5501 Westbank Expressway | 504-341-6217 |
| Marrero , LA | J.a.cuillier,sr.career Center | 1429b Ames Blvd | 504-340-6963 |
| Marrero , LA | Life Care, Llc | 5100 Westbank Expressway Suite 4 | 504-872-9985 |
| Marrero , LA | Wynhoven Health Care Center | 1050 Medical Center Blvd | 504-347-0777 |
| Metairie , LA | Delgado Community College Jefferson | 5200 Blair Dr | 504-671-6756 |
| Metairie , LA | East Jefferson Hs | 400 Phlox St | 504-888-7171 |
| Minden , LA | Northwest La Technical College - Minden Campus | 9500 Industrial Drive | 318-371-3035 |
| Monroe , LA | La Delta Community College-monroe Campus(Rn Only) | 7500 Millhaven Rd. | 318-345-9173 |
| Monroe , LA | Louisiana Delta Community College/ Deltalinc | 24 Accent Drive, Suite 150 | 318-362-5010 |
| Monroe , LA | Monroe City Schools @ Carroll Magnet Hs | 2009 Auburn Avenue | 318-387-6511 |
| Monroe , LA | Richwood High School | 5901 Hwy 165 Bypass | 318-361-0467 |
| Monroe , LA | Ulm - Kitty Degree School Of Nursing - Rn Program | 700 University Ave | 318-342-1640 |
| Monroe , LA | University Of Louisiana@monroe-the Oaks | 1000 Mckeen Place | 318-547-3241 |
| Monroe , LA | University Of Louisiana@monroe-willow Ridge Nsg & Rehab Ctr | 700 University Ave.,221 Hanna Hall | 318-342-1033 |
| Monterey , LA | Cltcc Ferriday Campus @ Monterey High School | 5920 Highway 129 | 318-757-6501 |
| Montgomery , LA | Cltcc Huey P. Long Campus @ Montgomery High School | 900 Harrison Dr. | 318-628-4342 |
| Morgan City, LA | South La Community College-young Memorial Campus | 900 Youngs Rd. | 985-380-2482 |
| Morgan City, LA | St.mary Parish School Board@morgan City Hs | 2400 Tiger Dr | 337-836-9661 |
| Napoleonville , LA | Assumption Health Care And Rehabilitation | 252 Hwy 402 | 985-369-6011 |
| Napoleonville , LA | Assumption Parish School Board@assumption Hs | 4880 Hwy 308 | 985-369-9758 |
| Natchitoches , LA | Cltcc Natchitoches Campus@natchitoches Central Hs | 6513 Hwy 1 | 318-357-3162 |
| Natchitoches , LA | Cltcc- Natchitoches Branch | 6587 Hwy 1 Bypass | 318-357-3162 |
| Natchitoches , LA | Northwestern State University ( Rn Only) | 133 Caspari Street/ 118 Fournet Hall | 318-357-6877 |
| Natchitoches , LA | University Of Louisiana@monroe-natchitoches Nsg & Rehab Ctr | 750 Keyser | 318-342-3023 |
| New , LA | Delgado Community College-charity School Of Nrsg-rn Only | 450 South Claiborne Avenue | 504-571-1290 |
| New Iberia, LA | Grade A Health Solutions | 124 E. Main St. Suite 204 | 337-321-6362 |
| New Iberia, LA | Iberia Parish Career Center | 618 Recreation Drive | 337-365-7231 |
| New Orleans, LA | Advance Nursing Training, Llc | 4480 General Degaulle Avenue | 504-994-0280 |
| New Orleans, LA | Delgado Community College-sidney Collier Campus | 3727 Louisa Street | 504-671-6756 |
| New Orleans, LA | Dryades Ymca-lpn Only | 2220 Oretha Castle Haley Blvd | 504-568-3466 |
| New Orleans, LA | Lsu Health Science Center-son Rn Only | 1900 Gravier Street | 504-568-4106 |
| New Orleans, LA | N.a.n.a. | 4509 Freret St. | 504-891-8088 |
| New Orleans, LA | New Orleans Charter Science Math H.s. | 5625 Loyola Ave. | 504-324-7061 |
| New Orleans, LA | New Orleans Job Corps Center | 8825 Airline Drive | 504-484-3512 |
| New Orleans, LA | Our Lady Of Holy Cross College - Rn Only | 4123 Woodland Drive | 504-398-2213 |
| New Orleans, LA | Renew Accelerated High School | 3649 Laurel St | 504-267-3882 |
| New Orleans, LA | Saint Agatha Career School, Llc | 7078 Read Blvd | 504-245-7227 |
| New Roads, LA | Louisiana Medical Certifications | 3442 Mary Drive | 225-240-2980 |
| Oakdale , LA | Allen Oaks Nursing And Rehabilitation Center | 909 East 6th Avenue | 318-335-1469 |
| Oakdale , LA | Sowela - Oakdale Campus - Lpn Only | 117 Hwy 1152 | 318-335-3944 |
| Oberlin , LA | St. Frances Nursing Home & Rehab Center | 417 Industrial Drive | 337-639-2934 |
| Opelousas , LA | Heritage Manor Of Opelousas | 7941 I-49 South Service Rd. | 337-942-7588 |
| Opelousas , LA | Premier Healthcare Training | 816 Creswell Lane | 337-678-4422 |
| Opelousas , LA | Senior Village Nursing And Rehabilitation Center | 315 Harry Guilbeau Road | 337-948-4486 |
| Opelousas , LA | South La Community College-t.h.harris Campus-lpn Only | 332 E. South St. | 337-948-0239 |
| Pearl River, LA | Ntcc-sullivan Campus/pearl River High School | 39110 Rebel Lane | 985-863-2591 |
| Pine Prairie, LA | Prairie Manor Nursing Home | 1050 Edwin Elliott Drive | 337-599-2031 |
| Pineville , LA | Hilltop Nursing And Rehabilitation Center Llc | 336 Edgewood Drive | 318-442-9552 |
| Plaquemine , LA | River Parishes Community College - Westside Campus | 25250 Tenant Road | 225-687-5507 |
| Rayville , LA | Healthcare And More | 106 Courthouse Square | 318-728-8989 |
| Reserve , LA | South Central Ltc-river Parishes | 181 Regala Park Road | 985-536-4418 |
| Reserve , LA | Southeast Louisiana War Veterans Home | 4080 West Airline Hwy | 985-479-4080 |
| Reserve , LA | St.john The Baptist Parish School Board-east St.john Hs | # 1 Wildcat Drive | 985-536-4226 |
| Rosepine , LA | Rosepine Retirement & Rehabilitation Center, Llc | 18364 Central Avenue | 337-463-8778 |
| Ruston , LA | Louisiana Delta Community College - Ruston Campus | 1010 James Street | 318-251-4145 |
| Ruston , LA | Ruston High School | 900 Bearcat Drive | 318-255-0807 |
| Saint Francisville, LA | St. Francisville Country Manor Nurse Aide Training | 15243 La. Hwy 10 East | 225-635-3346 |
| Saint Francisville, LA | West Feliciana High School | 8604 Us Highway 61 | 225-635-4561 |
| Saint Martinville, LA | Landmark Of Acadiana | 203 Claire Drive | 337-394-6044 |
| Saint Martinville, LA | South La Community College-evangeline Campus (Lpn) | 600 S Martin Luther King Jr. Drive | 337-394-6466 |
| Shreveport , LA | Caddo Career & Technology Center | 5950 Union Avenue | 318-636-5332 |
| Shreveport , LA | Heritage Manor South | 9712 Mansfield Rd | 318-687-2080 |
| Shreveport , LA | Heritage Manor Stratmore Nursing & Rehab Center | 530 Stratmore Dr | 318-524-2022 |
| Shreveport , LA | Louisiana State University-shreveport-lpn Only | One University Place | 318-798-4126 |
| Shreveport , LA | Northwest Ltc Shreveport Campus | 2010 North Market | 318-676-7811 |
| Shreveport , LA | Shreveport Job Corps Center | 2815 Lillian St. | 318-227-9331 |
| Shreveport , LA | Southern University At Shreveport - Lpn Program | 610 Texas Street Suite 500 D | 318-670-9641 |
| Slidell , LA | Delta College-slidell Campus Lpn Only | 105 Gause Blvd. West | 985-643-7730 |
| Slidell , LA | Heritage Manor Of Slidell | 106 Medical Center Dr. | 985-643-0307 |
| Slidell , LA | Ntcc-sullivan Campus/slidell High School | 1 Tiger Dr. | 985-643-2992 |
| Slidell , LA | Trinity Neurologic Rehabilitation Center | 1400 Lindberg Dr. | 985-641-4985 |
| Sulphur , LA | Calcasieu Parish School Board-sulphur Hs | 100 Sycamore St | 337-217-4430 |
| Tallulah , LA | Louisiana Delta Community College-tallulah Campus | 132 Old Hwy 65 South | 318-574-4820 |
| Thibodaux , LA | E&l Training Center | 1713 Ridgefield Rd. | 985-647-0013 |
| Vidalia , LA | Central Ltcc - Ferriday Campus@vidalia Hs | 2201 Murray Drive | 318-757-6501 |
| Ville Platte, LA | Evangeline Parish School Board Ville Platte-hs | 210 W. Cotton Street | 337-363-6651 |
| Ville Platte, LA | South La Community College-cb Coreil Campus (Lpn Only) | 1124 Vocational Dr. | 337-363-2197 |
| Violet , LA | Integrated Education Solutions | 2425 Beachead Lane | 504-237-3524 |
| Vivian , LA | North Caddo Magnet High School | 201 Airport Drive | 318-375-3258 |
| Walker , LA | Livingston Parish School Board-walker Hs | 12646 Burgess Ave | 225-664-4825 |
| Washington , LA | Washington Career & Technical Educational Center | 605 Buhot Rd | 337-826-7360 |
| West Monroe, LA | Landmark Nursing & Rehab Ctr Of West Monroe, Llc | 1611 Wellerman Road | 318-396-3313 |
| West Monroe, LA | Louisiana Delta Community College - West Monroe - Lpn Only | 609 Vocational Parkway | 318-397-6100 |
| West Monroe, LA | Unitech Training Academy-ouachita Parish | 111 Crosley St., Suite 4 | 318-651-8001 |
| West Monroe, LA | West Monroe High School | 201 Riggs Street | 318-323-3771 |
| Winnfiedl , LA | Autumn Leaves Nursing & Rehab Center | 342 Country Club Road | 318-628-4152 |
| Winnfield , LA | Central Ltcc - Huey P Long Campus | 5960 Hwy 167 North | 318-628-4342 |
| Winnsboro , LA | Louisiana Delta Community College - Winnsboro Campus | 1710 Warren St | 318-435-2163 |
| Winnsboro , LA | Louisiana Delta Community College - Winnsboro Campus- Lpn | 2889 Hwy 15 | 318-435-2163 |
| Winnsboro , LA | Louisiana Delta Community College-winnsboro@rayville Hs | 1710 Warren Street | 318-367-6231 |
| Zachary , LA | Zachary High School | 4100 Bronco Lane | 225-654-2776 |
CNA Classes In Other States: