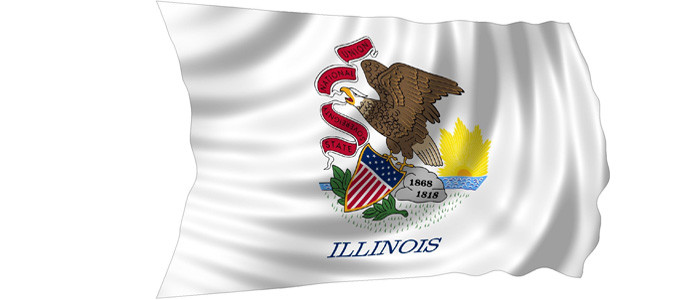 The growing demand for Certified Nursing Assistants (CNAs) in Illinois has attracted many candidates wishing to work in the rapidly growing healthcare field. CNAs provide crucial support to doctors and nurses, and play a critical role as support staff in hospitals, nursing homes and various healthcare facilities.
Individuals interested in a career as a CNA in the state of Illinois, must attend an approved CNA training program, so be able to sit for the competency exam and to be listed on the Illinois Nurse Aide Registry.
The Illinois Department of Public Health (IDPH) approves and regulates CNA training programs offered by American Red Cross, state universities, community colleges, nursing schools and many healthcare facilities and other educational facilities, as well as online CNA programs or distance learning courses that meet all applicable federal and state regulatory requirements. Additional, some employers provide free on-the-job training, in exchange the employment for a specified period of time upon completing training and certification. These free CNA classes are usually available through long-term care centers and assisted living nursing homes, which will even pay for the certification exam.
CNAs always work under the supervision of an RN or physician and the responsibilities and duties to be performed may vary with the employer. Main duties include providing basic nursing care and monitoring of patients, feeding, taking care of hygiene, toileting, bathing, dressing, making beds, taking vital signs, transfer of patients, administering medication, record keeping, proper operating and maintaining medical equipment, etc.
CNA Training Requirements in Illinois
An applicant for enrolling in an approved CNA training program should be at least 16 years old; also most facilities require a high school diploma or GED certificate, a TB test report of last 6 months and immunization's proof, as well as clean criminal record before admission to the program.
The Illinois Department of Public Health requires that approved CNA programs offer a minimum of 120 hours of instruction, which includes 80 hours of theoretical instruction and 40 hours of clinical practice. The curriculum is divided into CNA courses modules which include, among others:
Basic patient health care
Safety precautions
Body functioning
Communication and interpersonal skills
Patients rights
Infection control
CPR certification
Rehabilitation procedures
Nutrition
Basic anatomy and physiology
Medical terminology
Taking and recording patients' vital signs including pulse, blood pressure, respiration rate
Handling and maintaining medical equipment
Illinois approves several training programs that aspiring CNA's should take in order to become certified. Although there are no online programs available, numerous facilities within the state offer CNA training programs.
The classes generally last for 6 to 12 weeks and the cost is between $400 – $1700 as some programs are more expensive than others. Try to check the facility whether you can pay the tuition by working right after you pass the exam and get certified.
CNA Certfication in Illinois
As soon as you are finished with the training, your next step is to take and pass the exam. There are websites online that can help you identify where to take the exam. You simply have to enter the zip code and see the closest sites. If you wished to take a practice test, these websites can give you that.
Candidates are required to qualify for the competency exam within 24 months from completing an approved CNA training program. Southern Illinois University at Carbondale (SIU-C) administers the written portion of the competency exam at various sites throughout the state and unlike other states clinical test is not required.
The exam, which is administered in English, can be taken three times before retraining is required, and is comprised of multiple-choice questions based  and it will measure your skills and knowledge on resident rights, patients with social service needs and mental health, restorative skills, giving personal care, basic nursing skills and communicating information. Two weeks after the exam, you will receive a pass or fail results. During the exam, you have to bring two number 2 lead pencils having erasers and a photo ID issued by the state.
CNA licenses in the state of Illinois issued by Illinois Nurse Aide Testing Program as required by the Illinois Department of Public Health (IDPH), and must be renewed every two years. The licensing procedures are governed by the federal regulations stated under OBRA Act of 1987. The exam fee usually cost $60 and $30 for retaking the written test.
Once you passed the exam, you can apply for certification. Make sure that you completed all the necessary requirements and you have a clean criminal record so that you are allowed to apply. Successful completion of the test places the candidate into the Illinois Nurse Aide Registry that maintains a database of certified nursing assistants working in the state.
Hundreds of healthcare related job openings are available in Illinois these days and if you are a Certified Nursing Assistant, you will surely get a job right away. This career is very stable and you can even proceed to Nursing or Medicine if you want to be a Registered Nurse or a Physician. It is projected that the healthcare industry will grow to 28% over the coming years.
CNA Salary and Job Outlook in Illinois

Even though the unemployment rate in the state of Illinois continues to rise,  the healthcare industry is growing and it can provide a stable job for individuals who would like to start their career as CNAs.
Nursing assistants earning their certification in the state of Illinois enjoy a wide range of employment opportunities, and as the country's aging population need personnel to care for them, the demand for Certified Nursing Assistants (CNAs) is growing; they also receive a good CNA salary for the work they perform.
The CNA salary in Illinois ranges from $20,000 a year to $31,000 a year, but for those who want to earn even more money, there are plenty of opportunities to work overtime, as there are patients that need care 24 hours a day, seven days a week. The average CNA salary in Illinois is $26, 080, which is higher in bigger cities like Chicago and lower in rural areas.
CNAs perform an extremely important job in the healthcare field and there are many career opportunities available in some of the largest hospitals and healthcare facilities in state of Illinois, including the Children's Memorial Hospital, Chicago Lakeshore Hospital, Lincoln Park Hospital and Northwestern Memorial Hospital.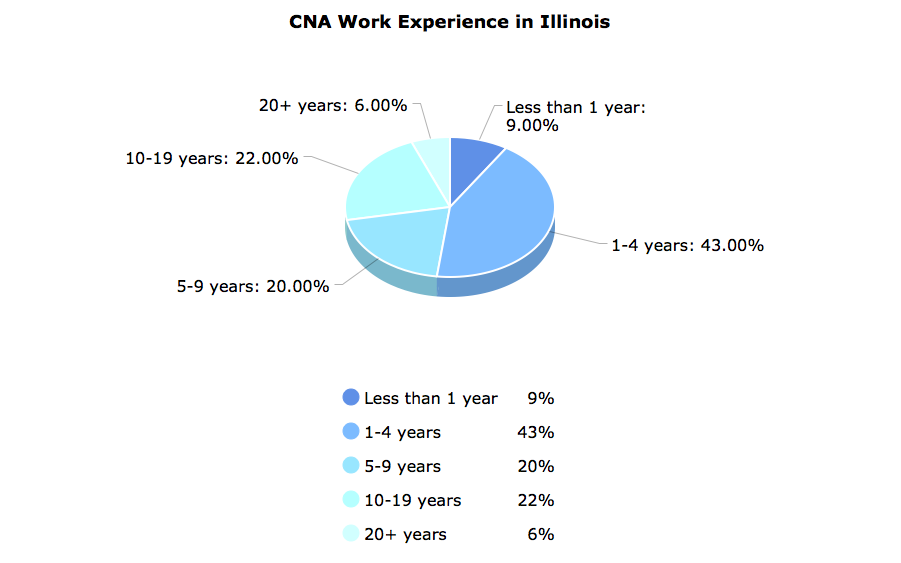 All Illinois State Approved CNA Programs
| LOCATION | FACILITY | ADDRESS | PHONE |
| --- | --- | --- | --- |
| Addison, IL | Cna-dupage Area Occup. Educ. System    | 301 S Swift Rd. | 630-691-7545 |
| Alsip, IL | Cna-all American Nursing School    | 12250 S Cicero Ave | 708-396-8409 |
| Alton, IL | Cna-calc Institute Of Technology    | 200 North Center Drive Suite A | 618-398-2252 |
| Anna, IL | Cna-shawnee Cc Anna Center    | 1150 E Vienna St | 618-634-3277 |
| Anna, IL | Dd Aide-community Integrated Living    | 201 East Chestnut Street | 618-697-1122 |
| Anna, IL | Dd Aide-jr Centre, Inc    | 100 Florsheim Dr | 618-833-4956 |
| Anna, IL | Dd Aide-r & J Country Living    | 221 East Ave | 618-833-7418 |
| Arlington Heights, IL | Cna-william Rainey Harper College    | 2121 S. Goebbert Road | 847-718-7000 |
| Arlington Heights, IL | Xilin Association    | 145 E Algonquin Rd | 708-310-2735 |
| Aurora, IL | Cna-west Aurora High School-dist 129    | 1877 W. Downer Place | 630-301-6500 |
| Aviston, IL | Cna-aviston Countryside Manor    | 450 W 1st St | 618-228-7615 |
| Bakersfield, IL | Dd Aide-axxis Group Inc D/b/a Affinity    | 5914 Niagara Falls Court | 847-282-0256 |
| Barrington, IL | Barrington High School - Harper College    | 616 W Main St | 847-309-5271 |
| Bartlett, IL | Cna-bartlett High School     | 701 Schick Rd | 630-372-4700 |
| Bartlett, IL | Dd Aide-bartlett Learning-bartlett    | 801 Carillon Drive | 630-289-4221 |
| Beardstown, IL | Cna-beardstown Senior High School    | 500 E 15th St | 217-323-3665 |
| Beardstown, IL | Cna-lincolnland Comm. Coll - Beardstown    | 109 White Pine Ln | 217-786-4913 |
| Belleville, IL | Cna-midwest Career Source    | 9100 Lebanon Road | 618-398-7362 |
| Belleville, IL | Dd Aide-parents & Friends Of The Communi    | 212 South 32nd Street | 618-310-1549 |
| Bellwood, IL | Dd Aide-bellwood Developmental Center    | 330 Eastern Ave | 708-547-7341 |
| Benton, IL | Cna-benton Consolidated High School    | 511 East Main Street | 618-439-3101 |
| Biggsville, IL | Cna-west Central High School    | 1514 Us Route 34. | 309-627-2377 |
| Bloomington, IL | Cna-bloomington Career Center    | 1202 E Locust St | 309-829-8671 |
| Bloomington, IL | Cna-heritage Manor - Bloomington    | 115 W. Jefferson St. Suite 401 | 309-823-7127 |
| Bloomington, IL | Cna-heritage Manor - Normal    | 115 W. Jefferson St. Suite 401 | 309-823-7127 |
| Blue Island, IL | Cna-med. Academy Of Business Tech., Inc.    | 13005 Western Avenue | 708-824-0225 |
| Blue Island, IL | Cna-midwestern Career College-blue Islan    | 12840 Western Ave | 708-926-9470 |
| Bluford, IL | Cna-bluford Unit School Distsrict #318    | 901 6th St | 618-732-8242 |
| Bolingbrook, IL | Cna-spectrum Nurses Training    | 481 West Boughton Road Suite 400 | 630-771-9069 |
| Bolingbrook, IL | Dd Aide- Uc-cares Help At Home    | 684 W Boughton Rd #205 | 815-322-2730 |
| Bolingbrook, IL | Dd Aide-treaad    | 684 W. Boughton Road Suite 205 | |
| Bolingbrook, IL | Western Polytechnic Institute    | 595 N Pinecrest Rd | 708-960-0178 |
| Bourbonnais, IL | Cna-kankakee Area Career Center     | 4083 N 1000w Rd | 815-939-4971 |
| Breese, IL | Cna-central Community High Sch00l-breese    | 7740 Old U.s. Hwy 50 | 618-526-4578 |
| Bridgeport, IL | Dd Aide-rincker Resident Scvs-bridgeport    | 1216 Willow Dr | 618-395-7190 |
| Brookfield, IL | Cna-the British Home    | 8700 West 31st Street | 708-485-5636 |
| Calumet City, IL | Cna-amazing Care Systems, Inc    | 404 River Oaks Drive | 708-431-5076 |
| Calumet Park, IL | Dd Aide-golden Community Living Center    | 12730 S Aberdeen St | 708-339-2129 |
| Canton, IL | Cna-health Care Training Institute - Can    | 764 East Chestnut Street | 309-647-4540 |
| Canton, IL | Cna-iris Home Health Services Llc    | 162 E Chestnut St | 309-649-6002 |
| Canton, IL | Cna-spoon River College    | 23235 County Hwy 22 | 309-649-6227 |
| Canton, IL | Dd Aide-cubbull, Inc.    | 28953 N. Woodside Drive | 309-224-4093 |
| Carbon, IL | Cna-lewis & Clark Comm College    | 400 South Station Road Glen | 618-468-4442 |
| Carbon, IL | Cna-lewis And Clark Community College     | 400 South Station Road Glen Carbon | 618-468-4442 |
| Carbondale, IL | Cna-carbondale Comm High School Dist 165    | 1301 E Walnut St | 618-457-3371 |
| Carbondale, IL | Idph Approved Independent Evaluator    | Southern Illinois University | 618-453-4368 |
| Carlinville, IL | Cna-heritage Manor Nursing Home    | 1200 University Avenue | 217-854-4433 |
| Carmel, IL | Cna-oakview Heights Continuous Care & Rehab    | 1320 W 9th St Mt | 618-263-4337 |
| Carol Stream, IL | Cna-achievers Healthcare Training Ctr    | 968 Army Trail Rd | 630-372-1990 |
| Carterville, IL | Cna-john A Logan College    | 700 Logan College Dr | 618-985-3741 |
| Carterville, IL | Dd Aide-christian Social Services Of Il D/b/a Caritas Family Solutions    | 10286 Fleming Road | 618-394-5900 |
| Carterville, IL | Dd Aide-progress Management, Inc    | 1120 North Division Street | 618-985-8351 |
| Carthage, IL | Cna-carl Sandburg Coll Branch Campus    | 305 Sandburg Dr | 309-341-5466 |
| Centralia, IL | Cna-centralia High School    | 2100 E Calumet St | 618-532-2855 |
| Centralia, IL | Cna-kaskakia Col Vandalia Ctr    | 27210 College Rd | 618-545-3243 |
| Champaign, IL | Cna-parkland Coll Myna Thomp Bldg Hs Pro    | 2400 West Bradley Ave | 217-351-2286 |
| Charleston, IL | Cna-eastern Il Edu For Employment, Paris    | 730 7th St | 217-348-0151 |
| Charleston, IL | Cna-lakeview College Of Nsg-charleston    | 580 W. Lincoln Avenue | 217-709-0920 |
| Chicago Heights, IL | Brownstone Services Helping Those In Need    | 236 W 17th St | 708-431-1466 |
| Chicago Heights, IL | Cna-excelsior Health Care Academy    | 523 S Halsted St | 773-297-2417 |
| Chicago Heights, IL | Cna-prairie State College    | 202 S Halsted St | 708-709-3766 |
| Chicago Heights, IL | Cna-uchange Home Health, Inc    | 1406 Park Avenue | 708-898-0196 |
| Chicago Heights, IL | Dd Aide-millennum Gardens    | 116 North Normandy Drive | 708-754-5089 |
| Chicago, IL | Alberto Rosario Dba Ohanna Community Services    | 4931 W Thomas St | 773-313-6646 |
| Chicago, IL | Cna- Malcolm X College - Keeler    | 1900 W Jackson Blvd | 312-850-7440 |
| Chicago, IL | Cna-abbey Home Health Services Inc    | 4554 North Broadway Street 248 | 773-784-8717 |
| Chicago, IL | Cna-afforable Educational Services    | 2623 1/2 West 79th St | 773-863-0811 |
| Chicago, IL | Cna-allied Healthcare & Training Center    | 5850 N Lincoln Ave. Suite 207-208 | 773-989-5979 |
| Chicago, IL | Cna-apex Home Health Services Inc    | 6160 North Cicero Avenue # 310 | 773-202-1948 |
| Chicago, IL | Cna-career Training Center Of Chicago    | 3525 W Peterson Ave T21 | 773-583-8532 |
| Chicago, IL | Cna-chicago Community Learning Center    | 4753 N Broadway #602 | 773-506-1503 |
| Chicago, IL | Cna-chicago State University     | 9501 S King Dr | 312-300-6984 |
| Chicago, IL | Cna-chicago's Pluse Cpr Training Inc    | 3219 W 111th St | 773-445-2277 |
| Chicago, IL | Cna-city College Of Education    | 2800 West Peterson Ave. Suite 105. | 773-506-0676 |
| Chicago, IL | Cna-college Of Office Technology    | 1520 West Division Street | 773-278-0042 |
| Chicago, IL | Cna-competent Healthcare    | 2820 W Montrose Ave | 773-249-4644 |
| Chicago, IL | Cna-divine Basic Nsg Assist Training Pr    | 4554 North Broadway | 773-334-5564 |
| Chicago, IL | Cna-doctor's Choice Home Health, Inc.    | 1133 S Wabash Ave | 312-447-0035 |
| Chicago, IL | Cna-east-west University    | 816 S. Michigan Ave. | 312-939-0111 |
| Chicago, IL | Cna-first Steps To Excellence Health Care Training Academy    | 1639 East 87 Th. Street | 773-437-5003 |
| Chicago, IL | Cna-glencrest Nsg & Rehab    | 2451 W. Touhy Ave. | 773-338-6800 |
| Chicago, IL | Cna-great Paragon Health Services, Inc    | 2640 W Touhy Ave | 773-274-7694 |
| Chicago, IL | Cna-instituto Del Progreso Latino    | 2520 S. Western Ave. | 773-890-0055 |
| Chicago, IL | Cna-lights Of Zion Ministries    | 11636 S Halsted St | 773-785-2996 |
| Chicago, IL | Cna-magnificent Healthcare And Cpr Inc.    | 2046 West Devon Avenue | 773-856-3203 |
| Chicago, IL | Cna-malcolm X College    | 1900 W Jackson Blvd | 312-850-7348 |
| Chicago, IL | Cna-marshall Metropolitan Hs    | 3250 W Adams St | 773-534-6466 |
| Chicago, IL | Cna-midwestern Career College    | 20 N. Wacker Dr. Suite 3800 | 312-236-9000 |
| Chicago, IL | Cna-midwestern Career College-roselle    | 100 South Wacker Dr. Ll1-50 | 312-236-9000 |
| Chicago, IL | Cna-northwestern Institute Of Health &     | 4641 N Ashland Ave | 773-506-2136 |
| Chicago, IL | Cna-phalanx Family Services    | 837 W 119th St | 773-291-1086 |
| Chicago, IL | Cna-polish American Association    | 3815 North Cicero Avenue | 773-282-1122 |
| Chicago, IL | Cna-premier Institute Of Health Careers    | 11 East Adams Street Suite 200 | 773-983-7786 |
| Chicago, IL | Cna-renee's School Of Careers    | 9933 South Western Avenue | 773-233-7400 |
| Chicago, IL | Cna-richland Community College    | 230 South Lasalle Street Suite 7-500 | 217-875-7211 |
| Chicago, IL | Cna-saints Mary & Elizabth Medi    | 2233 W Division St | 312-770-2357 |
| Chicago, IL | Cna-samland Inst Of Allied Hlth Chicago    | 4320 W Montrose Ave | 773-283-0440 |
| Chicago, IL | Cna-the Nirvana Institute Inc.    | 4650 South King Drive | 773-675-4000 |
| Chicago, IL | Cna-tukiendorf Training Institute    | 5310 N. Harlem Ave. Suite 209 | 773-774-2222 |
| Chicago, IL | Cna-wright Coll - Humboldt Pk Voc Ctr    | 1645 N California Ave | 773-481-8922 |
| Chicago, IL | Dd Aide - Nancy Home Care Agency, Llc    | 400 E 41st St #114b | 773-966-3003 |
| Chicago, IL | Dd Aide - Pui Tak Center    | 2216 S Wentworth Ave | 312-328-1188 |
| Chicago, IL | Dd Aide - Russell Young Jr Dba Universal Homes    | 3473 S King Dr #133 | 773-563 0991 |
| Chicago, IL | Dd Aide-a New Age Human Services, Corp     | 2953 North Nashville Avenue | 773-237-8793 |
| Chicago, IL | Dd Aide-a Plus Autism Solutions    | 1212 W Flournoy St | 847-530-1444 |
| Chicago, IL | Dd Aide-access Community Experience    | 4530 S Woodlawn Ave Unit 104 | 708-271 3463 |
| Chicago, IL | Dd Aide-aids Healthcare Foundation    | 5038 W Armitage Ave. | 773-385-9080 |
| Chicago, IL | Dd Aide-amazing Home Health Care Service    | 70 West Madison Street 1406 | 312-214-6115 |
| Chicago, IL | Dd Aide-american Warriors, Inc    | 4025 South Brexel Boulevard | 773-858 7412 |
| Chicago, IL | Dd Aide-christ Missionary Hha, Inc    | P.o. Box 368218 | 312-566-1888 |
| Chicago, IL | Dd Aide-ctrs For Resident Alternatives    | 4852 South Cornell Ave | 773-680-4205 |
| Chicago, IL | Dd Aide-divine Center    | 8351 S Marquette Ave | 773-721-6536 |
| Chicago, IL | Dd Aide-dubois-douglas, Inc    | 1016 W Jackson Blvd | 312-288-8640 |
| Chicago, IL | Dd Aide-envision Unlimited (Chicago Arc)    | 8 S Michigan Ave #1700 | 312-346-6230 |
| Chicago, IL | Dd Aide-exceptional Home Health Care Services, Inc    | 611 W Briar Pl Ste 4 | 773-666-5062 |
| Chicago, IL | Dd Aide-experranza Community Services    | 3422 N Kildare Ave | 773-427 5280 |
| Chicago, IL | Dd Aide-gordies Foundation    | 6430 S Ashland Avenue | 773-434-3920 |
| Chicago, IL | Dd Aide-hawkins Cila Care    | 8340 S Paulina St | 708-250-0603 |
| Chicago, IL | Dd Aide-l Arche Chicago, Inc    | 2010 W Carroll Ave | 312-226-1273 |
| Chicago, IL | Dd Aide-la Flor Social Services, Inc.    | 10455 South Ewing Avenue | 773-978-8725 |
| Chicago, IL | Dd Aide-morning Glory Community Center    | 9202 S Parnell Ave | 773-488-2887 |
| Chicago, IL | Dd Aide-mysi Corporation    | 3001 W. 111th Street Suite 103. | 773-840-4600 |
| Chicago, IL | Dd Aide-north Ctr For/handicapped Childrens-chic.     | 5104 W Belmont Ave | 773-777-4111 |
| Chicago, IL | Dd Aide-pactt Learning Center    | 7101 N Greenview Ave | 773-338-9102 |
| Chicago, IL | Dd Aide-peko Healthcare & Consulting Ser    | 526 E 87th St | 312-912-7672 |
| Chicago, IL | Dd Aide-random Acts Of Kindness Dev Ag    | 11346 S Parnell Ave | 773-264-2452 |
| Chicago, IL | Dd Aide-soledad Social Services Corp    | 4944 West Diversey Avenue Apartment 1 | 773-481-9194 |
| Chicago, IL | Dd Aide-the Arts Of Life    | 2010 W Carroll Ave | 312-829-2787 |
| Chicago, IL | Dd Aide-the Child Project    | Po Box 528193 | 773-875-5027 |
| Chicago, IL | Idph Certification By Nacep Exam    | 100 W. Randolph Street Suite 9 - 300 | 217-785-5133 |
| Christopher, IL | Cna-christopher High School    | 501 S Snider St | 618-724-2631 |
| Cicero, IL | Cna-morton College    | 3801 S Central Ave | 708-656-8000 |
| Clinton, IL | Cna-clinton Higher Education Center    | 140 Sunrise Court | 217-935-6791 |
| Collinsville, IL | Cna-collinsville Area Vocational Center    | 2201 S Morrison Ave | 618-346-6320 |
| Cook County, IL | Cna-indian Valley Vocational Ctr.    | Country Club Hills | 815-786-9873 |
| Cook County, IL | Illinois Nursing Academy    | Country Club Hills | 708-914-4990 |
| Country Club Hills, IL | Cna-belken Academy    | 4029 175th St | 708-922-0711 |
| Country Club Hills, IL | Dd Aide-a&v Homecare Services, Nfp    | 4113 W 176th Pl | 708-262-7128 |
| Crystal Lake, IL | Cna- Mchenry County College - Secondary    | 8900 Us Hwy 14 | 815-455-3717 |
| Crystal Lake, IL | Cna-mchenry County Comm College-hybrid    | 8900 Us-14 | 815-455-3700 |
| D-170 Carterville, IL | Cna-john A. Logan College - Hs Program    | 700 Logan College Road | 618-985-9181 |
| Danforth, IL | Prairieview Lutheran Home    | 403 N. 4th Street | 815-269-2970 |
| Danville, IL | Cna-danville Area C. C.--pleasant Meadows    | 2000 E Main St | 217-443-8868 |
| Decatur, IL | Cna-decatur Area Technical Academy    | Hickory Point Mall | 217-875-0061 |
| Decatur, IL | Cna-decatur Public School-adult    | 101 W Cerro Gordo St | 217-424-3085 |
| Decatur, IL | Cna-heartland Technical Academy    | One College Park | 217-424-3070 |
| Decatur, IL | Dd Aide-cra, Inc.    | 2017 Hoyt Drive | 217-429-9275 |
| Decatur, IL | Richland Workforce Consortium    | College Park | 217-875-7211 |
| Des Plaines, IL | Cna-jethro Hlthcre Sch & Placement Svc    | 650 W. Algonquin Road | 847-258-5783 |
| Dixon, IL | Cna-salk Valley Community College-secondary    | 173 Il-2 | 815-288-5511 |
| Dolton, IL | Cna-adonis College Of Nursing    | 1313 East Sibley Blvd. | 708-841-2730 |
| Dolton, IL | Dd Aide-uc-cares Home Health Services Llc    | 15225 Dante Avenue | 630-225-7231 |
| Dolton, IL | Dd Aide-universal Living Care    | 15225 Dante Avenue | 708-323-2864 |
| Downers Grove, IL | Cna-larlin Med Staffing And Trng Ctr    | 6912 Main St. Suite 110 | 630-852-4007 |
| Downers Grove, IL | Dd Aide-addus Healthcare Inc    | 2300 Warrenville Road | 847-303-5300 |
| Du Quoin, IL | Cna-duquoin Community High School    | 500 E South St | 618-542-4744 |
| Durand, IL | Cna- First By Medina -medina Manor    | 402 S Center St | 815-248-2151 |
| East Alton, IL | Cna-school Of Medical Arts & Sciences    | 199 E St Louis Ave | 618-259-7781 |
| East Moline, IL | Cna-united Township Area Career Ctr    | 1275 Avenue Of The Cities | 309-752-1691 |
| East Peoria, IL | Cna-helping Hands Home Healthcare    | 111 W Washington St Suite 310 | 309-699-4715 |
| East Peoria, IL | Cna-il Cent College At Eureka Apostolic    | 1 College Drive | 309-999-4651 |
| East Peoria, IL | Cna-illinois Central College    | 1 College Drive | 309-999-4651 |
| East Peoria, IL | Cna-midwest Technical Institute    | 280 High Point Lane | 309-427-2750 |
| East St Louis, IL | Cna-southwestern Il College-e St Louis    | 601 James R. Thompson Blvd | 618-236-1391 |
| East St. Louis, IL | Cna-east St Louis School District #189    | 1005 State Street | 618-646-3700 |
| East St. Louis, IL | Dd Aide-comprehensive Behavioral Health Center    | 505 South 8th Street | 618-482-7330 |
| El Paso, IL | Cna-heritage Manor El Paso    | 555 E. Clay Street | 309-827-8004 |
| Eldorado, IL | Cna-eldorado High School Se Il College    | 2200 Illinois Ave | 618-252-6376 |
| Elgin, IL | Cna-elgin Community College    | 1700 Spartan Dr | 847-214-7304 |
| Elgin, IL | Cna-elgin High School    | 355 East Chicago Street | 847-888-5000 |
| Elgin, IL | Cna-j'renee College    | 415 Airport Rd | 815-444-7751 |
| Elgin, IL | Cna-larkin High School    | 1475 Larkin Ave | 847-888-6996 |
| Elizabeth, IL | Cna-jo Daviess Carroll Area Vocat Centr    | 950 Us Hwy 20 W | 815-858-2203 |
| Elk Grove Village, IL | Cna-elk Grove High School    | 500 W. Elk Grove Boulevard | 847-718-4400 |
| Elkville, IL | Cna-elverado High School    | 514 S 6th St | 618-568-1104 |
| Energy, IL | Dd Aide-helia Health Care-energy    | 210 E College St | 618-942-7014 |
| Eureka, IL | Cna-apostolic Christian Home Of Eureka    | 610 W Cruger Ave | 309-467-2311 |
| Eureka, IL | Cna-illinois Nursing Academy    | 300 Reagan Drive | 708-914-4990 |
| Evanston, IL | Cna-omega Healthcare Technical School    | 1325 Howard Street 308 | 847-425-1190 |
| Fairbury, IL | Cna-fairview Haven     | 605 N. Fourth Street | 815-692-2572 |
| Fairfield, IL | Cna-frontier Comm Coll Fairfield Memoria    | 2 Frontier Dr | 618-842-3711 |
| Farmington, IL | Cna-spoon River Home Health Care    | 48 N East St | 309-245-0723 |
| Flossmoor, IL | Cna-zurik Healthcare Institute    | 3235 Vollmer Rd #103 | 708-271-3537 |
| Flossmoor, IL | Dd Aide-precious Care Home Health Care, Llc    | 3730 Aspen St | 708-960 0836 |
| Franklin Park, IL | Cna-academy Of Healthcare Training    | 10035 Grand Ave Ste 200 | 847-455-5000 |
| Freeport, IL | Cna-careertec    | 2037 W. Galena Ave | 815-235-1652 |
| Freeport, IL | Cna-highland Community College    | 2998 W. Pearl City Rd. | 815-599-3467 |
| Galena, IL | Dd Aide-the Workshop    | 706 West Street | 815-777-2211 |
| Galesburg, IL | Carl Sandburg College    | 2400 Tom L. Wilson Blvd | 309-341-5309 |
| Galesburg, IL | Cna-carl Sandburg College    | 2400 Tom L. Wilson Blvd | 309-341-5456 |
| Galesburg, IL | Cna-galesburg Area Vocational Center    | 1135 W Fremont St | 309-343-3733 |
| Galva, IL | Cna-black Hawk College    | 26230 Black Hawk Road | 309-796-5404 |
| Geneseo, IL | Cna-black Hawk College Hammond Henry Hos    | 600 N College Ave | 309-796-5835 |
| Geneva, IL | Cna-marklund Home    | 1s450 Wyatt Drive | 630-593-5466 |
| Glen Ellyn, IL | Cna-college Of Dupage    | 425 Fawell Blvd | 630-942-8330 |
| Glendale Heights, IL | Dd Aide-amma Care, Llc    | 203 Ahmed Ct | 630-519-1281 |
| Glenview, IL | Cna-first Choice International    | 1245 Milwaukee Avenue # 301 | 847-257-2527 |
| Glenview, IL | Glenview Terrace Nursing Center    | 1511 Greenwood | 847-729-9090 |
| Glenwood, IL | Dd Aide- Genesis Cila Homes, Inc    | 441 S Dante Ave | 708-915 0920 |
| Godfrey, IL | Cna-lewis & Clark Comm Coll-heritage Man    | 5800 Godfrey Road | 618-468-7121 |
| Godfrey, IL | Cna-lewis & Clark Community College    | 5800 Godfrey Road | 618-463-5118 |
| Godfrey, IL | Dd Aide-beverly Farm Living Options, Inc-godfrey    | 6301 Humbert Rd | 618-466-0367 |
| Goreville, IL | Cna-goreville School District    | 201 S Ferne Clyffe Rd | 618-995-2142 |
| Granite City, IL | Dd Aide-better Days Home Care    | 1635 West First St. Ste 112. | 618-877-2140 |
| Granite City, IL | Dd Aide-s & R Home Health Care Llc     | 3600 Nameoki Road # 202 | 618-501-4090 |
| Grayslake, IL | Cna-lake Co High Schools Tech Campus    | 19525 W Washington St | 847-543-6037 |
| Greenville, IL | Cna-kaskaskia College-greenville    | 209 N 3rd St | 618-545-3243 |
| Hanover Park, IL | Cna-aon Allied Health Institute    | 2071 Irving Park Road 203 | 630-685-2917 |
| Hanover Park, IL | Cna-new Lake College    | 1300 Greenbrook Boulevard | 888-388-1759 |
| Harrisburg, IL | Cna-southeastern Il Coll Gallatin Co Hs    | 3575 College Rd | 618-252-6376 |
| Harrisburg, IL | Dd Aide - Neoly Home Care, Llc    | 3865 Seattle Slew Drive | 614-943-0728 |
| Harvey, IL | Dd Aide-compassionate Sr. Support Services    | 15406 Lexington Ave | 708-359-2088 |
| Harvey, IL | Dd Aide-home Sweet Home Health Care Services    | 15406 Lexington Avenue # 9 | 708-890-5799 |
| Havana, IL | Cna-spoon River College - Havana Ctr    | 324 E Randolph St | 309-649-6227 |
| Hawthorn Woods, IL | Cna-omega Healthcare Technical School    | 6 Orchard Lane | 847-425-9089 |
| Hazel Crest, IL | Cna-new Visions Home Health Care Inc    | 17065 Dixie Hwy Ste 13 | 708-335-9340 |
| Hazel Crest, IL | Dd Aide-good Shepherd Center    | 17314 Kedzie Ave | 708-335-0020 |
| Hazel Crest, IL | Dd Aide-nucare, Inc.    | 16889 Anthony Ave | 708-335-3830 |
| Hickory Hills, IL | Cna-tukiendorf Training Institute    | 7667 W. 95th St. Suite 302 | 773-817-4515 |
| Highland Park, IL | Dd Aide-assertive Mission Ltd    | 1133 Central Ave | 847-899-9411 |
| Hillsboro, IL | Cna-hillsboro Community School Dist    | 1311 Vandalia Rd | 217-532-5184 |
| Hillsboro, IL | Cna-montgomery Nursing & Rehab Ctr    | 9086 Il-127 | 217-836-7639 |
| Hinsdale, IL | Cna-adventist Hinsdale Hospital    | 120 N Oak St | 630-856-6054 |
| Hoffman Estates, IL | Cna-ambria College Of Nursing    | 5210 Trillium Blvd | 847-397-0300 |
| Homewood, IL | Cna-elim Outreach Training Center    | 1820 Ridge Rd | 708-922-9547 |
| Homewood, IL | Dd Aide - Destiny Housing    | 18019 Dixie Hwy #1a | 708-663-4910 |
| Homewood, IL | Dd Aide-topview Corporation    | 900 Ridge Rd | 708-699-4700 |
| Homewood, IL | Divine Touch Cila Homes, Inc.    | 18350 Kedzie Ave #204 | 773-430-8668 |
| Hoopeston, IL | Danville Area College - Hoopeston    | 847 E Orange St | 217-443-8582 |
| Hoopeston, IL | Hoopeston Center For Higher Living    | 423 N Dixie Hwy | 217-283-4170 |
| Hoyleton, IL | Dd Aide-hoyleton Childrens Group Home    | 350 N Main St | 618-493-7382 |
| Ina, IL | Cna-rend Lake College Ina Hybrid    | 468 N. Ken Gray Parkway | 618-437-5321 |
| Jacksonville, IL | Cna-barton W. Stone Christian Home    | 873 Grove St | 217-479-3400 |
| Jacksonville, IL | Cna-jacksonville High School    | 1211 N Diamond St | 217-243-4384 |
| Jacksonville, IL | Cna-lincolnland Comm. Coll - Jacksonvle    | 32 N Central Park Plaza | 217-786-4913 |
| Jerseyville, IL | Cna-jerseyville Nursing & Rehab Center    | 1001 S State St | 618-498-6496 |
| Johnsburg, IL | Cna-johnsburg Comm Unit School Dist #12    | 2002 West Ringwood Road | 815-385-9233 |
| Johnston City, IL | Cna-johnston City High School    | 1500 Jefferson Ave | 618-983-8638 |
| Johnston City, IL | Dd Aide-villa House    | 1112 Washington Avenue | 618-983-8513 |
| Joliet, IL | Cna-divinity Institute Of Allied Health    | 103 N Ottawa Street | 815-727-9050 |
| Joliet, IL | Cna-healthcare Training Institute-joliet    | Suite 100 Lower Level | 815-254-3738 |
| Joliet, IL | Cna-homecoming Healthcare Inc    | 933 West Jefferson Street | 815-280-5174 |
| Joliet, IL | Cna-joliet Jr Coll Joliet West Hs    | 1215 Houbolt Road | 815-280-2463 |
| Joliet, IL | Dd Aide-service Inc    | 1740 W. Mcdonough St | 815-741-0800 |
| Kankakee, IL | Cna-kankakee Community College    | 100 College Drive | 815-802-8828 |
| Kankakee, IL | Cna-kankakee High School     | 1200 W Jeffery St | 815-939-0740 |
| Karnak, IL | Dd Aide-m.a.p. Training Ctr-karnak    | 504 East 7th Street | 618-634-9401 |
| Kewanee, IL | Cna-black Hawk College Kewanee    | 404 E 3rd St | 309-796-5357 |
| Lansing, IL | C E Home Agency, Inc.    | | 708-296-1570 |
| Lansing, IL | Cna-hugs, Inc    | 19112 S. Burnham Ave. | 708-418-5925 |
| Lansing, IL | Dd Aide-dominion Cila Homes    | 3043 Ridge Road | 708-439-4805 |
| Lawrenceville, IL | Cna-lawrenceville High School    | 2200 James St | 618-943-3389 |
| Lena, IL | Cna-lena Living Center     | 1010 S Logan St | 815-369-4561 |
| Lincoln, IL | Cna-heritage Manor Lincoln    | 1550 Castle Manor Drive | 309-823-7127 |
| Lincoln, IL | Cna-lincolnland Tech Education Ctr    | 1000 Railer Way | 217-732-4131 |
| Lincoln, IL | Heartland Community College - Woodlawn    | 2201 Woodlawn Road | 217-735-1731 |
| Lincolnwood, IL | Cna-dependable Nursing Home Health Serv     | 4656 W. Touhy Avenue | 847-677-2912 |
| Lincolnwood, IL | Cna-international Career Institute    | 6425 N Hamlin Avenue | 847-929-6129 |
| Lincolnwood, IL | Dd Aide-broomfield, Inc Dba Senior Helpers Of Ni    | 6600 Lincoln Ave #238 | 847-679-7900 |
| Lisle, IL | Dd Aide-may Homemaker Services, Inc    | 3333 Warrenville Rd Ste 267. | 708-289-2874 |
| Litchfield, IL | Cna-lincolnland Comm. Coll. - Litchfield    | 1 Lincoln Land Dr | 217-786-2339 |
| Lombard, IL | Cna-healthcare Inservices Inc Streamwood    | 837 S Westmore-meyers Rd #b-41 | 630-620-1297 |
| Lombard, IL | Healthcare Inservices    | 837 S Westmore-meyers Rd #b-41 | 630-620-1297 |
| Louisville, IL | Dd Aide-countryview Terr - Louisville    | 52 Old Route 45 | 618-686-4542 |
| Lynwood, IL | Dd Aide - First Zion Homes    | 2601 Surf Ct | 773-610-8108 |
| Lynwood, IL | Dd Aide - Victory Homes    | 20105 Redwood Ave | 773-507-6379 |
| Macomb, IL | Cna-spoon River College -macomb Campus    | 208 S Johnson St | 309-649-6227 |
| Mahomet, IL | Dd Aide-illinois Association Of Microboards And Cooperatives    | 104 Woodcreek Court | 217-586-4552 |
| Malta, IL | Cna-kishwaukee College    | 21193 Malta Road | 815-825-2086 |
| Malta, IL | Cna-kishwaukee Education Consortium    | 21255 Malta Rd | 815-825-2000 |
| Manchester, IL | Dd Aide-lifeshare Management Group    | 60 Rogers Street Unit 2 | 603-625-8825 |
| Maple Park, IL | Cna-fox Valley Career Center    | 47w326 Keslinger Rd | 630-365-5113 |
| Marengo, IL | Cna-marengo Community High School    | 110 Franks Rd | 815-568-6511 |
| Marion, IL | Cna-marion High School    | 1501 S Carbon Street | 618-993-8196 |
| Marion, IL | Cna-parkway Manor    | 3116 Williamson Cnty Parkway | 618-993-8600 |
| Marion, IL | Dd Aide-liberty House    | 1304 West Mack Avenue | 618-997-9336 |
| Markham, IL | Scott School Of Careers    | 3328 W 159th St | 777-706-5363 |
| Massachusetts, IL | Dd Aide-the New England Ctr For Children, Inc    | 33 Turnpike Road Southborough | 508-481-1015 |
| Matteson, IL | Cna-coalition Of African American Nurses    | 4747 Lincoln Mall Drive Suite 420 | 708-983-1545 |
| Matteson, IL | Cna-prairie State College - Matteson    | 4821 Southwick Dr | 708-709-3750 |
| Matteson, IL | Dd Aide-dubois-douglas Centres    | 4747 Lincoln Mall Drive 301 | 708-283-0886 |
| Mattoon, IL | Cna-eastern Il Ed For Employ–westfield    | 1617 Lake Land Blvd | 217-348-0151 |
| Mattoon, IL | Cna-lake Land College    | 5001 Lake Land Blvd | 217-234-5568 |
| Mattoon, IL | Cna-mattoon Area Adult Education Center    | 1617 Lakeland Blvd | 217-235-0361 |
| Mattoon, IL | Cna-odd-fellow Rebekah Home    | 201 Lafayette Avenue East | 217-235-5449 |
| Maywood, IL | Cna-vital Signs Healthcare Training Institute    | 905b S 5th Ave | 708-979-5146 |
| Mchenry, IL | Dd Aide-pioneer Ctr Of Mchenry Co    | 4031 W Dayton St | 815-344-1230 |
| Mcleansboro, IL | Cna-community Unit School Dist #10    | P.o. Box 369 | 618-643-2361 |
| Mendon, IL | Cna-john Wood Cc-mendon/north Adams Home    | 2259 E. 1100th St. | 217-936-2137 |
| Metamora, IL | Cna-snyder Village    | 1200 E. Partridge | 309-367-4300 |
| Metropolis, IL | Cna-five County Reg Adult Educ. Program    | 1102 W. Tenth Street | 618-524-3736 |
| Metropolis, IL | Cna-shawnee Cc Metro Center    | 5385 Industrial Park Dr | 618-634-3277 |
| Metropolis, IL | Dd Aide-krypton, Inc    | 10 A K Dr. | 618-549-8996 |
| Midlotian, IL | Cna-royal Health Institute, Inc    | 4645 147th Street | 708-535-0277 |
| Moline, IL | Cna-black Hawk Coll Rock Island Hs    | 6600 34th Avenue | 309-854-1875 |
| Moline, IL | Dd Aide-respect Abilities, Inc    | 834 15th Avenue East | 309-281-1062 |
| Momence, IL | Dd Aide-the Good Shepherd Inc    | P.o. Box 260. | 815-472-3700 |
| Morris, IL | Cna-grundy Area Vocational Center    | 1002 Union Street | 815-942-4390 |
| Morris, IL | Dd Aide-il Valley Industries Inc-morris    | 1033 3rd Ave | 815-942-6133 |
| Mounds, IL | Cna-meridan High School    | 1401 Mounds Road | 618-342-6778 |
| Mount Morris, IL | Cna-pinecrest Manor Nursing Home    | 414 South Wesley Avenue | 815-599-3685 |
| Mount Vernon, IL | Dd Aide-developmental Planning & Services Inc    | Po Box 2369 | 618-244-7701 |
| Mt Carmel, IL | Cna-wabash Valley College    | 2200 College Dr | 618-262-8641 |
| Mt Vernon, IL | Cna-mt Vernon Township High School    | 11101 N Wells Bypass | 618-246-5615 |
| Mt Vernon, IL | Cna-rend Lake College    | 333 Potomac Blvd Suite B | 618-643-2325 |
| Mt Vernon, IL | Dd Aide-tdl Group, Inc    | #b 2025 Broadway St | 618-244-7701 |
| Murphysboro, IL | Cna-murphysboro High School    | 50 Blackwood Dr | 618-687-2336 |
| Naperville, IL | Cna-midwestern Career College-naperville    | 200 E 5th Ave #128 | 630-536-8679 |
| Naperville, IL | Dd Aide - Premiercare Consulting    | 800 W. 5th Ave. Suite 110 | 630-579-4325 |
| Naperville, IL | Dd Aide-instructional Aba Consults    | 1280 Iroquois Avenue #402-404 | 331-229-8844 |
| Naperville, IL | Dd Aide-little Friends-naperville    | 140 N Wright St | 630-355-6533 |
| Nashville, IL | Cna-friendship Manor Health Ctr    | 485 S. Friendship Dr. | 618-327-3041 |
| Nashville, IL | Cna-nashville Extension Center    | 450 N Kaskaskia St | 618-327-9136 |
| Newton, IL | Cna-newton Community High School    | 201 West Ave | 618-783-2303 |
| Niles, IL | Cna-advanced Med And Tech Institute    | 9120 Golf Road | 847-390-7083 |
| Niles, IL | Dd Aide-at Home Mission, Nfp    | 7617 N Oketo Ave | 312-646 8099 |
| Normal, IL | Cna-carepaks Health Services    | 209 Susan Dr | 309-454-1000 |
| Normal, IL | Cna-heartland Comm College-hybrid    | 1500 West Raab Road | 309-268-8000 |
| Normal, IL | Dd Aide-self Directed Support    | 1307 Heritage Road E | 309-242-8082 |
| Norridge, IL | Cna-norridge Healthcare & Rehab Ctr    | 7001 Cullom Ave | 708-457-0700 |
| Northbrook, IL | Cna-glen Oaks Nursing Home    | 270 Skokie Boulevard | 847-498-9320 |
| Northbrook, IL | Dd Aide-auroa Home Care, Inc    | 2970 Maria Avenue # 210 | 847-559-1222 |
| Northbrook, IL | Dd Aide-center On Deafness    | 3444 Dundee Rd. | 847-559-0110 |
| Northbrook, IL | Dd Aide-families Building Dreams Llc    | 2970 Maria Ave | 847-272-2222 |
| Northbrook, IL | Dd Aide-homewatch Caregivers Northshore    | 900 Skokie Blvd | 847-480-5700 |
| Northbrook, IL | Dd Aide-keshet    | 617 Landwehr Rd | 847-205-1234 |
| Northbrook, IL | Dd Aide-mental Health & Deafness Reso    | 3444 Dundee Rd. | 708-559-0110 |
| Oak Brook, IL | Cna-oakbrook Healthcare Centre Ltd    | 2013 Midwest Rd | 630-495-0220 |
| Oak Brook, IL | Cna-pc Center Training Institute    | 2625 Midwest Rd | 630-705-9999 |
| Oak Brook, IL | Dd Aide-breath Of Life Profess Serv Nfp    | 2725 35th Street | 630-570-5299 |
| Oak Brook, IL | Dd Aide-oakbrook Healthcare Group, Inc    | 2210 Midwest Rd | 530-574-9400 |
| Oak Lawn, IL | Cna-health Restoration Acad Of Med Arts    | 4241 W 95th St | 708-422-2481 |
| Oak Park, IL | Cna-kwadwo Antwi Mensah (Kamith) Institute    | 6707 North Avenue | 708-848-1700 |
| Oak Park, IL | Cna-oak Park And River Forest High School    | 201 Scoville Ave | 708-434-3749 |
| Oak Park, IL | Dd Aide-brenda Graham D/b/a Holistic Health & Human Services Of Il    | 125 N Marion St Suite 202 | 708-551-4371 |
| Oak Park, IL | Lifespeed Behavioral Support Services, Llc    | 721 South Boulevard # 2 | 312-404-7225 |
| Oglesby, IL | Cna-illinois Valley Community College    | 815 N Orlando Smith St | 815-224-0443 |
| Olney, IL | Cna-east Richland High School    | 1200 E Laurel St | 618-393-2191 |
| Olney, IL | Cna-olney Central Coll - United Methodis    | 305 N West St | 618-395-7777 |
| Olympia Fields, IL | Dd Aide-progressive Housing Inc    | 20180 Governors Drive Suite 300 | 708-283-1530 |
| Orangeville, IL | Cna-orangeville High School     | 201 S Orange St | 815-789-4289 |
| Orland Park, IL | Dd Adie-pathways Therapeutic Services Inc    | 15255 S 94th Ave. Suite 500 | 321-342-0631 |
| Orland Park, IL | Dd Aide-caring Hands Cila Of Illinois    | 14475 John Humphrey Drive | 708-966 0608 |
| Oswego, IL | Dd Aide-new Era Support Services Inc    | 123 W. Washington St. Ste. B-11 | 630-636-6892 |
| Ottawa, IL | Cna-il Valley C.c. - Ottawa    | 321 West Main Street | 815-224-0800 |
| Ottawa, IL | Cna-ottawa Township High School    | 211 E Main St | 815-433-1323 |
| Ottawa, IL | Dd Aide-solid Source Hc Resources.,llc    | 100 Superior St Unit 1 | 815-830-4251 |
| Palatine, IL | Cna-william Rainey Harper College    | 1200 West Algonquin Road | 847-925-6533 |
| Palatine, IL | Cna-william Rainey Harper College    | 1200 Algonquin Rd | 847-755-3600 |
| Palatine, IL | Cna-william Rainey Harper College - Hybrid    | 1200 West Algonquin Road | 847-309-5271 |
| Palatine, IL | Cna-wm Harper Rainey College    | 1200 W. Algonquin Road | 847-925-6533 |
| Palatine, IL | Dd Aide-abequa Home Health Care    | 1369 North Whspring Spring Circle | 630-696-2868 |
| Palatine, IL | Dd Aide-abri Home Care, Llc    | 675 N North Ct Ste 240 | 847-485-8829 |
| Palatine, IL | Dd Aide-european Services At Home    | 49 W. Palatine Rd | 847-202-1249 |
| Palatine, IL | Dd Aide-saze Community Services, Inc    | 670 N 1st Bank Dr | 708-979-3290 |
| Palos Heights, IL | Dd Aide-granny's Blessings Home Care, I    | 12416 S Harlem Ave | 708-827-5434 |
| Palos Hills, IL | Cna-moraine Valley Community College    | 9000 College Pkwy | 708-608-4330 |
| Palos Park, IL | Dd Aide-life Styles Academy, Inc    | 10300 W 131st St | 708-480-2085 |
| Pana, IL | Cna-pana Adult Center    | 14 E Main St | 217-562-6646 |
| Paris, IL | Paris Community Hospital/llc    | 721 E Court St | 217-465-4141 |
| Park Forest, IL | Dd Aide- Compassion Cila Homes, Inc    | 304 Springfield St | 773-419-2211 |
| Park Forest, IL | Dd Aide-shine On Me Inc. Of Illinois    | 153 Nanti St | 708-743-7011 |
| Park Forest, IL | Dd Aide-t O C Incorporated Of Illinois    | 430 Tomahawk St | 708-898-7953 |
| Park Ridge, IL | Cna-americare Technical School    | 505 Busse Hwy | 847-825-8773 |
| Park Ridge, IL | Cna-career Options, Inc    | 2644 Dempster Street | 847-297-3900 |
| Park Ridge, IL | Cna-maine Township Hs East    | 2601 West Dempster Street | 847-825-4484 |
| Pekin, IL | Cna-icc-pekin S Campus    | 225 Hanna Dr | 309-642-6601 |
| Pekin, IL | Cna-pekin Community High School    | 1903 Court St | 309-347-4101 |
| Peoria, IL | Cna-ers Inc Staffing And Health Care Svc    | 2210 W Townline Rd | 309-691-1839 |
| Peoria, IL | Cna-il Apostolic Christian Skylines    | 7023 Ne Skyline Drive | 309-683-2500 |
| Peoria, IL | Cna-methodist College    | 7600 N. Academic Drive | 309-672-5507 |
| Peoria, IL | Cna-woodruff Career & Technical Center    | 1800 Ne Perry Ave | 309-999-4651 |
| Peoria, IL | Dd Aide-aau Service Facilitation    | P.o. Box 10752 | 847-345-5561 |
| Peru, IL | Cna-lasalle-peru Area Career Center    | 200 9th St | 815-223-2454 |
| Petersburg, IL | Cna-porta High School    | 17651 Bluejay Road | 217-632-3216 |
| Pinckneyville, IL | Cna-rend Lake College Hybrid    | 5680 State Route 154 | 618-357-3742 |
| Pinckneyville, IL | Cna-rend Lake College Pickneyville    | 5680 Il-154 | 618-437-5321 |
| Pittsfield, IL | Cna-john Wood Comm College - Pittsfield Education Ctr    | 39637 260th Ave | 217-285-5319 |
| Pittsfield, IL | Cna-southeast Education Center    | 39637 260th Ave | 217-641-4570 |
| Pontiac, IL | Cna-livingston Area Vocational Center    | 1100 East Indiana Avenue | 815-844-6113 |
| Prophetstown, IL | Cna-lifetime Of Caring Trng Center    | 352 Washington St | 815-622-3550 |
| Prophetstown, IL | Cna-prophetstown High School    | 79 Grove Street | 815-535-3452 |
| Quincy, IL | Cna-john Wood Cc Mt. Sterling    | 1301 S 48th St | 217-641-4144 |
| Quincy, IL | Cna-quincy Area Vocational Center    | 219 Baldwin Dr | 217-224-3775 |
| Red Bud, IL | Cna-career Center Of Southern Illilnois    | 6137 Beck Rd | 618-473-2222 |
| Red Bud, IL | Cna-southwestern Illinois College    | 500 West South 4th Street | 800-222-5131 |
| Richton Park, IL | Cna-delrose Training Program    | 3717 Sauk Trail | 708-623-7649 |
| Richton Park, IL | Cna-glenshire Nursing And Rehab Centre    | 22660 S Cicero Ave | 708-747-6120 |
| Richton Park, IL | Dd Aide - Light Of Hope    | 22858 Millard Ave | 773-759-1297 |
| Richton Park, IL | Dd Aide-gentle Hands    | 5319 Sawgrass Ave | 708-704-9773 |
| Richton Park, IL | Dd Aide-luvkare Enterprises, Inc.    | 22538 Latonia Ct | 773-251-5454 |
| Richton Park, IL | Dd Aide-redempta Service, Nfp    | 23049 Richton Square Road | 708-624-0002 |
| River Grove, IL | Cna-triton College    | 2000 Fifth Avenue | 708-456-0300 |
| Riverwoods, IL | Dd Aide - Center For Enriched Living    | 280 Saunders Rd | 847-315-9912 |
| Robinson, IL | Cna-lincoln Trail College    | 11220 Il-1 | 618-544-8657 |
| Robinson, IL | Cna-twin Rivers Career & Tech System    | 301 South Cross Street # 235 | 618-544-8664 |
| Rock Island, IL | Cna-st. Anthony's Nursing And Rehab Ctr    | 767 30th St | 309-788-7631 |
| Rock Island, IL | Dd Aide-family Association Plus, Inc.    | 15742 Vine Avenue Harvey | 708-473-6420 |
| Rock Island, IL | Dd Aide-friendship Manor Inc    | 3725 46th Ave | 309-794-0061 |
| Rockford, IL | Cna-rock Valley College    | 3301 North Mulford Road | 815-921-3264 |
| Rockford, IL | Cna-rockford Business College    | 1130 S Alpine Rd #100 | 815-965-8616 |
| Rockford, IL | Cna-rockford School Practical Nursing    | 5110 Auburn St | 815-966-3300 |
| Rockford, IL | Dd Aide-heroes Of The Game, Inc    | 3028 North Trainer Road | 815-262-0699 |
| Romeoville, IL | Cna-genesis Healthcare Institute    | 1411 West Airport Road | 815-439-3970 |
| Romeoville, IL | Cna-wilco Area Career Center    | 500 Wilco Dr | 815-838-6941 |
| Romeoville, IL | Cna-wilco Area Career Ctr    | 500 Wilco Dr | 815-838-6941 |
| Rushville, IL | Cna-rushville Industry High School    | 730 N Congress St | 217-322-4311 |
| Saint Anne, IL | Dd Aide-no Place Like Home Microboard,    | 2813 South Hieland Road | 815-954-5621 |
| Saint Charles, IL | Dd Aide-infinity Aba Therapy & Autism Services, Inc    | 70 Renaux Blvd | 630-484-0298 |
| Saint Louis, IL | Dd Aide-especial Needs Llc    | 11704 Lackland Indus Dr | 314-692-2424 |
| Salem, IL | Cna-salem Community High School    | 1200 N Broadway Ave | 618-548-0727 |
| Sandoval, IL | Cna-sandoval Comm Hs Dist 501     | 859 W Missouri Ave | 618-247-3361 |
| Sauk Village, IL | Dd Aide - D Care Inc.    | 21816 Olivia Ave | 708-515-9295 |
| Sauk Village, IL | Dd Aide-life Line Pillar Homes    | 22331 Strassburg Avenue | 219-629-3331 |
| Schaumburg, IL | Cna-jcm Institute    | 1375 Remington Road Suite Q | 847-884-6502 |
| Seneca, IL | Cna-seneca Township High School    | 307 Scott St. | 815-357-5045 |
| Shelbyville, IL | Cna-shelbyville Manor    | 1111 W N 12th St | 217-774-2111 |
| Skokie, IL | Cna-oakton Community College    | 7701 Lincoln Ave | 847-635-1461 |
| Skokie, IL | Cna-zarem/golde Ort Tech Inst    | 5440 Fargo Avenue | 847-324-5588 |
| Skokie, IL | Dd Aide - Igocare Inc. Dba Right At Home    | 8424 Skokie Blvd 212. | 773-775 4677 |
| Skokie, IL | Dd Aide - Rightcare Foundation, Llc    | 8128 Lawndale Ave | 847-245-2130 |
| Skokie, IL | Dd Aide-mulford Homes Inc    | 7701 Kenton Avenue | 847-568-9500 |
| Skokie, IL | Dd Aide-the Douglas Center    | 3445 W Howard St | 847-674-4169 |
| Skokie, IL | Oakton Community College - West Township Hs    | 7701 N. Lincoln Avenue | 847-635-1461 |
| South Elgin, IL | Cna-south Elgin High School Sd U-46    | 760 E. Main Street | 847-289-3760 |
| South Holland, IL | Cna-mid Point Health Careers Training In    | 16234 Louis Ave | 708-331-2800 |
| South Holland, IL | Cna-prestige Nurse Aide Training Academy    | 841 E 162nd St | 708-331-4580 |
| South Holland, IL | Cna-south Suburban College Oak Forest    | 15800 South State Street | 708-596-2000 |
| South Holland, IL | Dd Aide - Harmony House    | 16708 Kimbark Ave | 312-656-7378 |
| South Holland, IL | Dd Aide-new Life Residence, Inc.    | 2209 Collett Ln | 708-365-6750 |
| Springfield, IL | Cna-capital Area Career Center    | 2201 Toronto Road | 217-529-5431 |
| Springfield, IL | Cna-en Va Na Healthcare Trng Center    | 1 N. Old State Capitol Plaza Ste 333 | 630-269-7431 |
| Springfield, IL | Cna-fishes & Loaves Vocational & Literacy Ctr    | 2945 Stanton St. A | 217-529-3333 |
| Springfield, IL | Cna-lincoln Land Comm College/hillsboro    | 5250 Shepherd Rd | 217-786-4913 |
| Springfield, IL | Cna-midwest Technical Institute    | 2731 North Farmers Market Road | 217-527-8324 |
| Springfield, IL | Cna-new Start Inc - Springfield    | 1200 N 5th Street | 217-522-3799 |
| Springfield, IL | Dd Aide-hope Instit For Children/familie    | 15 East Hazel Dell Lane | 217-585-5232 |
| Springfield, IL | Dd Aide-weber Care Corp    | 2520 Saint James Rd | 217-522-8406 |
| Springfield, IL | Idph Military Equivalent Training    | 525 W. Jefferson St. Fourth Floor | 217-785-5133 |
| St. Charles, IL | Cna-a Plus Healthcare Training    | 459 Dunham Rd #100 | 630-372-2442 |
| St. Louis, IL | Dd Aide-advantage Nursing Services, Inc    | 523 N Taylor Ave | 317-428-2328 |
| St. Louis, IL | Dd Aide-judevine Center For Autism     | 1810 Craig Rd. Suite 109 | 800-780-6545 |
| Sterling, IL | Cna-john Wood Comm College - Brown Co High School    | 500 E. Main Mt. | 217-773-3345 |
| Sterling, IL | Cna-whiteside Area Career Center    | 1608 5th Ave | 815-626-5810 |
| Streamwood, IL | Cna-avid Cna School    | 67 S Sutton Rd | 630-855-3977 |
| Streamwood, IL | Cna-streamwood High School    | 701 W Schaumburg Rd | 630-213-5500 |
| Stronghurst, IL | Cna-henderson Couonty Retirement Center    | 604 Oakwood Dr | 309-924-1123 |
| Sugar Grove, IL | Cna-waubonsee Comm College Aurora Campus    | Route 47 Waubonsee Drive | 630-466-7900 |
| Sullivan, IL | Cna-mason Point    | One Masonic Way | 217-728-4394 |
| Swansea, IL | Cna-midwest Careet Source - Swansea    | 4460 N Illinois St | 618-744-7575 |
| Tamms, IL | Cna-five Co Regional Vocational Systems    | 130 Washington Ave P.o. Box 70. | 618-747-2703 |
| Taylorville, IL | Cna-lincolnland Comm. Coll - Taylorville    | 800 S Spresser St | 217-786-4913 |
| Thompsonville, IL | Thompsonville Cusd #174    | 21191 Shawneetown Rd | 618-627-2446 |
| Tinley Park, IL | Dd Aide-joseph Rehabilitation Center    | 2 Olympus Drive. | 708-420-3250 |
| Trenton, IL | Cna-kaskaskia College Trenton Extension Center    | 520 E Broadway | 618-545-3243 |
| Trevose, IL | Dd Aide-active Day In, Inc    | 6 Neshaminy Interplex | 215-642-6600 |
| Tuscola, IL | Cna-tuscola Health Care Center     | 1203 Egyptian Trail | 217-253-4791 |
| Ullin, IL | Cna-shawnee Community College - Anna    | 8364 Shawnee College Road | 618-634-3277 |
| Urbana, IL | Cna-urbana Adult Education Center    | 211 N Race St | 217-384-3530 |
| Vandalia, IL | Cna-okaw Area Vocational Center     | 1109 N 8th St | 618-283-5150 |
| Varna, IL | Cna-midland High School    | 1830 State Route 17 | 309-463-2095 |
| Vernon Hills, IL | Cna-college Of Lake County In Vernon Hills-hybrid    | 1120 S. Milwaukee Ave. | 847-543-2337 |
| Vernon, IL | Cna-rend Lake College Market Place    | 321 Potomac Blvd Mt | 618-437-5321 |
| Vienna, IL | Dd Aide-glen Brook Of Vienna, Inc    | 2180 Mt Shelter Rd. P.o. Box 698 | 618-833-4993 |
| W Lyndon, IL | Cna-winning Wheels Inc    | 501 6th Ave | 815-778-3610 |
| Warrenville, IL | Cna-american Health Career Institute, Inc    | 29w701 Butterfield Rd Ste 102 | 630-836-9977 |
| Watseka, IL | Cna-kankakee Comm College Watseka    | 1488 E Walnut St | 815-802-8828 |
| Wauconda, IL | Cna-wauconda Health Care     | 176 Thomas Ct | 847-526-5551 |
| Waukegan, IL | Cna-college Of Lake Co - Waukegan Site    | 111 N Genesee St | 847-543-2339 |
| Waukegan, IL | Cna-state Career School - Waukegan    | 2770 Grand Ave | 847-693-3838 |
| West Frankfort, IL | Cna-frankfor Comm Unit School District    | 900 N Cherry St | 618-937-2421 |
| West Frankfort, IL | Dd Aide-centerstone Of Illinois Inc    | 902 West Main Street | 618-937-6483 |
| Westchester, IL | Cna-best Step Academy    | 10448 W. Cermak Rd. | 708-710-5714 |
| Westmont, IL | Cna-cmk Healthcare Training Center    | 6601 S Cass Ave Ste E | 630-725-0532 |
| Westmont, IL | Cna-college Of Dupage-westmont Ct    | 650 Pasquinelli Dr | 630-942-8331 |
| Westmont, IL | Cna-westmont Convalescent Center    | 6501 South Cass Avenue | 630-960-2026 |
| Wheaton, IL | Cna-college Of Dupage - Dupage Co Conva     | 400 N. County Farm Road | 630-942-8330 |
| Wheaton, IL | Dd Aide-cherubim Developmental Training    | 211 E Illinois St Unit 2. | 630-715-7278 |
| Wheaton, IL | Dd Aide-range Of Motion    | 26w175 Meadowview Court | 630-871-8696 |
| Wheeling, IL | Cna-northbrook College Of Health Care    | 1400 S. Wolf Road – Suite 104 | 847-850-5700 |
| Wheeling, IL | Cna-solex College    | 350 East Dundee Road # 200 | 847-229-9595 |
| Wheeling, IL | Dd Aide-sylvia Homes, Inc    | 1093 Creekside Court Apartment 2b | 847-922-4346 |
| Wilmette, IL | Dd Aide-devora's Dream, Inc     | 2323 Old Glenview Road | 224-558-4509 |
| Woodstock, IL | Cna-woodstock Community District 200    | 2990 Raffel Road | 815-206-4323 |
| Woodstock, IL | Cna-woodstock High Sch00l    | 2010 Towne Lake Hills S Dr | 815-338-0312 |
| Yorkville, IL | All Ways Caring Services, Inc.    | 624 W Veterans Pkwy Suite B | 217-398-4100 |
CNA Classes In Other States: