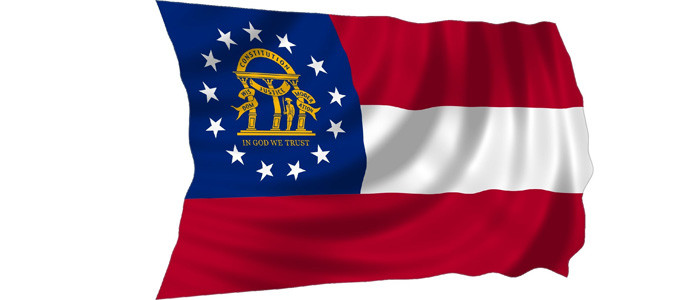 Certified Nursing Assistants (CNAs) are healthcare staff that provide long-term care service to medical facilities and may be a very rewarding career, especially if candidates possess the right skills and knowledge to provide quality service to patients and experience in basic nursing skills.
In order to work as a CNAs in the state of Georgia, a candidate should take and complete a CNA training program which is approved by the Georgia Board of Nursing, must pass a CNA certification test and be entered into the Georgia Nurse Aide Registry.
In the State of Georgia, there are over 60 Board-accredited CNA training programs, which are available in community colleges and vocational schools, universities, medical institutions, healthcare facilities, and meet the guidelines of Georgia Board of Nursing and Federal regulations for protecting and safeguarding the public health.
Additionally, some medical facilities provide free on-the-job training, in exchange the employment for the particular facility that provided the CNA training.
By attending the CNA training, a student will learn to provide support for doctors and nurses in a health care setting and may perform different CNA skills such as taking patients' vital signs, keeping health records noting changes in a patient's condition or behavior, infection control, administering medication, and the proper operating and maintaining of medical equipment. Also, she/he is involved with the patient's daily needs depending on the directions of qualified professional, such as toileting, bathing and grooming, dressing, feeding, keeping rooms clean, preparing beddings, etc.
CNA Program Requirements
In order to gain entry into any of the CNA programs in Georgia, applicants must be at least 18 years old; possess a high school diploma or GED certificate, be in good physical health, and have no criminal record. Also, they should be familiar with English language and mathematics, and have a TB test report of last 6 months and immunization's proof before admission to the program.
The selected courses should be approved by the Georgia Board of Nursing that include least 85 hours of training, which covers classroom instruction and clinical practice at a nursing home or other living care facility. The classroom instruction involves theory topics which deliver the technical knowledge to the students and cover the basic science, basic patient care, anatomy and physiology, human body mechanics, basic nutrition, personal care and hygiene, infection control, health education, emergency procedures, professional conduct, etc.
The practical session covers clinical practices that a CNA must perform during the career in healthcare field, and need a high degree of skill, precise written communication in English and interpersonal communication skills, as well as accurate performance and the ability to perform the same tasks repeatedly.
Through these training programs in the state of Georgia, all potential CNAs develop the necessary nursing talent and skills. The approved training courses usually last for 6 to 12 weeks and require an enrollment fee that may range from $700 to $1800.
CNA Certification Requirements
After completing a training program, all potential CNAs must sit for a certification exam in order to receive their license and to work legally as a nurse aides in the state. Currently, there are 322 approved programs across the state. This means that Certified Nurse Aides are highly needed in the healthcare field.
Always remember that once the examinations are done, you have to pay a fee of $107 and the Pearson Vue oversees it. If you are offered an employment after passing the CNA exam, your future employer will pay all these expenses as an exchange to the services you will be offering to them. The exam will be held at the regional site or to the facility where you are trained. You have to secure and give a training certificate, Social Security Card, photo ID and examination fee. After 10 days of passing the requirements, an Admission Ticket will be issued by the Pearson Vue. This will let you know the venue of the exam, date and time.
The state of Georgia uses National Nurse Aide Assessment Program (NNAAP) exam for assessment of certified nursing assistants, which is given by Pearson Vue (is the authorized administrator of the NNAAP in state), that is supervised and regulated by the Georgia Department of Community Health (GDCH) in alliance with Georgia Medical Care Foundation (GMCF). The purpose of the NNAAP Examination is to test that candidate understand and can safely perform the job of an entry-level nurse aide.
The test involves both a written exam as well as a skills demonstration test. The written test is a two-hour test with 70 multiple-choice questions covered topics of classroom instruction and is written in English. The clinical test which mimics a clinical setting asks the examinees to show their skills and knowledge in performing 5 randomly selected nursing assistant skills, under the supervision of instructors and senior registered nurses.
If the examinee fails the tests after three tries will need to re-take the training program. The examination fee of written exam is $25 and of clinical test is $82.
After successfully passing the certification exam, CNA can be entered into the Georgia Nurse Aide Registry, which maintains the records of certified nurse aides in the state and is regulated by the Georgia Department of Community Health (GDCH). Certification must be renewed every 24 months, and nursing aide must have worked at least 8 hours during the same period. Failure to work the required 8 hours will result in loss of certification and the nursing aide will need to retake the training program and exam.
Georgia Medical Care Foundation will be responsible in all CNA certification renewal and it is necessary that you have a minimum of 8 hours experience prior to re-certification. If, on the other hand, you are working as a full-time or part-time CNA, the state of Georgia will require 6 to 12 hours of work experience.
CNA Salary and Job Outlook in Georgia

According to the U.S. Bureau of Labor Statistics (BLS), as the state's population ages, the healthcare industry is one of the only sectors to experience consistent growth despite the economic slump. Hospitals are looking for more nursing assistants to assist medical professionals make the best use of their time. Additionally, CNAs can work at several settings like nursing homes, medical facilities, clinics, private health care facilities, public health care centers, mental care centers, elderly care centers, convalescent homes, long-term care centers, and they are permitted to continue their nursing practice anywhere throughout the state.
A CNA in the state of Georgia usually earns an average salary of $22,650 per year, however, one of the most important things that affect CNA salary in Georgia is experience. Some employers require at least one year of experience before hiring a CNA.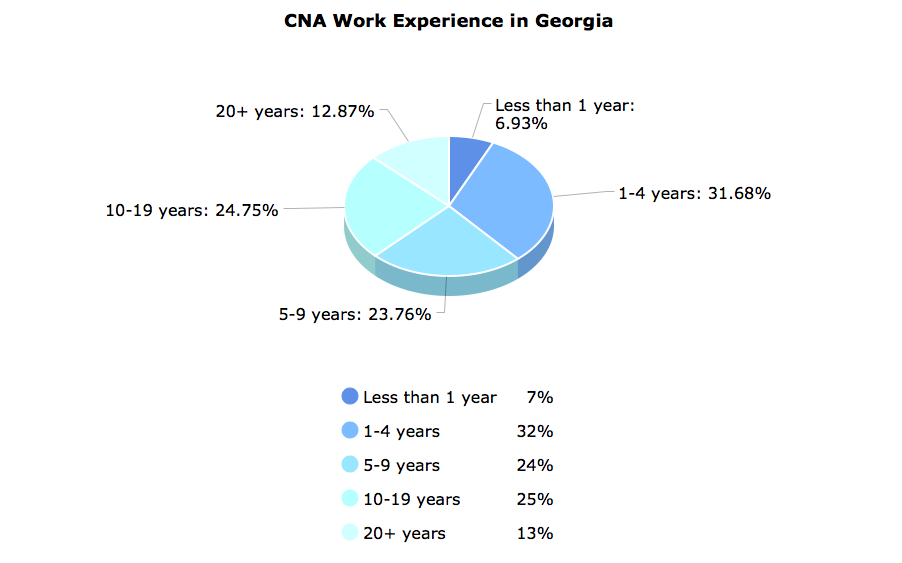 All Georgia State Approved CNA Programs
| LOCATION | FACILITY | ADDRESS | PHONE |
| --- | --- | --- | --- |
| Acworth, GA | Chattahoochee Technical College | 5198 Ross Rd Se | 770-528-4545 |
| Adel, GA | Cook High School | 9900 Highway 76 | 229-896-2213 |
| Albany, GA | Albany Technical College | 1704 S. Slappey Blvd. | 229-430-3500 |
| Albany, GA | Go With A Nurses Assistant (Gwana) | P.o. Box 50121 | 229-483-0025 |
| Albany, GA | Jackson Career Center | 1707 E. Oglethorpe Blvd | 229-888-5086 |
| Albany, GA | Turner Job Corps Center | 2000 Schilling Avenue | 229-883-8500 |
| Alma, GA | Bacon County High School | 901 North Pierce Street | 912-632-4414 |
| Alma, GA | Okefenokee Technical College | 101 West 17th Street | 912-632-0951 |
| Americus, GA | American Red Cross - Middle Flint Chapter - Sumter Co. | 1509 Crawford St | 229-924-2026 |
| Americus, GA | Magnolia Manor Nursing Center | 2001 South Lee Street | 229-924-9352 |
| Appling, GA | Lake Crossing Health Center | 6698 Washington Rd | 706-541-0462 |
| Ashburn, GA | Heritage Healthcare Of Ashburn | P.o. Box 629 | 229-567-3473 |
| Ashburn, GA | Moultrie Technical College | 222 Rock House Road | 229-567-2045 |
| Athens, GA | Alpha Nursing Training Institute - Athens | 230 Briarcliff Road | 706-353-1807 |
| Athens, GA | Athens Technical College | 800 Us Hwy 29 North | 706-355-5000 |
| Athens, GA | Heritage Healthcare Of Athens | 139 Alps Road | 706-549-8020 |
| Athens, GA | Heritage Healthcare Of Grandview | 165 Winston Drive | 706-549-6013 |
| Atlanta, GA | Alpha Nursing Training Institute - Atlanta | 777 Cleveland Avenue Sw, Suite 301 | 404-209-0163 |
| Atlanta, GA | Atlanta Job Corps Center | 239 West Lake Avenue Northwest | 404-794-9512 |
| Atlanta, GA | Atlanta Technical College | 1560 Metropolitan Parkway Sw | 404-225-4461 |
| Atlanta, GA | Atlanta Technical College - Tech High School | 1043 Memorial Drive Se | 678-904-5091 |
| Atlanta, GA | Covenant Cna School | 1 Baltimore Place | 678-235-4283 |
| Atlanta, GA | Cross Keys High School | 1626 North Druid Hills Rd Ne | 678-874-6102 |
| Atlanta, GA | Heritage Healthcare Of West Atlanta | 2645 Whiting Street Nw | 404-799-9267 |
| Atlanta, GA | Malik College | 5115 New Peachtree Rd | 770-451-9115 |
| Atlanta, GA | Murray Career Institute | 233 Mitchell Street | 404-228-1568 |
| Atlanta, GA | Sadie G. Mays Health & Rehabilitation Center | 1821 Anderson Avenue Nw | 404-794-2477 |
| Atlanta, GA | Wamita Allied Health Trainng Center, Llc | 5650 Fulton Industrial Blvd | 404-344-1333 |
| Atlanta, GA | Wellstar Nursing Assistant & Allied Health Program | 325 Fulton Industrial Circle | 678-663-4085 |
| Augusta, GA | A.r. Johnson Health Science & Engineering Magnet | 1324 Laney-walker Blvd | 706-823-6933 |
| Augusta, GA | Augusta Technical College | 3200 Augusta Tech Dr. | 706-771-4000 |
| Augusta, GA | B.e.d.s. Beneficial Educational Developmental System | 3218 Hillsview Drive | 866-860-1020 |
| Augusta, GA | Tender Care Training School | 1140 Druid Park Avenue | 706-736-9225 |
| Augusta, GA | Training For Life Academy | 2232 A Peach Orchard Road | 706-814-6941 |
| Austell, GA | Chattahoochee Technical College | 1578 Veterans Memorial Highway | 770-528-4545 |
| Austell, GA | Unihealth Post Acute Care Austell | 1700 Mulkey Road | 770-941-5750 |
| Bainbridge, GA | Bainbridge College | 2500 East Shotwell Street | 229-243-6000 |
| Baldwin, GA | The Oaks Of Scenic View | 205 Peach Orchard Rd | 706-778-8377 |
| Barnesville, GA | Heritage Inn Of Barnesville | 946 Veterans Parkway | 770-358-2485 |
| Blackshear, GA | Okefenokee Technical College | 253 Carter | 912-449-7979 |
| Blackshear, GA | Pierce County High School | 4850 County Farm Road | 912-449-2055 |
| Blairsville, GA | North Georgia Technical College | 121 Meeks Avenue | 706-439-6300 |
| Blairsville, GA | Union County Nursing Home | 164 Nursing Home Circle | 706-745-4948 |
| Blue Ridge, GA | Fannin County High School | 300 Rebel Circle | 706-632-2081 |
| Blue Ridge, GA | Heritage Healthcare Of Blue Ridge | 99 Ouida Street | 706-632-2271 |
| Brunswick, GA | Adl Training & Testing | 2919 Altama Avenue | 912-265-9355 |
| Brunswick, GA | American Red Cross | 207 Rose Drive | 912-265-1695 |
| Brunswick, GA | Brunswick Job Corps Center | 4401 Glynco Parkway | 912-264-8843 |
| Brunswick, GA | Golden Isles Career Academy | 4404 Glynco Parkway | 912-280-4000 |
| Brunswick, GA | Sears Manor | 3311 Lee Street | 912-264-1857 |
| Buchanan, GA | Countryside Health Center | 233 Carrollton Street | 770-646-3861 |
| Byromville, GA | Pinehill Nursing Center | 712 Patterson Street | 478-433-5711 |
| Cairo, GA | Cairo High School - Grady County Vocational Center | 455 5th St. Se | 229-377-2044 |
| Calhoun, GA | American Red Cross Northwest Georgia Chapter | 309 Court Street | 706-629-4510 |
| Calhoun, GA | Calhoun Health Care Center | 1387 Us 41 North | 706-629-1289 |
| Calhoun, GA | Cna Nursing School Of Calhoun | 135 Professional Court | 706-629-2651 |
| Calhoun, GA | Gordon Health & Rehabilitation | 1280 Mauldin Road | 706-625-0044 |
| Camilla, GA | Southwest Georgia Technical College | 1000 Newton Rd | 229-336-0970 |
| Canton, GA | Brian Center Of Canton | 150 Hospital Circle | 770-479-5649 |
| Carrollton, GA | The Oaks Of Carrollton | 921 Old Newnan Road | 770-834-2242 |
| Carrollton, GA | Village Samaritan, Llc | 251 Prism Drive | 770-830-5683 |
| Cartersville, GA | Cass High School | 738 Grassdale Road | 770-606-5182 |
| Cartersville, GA | Cpr With Mickey, Inc. | 618 E Main Street | 770-606-9697 |
| Cartersville, GA | Maple Ridge Health Care Center | 22 Maple Ridge Road | 770-606-8800 |
| Cartersville, GA | Starcrest Of Cartersville | 196 N. Dixie Avenue | 770-387-0662 |
| Cedartown, GA | Cedar Valley Nursing & Rehab Center | 225 Philpot Street | 770-748-4116 |
| Cedartown, GA | Cedartown High School | 167 Frank Lott Drive | 770-748-0490 |
| Chamblee, GA | Warren Technical School | 3075 Alton Road | 678-676-6502 |
| Chatsworth, GA | Chatsworth Health Care Center | 102 Hospital Drive | 706-695-8313 |
| Clarkston, GA | Dekalb Technical College | 495 N Indian Creek Dr. | 404-297-9522 |
| Clarkston, GA | New Beginning Cna Training | 4122 East Ponce De Leon Ave | 678-462-7702 |
| Claxton, GA | Camellia Health & Rehabilitation Center | 700 E. Long Street | 912-739-2245 |
| Clayton, GA | Mountain View Health Care | 547 Warwoman Road | 706-782-4276 |
| Cleveland, GA | Gateway Health And Rehab | 3201 Westmoreland Road | 706-865-5686 |
| Cleveland, GA | White County High School | 2600 Hwy 129 N | 706-865-2312 |
| Cochran, GA | Bryant Health Care Center | 134 6th Street Sw | 478-934-7682 |
| College Park, GA | Faks Allied Health Education Center. | 5150 Old National Hwy | 404-763-0055 |
| Colquitt, GA | Southern Training Institute | P.o. Box 408 | 229-254-0858 |
| Columbus, GA | Columbus Technical College | 928 Manchester Expressway | 706-649-1800 |
| Columbus, GA | Enrichment Services Program, Inc. | 2100 12th Avenue | 706-596-0504 |
| Columbus, GA | First Step Health Agency | 1805a Wynnton Road | 762-821-2471 |
| Columbus, GA | Muscogee Manor & Rehabilitation Center | 7150 Manor Road | 706-561-3218 |
| Columbus, GA | Stat Medical Services, Inc. | 2 Bradley Park Court | 706-322-7776 |
| Columbus, GA | Step One Health Agency | 5950 Veterans Parkway | 762-821-3574 |
| Commerce, GA | East Jackson Comprehensive High School | 1435 Hoods Mill Road | 706-336-8900 |
| Conyers, GA | Allied Health Training Center Of Conyers | 1315 Milstead Road Ne | 770-922-6913 |
| Conyers, GA | Dekalb Technical College | 1064 Culpepper Drive Sw | 770-787-0211 |
| Conyers, GA | Georgia Northwestern Technical College | 2400 Granade Road Sw | 866-983-4682 |
| Conyers, GA | Metro Atlanta A.s.b.l. | 1540 Georgia Highway 138 Se | 404-547-6950 |
| Conyers, GA | Premier Medical Careers | 1015 Milstead Avenue | 678-413-1663 |
| Cordele, GA | Cordele Health & Rehab | 1106 North 4th Street | 229-273-1227 |
| Cordele, GA | South Georiga Technical College | 402 North Midway Road | 229-271-4040 |
| Covington, GA | Covington Manor Health Care | 4148 Carroll St. | 770-786-0427 |
| Covington, GA | Dekalb Technical College | 8100 Bob Williams Parkway | 770-786-9522 |
| Crawfordville, GA | Taliaferro County High School | 557 Broad Street | 706-456-2546 |
| Cumming, GA | Cumming Nursing Center | 2775 Castleberry Road | 770-781-2300 |
| Cuthbert, GA | Randolph Clay Middle/high School | 3451 Georgia Hwy 266 | 229-732-2101 |
| Dahlonega, GA | Gold City Convalescent Center | 222 Moore's Drive | 706-864-3045 |
| Dallas, GA | Cpr With Mickey | 110 Evans Mill Drive | 770-573-2448 |
| Dallas, GA | Paulding County High School | 1297 Villa Rica Highway | 770-443-8008 |
| Dallas, GA | Wellstar Paulding Hospital | 600 W. Memorial Drive | 770-445-4411 |
| Dalton, GA | Dalton State College | 650 College Drive | 706-272-4436 |
| Dalton, GA | Regency Park Nursing & Rehabilitation | 1212 Broadrick Drive | 706-270-8008 |
| Darien, GA | Altamaha Technical College- Mcintosh Academy | 8945 Highway # 17 | 912-280-4000 |
| Decatur, GA | Afria Medical Institute, Inc. | 4319 Covington Highway | 404-284-7178 |
| Decatur, GA | American Professional Institute | 141 Sams Street | 404-789-3985 |
| Decatur, GA | Americas Best Healthcare Services, Inc. | 4151 Memorial Drive | 404-294-0095 |
| Decatur, GA | Columbia High School Dekalb County Board Of Education | 2106 Columbia Drive | 678-874-0802 |
| Decatur, GA | Dekalb High School Of Technology | 3303 Panthersville Road | 678-874-4502 |
| Decatur, GA | East Lake Arbor Healthcare | 304 Fifth Avenue | 404-373-6231 |
| Decatur, GA | Ellenwood Academy | 4798 Flat Shoals Parkway | 404-567-4021 |
| Decatur, GA | M & K Education, Inc. | 3009 Rainbow Drive Suite 104 | 404-243-7227 |
| Decatur, GA | Omnitech Institute | 4319 Covington Highway | 404-284-8121 |
| Decatur, GA | Professional Medical Institute, Inc | 4336 Covington Hwy | 404-289-7177 |
| Decatur, GA | R.i.s.e. Academy, Llc | 4467 Glenwood Road | 678-993-5287 |
| Decatur, GA | Southwest Dekalb High School | 2863 Kelly Chapel Rd | 678-874-1902 |
| Decatur, GA | Woodruff Medical Training & Testing | 2637 North Decatur Rd | 404-499-1777 |
| Decatur, GA | World Outreach Medical Institute | 4650 Memorial Drive | 404-299-1271 |
| Douglas, GA | Coffee County High School | 159 Trojan Way | 912-384-2094 |
| Douglas, GA | Shady Acres Nursing Home | 1310 West Gordon Street | 912-384-7811 |
| Douglas, GA | Ycarte Health Career Center | 1214 North Peterson Avenue | 912-384-8680 |
| Douglasville, GA | Assured & Associates Personal Care Of Georgia | 8336 Office Park Drive | 678-391-0140 |
| Douglasville, GA | Career Start Institute | 3133 Golf Ridge Blvd | 678-710-8078 |
| Douglasville, GA | West Georgia Technical College | 4600 Timber Ridge Drive | 770-947-7300 |
| Dublin, GA | Oconee Fall Line Technical College | 560 Pinehill Rd | 800-200-4484 |
| Duluth, GA | Alliance Care School Of Nursing Assistants | 3500 Duluth Park Lane | 678-417-1604 |
| Duluth, GA | American Professional Institute | 2131 Pleasant Hill Road | 678-473-7820 |
| Duluth, GA | Atlanta General Education Center, Inc. | 3761 Venture Drive | 770-497-9997 |
| East Point, GA | Nv Enterprises Training Academy | 2981 Church Street | 404-763-4114 |
| Eatonton, GA | Central Georgia Technical College | 580 James Marshall Bypass | 706-923-5000 |
| Elberton, GA | Athens Technical College | 1317 Athens Highway | 706-213-2100 |
| Elberton, GA | Heritage Healthcare Of Spring Valley | 651 Rhodes Drive | 706-283-3880 |
| Ellenwood, GA | Cedar Grove High School | 2360 River Road | 678-874-4002 |
| Ellijay, GA | Gilmer Nursing Home | 1362 South Main Street | 706-635-7881 |
| Evans, GA | Columbia County Schools | 5114 Riverwood Parkway | 706-650-6040 |
| Fairburn, GA | Fairburn Health Care Center | 178 W. Campbellton Street | 770-964-1320 |
| Fayetteville, GA | Exelle Medical Training, Llc. | 101 Rainbow Way | 770-703-7751 |
| Fayetteville, GA | Golden Age Healthcare Training, Inc. | 150 Carnegie Place | 404-663-6455 |
| Fayetteville, GA | Laureate Training Center | 115 Commerce Drive Suite A | 770-719-5445 |
| Fitzgerald, GA | Fitzgerald High School | 601 West Cypress Street | 229-409-5530 |
| Fitzgerald, GA | Wiregrass Georgia Technical College | 667 Perry House Road | 229-468-2000 |
| Folkston, GA | Okefenokee Technical College | 994 Indian Trail | 912-496-2501 |
| Forsyth, GA | Central Georgia Technical College | 433 Hwy 41, South | 478-992-2881 |
| Forsyth, GA | Heritage Healthcare Of Forsyth | 521 Cabiness Road | 478-994-5671 |
| Forsyth, GA | Heritage Healthcare Of Monroe | 4796 Highway 42 North | 478-994-5662 |
| Fort Oglethorpe, GA | Georgia Northwestern Technical College | 1850 Battlefield Parkway | 866-983-4682 |
| Fort Oglethorpe, GA | Heritage Healthcare Of Fort Oglethorpe | 1067 Battlefield Parkway | 706-861-5154 |
| Fort Oglethorpe, GA | Nhc Healthcare | 2403 Battlefield Parkway | 706-866-7700 |
| Franklin, GA | Heritage Healthcare Of Franklin | 360 South River Road | 800-385-2527 |
| Franklin, GA | West Georgia Technical College | 545 Main Street | 706-845-4323 |
| Gainesville, GA | Alpha Nursing Training Institute | 510 West Avenue | 678-928-4390 |
| Gainesville, GA | American Professional Institute | 675 E.e. Butler Parkway | 770-297-8080 |
| Gainesville, GA | The Oaks Of Limestone | 2560 Flintridge Road | 770-536-3391 |
| Gainesville, GA | Village Nursing Care, Inc | 621 Green Street | 770-536-0484 |
| Gibson, GA | Gibson Health & Rehab Center | 434 Beall Springs Road | 706-598-2167 |
| Glennville, GA | Southeastern Technical College | 211 S. Tillman Street | 912-538-3100 |
| Gracewood, GA | East Central Regional Hospital | 100 Myrtle Blvd | 706-790-2011 |
| Gray, GA | Central Georgia Technical College | 161 West Clinton Street | 478-986-4370 |
| Gray, GA | Lynn Haven Health & Rehab | 747 Monticello Highway | 478-986-3196 |
| Grayson, GA | Foldel Healthcare Services, Llc | 438 Grayson Parkway | 678-254-0946 |
| Greenville, GA | Unihealth Post Acute Care Of Greenville | 99 Hill Haven Rd | 706-672-4241 |
| Greenville, GA | West Georgia Technical College | 17529 Roosevelt Hwy | 706-672-3103 |
| Griffin, GA | Brightmoor Health Care | 3235 Newnan Road | 770-228-8599 |
| Griffin, GA | Southern Crescent Technical College | 501 Varsity Road | 770-228-7348 |
| Griffin, GA | Spalding High School | 433 Wilson Rd | 770-229-3775 |
| Hartwell, GA | Hart County High School | 59 Fifth Street | 706-376-5461 |
| Hawkinsville, GA | Pinewood Manor Nursing Home | 277 Commerce Street | 478-892-9171 |
| Hiawassee, GA | Chatuge Regional Hospital & Nursing Home | 386 Belaire Drive | 706-896-2231 |
| High Shoals, GA | Family Life Enrichment Center | 3450 New High Shoals Rd. | 706-769-7738 |
| Hinesville, GA | Bradwell Institute | 100 Pafford Street | 912-876-6121 |
| Hinesville, GA | Infinite Health Care Academy, Inc. | 1016 Live Oak Drive | 404-913-1948 |
| Hinesville, GA | Liberty County Adult Continuing Education | 200 Bradwell Street | 912-876-4951 |
| Hinesville, GA | Savannah Technical College | Liberty County Campus | 912-408-3024 |
| Ideal, GA | Miona Geriatrics And Dementia Center | 201 Poplar Street | 478-949-2270 |
| Jackson, GA | Blessed Assurance Healthcare | 112 E 2nd Street | 770-775-9991 |
| Jackson, GA | Westbury Medical Care Home | 922 Mcdonough Road | 770-775-7832 |
| Jasper, GA | Chattahoochee Technical College | 100 Campus Drive | 706-253-4546 |
| Jasper, GA | Grandview Health Care Center | 618 Gennett Drive | 706-692-5123 |
| Jasper, GA | Heritage Healthcare Of Jasper | 1350 East Church Street | 706-253-2441 |
| Jeffersonville, GA | Central Georgia Technical College | 375 Watson Dr | 478-988-6800 |
| Jeffersonville, GA | Central Georgia Technical College | 952 Main Street | 478-945-2206 |
| Jesup, GA | Altamaha Technical College | 1777 West Cherry Street | 912-427-5800 |
| Jonesboro, GA | Atlanta Technical College - Perry Center | 137 Spring Street | 770-515-7601 |
| Jonesboro, GA | Everest Institute | 6431 Tara Boulevard | 770-603-0000 |
| Jonesboro, GA | Johnco Institute | 650 Mount Zion Rd | 770-996-2608 |
| Jonesboro, GA | Patient Care Techniques | 124 South Main Street, Ste. 2b | 678-772-2399 |
| Kennesaw, GA | Kennesaw State University | 1000 Chastain Road Nw | 470-578-6000 |
| Kennesaw, GA | Ross Memorial Health Care Center | 1780 Old 41 Highway | 770-427-7256 |
| Kingsland, GA | Camden County High School | 6300 Laurel Island Pkwy | 912-729-7318 |
| Lafayette, GA | Heritage Healthcare Of Lafayette | 205 Roadrunner Blvd | 706-638-4662 |
| Lagrange, GA | Alpha Nursing Training Institute | 2170 West Point Avenue | 706-884-5483 |
| Lagrange, GA | West Georgia Technical College | One College Circle | 706-845-4323 |
| Lawrenceville, GA | Lloyd Xavier Medical Training Institute, Inc | 134 South Clayton Street | 770-339-2600 |
| Lawrenceville, GA | Maxwell Hs Of Technology | 990 Mcelvaney Lane | 770-963-6838 |
| Lawrenceville, GA | Mentee Medical Institute | 848 James Rd | 770-931-5020 |
| Leesburg, GA | Lee County High School | One Trojan Way | 229-903-2260 |
| Lilburn, GA | Education & Career Resources Of Ga | 4055 Lawrenceville Hwy | 770-717-0310 |
| Lilburn, GA | Heritage Healthcare Of Lilburn | 788 Indian Trail Rd | 770-923-2020 |
| Lithonia, GA | Miller Grove High School | 2645 Dekalb Medical Center Parkway | 678-875-1102 |
| Loganville, GA | Elite Healthcare Services, Llc | 303 Fox Briar Court | 770-554-7280 |
| Ludowici, GA | Long County High School | 550 S. Mcdonald Street | 912-545-2135 |
| Lyons, GA | Toombs Health & Rehabilitation | 181 Oxley Drive | 912-526-6336 |
| Mableton, GA | Cobb Certified Nurse Assisting School | 5701 Mableton Parkway | 678-398-1234 |
| Macon, GA | American Professional Institute - Macon | 1667 Eisenhower Parkway | 478-742-8909 |
| Macon, GA | Central Georgia Technical College | 3300 Macon Tech Drive | 478-757-3400 |
| Macon, GA | Endurance 4 U Healthcare Education Training School | 780 Baconfield Drive | 478-741-0400 |
| Macon, GA | Extended Health Services, Inc | 2733 Sheraton Drive | 478-746-9988 |
| Macon, GA | Family Care Solutions Health Services Training Institute | 150 Sessions Drive | 478-743-7415 |
| Macon, GA | Heritage Healthcare Of Macon | 2255 Anthony Road | 478-784-7900 |
| Macon, GA | The Oaks Of Peake | 6190 Peake Road | 478-471-7474 |
| Marietta, GA | Avett Quality Services, Inc. | 1730 Austell Road Southeast | 770-432-7227 |
| Marietta, GA | Chattahoochee Technical College | 980 South Cobb Dr. | 770-528-4545 |
| Marietta, GA | Cumberland Health Services And Training | 3411 Austell Rd Sw | 770-435-2555 |
| Marietta, GA | Marietta Health & Rehabilitation Center | 50 Saine Drive | 770-429-8600 |
| Marietta, GA | Multicare Training Institute | 909 Cobb Parkway North | 770-427-4338 |
| Mcdonough, GA | Mcdonough Health Careers Institute, Llc | 103 Jonesboro Road | 678-432-4933 |
| Metter, GA | Azalea Health & Rehab | 300 Cedar Street | 912-685-5703 |
| Milledgeville, GA | American Professional Institute | 2400 N. Columbia Street | 478-452-3900 |
| Milledgeville, GA | Central Georgia Technical College | 54 Highway 22 West | 478-445-2300 |
| Milledgeville, GA | Central State Hospital | Yarbrough Building | 478-445-4128 |
| Milledgeville, GA | Georgia War Veterans Home | 2249 Vinson Highway | 478-445-3234 |
| Milledgeville, GA | Peachstate Nursing Agency, Ltd. | 140 West Washington Street | 478-453-3369 |
| Millen, GA | Southeastern Technical - Jenkins County High School | 433 Barney Avenue | 478-982-4791 |
| Monroe, GA | Athens Technical College | 212 Bryant Road | 706-552-0901 |
| Monticello, GA | Jasper County High School | 14477 Highway 11 North | 706-468-5016 |
| Morrow, GA | Clayton State University | 2000 Clayton State Boulevard | 678-466-4000 |
| Moultrie, GA | Colquitt County High School | 1800 Park Avenue | 229-890-6194 |
| Moultrie, GA | Heritage Healthcare Of Sunrise | 2709 South Main Street | 229-985-7173 |
| Moultrie, GA | Moultrie Technical College | 361 Industrial Drive | 888-205-3449 |
| Nashville, GA | Berrien High School | 500 East Smith Avenue | 229-686-7428 |
| Newnan, GA | Gentle Care Services, Inc | 92 Coggins Corner Dr | 678-423-1135 |
| Newnan, GA | Newnan Health & Rehabilitation | 244 East Broad Street | 770-253-7160 |
| Newnan, GA | West Central Technical College | 160 Martin Luther King, Jr. Drive | 678-821-3800 |
| Norcross, GA | Cnu Medical Institute, Inc. | 6399 Jimmy Carter Blvd # 100 | 678-879-0721 |
| Norcross, GA | New Horizons Medical Institute, Inc. | 5675 Jimmy Carter Blvd., Ste 605 | 770-447-0722 |
| Oakwood, GA | Lanier Technical College | 2990 Landrum Education Drive | 770-533-7000 |
| Pelham, GA | Southwest Georgia Technical College - Pelham High School | 203 Mathewson Ave | 229-294-8623 |
| Perry, GA | Summerhill Senior Living Community | 500 Stanley Street | 478-987-3100 |
| Powder Springs, GA | Cobb Allied Health Training Center | 4146 Austell Powder Springs Road | 770-693-5788 |
| Pulaski, GA | Orchard Health & Rehabilitation | 1321 Pulaski School Street | 912-685-2633 |
| Quitman, GA | Presbyterian Home | 1901 W. Screven Street | 229-263-6100 |
| Richland, GA | Four County Health Care | 99 Overby Drive | 229-887-2021 |
| Rincon, GA | Effingham Career Academy | 2940 Highway 21 South | 912-754-5610 |
| Ringgold, GA | Georgia Northwestern Technical College | 28 Tiger Trail | 866-983-4682 |
| Riverdale, GA | Center For Progressive Training Inc | 1805 Highway 138 Sw | 770-996-0637 |
| Roberta, GA | Central Georgia Technical College | 640 Ga Highway 128 | 478-836-6001 |
| Rock Spring, GA | Georgia Northwestern Technical College | 265 Bicentennial Trail | 866-983-4682 |
| Rockmart, GA | Georgia Northwestern Technical College | 466 Brock Road | 770-684-5696 |
| Rockmart, GA | Rockmart High School | 990 Veterans Highway | 770-684-5432 |
| Rome, GA | Alpha Nursing Training Institute | 321 East 8th Street | 706-232-1876 |
| Rome, GA | Chulio Hills Health & Rehab | 1170 Chulio Road | 706-235-1132 |
| Rome, GA | Cpr With Mickey, Inc. | 540 Broad Street | 770-573-2448 |
| Rome, GA | Georgia Northwestern Technical College | One Maurice Culberson Dr. | 866-983-4682 |
| Rome, GA | Georgia Northwestern Technical College | 1000 Veterans Memorial Highway Ne | 706-764-3532 |
| Rome, GA | Prime Care Nursing Services, Inc | 208 Redmond Road | 706-291-9151 |
| Rome, GA | Rome High School | 1000 Veterans Memorial Highway | 706-235-9653 |
| Rome, GA | Winthrop Health & Rehabilitation | 12 Chateau Drive Se | 706-235-1422 |
| Rossville, GA | Nhc Healthcare | 1425 Mcfarland Avenue | 706-861-0863 |
| Rossville, GA | Ridgeland High School | 2478 Happy Valley Road | 706-820-9361 |
| Sandersville, GA | Oconee Fall Line Technical College | 1189 Deepstep Road | 478-553-2050 |
| Sandersville, GA | Washington County High School | 420 Riddleville Road | 478-552-2324 |
| Savannah, GA | Dominion Health Care Solutions, Llc | 7160 Hodgson Memorial Drive | 912-303-0445 |
| Savannah, GA | Savannah Technical College | 5717 White Bluff Road | 912-443-5700 |
| Savannah, GA | Woodville Tompkins Technical & Career Institute | 151 Coach Joe Turner Street | 912-395-6750 |
| Smyrna, GA | Advanced Professional Nurses, Inc. | 3320 South Cobb Drive, Ste. C | 770-364-8148 |
| Smyrna, GA | Fortis Institute | 2108 Cobb Parkway Se | 770-980-0002 |
| Smyrna, GA | Metro Medical Training Center | 1184 Concord Road Se, Suite 5 | 770-437-1250 |
| Sparks, GA | Wiregrass Georgia Technical College - Cook County Workforce Development Center | 1676 North Elm Street | 229-549-7830 |
| Sparta, GA | Sparta Health Care | 11744 Hwy 22 | 706-444-6057 |
| Statesboro, GA | Ogeechee Technical College | One Joseph E. Kennedy Blvd. | 912-681-5500 |
| Stone Mountain, GA | Caregiver Solutions Training Institute | 1835 East Park Place Blvd | 770-710-0202 |
| Stone Mountain, GA | Dekalb County Healthcare Center, Inc | 5160 Springview Avenue | 770-498-4144 |
| Stone Mountain, GA | Health Education Associates, Inc | 5300 Memorial Drive | 404-296-5272 |
| Summerville, GA | Oakview Nursing & Rehab | 960 Highland Avenue | 706-857-4761 |
| Suwanee, GA | Ek Medical Learning Center, Inc | 530 Highland Station Drive | 678-714-9620 |
| Suwanee, GA | Nurse Consult, Llc | 3255 Lawrenceville Suwanee Road | 678-756-0679 |
| Swainsboro, GA | Southeastern Technical College | 346 Kite Rd. | 478-289-2200 |
| Sylvania, GA | Syl-view Health Care Center | 411 Pine Street | 912-564-2015 |
| Sylvester, GA | Worth County High School | 406 West King Street | 229-776-8625 |
| Thomaston, GA | Riverside Nursing Center | 101 Old Talbotton Road | 706-647-8161 |
| Thomaston, GA | Southern Crescent Technical College | 1533 Highway 19 South | 706-646-6148 |
| Thomaston, GA | Upson-lee High School | 268 Knight Trail | 706-647-8171 |
| Thomasville, GA | Southwest Georgia Technical College | 15689 Us Highway 19 North | 888-205-3449 |
| Thomasville, GA | Southwest Georgia Technical College - Thomas County Central High School | 4686 Us Highway 84 Bypass West | 229-225-5050 |
| Thomasville, GA | Southwest Georgia Technical College - Thomasville High School | 315 South Hansell Street | 229-225-2634 |
| Tifton, GA | Moultrie Technical College | 52 Tech Drive | 229-391-2600 |
| Tifton, GA | Moultrie Technical College - Tift County High School | One Blue Devil Way | 229-217-4209 |
| Tiger, GA | Rabun County High School | 230 Wildcat Hill Drive | 706-782-4526 |
| Toccoa, GA | Stephens County Hospital | 163 Hospital Drive | 706-282-4200 |
| Toomsboro, GA | Heritage Healthcare Of Toomsboro | 210 Main Street | 478-933-5395 |
| Trenton, GA | Dade Health & Rehab Center | 1234 Highway 301 | 877-252-4469 |
| Trenton, GA | Georgia Northwestern Technical College | 300 Tradition Ln | 866-983-4682 |
| Trion, GA | Georgia Northwestern Technical College | 919 Allgood Street | 866-983-4682 |
| Tucker, GA | Christies Health Service | 3469 Lawrenceville Hwy | 770-939-0143 |
| Tucker, GA | Elite Medical Training Center | 1798 Montreal Circle | 770-242-9700 |
| Union Point, GA | Greene Point Health Care | 1321 Washington Highway | 706-486-2167 |
| Valdosta, GA | Valdosta Technical College | 4089 Val Tech Road | 229-333-2100 |
| Vidalia, GA | Southeastern Technical College | 3001 E. First Street | 912-538-3100 |
| Waco, GA | West Central Technical College | 176 Murphy Campus Blvd. | 770-537-6000 |
| Warm Springs, GA | Roosevelt Warm Springs Rehabilitation | 6135 Roosevelt Highway | 706-655-5255 |
| Warner Robins, GA | Health Tech Of Georgia, Inc. | 202 North Davis Drive | 478-923-7007 |
| Warner Robins, GA | Middle Georgia Technical College | 80 Cohen Walker Drive | 478-988-6800 |
| Washington, GA | Washington-wilkes Comp High School | 1180 Tignall Road | 706-678-2426 |
| Waverly Hall, GA | Oak View Home | 119 Oakview St. | 706-582-2117 |
| Waycross, GA | Baptist Village Inc | 2650 Carswell Avenue | 912-283-7050 |
| Waycross, GA | Okefenokee Technical College | 1701 Carswell Avenue | 912-287-6584 |
| Waycross, GA | Ware County High School | 700 Victory Drive | 912-287-2351 |
| Waynesboro, GA | Brentwood Terrace Health Care | 115 Brentwood Drive | 706-554-4425 |
| Winder, GA | Winder Health Care | 263 East May Street | 770-867-2108 |
| Woodstock, GA | Giving Care At Home Education Center | 602 Industrial Court | 678-831-0830 |
CNA Classes In Other States: