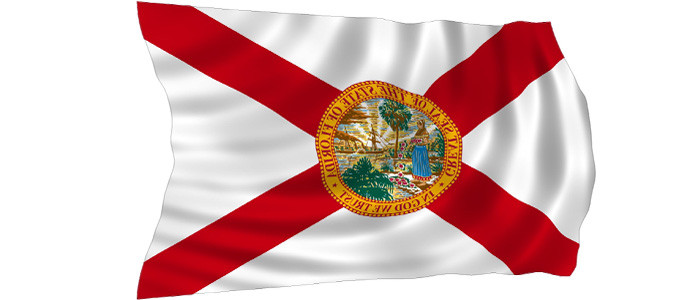 Certified Nursing Assistant (CNA) is a position that allows candidates to enter the field of health care. The career of a nursing assistant is a good selection especially in Florida, because of the great demand for medical staff.
It has been projected that the health care industry will boom to 20-30% in the next few years. The increasing demand of healthcare professionals all over the world particularly in United States is considered to be the highest category of employment. Registered Nurses, Certified Nursing Assistants and other health care professions are very much needed in several institutions like hospitals, nursing homes, long term care facilities and many others.
Starting a career in the healthcare field can be done through a CNA training program. CNA's or Certified Nursing Assistants have responsibilities similar to Registered Nurses. They do personal care, rehabilitative exercises and feeding. Most of the CNA's will eventually become a Licensed Practical Nurse or Registered Nurse, depending upon their decision of taking further studies. If you want to undergo a CNA training in Florida, there are numerous state-approve programs monitored by the Nurse Aide Registry. In fact, you can select any of the 355 locations around the state but you will be required to pay a certain fee close to $1,000. The fee will include expenses on the uniform, supplies and the program itself.
Florida is one of the most flexible states when it comes to obtaining a CNA license, as not requires candidates to enroll in a training program. However, even if it is not required by the Florida Board of Nursing – the CNA exam in Florida is not any easier than other states – they encourage those who will take the certification exam to undergo CNA training in Florida. It is important to note that those who failed in exams are usually those who were not able to receive good marks in the second part, which is the practical exam.
In the state of Florida there are a variety of training choices that meet the requirements of the State Board of Nursing and the federal regulations, offered through online courses, nursing schools, community colleges, vocational and technical schools, medical institutions, as well as in nursing facilities that provide free CNA training in exchange the candidate to work there for a certain amount of time.
What is CNA work really like?
Certified nursing assistants work under the guidance and supervision of licensed practical nurses (LPNs) or registered nurses (RNs), and are responsible for providing support in a variety of health care settings. They perform tasks like, administering medications, taking vital signs, observing patients and noting changes their behavior or condition, infection control, tidying patients' room, assisting patients with their bathing and grooming needs, dressing, feeding, helping set up equipment and stocking supplies, etc.
CNA Program Requirements
The enrolling in one of the approved CNA programs in Florida opens a wide variety of career options for those who want to pursue career in nursing field. In order to apply for admission in these CNA programs, the aspirants must meet some pre-requisites, like should be at least 18 years of age; have a high school diploma or GED certificate, clean criminal record, a negative result for TB test within the past 6 months and proof of immunizations.
The Florida Department of Health is the one responsible for approving CNA training programs in the state, and all state-approved programs contain 120 hours of training, with 80 hours of classroom instruction by following a specific time schedule and 40 hours of clinical practice, usually in a laboratory or in an actual clinical facility. The courses last for 6 to 12 weeks and cover topics like, basic medical procedures, anatomy and physiology, basic nutrition, body mechanics, communication skills, personal care, infection control, patient safety and hygiene, obtaining vital signs, patient's rights, etc.
Despite the fact that you have to spend for the CNA training program, you can also avail several grants that let you get into the training without spending a dollar. For instance, the Workforce and Continuing Education Department offers a number of CNA grants. However, you will have to work on their institution in exchange for the grant you availed once you get certified. This is a great opportunity considering that you will have a work right after the training. Most of the time, the training program for CNA's will reach to 65 to 120 hours of classroom sessions; depending upon the facility who offered it. This number of hours will consist of classroom sessions and clinical experience with the patients and other healthcare staffs.
CNA Certification Requirements in Florida
In the state of Florida, there is a provision in which the aspirants can challenge the certification exam for CNA without enrolling in any approved program; provided that they must be above 18 years old and possess a high school diploma or GED certification. However, if the examinee fails the tests after three tries, is required to attend an approved CNA training class and then sit for the exam again.
As soon as you are done with the training program, you can  take the certification examination in order to be certified. There will be a processing fee of $25, a background screening fee of $40.50 and examination fee of $93. Be sure to obtain a clean criminal record because the Nurse Aide Registry will make you ineligible to work as a CNA if you have been involved in a felony conviction, theft, abuse, or violent crime.
The Florida Department of Health oversees the whole process of certification of applicants, which administered by Thompson Prometric comprising of a written exam with 50 multiple-choice questions related to physical care of clients, psychosocial care and legal and ethical issues of nursing profession, and a clinical test which requires applicants to perform five randomly selected nursing assistant skills. Both exams are administered in English, and fee of written exam is $36 and of clinical test is $57.
Passing the certification exam means getting a better career in the health care field. The license you obtained should be renewed every two years. There will be a notification sent to you 120 days prior to the expiration of license. CNA license must be renewed every 2 years, and nursing aide must have worked at least 12 hours and in some cases 24 hours during the same period. Recertification fee of CNA licenses is $55. The candidates who are certified are listed in the records of Florida Nurse Aide Registry along with their personal information, which helps the employers get relevant required information about their prospective employees.
The best part of becoming a Certified Nursing Assistant is you can work in flexible hours and you are entitled for health and dental benefits as well as good compensation. Working in the healthcare field provides endless opportunities so make the CNA training program your first step. You will surely not regret the path you take once you become a Certified Nursing Assistant.
CNA Salary and Job Outlook in Florida

There is currently large number of CNAs working in Florida ( just under 90,000) and the growth of demand for CNAs in Florida will likely outpace rest of the country, because of the huge elderly population in the state. CNA salary in Florida ranges between $21,000 and $34,000 per year. The average salary though is around $24,510 based on the salary survey made by BLS in 2015.
The majority of training programs provide hands-on experience, as many employers look for CNAs who have some kind of work experience. Certified Nursing Assistants (CNAs) have the possibility of employment in healthcare and medical settings such as nursing homes, clinics, hospitals, private health care centers, public health care facilities, mental care facilities, elderly care centers, convalescent homes and long-term care facilities in the state, including the Baptist Medical Center, Broward General Medical Center, Memorial Regional Hospital, Mount Sinai Medical Center, University Hospital and Medical Center.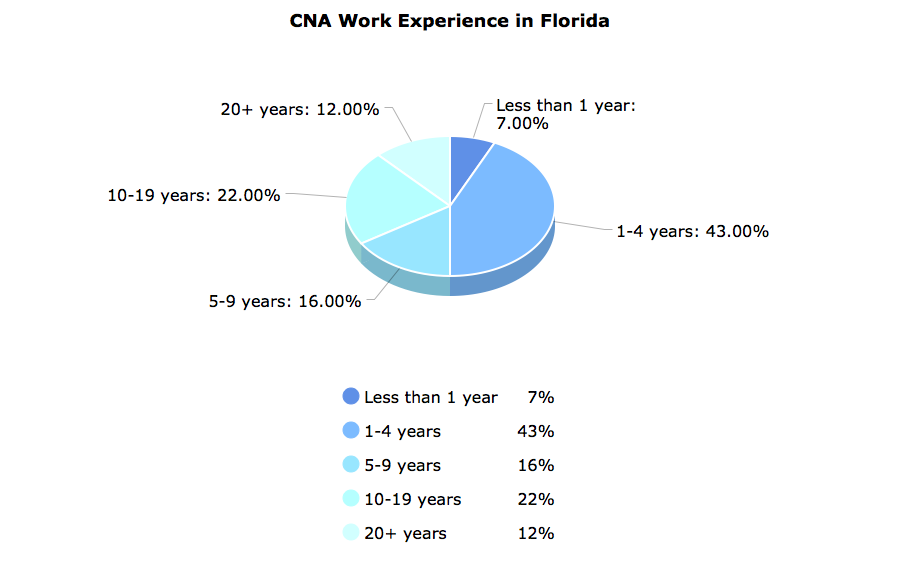 All Florida State Approved CNA Programs
| LOCATION | FACILITY | ADDRESS | PHONE |
| --- | --- | --- | --- |
| West Palm Beach, FL | Academy For Nursing And Health Occupations | 5154 Okeechobee Blvd. Suite 201 | 561-683-1400 |
| Crystal River, FL | Academy Of Health Careers-crystal River High School | 3195 Crystal River High Drive | 352-795-4641 |
| Gainesville , FL | Academy Of Health Professions | 1900 Nw 13th Street | 352-955-6707 |
| Jacksonville , FL | Affordable Training | 7867 Lakeland Street | 904-378-0102 |
| Boca Raton, FL | Agape Academy Of Sciences | 1515 South Federal Hwy Suite 206 | 561-449-4078 |
| Tampa , FL | Aguilas International Technical Institute | 7520 W. Waters Ave Suite 19 | 813-871-2407 |
| Oakland Park, FL | All State Home Health Institute | 1871 W. Oakland Park Blvd. | 954-731-8373 |
| Jacksonville , FL | American Red Cross - Jacksonville Training Program | 751 Riverside Ave. | 727-209-3562 |
| Saint Petersburg, FL | American Red Cross - St Petersburg Training Program | 818 4th Street North | 727-209-3562 |
| Sarasota , FL | American Red Cross Training Program - Sarasota | 2001 Cantu Court | 727-209-3562 |
| Miami , FL | American Senior High School | 18350 Nw 67th Ave | 305-557-3770 |
| Holiday , FL | Anclote High School | 1540 Sweetbriar Drive | 727-246-3000 |
| Bradenton , FL | Angel Technical Institute Nursing School, Llc. | 453 Cortez Rd West | 941-251 6976 |
| Pine Hills, FL | Annshellay Health Spa And Fitness Institute | 618 Pinehills Rd | 407-399-1764 |
| Tampa , FL | Aparicio Levy Technical College | 5410 N 20th Street | 813-231-1886 |
| Hialeah , FL | Asa College | 530 West 49th Street | 786-279-2643 |
| Sarasota , FL | At Your Service Education, Llc. | 3617 Webber Street | 941-552-8043 |
| Spring Hill, FL | Ata Career Education | 7351 Spring Hill Drive Suite #11 | 352-684-3007 |
| Coconut Creek, FL | Atlantic Technical College And Technical High School | 4700 Coconut Creek Parkway | 754-322-2838 |
| Lauderdale , FL | Atlantic Technical College, Arthur Ashe Jr., Branch Campus | 1701 Nw 23rd Avenue Ft | 754-322-2838 |
| Macclenny , FL | Baker County Adult Education Center | 523 West Minnesota Avenue | 904-259-0408 |
| Saint Mary, FL | Baker County High School | 1 Wildcat Drive Glen | 904-259-6286 |
| Largo , FL | Baldomero Lopez State Veterans Nursing Home | 11351 Ulmerton Road Suite 311-k | 727-518-3202 |
| Bartow , FL | Bartow Senior High School Nursing Assistant Program | 1270 South Broadway Avenue | 863-224-3727 |
| Bell , FL | Bell High School Academy Of Health Related Professions | 930 South Main Street | 352-463-3232 |
| Perry , FL | Big Bend Technical College | 3233 S Byron Butler Parkway | 850-838-2545 |
| Gulfport , FL | Boca Ciega High School Center For Wellness And Medical Prof | 924 58th Street South | 727-893-2780 |
| Petersburg , FL | Bon Secours Maria Manor Cert .nursing Assist. Training Program | 10300 4th St. N. Saint | 727-568-1000 |
| Palm Bay, FL | Brevard Nursing Academy, Llc | P.o. Box 61252 | 321-557-3366 |
| Davie , FL | Brightmed Health Institute | 5909 South University Drive | 954-350-2543 |
| Altamonte Springs, FL | Cambridge Institute Of Allied Health And Technology | 460 E. Altamonte Dr, 3rd Floor | 407-265-8383 |
| North Cape Coral, FL | Cape Coral Technical College | 360 Santa Barbara Blvd. | 239-574-4440 |
| Lake Worth, FL | Capscare Academy For Healthcare Education | 1776 Lake Worth Rd Suite 101 | 561-547-7371 |
| Palm Bay, FL | Carleen Health Institute Of South Florida | 5275 Ne Babcock Street Suite # 3 | 954-476-9090 |
| West Palm Bch, FL | Carleen Health Institute Of South Florida | 4645 Gun Club Road #1 | 954-476-9090 |
| Plantation , FL | Carleen Health Institute Of South Florida | 1876 N University Dr. Suite # 200 M | 954-476-9090 |
| Charlotte , FL | Charlotte Technical College | 18150 Murdock Circle Port | 941-255-7500 |
| Chiefland , FL | Chiefland High School | 808 N. Main Street | 352-493-6000 |
| Marianna , FL | Chipola College | 3094 Indian Circle | 850-718-2278 |
| Largo , FL | Clifford Chester Sims State Veteran's Nursing Home | 11351 Ulmerton Road Suite 311-k | 727-518-3202 |
| St Augustine, FL | Clyde E. Lassen Nursing Home (Fdva) | 4650 State Road 16 | 727-518-3202 |
| Delray Beach, FL | College Of Health And Allied Development | 1615 S. Congress Ave Suite 103 | 561-270-7383 |
| Lake City, FL | Columbia High School | 469 Se Fighting Tiger Dr. | 386-755-8080 |
| Miami , FL | Coral Reef Senior High School | 10101 Sw 152nd Street | 305-232-2044 |
| Orlando , FL | Cypress Creek High School C.n.a. Program | 1101 Bear Crossing Drive | 407-852-3400 |
| Daytona Beach, FL | Daytona State College | 1200 West International Speedway Blvd | 386-506-3720 |
| Arcadia , FL | Desoto County Nursing Program | 310 West Whidden Street | 863-993-1333 |
| Arcadia , FL | Desoto High School Health Science Academy | 1710 East Gibson Street | 863-494-3434 |
| Cross City, FL | Dixie Academy Of Health Careers | 16077 Hwy 19 North | 352-498-6447 |
| Miami , FL | Dorothy M. Wallace C.o.p.e Center | 10225 Sw 147th Terrace | 305-233-1044 |
| Largo , FL | Douglas T. Jacobson State Veteran's Nursing Home (Fdva) | 11351 Ulmerton Road Suite 311-k | 727-518-3203 |
| Palm Bay, FL | Doxa Academy | 2145 Palm Bay Rd Ne | 772-925-9181 |
| South Lehigh Acres, FL | East Lee County High School | 715 Thomas Sherwin Ave. | 239-369-2932 |
| Clermont , FL | East Ridge High School | 13322 Excalibur Rd | 352-242-2080 |
| Titusville , FL | Eastern Florida State College- Astronaut High School | 800 War Eagle Blvd. | 321-433-7583 |
| Palm Bay, FL | Eastern Florida State College- Bayside High School | 1901 Degroodt Rd Sw | 321-956-5000 |
| Melbourne , FL | Eastern Florida State College- Melbourne High School | 74 Bulldog Blvd. | 321-952-5880 |
| Palm Bay, FL | Eastern Florida State College- Palm Bay Campus | 250 Community College Parkway | 321-433-7745 |
| Melbourne , FL | Eastern Florida State College- Palm Bay High School | 101 Pirate Lane | 321-433-7583 |
| Rockledge , FL | Eastern Florida State College- Rockledge High School | 220 Raider Rd | 321-636-3711 |
| Titusville , FL | Eastern Florida State College- Titusville Campus | 1311 North Us 1 | 321-433-7583 |
| Defuniak Springs, FL | Emerald Coast Technical College | 761 North 20th Street | 850-892-1240 |
| Estero , FL | Estero High School Medical Academy | 21900 River Ranch Road | 239-947-9400 |
| Miami , FL | Evolution Health Services P.o. Box | 382058 | 786-709-5895 |
| Miami Gardens, FL | Excel Institute | 111 Nw 183rd St. Suite # 401 | 305-456-1216 |
| West Palm Bch, FL | Family Care Training Center | 2247 Palm Beach Lakes Blvd. | 561-242-0150 |
| Miami , FL | Felix Varela Senior High School | 15255 Sw 96th Street | 305-752-7900 |
| Fernandina Beach, FL | Fernandina Beach High School- Nassau County | 435 Citrona Drive | 904-261-5713 |
| Tampa , FL | Finlay Institute Of Nursing | 8011 N. Himes Ave Suite 4 | 813-500-8938 |
| Hudson , FL | Fivay High School- Pasco County | 12115 Chicago Avenue | 727-246-4000 |
| Palm Coast, FL | Flagler Technical Institute | 5400 E. Hwy 100 | 386-447-4345 |
| Key West, FL | Florida Keys Community College | 5901 College Rd | 305-809-3165 |
| Chipley , FL | Florida Panhandle Technical College | 757 Hoyt Street | 850-638-1180 |
| Tallahassee , FL | Florida State University Schools | 3000 School House Road | 850-245-3700 |
| Ft Myers, FL | Fort Myers Technical College | 3800 Michigan Ave | 239-334-4544 |
| Quincy , FL | Gadsden Center For Health Education | 201 Martin Luther King, Jr Blvd | 850-875-8234 |
| Miami , FL | Genesis Vocational Institute | 12861 Sw 42nd Street | 305-223-0506 |
| Pensacola , FL | George Stone Technical Center | 2400 Longleaf Drive | 850-941-6200 |
| Belle Glade, FL | Glades Central Community High School Cna Program | 1001 S. W. Avenue M | 561-993-1947 |
| Tampa , FL | Greystone Academy Cna Academy | 4042 Parks Oaks Blvd. Suite 300 | 904-814-9660 |
| Tampa , FL | Greystone Healthcare Cna Academy | 4042 Park Oaks Blvd. Suite 300 | 904-814-9660 |
| Gulf Breeze, FL | Gulf Breeze High School Academy For Health & Medical Professions | 675 Gulf Breeze Pkwy | 850-916-4144 |
| Saint Joe, FL | Gulf Coast State College-pn | 3800 Garrison Avenue Port | 850-913-3317 |
| Richey , FL | Gulf High School | 5355 School Road New Port | 727-774-3300 |
| Wauchula , FL | Hardee Senior High School Nursing Assistant Program | 830 Altman Rd. | 863-773-3181 |
| Melbourne , FL | Harris-casel Institute | 5000 Stack Blvd. Suite A-4 | 321-676-4066 |
| Orange Park, FL | Heartland Of Orange Park Nursing Assistant Training Program | 570 Wells Road | 904-264-3912 |
| Hialeah , FL | Hialeah Adult Education Center | 251 East 47th Street | 305-822-1500 |
| Tampa , FL | Hillsborough Community College | 1602 N. 15th Street | 813-259-6520 |
| Naples , FL | Hodges University, Inc. | 2655 Northbrooke Drive | 239-598-6163 |
| Ft Myers, FL | Horizon Healthcare Institute | 4048 Evans Ave Suite 301 | 239-939-1992 |
| Melbourne , FL | Horizon Healthcare Institute, Inc | 3716 N. Wickham Road, Suite 2 | 321-914-4533 |
| Cape Coral, FL | Ida S. Baker High School | 3500 Agualinda Blvd. | 239-458-6690 |
| Immokalee , FL | Immokalee Technical College | 508 North 9th Street | 239-377-9900 |
| Fort Pierce, FL | Indian River State College Chastain Campus | 3209 Virginia Ave | 772-462-7570 |
| Riviera Beach, FL | Inlet Grove Community High School | 600 West 28th Street | 561-602-4120 |
| Lehigh Acres, FL | Institute Of Health Careers | 5624 8th Street West #114 | 239-303-4388 |
| Miami , FL | Interamerican Technical Institute | 9600 Sw 8th Street Suite 42 | 305-554-9281 |
| Miami , FL | International Training Careers | 7360 Sw 24th Street # 31 | 305-263-9696 |
| New Port Richey, FL | James W. Mitchell High School | 2323 Little Road | 727-774-9200 |
| Jensen Beach, FL | Jensen Beach High School | 2875 Nw Goldenrod Rd | 772-232-3500 |
| Miami Gardens, FL | Jetmapp Med Training | 20451 Nw 2nd Ave A Suite 101 | 786-520-4064 |
| Miami , FL | John A. Ferguson Senior High School | 15900 Sw 56th Street | 305-408-2700 |
| Melbourne , FL | Keiser University-melbourne | 900 S. Babcock Street | 321-409-4801 |
| Heights , FL | Keystone Heights High School | 900 Sw Orchid Ave Keystone | 352-473-1489 |
| Tavares , FL | Lake County Schools-tavares High School | 603 N. New Hampshire Avenue | 352-343-3007 |
| Minneola , FL | Lake Minneola High School | 101 North Hancock Road | 352-394-9600 |
| Eustis , FL | Lake Technical Center | 2001 Kurt St. | 352-589-2250 |
| Lake Worth, FL | Lake Worth Community High School | 1701 Lake Worth Rd | 561-533-6300 |
| Leesburg , FL | Leesburg High School- Lake County Schools | 1401 Yellow Jacket Way | 352-787-5047 |
| Miami , FL | Lindsey Hopkins Technical College 7 | 50 N. W. 20 Street | 305-324-7060 |
| Tallahassee , FL | Lively Technical Center | 500 North Appleyard Drive | 850-487-7449 |
| Milton , FL | Locklin Technical Center | 5330 Berryhill Road | 850-983-5700 |
| Naples , FL | Lorenzo Walker Technical College- Day Program | 3702 Estey Avenue | 239-377-0995 |
| Naples , FL | Lorenzo Walker Technical College- Pn Program | 3702 Estey Avenue | 239-377-0995 |
| Bradenton , FL | Manatee Technical College (Southeast High School) | 5520 Lakewood Ranch Blvd | 941-752-8100 |
| Acksonville , FL | Manor Care Of Boynton Beach Nursing Assistant Training Program | 14611 Falling Waters Drive J | 904-465-0438 |
| New Port Richey, FL | Marchman Technical College | 7825 Campus Drive | 727-774-1738 |
| Marianna , FL | Marianna High School/health Science Academy | 3546 Caverns Road | 850-482-9605 |
| Cape Coral, FL | Mariner High School | 701 Chiquita Blvd | 239-772-3324 |
| Ocala , FL | Marion Technical College | 1014 Sw 7th Road | 352-671-7200 |
| Stuart , FL | Martin County High School | 2801 S. Kanner Hwy | 772-219-1800 |
| Orlando , FL | Medical Allied Nursing Academy, Inc. | 1809 Grande Pointe Blvd.# 2107 | 407-257-3046 |
| Miami Lakes, FL | Miami Lakes Educational Center High School | 5780 Nw 158th Street | 305-557-1100 |
| Miami Gardens, FL | Miami Lakes Technical College | 2349 Nw 175 Street | 305-624-9613 |
| Miami , FL | Miami Northwestern Senior High | 1100 Nw 71st Street | 305-836-0991 |
| Miami , FL | Miami Southridge Senior High School | 19355 Sw 114 Avenue | 305-238-6110 |
| Middleburg , FL | Middleburg High School | 3750 Cr 220 | 904-213-2100 |
| Naples , FL | Naples Nursing Academy Llc | 2800 Davis Blvd Suite 100 | 239-234-5038 |
| Starke , FL | North Florida Technical College | 609 North Orange Street | 904-966-6764 |
| Miami Beach, FL | North Miami Beach Senior High School | 1247 Ne 167th Str North | 305-949-8381 |
| Orange Pk, FL | Oakleaf High School | 4035 Plantation Oaks Blvd. | 904-213-1924 |
| Okeechobee , FL | Okeechobee High School | 2800 Hwy 441 N | 863-462-5025 |
| Orange Park, FL | Orange Park High School-academy Of Health Science | 2300 Kingsley Ave | 904-529-3497 |
| Orlando , FL | Orange Technical College - Avalon Campus | 2201 S. Crown Hill Blvd | 407-246-7060 |
| Orlando , FL | Orange Technical College - Orlando Campus | 301 W. Amelia St. | 407-246-7060 |
| Winter Garden, FL | Orange Technical College - West Side Campus | 955 East Story Rd. | 407-246-7060 |
| Orlando , FL | Orange Technical College-mid Florida Campus | 2900 Oak Ridge Rd. | 407-246-7060 |
| Kissimmee , FL | Osceola High School | 420 S. Thacker Ave | 407-518-5400 |
| Lake Worth, FL | Palm Beach State College- Pct Program | 4200 Congress Avenue Ms#31 | 561-868-3437 |
| Palm Harbor, FL | Palm Harbor University High School | 1900 Omaha St. | 727-669-1131 |
| Fort Pierce, FL | Paramount Training Services Corp. - Fort Pierce | 2721 S. Us Hwy 1 Suite 11 | 772-882-4218 |
| Oakland Park, FL | Paramount Training Services Corp. - Oakland Park | 2350 W. Oakland Park Blvd. Suite 650 | 954-921-9577 |
| Riviera Beach, FL | Paramount Training Services Corp. - Riviera Beach | 4152 W. Blue Heron Blvd Suite 108 | 561-840-8804 |
| Lake Worth, FL | Park Vista Community High School | 7900 Jog Road | 561-491-8431 |
| Dade City, FL | Pasco High School | 36850 State Road 52 | 352-524-5500 |
| New Port Richey, FL | Pasco-hernando State College | 10230 Ridge Rd | 727-816-3284 |
| Pensacola , FL | Pensacola State College | 1000 College Blvd | 850-484-2230 |
| Kissimmee , FL | Poinciana High School | 2300 S. Poinciana Blvd | 407-870-4860 |
| Palatka , FL | Putnam Edge High School | 951 Moseley Avenue | 386-385-7292 |
| West Palm Bch, FL | Qm Career Institute | 4645 Gun Club Road Suite # 23 & 22 | 561-305-2635 |
| Lantana , FL | Renaissance Medical Training Center, Llc | 3212 Lantana Road | 561-223-2380 |
| Live Oak, FL | Riveroak Technical College | 415 Pinewood Drive Sw | 386-647-4216 |
| Miami , FL | Robert Morgan Educational Center- High School | 18180 Sw 122nd Avenue | 305-253-9920 |
| Royal Palm Beach, FL | Royal Palm Beach Community High School | 10600 Okeechobee Blvd. | 561-792-8696 |
| Miami , FL | Ruben Dario Education Center | 350 Nw 97th Avenue | 305-226-0179 |
| Orlando , FL | S.t.e.p. Medical Teaching/learning, Inc. | 6220 S. Orange Blossum Trail Suite # 517 | 407-857-0204 |
| Gainesville , FL | Santa Fe College | 3000 Nw 83 Street | 352-395-5731 |
| Palm Coast, FL | School Of Healthcare Advancement Llc | 3 Zenger Ct | 904-729-0267 |
| Sebastian , FL | Sebastian River High School | 9001 90th Ave | 772-564-4335 |
| Sanford , FL | Seminole High School-academy Of Health Careers | 2701 Ridgewood Avenue | 407-320-5062 |
| North Miami, FL | Sinai School Of Nursing, Llc | 540 Nw 165th Street Road Suite 302 | 305-945-5677 |
| Homestead , FL | South Dade Senior High School A Magnet School | 28401 Sw 167th Avenue | 305-247-4244 |
| Homestead , FL | South Dade Technical College | 109 Ne 8th Street | 305-248-5723 |
| Stuart , FL | South Fork High School | 10000 Sw Bulldog Way | 772-219-1840 |
| Fort Myers, FL | South Fort Myers High School | 14020 Plantation Road | 239-561-0060 |
| Groveland , FL | South Lake High School | 15600 Silver Eagle Road | 352-394-1972 |
| Boynton Beach, FL | South Tech Academy | 1300 Sw 30th Avenue | 561-369-7004 |
| Saint Cloud, FL | St. Cloud High School | 2100 Bulldog Lane | 407-891-3100 |
| Palatka , FL | St. Johns River State College Cna Training Program | 5001 St Johns Avenue | 386-312-4267 |
| Fort Pierce, FL | St. Lucie County School Board | 1801 Panther Lane | 772-468-5400 |
| Port St. Lucie, FL | St. Lucie West Centennial High School | 1485 Sw Cashmere Blvd. | 772-344-4412 |
| Orange Park, FL | Sts Training Services | 115 College Drive | 904-272-4330 |
| Sumterville , FL | Sumter Adult And Community Education | 1425 County Road 526a | 352-793-5719 |
| Sarasota , FL | Suncoast Technical College/extension Campus | 4748 Beneva Road | 941-924-1365 |
| Land O Lakes, FL | Sunlake High School | 3023 Sunlake Blvd | 813-346-1000 |
| Miami Beach, FL | Sunshine Training Center | 177 Ne 166 St North | 305-949-1555 |
| Tallahassee , FL | Tallahassee Community College | 1528 Surgeons Drive | 850-558-4516 |
| Vero Beach, FL | Technical Center For Career And Adult Education | 1426 19th Street | 772-564-5006 |
| Saint Cloud, FL | Technical Education Center Osceola | 501 Simpson Rd | 407-344-5080 |
| Jacksonville , FL | The Albert Z. Fleet Geriatric Training Center | 11401 Old Saint Augustine Road | 904-886-8433 |
| Orange Park, FL | The Center For Adult And Community Education Of Clay County | 2306 Kingsley Avenue | 904-272-8142 |
| Titusville , FL | Titusville High School | 150 Terrier Trail South | 321-433-7583 |
| Lakeland , FL | Traviss Technical College | 3225 Winter Lake Road | 863-499-2700 |
| Port Saint Lucie, FL | Treasure Coast High School | 1000 Sw Darwin Blvd. | 772-807-4300 |
| Port Saint Lucie, FL | Triode International Institute, Inc. | 1831 Sw Alberca Lane | 772-249-6226 |
| Clearwater , FL | Ultimate Medical Academy | 1255 Cleveland Street | 813-386-3558 |
| Lake Butler, FL | Union County High School | 1000 South Lake Avenue | 386-496-3040 |
| Wilton Manors, FL | Universal Training Center | 2650 North Andrews Ave | 754-234-1558 |
| Beach , FL | Vero Beach High School | 1707 16th Street Vero | 772-564-5416 |
| Crawfordville , FL | Wakulla High School Medical Academy | 3237 Coastal Highway | 850-926-7125 |
| Pensacola , FL | West Florida High School Of Advanced Technology | 2400 Long Leaf Drive | 850-941-6221 |
| Callahan , FL | West Nassau High School- Nassau County | 1 Warrior Drive | 904-261-5713 |
| Hialeah , FL | Westland Hialeah Senior High School | 4000 West 18th Avenue | 305-818-3000 |
| Tampa , FL | Wharton High School | 20150 Bruce B. Downs | 813-631-4710 |
| Miami , FL | William H. Turner Technical Arts High School | 10151 Nw 19th Avenue | 305-691-8324 |
| Davie , FL | William T. Mcfatter Technical College And High School | 6500 Nova Drive | 754-321-5853 |
| Williston , FL | Williston High School | 350 Robert Philpot Way | 352-528-3542 |
| Wesley Chapel, FL | Wiregrass Ranch High School | 2909 Mansfield Blvd | 813-346-6000 |
| Inverness , FL | Withlacoochee Technical College | 1201 West Main Street | 352-726-2430 |
| Yulee , FL | Yulee High School - Nassau County | 85375 Miner Road | 904-225-8641 |
| Zephyrhills , FL | Zephyrhills High School | 6335 12th Street | 813-794-6100 |
CNA Classes In Other States: