CNA Classes In Connecticut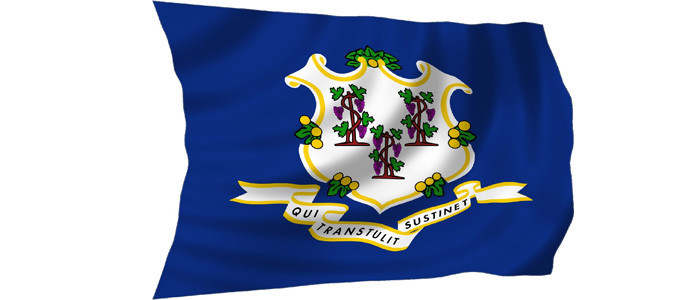 CNA's or Certified Nursing Assistants work together with other healthcare professionals such as physicians and registered nurses. Most of the time, they have flexible working hours and several options where they can work like nursing homes, private clinics, hospitals, as well as long-term care facilities.
The state of Connecticut accounts for 2% of overall employment of CNAs in the US. The growing elderly population makes Certified Nursing Assistants (CNAs) a popular career choice, with strong chances of employment and a stable income in the rapidly growing health care industry.
Anyone who wishes to become a CNA in Connecticut must complete a state-approved training program and must pass the competency exams. The state has about 155 approved CNA training programs that meet federal regulations and are supervised by the Connecticut Department of Public Health. The Omnibus Budget Reconciliation Act of 1987 (OBRA-87) runs the Nurse Aide Training and Competency Evaluation Programs (NATCEP) and maintains Nurse Aide Registry.
CNA training courses are offered by many high schools, vocational and technical schools, community colleges, adult education program centers, nursing homes, hospitals, and rehabilitation centers, as well as in one of the chapters of the American Red Cross CNA programs. Additional there are facilities that offer classes at night or online to accommodate those individuals with busy lifestyles.
CNA Job Responsibilites
Some of the responsibilities and tasks of a Certified Nursing Assistant is to provide support for doctors and nurses in a health care setting. This healthcare professional may perform different nursing skills such as taking patients' vital signs, keeping health records noting changes in a patient's condition or behavior, answer questions from family, infection control, administering medication, explain prevention methods, and the proper operating and maintaining of medical equipment. Also, he/she is involved with the patient's daily needs depending on the directions of qualified professional, such as toileting, bathing and grooming, dressing, feeding, keeping rooms clean, etc.
Requirements of CNA Training in Connecticut
Currently, in order to gain entry into any of the approved CNA programs in Connecticut, candidates must be at least 18 years of age with a high school diploma or GED certificate, a clean criminal record, a proof of immunization record, and a TB test report for the last six months. Also, they should be familiar with English language and mathematics, and be physically fit to meet the demands of the profession.
According to the Connecticut State Department of Health, an approved CNA program must have a minimum of 100 hours of training, which covers classroom instruction and clinical practice in a nursing home or a clinical setting.
CNA Classes in Connecticut
However, before you become a Certified Nursing Assistant, you have to take and pass the training program approved by the state. You can find a list of state approved programs here. These programs will require 100 hours of classroom sessions and clinical experience in a certain healthcare facility, and it will be conducted by a registered nurse who has two years of work experience in a long-term care facility. Currently, there are 155 available locations in Connecticut that provides CNA training programs within the state. Check it in their facility in order to obtain the necessary information regarding the training as well as the required fees involved. For instance, the American Red Cross usually offer 100 hours of training; 76 hours of which are classroom sessions and the remaining 24 hours is clinical exposure.
Connecticut's CNA training programs combine a brief background of pharmacology, psychology, anatomy, human body mechanics, basic nutrition, information regarding communication skills with patients, resident rights, safety measures, emergency procedures, and infection control. These programs also include on-site clinical training, which requires students to practice under the direct supervision of a licensed medical professional in a field of their choice. During the program, students learn about 25 nursing aid skills, 5 of which would be tested during the certification examination.
As prescribed by federal law, the typical Connecticut CNA program lasts approximately 6 to 12 weeks and the fee which is to be submitted for admission varies with the type of program. Nonetheless, before you can work in the field, it is a requirement for CNA's to complete 16 hours of sessions for disease prevention, emergency and safety procedures, resident independence, resident's rights, and interpersonal as well as communication skills.
Connecticut CNA Certification
All potential CNAs must sit for a certification exam within 24 months of completing the training. In the state of Connecticut, the certification exam is administered by Prometric, and consists of two sections. A two-hour written test with 60 multiple-choice questions written in English and a clinical competency exam. Clinical exam involves a practical demonstration of five competency skills chosen randomly from a set of 25 professional nursing skills under the supervision of trained nurses. The examinees are evaluated on the basis of both these tests.
If you do not take the exam 24 months after the training, the state of Connecticut will require you to undergo re-training. Examination will be given through Prometric and it will cost $108. Apart from applying online, you can also take practice exams on Prometric our website. This will give you good preparation before the certification examination.
The written test covers the topics of classroom instruction like medical terminologies, basic science, physiology and anatomy, human body mechanics, basic nutrition, basic patient care and safety, health and population education, personal hygiene, patients' rights, etc.
In the practical test which mimics a clinical setting, the examinees perform clinical skills such as providing basic nursing care, clean environment, feeding and administering medication, bathing and grooming, bed making, obtaining vital signs, keeping health charts of the patients, develop the skills of interpersonal communication, etc.
If the examinee fails the tests after three tries, he or she will need to re-take the training program. The examination fee is $45 for the written test and $63 for the practical exam. After successfully passing the certification exam, prospective CNAs will be entered into the Connecticut Nurse Aide Registry, which keeps the database of all certified nursing assistants practicing in the state. CNAs must renew their license every 2 years and the state requires at least 8 hours of paid work during the same period to remain active in the Nurse Aide Registry.
In case you successfully passed the exam, you will be considered certified. This means that your name will be placed on the Nurse Aide Registry of Connecticut and any concerns related to the profession should be addressed to them. Renewal of the license is done every two years and before you can do it, you have to complete the Connecticut Nurse Aide Employment Verification Form. The form will indicate that you have completed the requirements of the state and you have a working experience of 8 hours or more in the last two years. The form can be mailed or faxed directly to the registry address.
The good thing in taking CNA as a career is you can be employed right away. Several healthcare facilities are offering free training to people who cannot afford the program but they have to commit their selves to work in the facility who sponsored their expenses. Becoming a Certified Nursing Assistant is a great start for a career in the health care industry and it offers great benefits and compensation.
CNA Salary and Job Outlook in Connecticut
CNA Salary in Connecticut

The job outlook for CNAs in Connecticut is very promising as the state experiences an increase in the elderly population which they need healthcare. Certified nursing assistants can work in healthcare and medical settings such as nursing homes, clinics, hospitals, private health care centers, public health care facilities, mental care facilities, elderly care centers, convalescent homes and long-term care facilities and can anticipate an annual salary around $31,890, but the salary ranges depending on experience, position, qualifications, place of employment and the type of employer.
Addionally, several healthcare institutions offer an attractive health benefits, dental packages, vacation and sick leaves for employees.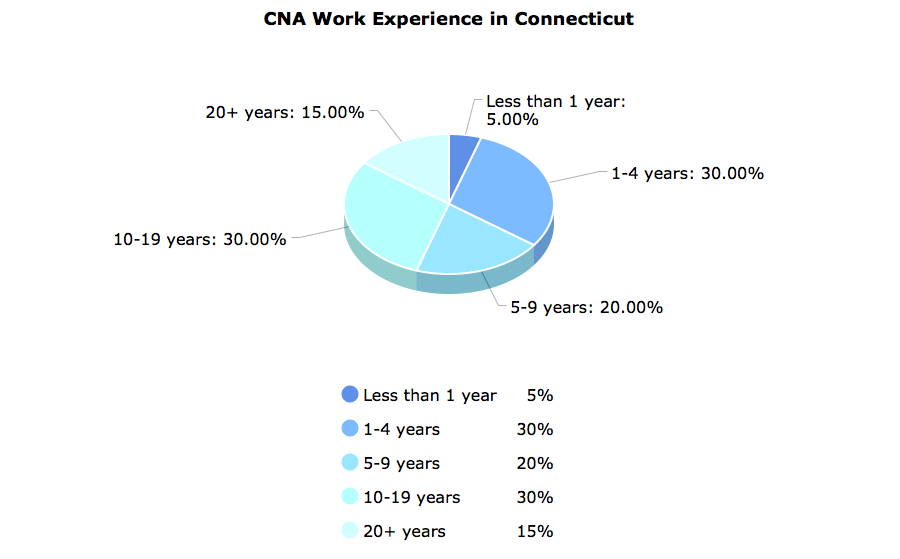 All Connecticut State Approved CNA Programs
| LOCATION | FACILITY | ADDRESS | PHONE |
| --- | --- | --- | --- |
| Waterbury, CT | Naugatuck Valley Community College | 750 Chase Pkwy | 203-575-8083 |
| Hartford, CT | Capital Community College | 950 Main Street | 860-906-5130 |
| Manchester, CT | Manchester Community College | 1 Great Path | 860-512-3272 |
| Bridgeport, CT | Housatonic Community College | 900 Lafayette Blvd | 203-332-8535 |
| Middletown, CT | Middlesex Community College | 100 Training Hill Rd | 860-343-5716 |
| East Winsted, CT | Northwestern Connecticut Communitytechnical College | Park Place | 860-738-6453 |
| Norwalk, CT | Norwalk Community College | 188 Richards Ave | 203-857-7122 |
| Danielson, CT | Quinebaug Valley Community College | 742 Upper Maple St | 860-412-7300 |
| Norwich, CT | Three Rivers Community College | 574 New London Tpke | 860-885-2319 |
| Farmington, CT | Tunxis Community College | 271 Scott Swamp Road | 860-314-4709 |
| Danbury, CT | Naugatuck Valley Community College - Danbury Branch | 190 Main St | 203-797-9361 |
| New Haven, CT | Gateway Community College | 20 Church St | 203-285-2302 |
| Chester, CT | Aaron Manor Nursing And Rehabilitation Center | 3 S Wig Hill Rd | 860-526-5316 |
| Plainville, CT | Apple Rehab Farmington Valley | 269 Farmington Ave | 860-747-1637 |
| Saybrook, CT | Apple Rehab Saybrook | 1775 Boston Post Rd Old | 860-399-6216 |
| Bethel, CT | Bethel Health Care Center | 13 Park Lawn Dr | 203-830-4180 |
| New Milford, CT | Candlewood Valley | 30 Park Ln E | 860-355-0971 |
| Chester, CT | Chesterfields Health Care Center | 132 Main St | 860-526-5363 |
| Groton, CT | Groton Regency Center | 1145 Poquonnock Rd | 860-446-9960 |
| Southington, CT | Jefferson House Cna Certification Course | 45 Meriden Ave | 860-621-9559 |
| Fairfield, CT | Jewish Senior Services | 175 Jefferson St | 203-365-6400 |
| Stratford, CT | Lord Chamberlain Nursing & Rehabilitation Center | 7003 Main St | 203-375-5894 |
| Simsbury, CT | Mclean Health Center | 75 Great Pond Rd | 860-658-3700 |
| Salisbury, CT | Noble Horizons | 17 Cobble Rd | 860-435-9851 |
| Windham, CT | St Joseph's Living Center Inc. | 14 Club Rd | 860-456-1107 |
| Hartford, CT | Saint Martin's Epicopal Church | 290 Cornwall St | 860-242-0318 |
| New London, CT | Opportunities Industrializatio N Center Of New London County Inc | 106 Truman St | 860-447-1731 |
| Derby, CT | Griffin Hospital | 130 Division St | 203-735-7421 |
| Jewett City, CT | Griswold High School | 267 Slater Ave | 860-705-5250 |
| New Haven, CT | Hill Regional Career Magnet High School | 140 Legion Ave | 203-214-7878 |
| Milford, CT | Jonathan Law High School | 20 Lansdale Ave | 203-783-3574 |
| Milford, CT | Joseph Foran High School | 80 Foran Rd | 203-877-4418 |
| Waterbury, CT | Kennedy High School | 422 Highland Ave | 203-574-8150 |
| Meriden, CT | Maloney High School | 121 Gravel St | 203-238-2334 |
| New Britain, CT | New Britain High School | 110 Mill St | 860-225-6351 |
| New Milford, CT | New Milford High School | 388 Danbury Rd Route 7 | 860-350-6647 |
| Meriden, CT | Orville H. Platt High School | 220 Coe Ave | 203-937-4360 |
| Groton, CT | Robert E. Fitch High School | 101 Groton Long Point Rd | 860-449-4624 |
| Stratford, CT | Stratford High School | 45 N Parade St | 203-385-4230 |
| Wallingford, CT | Wallingford Public Schools | 142 Hope Hill Rd | 203-294-5350 |
| West Haven, CT | West Haven High School | 1 Mcdonough Plz | 203-937-4360 |
| Waterbury, CT | Wilby High School | 460 Bucks Hill Rd | 203-574-8100 |
| Waterbury, CT | Waterbury Career Academy High School | 175 Birch St | 203-574-6000 |
| Waterbury, CT | Academy Of Medical Training | 521 Wolcott St | 203-721-7021 |
| Torrington, CT | Academy Of Medical Training - Torrington Branch | 339 Main St | 860-618-7233 |
| Waterbury, CT | Advantage Career Training | 30 Church St (Enlightenment School) | 203-721-4119 |
| Naugatuck, CT | Advantage Career Training | 25 Elm St | 203-721-4119 |
| Stratford, CT | American Institute Of Healthcare And Technology | 480 Lordship Blvd | 203-870-8400 |
| West Hartford, CT | American Institute | 99 South St | 860-218-9402 |
| Bridgeport, CT | American Red Cross - Bridgeport | 1057 Broad St Fl 3 | 203-787-6721 |
| New Haven, CT | American Red Cross - New Haven | Gateway Community College | 203-787-6721 |
| Hartford, CT | American Red Cross | 140 Woodland St | 203-787-6722 |
| Farmington, CT | C. G. Nursing Services | 3 Forest Park Dr | 860-255-7723 |
| West Haven, CT | Cna Preparatory School | 255 Meloy Rd | 203-214-1624 |
| Plymouth, CT | Cook-willow Convalescent Hospital Inc | 81 Hillside Ave | 860-283-8208 |
| Bridgeport, CT | Danae's Training Center - Bridgeport Branch | 1227 Main St | 203-540-5364 |
| New Haven, CT | Danae's Training Center | 92 Arch St. | 203-865-0000 |
| New Haven, CT | Excel Academy, Llc | 837 Whalley Ave | 203-691-7989 |
| Stamford, CT | Excel Academy, Llc | 482 Summer St, Suites 1 & 2 | 203-691-7989 |
| Shelton, CT | Lincoln Tech. | 8 Progress Dr. | 203-929-0592 |
| New Britain, CT | Lincoln Tech | 200 John Downey Dr. | 860-225-8641 |
| Danbury, CT | Harris School Of Business | 155 Main St Ste 302 | 203-797-1461 |
| Stamford, CT | Northeast Medical Institue | 29 Bank St. Floor 2 | 203-391-6766 |
| Bristol, CT | Premier Healthcare Training And Consulting Services. Llc | 225 N Main St Ste 311 | 860-845-5841 |
| Bridgeport, CT | St. Vincent's College | 2800 Main St | 800-873-1013 |
| East Hartford, CT | Stone Academy - East Hartford | 745 Burnside Ave | 860-569-0618 |
| Waterbury, CT | Stone Academy Waterbury | 101 Pierpont Rd | 203-756-5500 |
| West Haven, CT | Stone Academywest Haven | 560 Saw Mill Rd | 203-288-7474 |
| Danbury, CT | Training Direct - Branch | 345 Main St | 203-456-8611 |
| Bridgeport, CT | Training Direct, Llc | 3885 Main St | 203-372-8842 |
| Bridgeport, CT | Valley Medical Institute | 4637 Main St | 203-378-2210 |
| Willimantic, CT | Windham Technical High School | 210 Birch St | 860-456-3879 |
| Stamford, CT | Jm Wright Technical High School | 120 Bridge St | 203-324-7363 |
| Hamden, CT | Eli Whitney Regional Vocational Technical School | 71 Jones Rd | 203-397-4031 |
| Danbury, CT | Henry Abbott Regional Vocational School | 21 Hayestown Ave | 203-797-4460 |
| Meriden, CT | H.c. Wilcox Regional Vocational Technical School | 298 Oregon Rd | 860-807-2235 |
| Norwich, CT | Norwich Technical High School | 7 Mahan Dr | 860-859-5330 |
| Torrington, CT | Oliver Wolcott Regional Vocational Technial School | 75 Oliver St | 860-496-5345 |
| Waterbury, CT | W.f. Kaynor Technical High School - Health Technology | 43 Tompkins St | 203-596-4302 |
| Ansonia, CT | Emmett O'brien Technical High School | 141 Prindle Ave | 203-732-1800 |
| Wallingford, CT | Wallingford Adult Education | 37 Hall Ave | 203-294-3900 |
| Milford, CT | City Of Milford Employment And Training | 150 Gulf St | 203-783-3243 |
| Litchfield, CT | Edadvance Corp. | 355 Goshen Rd | 860-567-0863 |
| Enfield, CT | Enfield Adult Education | 124 N Maple St | 860-763-7032 |
| Waterbury, CT | Waterbury Adult Education | 11 Draher Ave | 203-574-8030 |
| New Haven, CT | New Haven Adult Education | 580 Ella T Grasso Blvd | 203-937-4375 |
| West Haven, CT | West Haven Adult Education Program | 1 Circle St | 203-937-4375 |
| New London, CT | New London Adult & Continuing Education | Shaw's Cove Three | 860-437-2385 |
| Uncasville, CT | Corrigan Correctional Institution | 986 Norwich New London Tpke | 860-692-7643 |
| South Suffield, CT | Macdougall Correctional Institution | 1153 East Street | 860-692-7643 |
| Somers, CT | Osborn Correctional Institution | 335 Bilton Rd | 860-692-7643 |
| Niantic, CT | York Correctional Institution | 201 W Main St | 860-692-7643 |
| Bridgeport, CT | Bridgeport Correctional Center | 1106 North Ave | 860-692-7643 |
CNA Classes In Other States