Free CNA Classes in Omaha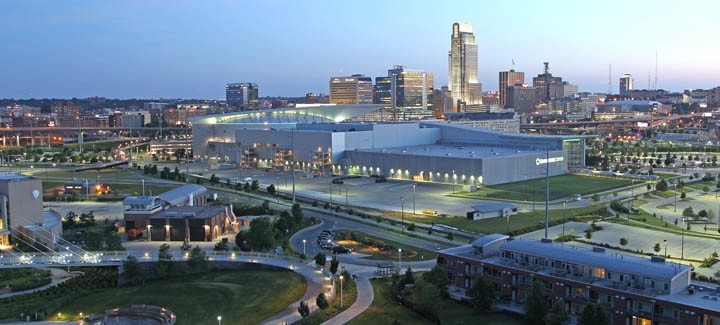 In Omaha, there is a high demand for CNAs due to the new healthcare system and the fact that the life expectancy rate is continually changing among the aging population. Graduates of the nurse's aide training program offered in the state of Nebraska can take part in the examination administered by the Nebraska Healthcare Learning Center and the Providence Health Career Institute. Free CNA classes in Omaha make it possible for individuals to work in nursing homes, hospitals and numerous other healthcare facilities after becoming certified. TAn approved training program requires seventy-five hours of intense training during which the students are taught what is needed for the written and skills components of CNA evaluation. After passing the assessment, it is the responsibility of the school to forward the results and the students' names for state registration.
Nebraska Methodist College
At Nebraska Methodist College, students can receive free CNA classes in Omaha. It consists of a four-week program with eighty hours of clinical and lab training that together teach all they need to know about proper entry-level patient care. The instructors are highly skilled and provide instruction in quality care. To successfully register for the course, applicants must be sixteen years of age, able to lift 50 lbs, provide and immunization record and a criminal background check. The cost of tuition is $499 which includes a textbook, CPR training, workbooks and testing fees. Payment plan options are available and Nebraska Methodist College also helps financially- challenged students who want to finish a CNA training program. The application process is done at the school's financial aid office where scholarship programs are granted to deserving applicants. However, these opportunities require interested applicants to apply early and demonstrate the best of their abilities to be considered for a free CNA training.
Metropolitan Community College
The CNA course offered by Metropolitan Community College adheres to the guidelines provided by the state of Nebraska. The program covers approximately 18 units within 82 hours of instruction. To be eligible to take the exam, students must attend a least 77 hours. It is crucial that applicants attend the full clinical training and complete the two components of the program, including 59 hours of classroom and 23 hours of lab and clinical experience. The instructors will give quizzes at the end of each unit and a final CNA examination at the end of the program. To qualify for the CNA course, you will submit a TB test result, criminal background check and a completed application form. The nurse's aide course has 6.5 credit hours, and the total cost is $436.50 plus textbooks at $55. The tuition covers the liability and a background check fee. However, there are scholarship programs available at Metropolitan Community College where students can take free CNA training. Other expenses may not be included, but free tuition cost is already a big help.
Clarkson College
Clarkson College offers an excellent nurse's aide program that prepares students to sit for the state CNA examination. To qualify, students must be in good health and able to lift at least 50 lbs. Other requirements are proof of a TB skin test along with a criminal background check. The cost for the program is $495 including the textbooks, handouts, exams and training. After the completion of the lab, the students will participate in clinical sessions held in nursing homes and other long-term healthcare facilities in the Omaha area. It is essential that students wear navy blue scrubs, a watch, and closed-toed shoes on clinical days.  There is the convenient option of day and evening classes for students with difficult schedules. Graduates of this course will be eligible to take the CNA examination and become registered by the state as a certified nurse's aide. Individuals who want to avail a free CNA training can visit the school's financial aid office and apply for a scholarship. These programs are helpful in finishing a CNA training program at no cost.
Quality CNA
Quality CNA is an accredited training center that has been operating in Omaha for more than ten years. This is a place where students receive training to become registered as a nurse's aide. Quality CNA allows students to register and take the state examination on site. Registered nurses teach students what they need to know to provide long-term care at the level required by the nursing board curriculum. The cost of the program is $425, including 76 hours of lab, classroom, clinical time and registration. Scholarship programs are available at the financial aid office. One's academic record and financial status are the two determining factors in availing a scholarship at this school. At Quality CNA, day, weekend, and evening classes are offered to students who need flexibility. To graduate from this course, students must have perfect attendance. They are now eligible to receive certification upon completion of the state exam. They individuals should also demonstrate excellence in both the academic and clinical aspects of the training to meet the minimum requirements and graduate from the program.
Promise Healthcare Training Center
Promise Healthcare Training Center is a reptuable CNA training program that equips students with the skills and principles needed to pursue a successful career entry-level level nurse's assistant. Applicants who would like to register must be sixteen years of age, have a clean criminal record, provide a physical examination and a TB skin test. To become a certified CNA, students must have perfect attendance to graduate. There is a mandatory attendance for the first sixteen hours to continue the rest of the program. The cost of $400 includes training supplies and the testing fee. Additional costs are for textbooks, supplies, insurance, etc. which are covered separately. Students who want to obtain free CNA training at Promise Healthcare Training Center should inquire at the financial aid office. Scholarship programs are available at this institution to allow financially- challenged individuals to secure a CNA training at no cost. However, slots are often limited, and interested students have to meet the free program requirements to be considered for the selection process.
Boys Town High School
Boys Town High School provides a CNA training program in Omaha which helps graduates work as a nursing assistant in various healthcare settings. The program is intended for young individuals who want to enter the healthcare workforce. Applicants have to meet all requirements including a criminal background check and physical examination. They will be screened based on their credentials, flexibility, attitude and academic records. Selected candidates will go through a rigorous training program that combines classroom lectures and clinical training, allowing students to obtain the adequate knowledge and skills needed to prepare for the state licensing exam. They will also experience hands-on clinical training in a local healthcare facility with the supervision of a licensed preceptor. Boys Town High School requires students to pay a certain amount for the CNA training, but individuals who are financially challenged can seek free CNA training sponsored by the school. These free programs may not be available at all times, but students can inquire periodically for the opportunity. Some local organizations sponsor free CNA training at Boys Town High School. The school's financial aid office is the best place to visit for more information about the free CNA training.
Ralston High School
Ralston High School does offer a CNA training program to qualified applicants who would like to work as a nursing assistant. The program aims to help young individuals secure a stable job and start a career in the healthcare field since the CNA training can be completed in a few weeks. It is approved by the state Department of Health and graduates will be eligible to take the licensing exam for nursing assistants. To apply for the CNA training at Ralston High School, candidates have to undergo a criminal background investigation, fingerprinting, TB test and physical examination. A screening process is conducted during admissions and not all applicants are accepted for the CNA training. However, qualified students are trained in a small class size with advanced facilities. The clinical instructors are licensed healthcare professionals who teach and prepare the students to become competent nursing assistants. They not only incorporate basic nursing concepts, but they also expose the students to a clinical setting where they handle actual patients. Individuals seeking a free CNA class can inquire at the school's admission or financial aid office.
Ashland Care Center
Ashland Care Center has a short CNA training program that allows every student to learn the profession. Graduates of the program become eligible for the state licensing exam to work as a Certified Nursing Assistant in various healthcare settings as soon as the exam is passed. Interested individuals have to be at least 18 years old, with a high school diploma or GED equivalent to be considered. They will go through a criminal background investigation and physical exam in compliance with CNA requirements. The CNA training program of Ashland Care Center is a combined format of classroom instruction and hands-on clinical training. Aside from learning basic nursing concepts during the classroom lectures, they will also be exposed to a local healthcare facility where they acquire various nursing skills and an understanding of typical health conditions. Students are supervised by a licensed health professional and mentored by experienced clinical teachers to make them competent and equipped. Getting free CNA training at Ashland Care Center is not challenging since the facility offers it periodically. Interested students can stay updated on the free CNA classes through their financial aid or admissions office.
Southeast Community College
Southeast Community College offers a CNA training program that teaches enrolled students basic nursing skills like bathing, ambulating, feeding, toileting, and many others. The program can be completed in a few weeks and graduates can work in a healthcare facility after passing the state licensing exam. Take note that the CNA training program of Southeast Community College requires applicants to be at least a high school graduate or GED equivalent holder. A criminal background check and physical examination will be conducted as part of the program requirements. The CNA training program mandates full attendence. Absences of more than 12 hours regardless of the reason may result in a failing grade. The CNA training program consists of 100 hours of classroom lecture, clinical training and laboratory instruction. Students will be taught the nursing concepts and skills essential for the profession. They will be supervised by a clinical instructor who guides them through the hands-on clinical practice. Undergoing a CNA training program at Southeast Community College is a great privilege to become a competent and well-equipped nursing assistant. Students who wish to avail a free CNA class can visit the school's financial aid office for scholarship programs.
Midland Lutheran College
Midland Lutheran College has a CNA training program that prepares students for entry-level work in the healthcare field. The program takes a couple of weeks to finish so that graduates can take the state licensing exam right away. The CNA training program of Midland Lutheran College blends classroom instruction and hands-on clinical practice. Students gain substantial knowledge and experience, equipping them for the certification exam and future employment in the city. At the start of the program, students are taught basic nursing concepts and skills such as anatomy and physiology, activities of daily living, nutrition, infection control and many others. After the lectures, students are exposed to a simulation lab for their skills training and hands-on clinical practice in a local healthcare facility. The CNA training program of Midland Lutheran College is regionally accredited by the Higher Learning Commission and the Accreditation Commission for Education in Nursing. It is also approved by the state of Nebraska Board of Nursing. Hence, graduates can work as a CNA or use the college credits earned to apply for higher education. Students who wish to avail scholarship programs can visit the school's financial aid office to receive free CNA training.
List Of All the State Approved CNA Classes in Omaha