CNA Classes in Jacksonville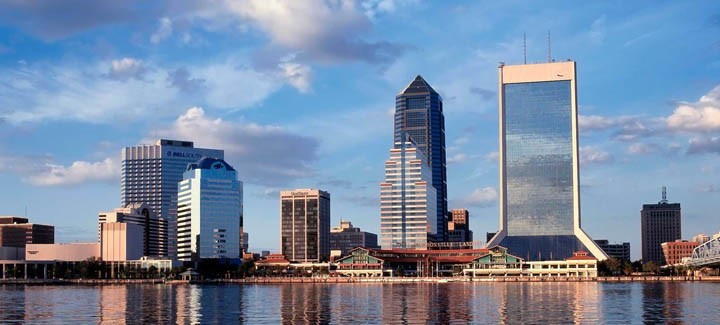 The United States Bureau of Labor Stats reveals that there will be a 21% boom in the employment of certified nurse aids in coming years. There is a high concentration of hospitals and nursing homes in Florida, so the demand is bound to rise. You should consider the options for free CNA classes in Jacksonville listed below to achieve long-term  employment and a higher salary for a fulfilled life.
Those who would like to take the CNA state test do not have to take a CNA training course. However, it is recommended for everyone. Applicants who take the exam without classes must be 18 years or older and possess a high school diploma or GED. Students who fail any part of the exam must take 120 hours of classes to retake the exam. Applicants will have to provide a criminal background check and fingerprint card to take the Florida state CNA exam. There will be a multiple choice test with 60 questions and a clinical exam. Students must complete at least 16 hours of time with patients to apply for a job in any nursing home or healthcare facility.
Acumen Medical Services
The size of the class at Acumen Medical Services is small, and the registered nurses at the Institute make sure that each student grasps the concept of proper patient care. The instructors are flexible and have a limit of 5 students per class. Some classes are offered in the evening, afternoon, and morning so that each student can select the schedule most suitable for them. The cost of training is $225, but students will also have to pay $140 for the test, $80 for an FBI screening and a processing fee requires $20. You take the test at Acumen Medical Services, an FL Testing Center. Individuals who want to take advantage of the free CNA training program of Acumen Medical Services should demonstrate excellence in academics show financial need. Candidates must agree to work in the facility for a specified period to merit the free training.
Florida Training Academy
At the Florida Training Academy, you will receive hands-on experience to prepare you for the CNA profession. The center is operated and owned by a professional nurse, providing fast-track training so you can complete the course in just three days. Registered students at the Florida Training Academy can avail themselves of the Full Skills Video and Exams for Practice prepared inhouse to use for 90 days. The cost of tuition is $200, which covers the training, practice questions, videos online and medical knowledge. Students will have to pay for the state exam and screening. Some qualify for the free CNA classes in Jacksonville through this academy. They only have to submit an application for a scholarship. Most scholarship programs look for students who demonstrate financial need and present an excellent academic record.
Affordable Training
Affordable Training has been given a license by the Florida Board of Nursing and Commission on Independent Education. The course offered is comprehensive and runs for just four weeks. You will learn first aid, Alzheimer's training, CPR, HIV, residents rights, etc. The number of students in the class is relatively small so you can receive full attention from the instructor. There will be a clinical test and a written examination. The cost of tuition at this academy is $895, which does not include the FBI screening and background test. Contact the college to learn about financial aid. Affordable Training provides scholarship programs to students who cannot pay the entire tuition cost. Other than their low-cost CNA training, the institution also provides opportunities to deserving students in financial need. Funding can be obtained at the financial aid office or admission's office. Interested students must make perform well in both the academic and clinical aspects of the training.
Florida State College Jacksonville North Campus
At Florida State College, there is a division known as the Florida Coast Career Tech. This group offers opportunities to become a CNA. You can earn credits with this particular program. There are 120 hours of training which include class time and 40 hours of clinical experience either at a nursing home or hospital. You can contact Florida State College Jacksonville for information regarding free CNA classes. The free classes at this state college require applicants to have excellent academic performance and proof of financial need. Scholarships are funded by private and government organizations to help deserving students finish a healthcare course without cost. However, the financial support is only granted to a limited number of applicants. Thus, candidates have to show competency and dedication to undergo free training fo become a CNA.
STS CNA Training Center
This training center is one of the most traditional CNA training institutes is a testing site for certified nurse's aide certification. There is a total of five weeks allotted for training. Forty hours have been set aside for work in an actual environment. Students must pass the test with a 95% score and take the state CNA exam. The cost of tuition at STS CNA Training Center is $775 which includes the cost of screening and the certification exam. You can obtain free CNA classes in Jacksonville by contacting the center. STS CNA Training Center provides a no-cost program now and then. Interested applicants have to submit an application for available scholarships at the institution. They make sure they meet the requirements to have a greater chance of getting financial support for the entire CNA training course.
A+ CNA Training
The training course here is commendable as they provide scrubs, referrals and a manual for students interested in their program. The cost of tuition at A+ CNA Training is $22;  there are 21 essential skills that students are taught in the program. The facility is a testing site, so students can take the CNA exam at a familar place. Students can apply at the Institute for morning and evening classes. Contact A+ CNA Training for information regarding financial aid because numerous institutes offer free CNA classes in Jacksonville. These financial aid programs help deserving students who want to become a healthcare provider. Applicants must demonstrate financial need and excellent academic performance to be considered for a scholarship.  A+ CNA Training provides a quality program for potential CNAs. Graduates receive adequate training to prepare them for the licensing exam.
Florida Job Corps in Jacksonville
The Job Corps has a training program for students who would like to take CNA classes through the United States Department of Labor. It is intended to help people between the ages of 16-24 obtain an education and suitable paying job. The Job Corps in Jacksonville is overseen by the board of directors of Applied Technology Systems. This is the place to apply for CNA classes if you require a free program in Jacksonville. Senior high school students and secondary school graduates are welcome to apply for free CNA training at Job Corps. Applicants are screened: they have to be willing to accept the terms and conditions of the program. The Job Corps covers the cost of the training including uniforms, books, medical supplies, training allowances, and accommodations. They also provide assistance to students who seek employment in the healthcare field.
All Saints Nursing Home and Rehabilitation Center
All Saints Nursing Home is a Vocational School for Nursing that offers the CNA course for students ready to advance in their career.s The Florida Board of Nursing has approved the program at this Institute and covered the cost for students who agree to employment at the All Saints Nursing Home and Rehabilitation Center. The program consists of 120 hours of class and clinical time. You will be trained on topics like communication, anatomy and physiology. Hands on experience will be given to students like feeding, toileting, and dressing the patient to ensure excellent performance on the state exam. Students who want to avail a free CNA class at this rehabilitation center must be willing to work in the facility for a specified period. The rehab center provides career opportunities to qualified candidates who meet the program requirements and pass the interviews and exams. These individuals are provided with an excellent compensation package and employment benefits.
Andrew Jackson High School
Students who are considering the healthcare field should consider applying at Andrew Jackson High School. The Florida Board of Nursing recognizes the program and gives credit hours to high school students who would like to train as certified nurse's aides while finishing high school at the same time. There are 120 hours of complete training. You will receive certification once you pass the state exam so you can apply at nursing homes and healthcare facilities for a CNA position. You can learn about financial aid for the cost of the program by contacting Andrew Jackson High School. The school provides financial assistance to deserving students not capable of paying the tuition cost but who demonstrate excellent academic performance. The number of qualified candidates depends on the availability of funding. Thus, applicants for scholarships should do their best to present clear qualifications for financial assistance.
Excel CNA & CPR Training
Free CNA classes are offered at Excel CNA & CPR Training. Individuals who want to work in the healthcare field can apply for a free CNA training and submit the necessary requirements such as a high school diploma, criminal background check and results sof a physical examination. Applicants are selected based on their qualifications and the results on interviews and exams. Students under the free training must show financial need and an excellent academic record to be considered. The program consists of classroom lectures, skills training, and hands-on clinical experiences, wherein students gain the adequate knowledge and expertise for the profession. The combined academic and clinical training equips students for the state licensing exam and potential employment in various healthcare facilities in Jacksonville. The program is rigorous because of its short duration, and graduates have higher chances of passing the exam. Excel CNA & CPR Training offers a CNA training program year round, and interested applicants can always apply at the admission's office.
Perfect CNA Training Academy
Perfect CNA Training Academy has a CNA training program that can be completed in a short period. The program integrates classroom lectures with hands-on clinical practice to provide sufficient knowledge and skills to aspiring nursing assistants. Students undergoing the course go through a rigorous classroom lecture schedule that includes various nursing topics like anatomy and physiology, medical terminologies, nutrition, vital signs, bathing, feeding, and many others. These individuals will be exposed to a simulation lab to ensure they acquire the essential skills before starting hands-on clinical practice. A clinical rotation will take place in a local healthcare facility with supervision from a preceptor. Students having difficulty paying the tuition cost can apply for scholarship programs to cover the training expenses. Such funding helps aspiring CNAs finish their education without financial burden. These free CNA programs are seldom available, but they can be obtained through the financial aid office periodically.
Florida Coast Career Tech – North Campus
Florida Coast Career Tech – North Campus has a CNA course that allows graduates to earn 5.5 credits, which can be used for any college education. The program consists of 165 hours of which 40 are dedicated to clinical experiences in nursing homes, hospitals, and sub-acute or long-term care facilities. The 125 hours entail classroom lectures and laboratory simulations, where various nursing concepts and skills are taught to prepare students for the state licensing exam. The CNA program at Florida Coast Career Tech can be completed in a few weeks. Thus, graduates can easily work in a clinical setting promptly after passing the state licensing exam. Students with financial struggles can apply for scholarship programs to study at no cost. Free CNA classes are available to help financially needy students who cannot afford a healthcare course. The school provides full or partial financial support for the CNA training program.
North Florida Training Center
North Florida Training Center offers a CNA training program for aspiring nursing assistants who wish to work in nursing homes, hospitals, rehab centers and private residences. The program can be completed in less than one semester, after which graduates are qualified to take the state licensing exam. Individuals apply for the CNA training must be at least 18 years old with a high school diploma, a criminal background check, and physical exam results. North Florida Training Center accepts few students per program; thus, applicants have to show the best of their abilities to be considered for CNA training. They must demonstrate financial need and an excellent academic record to avail a free CNA course. The training center may not offer a free course to everyone, but students who get the chance to undergo it at no cost will obtain a certificate of completion to be able to work as a CNA in various medical settings as soon as they pass the licensing exam.
List of All the State Approved CNA Classes in Jacksonville