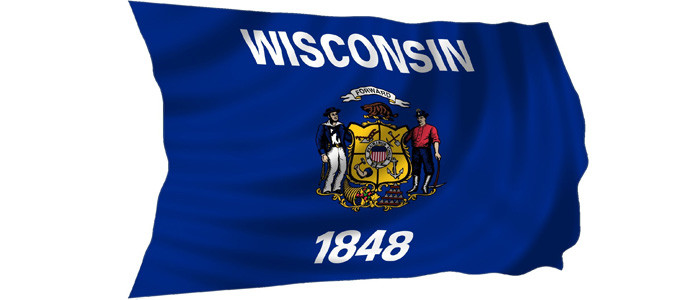 Becoming a Certified Nursing Assistant is one of the most enjoyable and fulfilling career options in the healthcare industry. With so many overqualified unemployed individuals these days, it is certainly a great option to become a CNA instead. There is no need to spend years in expensive universities for that – CNA classes in Wisconsin can be completed in less than 12 weeks. With just a matter of months, you can get certified and have a chance of getting a stable job in the healthcare sector.
A Certified Nursing Assistant (CNA) is a professional in the field of medicine offering personalized care to patients and provides support to doctors and nurses. Their work involves bathing, dressing, grooming, feeding, ambulation of the patients and other related duties.
There are various options for continuing education, with the majority of the educational programs in Wisconsin offered by community colleges and vocational schools, as well by online courses or distance learning programs. Also, the Red Cross provides comprehensive CNA training programs, and good preparation for taking the national examinations. The completion of these programs offers a Nursing Assistant degree. There are several healthcare facilities offering free training programs, if applicants agree to join their workforce as a Certified Nursing Assistant (CNA) upon completion of the education.
CNA Training Requirements in Wisconsin
To becoming a Certified Nurse Aide (CNA) in Wisconsin, a candidate must be at least 18 years and complete a CNA training program from an approved institution. Also, must pass the competency evaluation test conducted by the Wisconsin Department of Safety and Professional Services (DSPS). The Wisconsin Department of Health Services, Division of Quality Assurance is responsible for approving and reviewing CNA programs in the State of Wisconsin. All CNA programs in area should provide a minimum of 120 hours of training to the students, with at least a minimum of 32 hours spent on clinical training. Also, 16 hours must be dedicated to issues relating to basic nursing skills, safety/emergency procedures, infection control, interpersonal skills, communication, basic restorative services, rights of clients and social interaction. Other areas of study which must be covered in state approved program include fire response training, HIPPA laws, infection response or control, preparedness and emergency response, patient's rights, assistance on physically challenged individuals, and transferring of patients.
If you do not know where to start, you can make a research on the Nurse Aide Registry of Wisconsin or through the Wisconsin Department of Health Services. A few options for the CNA classes in Wisconsin include Touchstone Learning Center, Madison Area Technical College, Northeast Wisconsin Technical College, Wisconsin Indian Head Technical College, and Wisconsin CNA Training Center.
There are some facilities that offer grants to students who cannot afford the CNA training program. Additionally you can always find a place where you can undergo the CNA training for free or at a low cost. Simply look for an assisted living facility or a nursing home that will help you train as a CNA.  But do keep in my that these facilities will require you to work for them after getting certified so you do not have to worry on where to get a job afterwards.
CNA Certification Exam in Wisconsin
After completing the training programs, prospective nursing assistant in Wisconsin must obtain competency examination through the National Nurse Aide Assessment Program (NNAAP). This exam has two parts, one written/oral which checks for technical understanding and one skills evaluation, and is administered by Pearson VUE that publishes practice materials for students. Both parts of the examination must be passed successfully within one year of graduation from a CNA program. Thereafter, a CNA certification in Wisconsin will only be issued if the student passes all portions of the test and listed to the Nurse Aide Registry of Wisconsin.
Those who wish to keep their right to work as a nursing assistant will must renew their license every two years – they need to have completed a minimum of 8 working hours in the previous twenty four months.
The skills and knowledge you have learned in the CNA training program should be remembered all the time especially in the certification exam. You have to be certified in order to be eligible in working as a CNA in Wisconsin. All the information regarding the exam can be obtained from Pearson Vue as they are responsible for it. Once you successfully passed, your name will now be listed on the Nurse Aide Registry.
A career as a Certified Nursing Assistant is exciting, rewarding and fast paced. If you like to upgrade your skills and broaden your knowledge, you can proceed  in order to become a Registered Nurse. Becoming a CNA can be your stepping stone towards a successful career in the healthcare field. So if you want to have a stable and bright career, start it now and undergo the CNA training program approved by the state of Wisconsin.
CNA Salary and Job Outlook in Wisconsin

CNAs in Wisconsin have an average annual salary of $27,420 with additional health and dental benefits. This is obviously an average estimate and it depends hugely on your experience and place of work.
There are several hospitals, nursing facilities, doctors' offices throughout the state of Wisconsin who are looking for people with the necessary training in field of health care. Therefore, a Certified Nursing Assistant (CNA) with a combination of training and experience has the possibility of employment in some of the largest hospitals and healthcare facilities in the state including the Aurora Saint Luke's Medical Center, Clinics and Saint Mary's Hospital, Saint Joseph's Hospital and University of Wisconsin Hospital.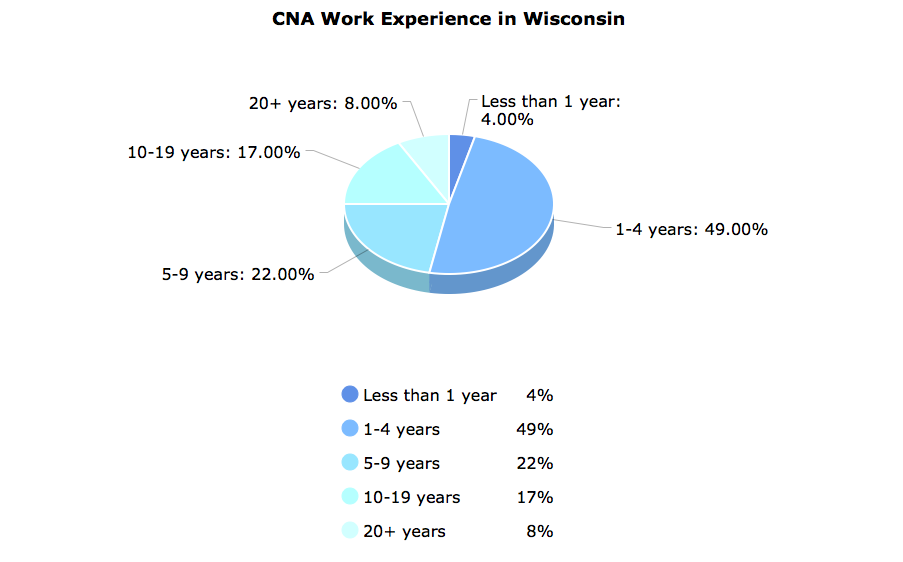 All Wisconsin State Approved CNA Programs
| LOCATION | FACILITY | ADDRESS | PHONE |
| --- | --- | --- | --- |
| Altoona, WI | Oakwood Villa | 2512 New Pine Road | 715-833-0400 |
| Appleton, WI | Fox Valley Technical College | 1825 N. Bluemound Drive | 920-735-5600 |
| Ashland, WI | Wisconsin Indianhead Technical College ‐ Ashland | 2100 Beaser Avenue | 715-682-4591 |
| Beaver Dam, WI | Moraine Park Technical College ‐ beaver Dam | 700 Gould Street | 920-887-4407 |
| Black River Falls, WI | Pine View Care Center | 400 County Road R | 715-284-5396 |
| Butler, WI | Winnebago Mental Health Insitute | P.o. Box 9 | 920-235-4910 |
| Chippewa Falls, WI | Wissota Health And Regional Vent | 7490 156th Street | 715-723-9341 |
| Cleveland, WI | Lakeshore Technical College | 1290 North Avenue | 920-693-1000 |
| Eau Claire, WI | Chippewa Valley Technical College | 620 West Clairemont Avenue | 715-833-6300 |
| Eau Claire, WI | Dove Heathcare ‐ west | 1405 Truax Blvd | 715-552-1030 |
| Eau Claire, WI | Grace Lutheran Foudation | 816 Porter Avenue | 715-832-3003 |
| Elkhorn, WI | Gateway Technical College ‐ elkhorn | 400 County Road H | 800-247-7122 |
| Fennimore, WI | Southwest Technical College | Highway 18 East | 608-822-3262 |
| Fond Du Lac, WI | Agnesian Health Care | 430 E. Division Street | 920-929-2300 |
| Fond Du Lac, WI | Moraine Park Technical College ‐ fond Du Lac | 235 N Natioanl Avenue | 800-472-4554 |
| Fort Atkinson, WI | Madison College ‐ fort Atkinson | 827 Banker Road | 920-568-7200 |
| Grafton, WI | Aurora Medical Center-grafton | 975 Port Washington | 262-329-1000 |
| Green Bay, WI | Northeast Technical College | P. O. Box 19042 | 920-498-5704 |
| Green Bay, WI | Quality Cna Training Llc ‐ green Bay | 210 S. Oneida Street | 715-281-5064 |
| Hayward, WI | Hayward Health Services | 10775 Nyman Avenue | 715-634-2202 |
| Hurley, WI | Villa Maria Health And Rehabilitation | 300 Villa Drive | 715-561-3200 |
| Janesville, WI | Blackhawk Technical College | P.o. Box 5009 | 608-757-7623 |
| Janesville, WI | Pioneer Court | 2122 Pioneer Drive | 608-365-9451 |
| Juneau, WI | Clearview | 198 County Road Df | 877-386-3400 |
| Kaukauna, WI | Quality C N A Training Llc ‐ kaukauna | 316 East 14th Street | 920-766-6020 |
| Kenosha, WI | Gateway Technical College | 3520 30th Avenue | 800-247-7122 |
| King, WI | Wisconsin Veterans Home ‐ king | N2665 County Road Gg | 715-258-5586 |
| Lacrosse, WI | Quality C N A Training, Llc ‐ lacrosse | 2501 Shelby Road | 715-902-1035 |
| Lacrosse, WI | Western Technical College | 400 Seventh Street North | 608-785-9200 |
| Madison, WI | Center For Health Education/ches | 3001 W. Beltline, Suite 305 | 608-227-2292 |
| Madison, WI | Central Wisconsin Center | 317 Knutson Drive | 608-301-9200 |
| Madison, WI | Madison College | 1701 Wright Street | 608-246-6100 |
| Madison, WI | Mendota Mental Health | 301 Troy Avenue | 608-301-1000 |
| Madison, WI | Neway Directions | 6400 Gisholt Drive Suite 102 | 608-221-1920 |
| Manitowoc, WI | Quality C N A Training Llc ‐ manitowoc | 2021 S. Alverno Road | 715-902-1035 |
| Manitowoc, WI | St. Mary's At Felician Village | 2005 Division Street | 920-684-7171 |
| Milwaukee, WI | Amber House, Inc. | 7414 West Hampton Avenue | 414-393-9922 |
| Milwaukee, WI | Aurora Na Education Center | 3033 South 27th St. Suite 105 | 414-747-4330 |
| Milwaukee, WI | J. Johnson Educational Center | 7905 W. Appleton Ave, 202 | 414-438-9390 |
| Milwaukee, WI | Milwaukee Area Technical College | 700 West State Street | 414-297-6282 |
| Milwaukee, WI | Paramount 360 | 2020 South 54th Street | 414-257-0701 |
| Monona, WI | Quality C N A Training Llc ‐ monona | 5301 Monona Drive | 715-281-5064 |
| Mt. Horeb, WI | Wi/il Senior Housing Dba Ingleside Manor | 407 North 8th Street | 608-437-5511 |
| Neenah, WI | Wisconsin C N A Training Center | 1091 Jacobsen Road | 920-979-4428 |
| New Glarus, WI | Quality C N A Traning, Llc ‐ new Glarus | 700 2nd Avenue | 715-902-1035 |
| New Richmond, WI | St. Croix Health Care Center | 1445 North 4th Street | 715-246-8211 |
| New Richmond, WI | Wisconsin Indianhead Technical College ‐ New Richmond | 1019 South Knowles Avenue | 715-246-6561 |
| Niagara, WI | Maryhill Manor | 501 Madison Avenue | 715-251-3172 |
| Oshkosh, WI | Aurora Medical Center ‐ oshkosh | 855 N. Westhaven Dive | 920-456-6000 |
| Oshkosh, WI | Clarity Home Care | 424 Washington Avenue | 920-236-6560 |
| Osseo, WI | Dove Healthcare ‐ osseo | 51019 Ridge View Road | 715-597-2493 |
| Park Falls, WI | Park Manor | 172 Lawrence Avenue | 715-762-2449 |
| Pewaukee, WI | Waukesha County Technical College | 800 Main Street So 219 | 262-691-5566 |
| Plum City, WI | Plum City Care Center | 301 Cherry Avenue West | 715-647-2401 |
| Portage, WI | Madison College ‐ portage | 330 W. Collins St. | 608-745-3100 |
| Racine, WI | Gateway Technical College ‐ racine | 1001 Sounth Main Street | 800-247-7122 |
| Randolph, WI | Randolph Health Services | 502 S. High Street | 920-326-3171 |
| Reedsburg, WI | Madison College ‐ reedsburg | 300 Alexander Avenue | 608-524-7800 |
| Rhinelander, WI | Nicolet Technical College | P.o. Box 518 | 715-365-4564 |
| Sheboygan, WI | Sheboygan Senior Center | 3505 County Road R | 920-458-2137 |
| Shell Lake, WI | Wisconsin Indianhead Technical College | 505 Pine Ridge Drive | 800-243-9482 |
| Spring Green, WI | Grenway Manor | 501 Souht Winsted | 608-588-2586 |
| Summit, WI | Aurora Healthcare-southern Lakes | 36500 Aurora Drive | 262-434-8800 |
| Superior, WI | Wisconsin Indianhead Technical College ‐ Superior | 600 N 21st Street | 715-394-6677 |
| Union Grove, WI | Southern Wisconsin Center | 21425 Spring Street | 262-878-2411 |
| Watertown, WI | Madison College ‐ watertown | 1300 W. Main Street | 920-206-8000 |
| Waunakee, WI | Waunakee Manor | 801 South Klein | 608-256-8448 |
| Waupaca, WI | Quality Cna Training Llc ‐ waupaca | E2325 King Road | 715-902-1035 |
| Wausau, WI | Northcentral Technical College | 1000 Campus Drive | 715-675-3331 |
| Wauwatosa, WI | Quaity Healthcare Options | 7425 Harwood Avenue | 414-475-7337 |
| West Bend, WI | Cedar Community | 5595 County Road Z | 262-306-2100 |
| West Bend, WI | Moraine Park Technical College ‐ west Bend | 2151 N. Main Street | 800-472-4554 |
| Whitehall, WI | Trempleau County Health Care Center | W20298 State Road 121 | 715-538-4312 |
| Wisconsin Rapids, WI | Midstate Technical College | 500 32nd Street North | 715-422-5300 |
CNA Classes In Other States: