CNA Classes in West Virginia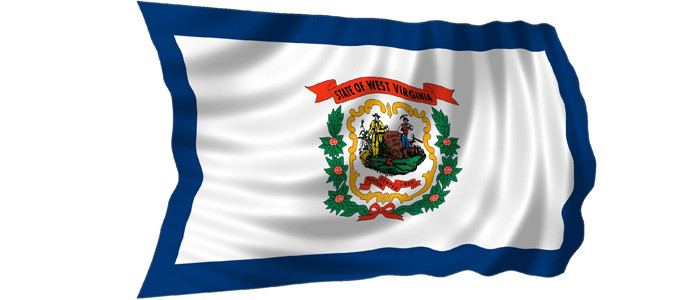 The most important step to becoming a Certified Nursing Assistant (CNA) in West Virginia is enrolling in an approved educational program. Community colleges, technical or vocational schools and some nursing facilities offer training programs and information on the employment prospects for this rapidly growing field of health care.
Certified Nursing Assistants have a vital role in the health care system, and specialize in providing basic medical care and treatment to patients, as well personalized training to learn the necessary medical terminology, actively participating in health care issues. Also, there are several nursing facilities that offer on-the-job training and usually cover the cost of the education and certification exam in exchange for a future period of employment, if the student becomes a Certified Nursing Assistant.
Note that the State of West Virginia does not approve any online nursing assistant classes.
There are a lot of people who find job satisfaction and self fulfillment while working in the medical field. If you want to be one of these people you could become a Certified Nursing Assistant in West Virginia.
WV offers several options for CNA classes and they  take six months or less, depending on what type of qualification you are looking for. Becoming a CNA can be your stepping stone towards a well compensated career, especially if you want to become a RN or LPN later on.
The good thing is that you do not have to spend thousands of dollars for the CNA classes in West Virginia because there are more affordable options for that. In fact, some facilities offer free training programs for deserving students or those who cannot afford the sessions. Some employers will help you pay the tuition for a CNA training program but you will have to work for them after getting certified.
CNA Training Requirements in WV
Trainees in West Virginia for most CNA programs must be at least 18 years old, have a high school diploma or equivalent and clean criminal record . In order to qualify for certification in West Virginia is required to complete an educational program that consists of at least 120 hours of instruction . The time is split with a minimum of 65 hours spent on classroom instruction and 55 hours spent on clinical training.
A student is trained in basic nursing skills, emergency procedures, safety measures, social interaction, infection control, communication techniques or interpersonal skills. They will cover topics related to basic nursing skills, emergency care, patient's rights, vital signs taking, and many others. You will also be introduced in the clinical setting of the CNA job in order to practice what you have learned during the training program.
The West Virginia Office of Health Facility Licensure and Certification, approve and review the CNA programs in the State of West Virginia.
However before enrolling for any CNA classes in West Virginia, make sure that the program is composed of at least 120 hours of training, because the WV state requires this. If you do not know where to obtain the CNA training program, a few options include the Wyoming County Career Center, Logan Park Care Center, Springfield Center CNA Course, Mercer County Technical Center and Special Touch Training Center as well as all the facilities found on this page above. You can see more information on this on the West Virginia Nursing Board website or WV Department of Public Health.
West Virginia CNA Certification
Once the training program is done, you will have to take the CNA competency exam to get certified. Certification exam includes two separate parts. The examinees take a multiple-choice test, which checks the technical understanding, and the second part is a skills assessment, which should be passed successfully as well to obtain certification. In case you fail 3 times in a row, you will be asked to undergo re-training. Passing the certification exam will make you eligible to work in the healthcare field. Your name will be placed on the West Virginia Nurse Aide Registry.
Make sure that you renew the certification every two years and you can present a proof of work experience. The state of West Virginia requires all the Certified Nursing Assistants to be knowledgeable and skilful in their chosen field.
CNA Salary and Job Outlook in West Virginia
CNA Salary in West Virginia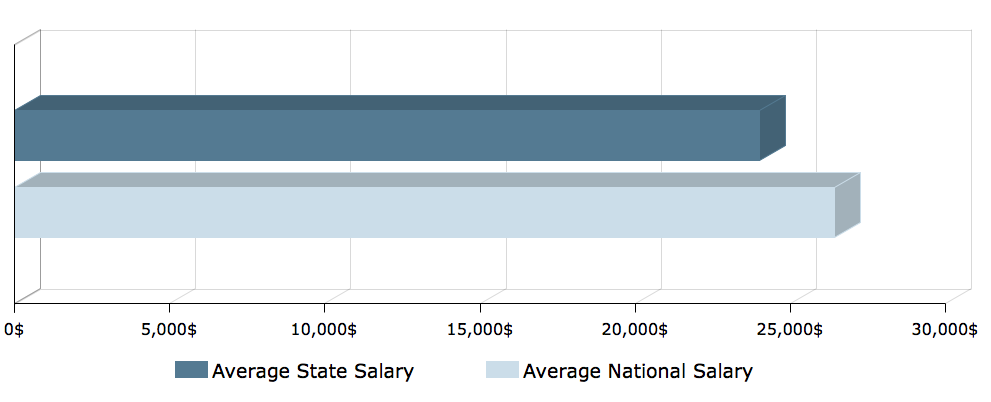 The salary of a Certified Nursing Assistant in West Virginia reaches to $29,000 annually and if you are skillful enough or you have a great amount of experience, you can receive more than that. However most CNAs do not make that much and the average salary in WV is $24,080 annually. As a Certified Nursing Assistant, you can venture out to another career in the healthcare field like LPN or RN. Aside from that, your salary will grow as you become more experienced.
There is currently big job growth for nursing assistants in West Virginia and this is a positive for this career in the health care field. A Certified Nursing Assistant (CNA) is eligible to work in nursing homes, in some of the largest hospitals and healthcare facilities in the state including the Charleston Area Medical Center General Hospital, Ruby Memorial Hospital, Saint Mary's Medical Center and Wheeling Hospital.
Since there are a lot of healthcare facilities that are looking for CNA's, it is certainly not a problem to get a job if you are good at what you do.
All West Virginia State Approved CNA Programs
| LOCATION | FACILITY | ADDRESS | PHONE |
| --- | --- | --- | --- |
| Baker, WV | Ea Hawse Nursing Rehabilitation Center | Po Box 70 | 304-897-5903 |
| Beckley , WV | Jackie Withrow Hospital | 105 S Eisenhower Drive | 304-256-6600 |
| Beckley, WV | Harper Mills | 100 Heartland Drive | 304-256-1650 |
| Beckley, WV | Pine Lodge | 405 Stanaford Road | 304-252-6317 |
| Beckley, WV | Valley College - Beckley | 120 New River Town Center, Suite C | 304-252-9547 |
| Belmont, WV | Carehaven Of Pleasants | 506 Riverview Drive | 304-665-2065 |
| Berkeley Springs, WV | Berkeley Springs Center | 456 Autumn Acres Road | 304-258-3673 |
| Bluefield, WV | Maples Nursing Home | 1600 Bland Rd | 304-327-2485 |
| Bridgeport, WV | Bridgeport Health Care Center | 1000 S Maplewood Dr | 304-842-3145 |
| Bridgeport, WV | Meadowview Manor | 41 Crestview Terrace | 304-842-7101 |
| Bridgeport, WV | Us Nursing Network | 14 Chenoweth Dr | 304-623-5777 |
| Brooks, WV | Summers County High School | 1 Bobcat Drive | 304-466-6040 |
| Buckhannon, WV | Fred W Eberle Technical Center-secondary | Route 5 Box 2 | 304-472-1259 |
| Buckhannon, WV | Holbrook Nursing Home | 346 South Florida Street | 304-472-3280 |
| Cameron, WV | Cameron Nursing And Rehabilitation Center | Rr3 Box 20 | 304-686-3318 |
| Charles Town, WV | Willow Tree Manor | 1263 South George Street | 304-725-6575 |
| Charleston, WV | Eastbrook Center | 3819 Chesterfield Ave. | 304-925-4771 |
| Charleston, WV | Garnet Career Center | 422 Dickerson Street | 304-348-6195 |
| Charleston, WV | Valley Center | 1000 Lincoln Drive | 304-768-4400 |
| Clarksburg, WV | Clarksburg Nursing And Rehabilitation Center | 801 Davission Run Road | 304-624-6500 |
| Clarksburg, WV | Health Consultants Plus | Po Box 1088 | 304-782-3765 |
| Clarksburg, WV | River Oaks | 100 Parkway Drive | 304-624-6601 |
| Clarksburg, WV | United Technical Center | Route 3 Box 43c | 304-326-7583 |
| Cora, WV | Med-care Training Center | 1109 Holden Road | 304-239-3225 |
| Craigsville, WV | Nicholas County Career And Technical Center | 215 Milam Addition Road | 304-742-5416 |
| Culloden, WV | Cabell Health Care Center | 30 Hidden Brook Way | 304-721-2171 |
| Daniels, WV | Raleigh Center | Po Box 741, 1631 Ritter Drive | 304-763-3051 |
| Danville, WV | Hillcrest Healthcare Center | 462 Kenmore Dr | 304-369-0986 |
| Dunbar, WV | Ben Franklin Career Center | 500 28th Street | 304-766-0369 |
| Elkins, WV | Elkins Regional Convalescent Center | 1175 Beverly Pike | 304-636-1391 |
| Elkins, WV | Nella's Nursing Home | 200 Whitman Avenue | 304-636-2033 |
| Elkins, WV | Randolph County Vo-tech Center | 200 Kennedy Drive | 304-636-9195 |
| Fairmont, WV | Pierpont Center | 1543 Country Club Road | 304-363-2273 |
| Fairmont, WV | Tygart Center | 1543 Country Club Road | 304-366-9100 |
| Fayetteville, WV | Fayette Nursing Rehabilitation Center | 100 Hresan Blvd | 304-574-0770 |
| Follansbee, WV | Brightwood Center | 840 Lee Road | 304-527-1100 |
| Foster, WV | Boone Career And Technical Center | 3505 Daniel Boone Parkway, Suite B | 304-369-4585 |
| Foster, WV | Boone Career And Technical Center-am | 3535 Daniel Boone Pkwy, Suite B | 304-369-4585 |
| Foster, WV | Boone County And Technical Center-pm | 3535 Daniel Boone Pkwy, Suite B | 304-369-4585 |
| Franklin, WV | Pendleton Manor | 68 Good Samaritan Drive | 304-358-2322 |
| Glen Dale, WV | John Marshall High School | 1300 Wheeling Avenue | 304-843-4444 |
| Glenville, WV | Glenville Center | 111 Fairground Road | 304-462-5718 |
| Grafton, WV | Grafton City Hospital | 500 Market Street | 304-265-0400 |
| Grafton, WV | Rosewood Center | 8 Rosewood Street | 304-265-0095 |
| Grafton, WV | Taylor County Technical Center | 115 Luby Street | 304-265-1050 |
| Harrisville, WV | Pine View Nursing And Rehabilitation Center | Po Box 200 / 400 Mckinley Street | 304-643-2712 |
| Hilltop, WV | Hilltop Center | Saddle Shop Road/po Box 125 | 304-469-2966 |
| Hinton, WV | Summers Nursing And Rehabilitation Center, Llc | Po Box 1240 | 304-466-0332 |
| Huntington, WV | Heritage Center | 101 13th Street | 304-525-7622 |
| Huntington, WV | Huntington Health And Rehabilitation | 1720 17th Street | 304-529-6031 |
| Hurricane, WV | Putnam Center | 300 Seville Road | 304-757-6805 |
| Hurricane, WV | Teays Valley Center | 590 North Poplar Fork Road | 304-757-7826 |
| Keyser, WV | Mineral County Vo-tech Center | 600 Harley O Staggers Drive | 304-788-4240 |
| Kingwood, WV | Pine Ridge | 300 Miller Road | 304-329-3195 |
| Kingwood, WV | Preston High School | 400 Preston Drive | 304-329-0400 |
| Kingwood, WV | Preston Memorial Hospital | 150 Memorial Drive | 304-329-1400 |
| Le Roy, WV | Roane-jackson Technical Center | 4800 Spencer Road | 304-372-7335 |
| Lindside, WV | Monroe County Technical Center | Route 1 Box 97 | 304-753-9971 |
| Logan , WV | Logan Center | Po Box 540 | 304-752-2273 |
| Logan, WV | Trinity Health Care Services Of Logan | 1000 West Park Ave | 304-752-8723 |
| Marlinton, WV | Pocahontas Center | Route 1 Box 500 | 304-799-7375 |
| Martinsburg, WV | Care Haven Center | 2720 Charles Town Road | 304-263-0933 |
| Martinsburg, WV | Clary Grove | 209 Clover St | 304-263-8921 |
| Martinsburg, WV | James Rumsey Technical Institute | 3274 Hedgesville Road | 304-754-7925 |
| Martinsburg, WV | Valley College-martinsburg | 287 Aikens Center | 304-263-0979 |
| Montgomery, WV | Montgomery General Elderly Care | Po Box 1010 Sixth Avenue And Adams Street | 304-442-2469 |
| Moorefield, WV | Eastern Wv Community & Technical College | 316 Eastern Drive | 304-434-8000 |
| Morgantown, WV | Madison Center | 161 Bakers Ridge Road | 304-285-0692 |
| Morgantown, WV | Mapleshire Nursing And Rehabilitation | 30 Mon Gen Drive | 304-285-2720 |
| Moundsville, WV | Mound View Health Care | 2200 Floral Street | 304-843-1035 |
| New Cumberland, WV | John D Rockefeller Iv Vo-tech Center | 95 Rockyside Road | 304-564-3337 |
| New Martinsville, WV | New Martinsville Health Care Center | 225 Russell Avenue | 304-455-2600 |
| Oak Hill, WV | Fayette Institute Of Technology | 300 West Olyer Avenue | 304-469-2911 |
| Oak Hill, WV | Hidden Valley Center | 422 23rd Street | 304-465-1903 |
| Ona, WV | Professional Healthcare Dev-refresher Course Only | P.o. Box 399 | 304-733-6145 |
| Parkersburg , WV | Eagle Pointe | 1600 27th Street | 304-485-6476 |
| Parkersburg, WV | Ohio Valley Health Care | 222 Nicolett Road | 304-485-5137 |
| Parkersburg, WV | Parkersburg Care Center | 1716 Gihon Road | 304-485-5511 |
| Parkersburg, WV | Willows Center | 723 Summers Street | 304-428-5573 |
| Parkersburg, WV | Wood County Technical And Career Center | 1515 Blizzard Drive | 304-420-9500 |
| Parkersburg, WV | Worthington Nursing & Rehabilitation Center | 2675 36th Street | 304-485-7447 |
| Parkersburg, WV | Wvu-parkersburg Community Education | 300 Campus Drive | 304-424-8266 |
| Petersburg, WV | Grant Rehabilitation And Care Center | 127 Early Avenue | 304-257-4233 |
| Petersburg, WV | South Branch Career And Technical Center | 401 Pierpont Street | 304-257-1331 |
| Philippi, WV | Mansfield Place | #1 Healthcare Dr | 304-457-8220 |
| Philippi, WV | Philip Barbour Career Technical Cen (High School) | 25 Horseshoe Drive | 304-457-4807 |
| Pineville, WV | Knights Enrichment | Hcr 62 Box 200 | 304-732-8050 |
| Pineville, WV | Wyoming County Career And Technical Center | 1207 Bearhold Road | 304-732-8050 |
| Point Pleasant, WV | Mason County Vocational Center | 281 Scenic Drive | 304-675-3039 |
| Point Pleasant, WV | Pleasant Valley Nursing And Rehab | 640 Sandhill Rd | 304-675-5236 |
| Princeton, WV | Mercer County Technical Education Center | 1397 Stafford Drive | 304-425-9551 |
| Princeton, WV | Princeton Health Care Center | 315 Courthouse Road | 304-487-3458 |
| Princeton, WV | Valley College-princeton | 617 Mercer Street | 304-425-2323 |
| Rainelle, WV | Meadow Gardens | 606 Pennsylvania Avenue | 304-438-6127 |
| Ravenswood, WV | Ravenswood Village | 200 South Ritchie Ave | 304-428-5573 |
| Richwood, WV | Nicholas County Nursing And Rehabilitation Center | 18 4th Street | 304-846-2668 |
| Ripley, WV | Eldercare Health & Rehab | 107 Miller Dr | 304-372-5115 |
| Romney, WV | Hampshire High School | 157 Trojan Way | 304-822-3979 |
| Ronceverte, WV | Brier Rehabilitation & Nursing Center | 601 Rocky Hill Road | 304-645-7270 |
| Saint Marys, WV | Mid-ohio Valley Technical Institute | Po Box 29 | 304-684-2464 |
| Salem, WV | Salem Center | 255 Sunbrdige Drive | 304-782-3000 |
| Shepherdstown, WV | Canterbury Center | 80 Maddox Dr | 304-876-9422 |
| Sistersville, WV | Sistersville Center | 201 Wood Street | 304-652-1032 |
| Smithers, WV | Valley High School | 1 Greyhound Lane | 304-442-8284 |
| South Charleston, WV | Bridgevalley Ctc-montogomery Campus | 1201 Science Park Drive | 304-205-6666 |
| Spencer, WV | Miletree Center | 825 Summitt Street | 304-927-1007 |
| Summersville, WV | Family Learning Center | 70 Friends -r-fun Dr | 304-872-7060 |
| Sutton, WV | Braxton Healthcare Center | 859 Days Drive | 304-765-2861 |
| Thomas, WV | Cortland Acres Nursing Home | Hc 60 Box 98 | 304-463-4181 |
| Upperglade, WV | Webester County High School-am | One Highlander Drive | 304-226-5772 |
| Weirton, WV | Weirton Geriatric Center | 2525 Pennsylvania Avenue | 304-723-4300 |
| Welch, WV | Mcdowell County Techincal Center | Drawer V | 304-436-6180 |
| Welch, WV | Mcdowell County Vocational Technical Center | #1 Stadium Drive | 304-436-3488 |
| Wellsburg, WV | Brooke High School | 29 Bruin Drive | 304-527-1410 |
| Wellsburg, WV | Wellsburg Center | Rr 2, Box 44 | 304-394-5322 |
| West Columbia, WV | Lakin Hospital | One Bateman Circle | 304-675-0860 |
| Wheeling, WV | Good Shepherd Nursing Home | 159 Edgington Lane | 304-242-1093 |
| Wheeling, WV | Peterson Rehab Hospital And Geriatric Center | 20 Homestead Ave | 304-234-0556 |
| Wheeling, WV | Wheeling Park High School | 1976 Park View Road | 304-243-0400 |
| White Sulphur Springs, WV | White Sulphur | 345 Pocahontas Trail | 304-536-4661 |
| Williamson, WV | Tug Valley High School | 555 Panther Ave | 304-235-2266 |
CNA Classes In Other States: