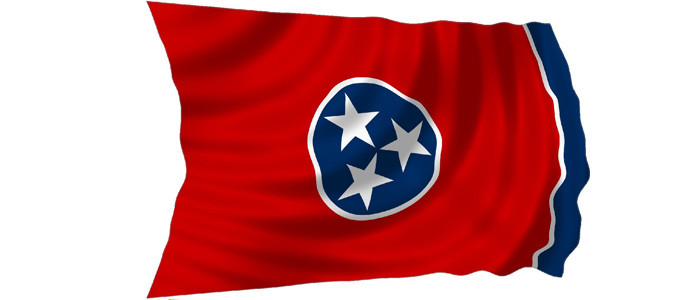 Are you planning to change your career and get a CNA certification in the state of Tennessee? Well if so, you have come to the right place. On this website we have lots of training options for budding CNAs in Tennessee.
There are many people in TN looking for CNA classes  as they want to get a job in the medical field. A lot of people even keep on studying to become a Registered Nurse or Licensed Practical Nurse. If you want career advancement or simply remain to be a Certified Nursing Assistant, both paths provide great training and compensation. Take the first step of undergoing the CNA training program at several facilities around the state.
In Tennessee, CNA schools are required to offer 75 hours of classroom sessions and 16 hours of clinical training. Generally, the training will take you about 10 to 13 weeks. Throughout the course of CNA training, you will learn several nursing topics and skills like taking vital signs, resident's rights, human anatomy, patient care, grooming, personal care, infection control, communication skills, and many others.
You will also also be trained in a hospital or nursing facility to handle actual patients and there will be a Registered Nurse who will supervise and guide you in the process. The cost of CNA training will depend on the school or facility providing it but usually, it will range from $800 to $1,400. If you cannot afford this amount, there are a number of scholarships and grants being offered nowadays. Just make them guarantee that you will work on their facility after getting certified.
Once you completed the CNA courses, you will have to pass a competency evaluation exam in Tennessee. This exam will be administered by the D&S Technologies and it will be in two parts; written and clinical test. Both of these tests should be passed in order to get certified. Be sure to review all the topics discussed in the training including the important nursing skills.
You will be asked to demonstrate 5 skills in front of a panel and they will grade you according to your performance. Hence, be prepared for the exam. If you successfully passed, you will undergo a background check and fingerprinting process. The state of Tennessee will not allow a CNA to work if he/she is convicted with any crime so make sure that you have a clean criminal record.
The last step of CNA certification is adding you name in the Tennessee Nurse Aide Registry list. It is important to place your name on this list because employers will really take a look on it if they are hiring a Certified Nursing Assistant. Tennessee CNA certification is valid only for two years so make sure to renew it prior to expiration.
CNA Salary and Job Outlook in Tennessee

Certified Nursing Assistants in Tennessee have an average annual salary of $22,920 so if you want to grab this opportunity, take the CNA training program in Tennessee right away! There are almost 30,000 nursing assistants working in TN right now and need for these positions is expected to grow more than on average according to Bureau of Labor Statistics.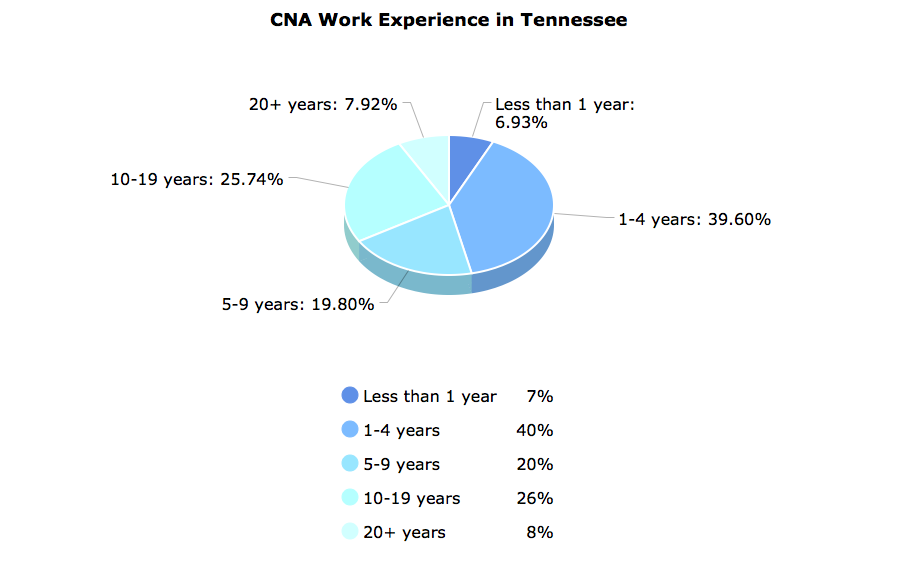 All Tennessee State Approved CNA Programs
| LOCATION | FACILITY | ADDRESS | PHONE |
| --- | --- | --- | --- |
| Adamsville, TN | Adamsville High School | 815 W. Main Street | 731-632-3273 |
| Alamo, TN | Crockett County High School | Route 2 Box 143 | 731-696-4525 |
| Algood, TN | Masters Health Care Center | 278 Dry Valley Road | 931-537-6524 |
| Antioch, TN | Advanced Nurse Assistant Training | 1135 Bell Rd. #305 | 615-717-1116 |
| Athens, TN | Compassionate Clinical Services, Llc | 113 Park Street | 423-744-4674 |
| Athens, TN | Tennessee Technology Center | 1635 Vo-tech Drive | 423-744-2814 |
| Bartlett, TN | Rainbow Health & Rehab Of Memphis | 8119 Memphis Arlington Road | 901-937-6302 |
| Bells, TN | Nursing Assistant Training Center | 150 Herndon Drive Suite 2 | 731-663-3803 |
| Bells, TN | Tennessee Technology Center | 5533 Hwy 412 S | 731-635-3368 |
| Blountville, TN | Greystone Healthcare Center | 181 Dunlap Road | 423-323-7112 |
| Blountville, TN | Tennessee Technology Elizabethton - Sullivan Central Hs | 131 Shipley Ferry Rd. | 423-543-0070 |
| Bolivar, TN | Pine Meadows Health Care | 700 Nuckolls Road | 731-658-4707 |
| Bolivar, TN | Pleasant View Health Care | 214 North Water Street | 731-658-5287 |
| Brentwood, TN | Career Health Institute | 9711 Turquoise Lane | 615-305-3816 |
| Brentwood, TN | Ravenwood High School | 1724 Wilson Pike | 615-472-4800 |
| Bristol, TN | Cambridge House | 250 Bellebrook Road | 423-968-4123 |
| Brownsville, TN | Crestview Health Care & Rehab Center | 704 Dupree Street | 731-772-3356 |
| Brownsville, TN | Haywood High School | 1175 East College | 731-772-4221 |
| Bruceton, TN | Lifecare Center Of Bruceton | 105 Rowland Avenue | 731-586-2061 |
| Byrdstown, TN | Pickett County Care And Rehabilitation Center | 129 Hillcrest Drive | 931-864-3162 |
| Camden, TN | Camden Healthcare And Rehab Center | 197 Hospital Drive | 731-584-3500 |
| Camden, TN | Magic Valley Cna Program | 264 Highway 641 North | 731-234-2826 |
| Carthage, TN | Smith County Health Care Center | 112 Health Care Drive | 615-735-0569 |
| Celina, TN | Tennessee Technology Livingston - Clay County High School | 1102 Clay County Hwy | 931-823-5525 |
| Chattanooga, TN | Brainerd High School | 1020 N. Moore Road | 423-855-2615 |
| Chattanooga, TN | Chattanooga College, Medical, Dental & Technical | 5600 Brainerd Rd. | 423-305-7781 |
| Chattanooga, TN | Chattanooga State Technical Community College | 4501 Amnicola Highway | 423-697-4404 |
| Chattanooga, TN | Health Care Center At The Standifer Place | 2626 Walker Road | 423-490-1599 |
| Chattanooga, TN | Health Careers Training Center | 5708 Uptain Road | 423-892-3848 |
| Chattanooga, TN | Nhc Healthcare | 2700 Parkwood Ave | 423-624-1533 |
| Chattanooga, TN | Red Bank High School | 640 Morrison Springs Road | 423-874-1900 |
| Church Hill, TN | Church Hill Health Care And Rehab Center | 701 West Main Blvd. | 423-357-7178 |
| Clarkrange, TN | Tennessee Technology Oneida - Clarkrange High School | 5801 South York Hwy. | 423-663-4900 |
| Clarksville, TN | Tennessee Health Careers, Llc | 116 N 2nd Street, Ste B10 | 931-648-2424 |
| Cleveland, TN | American Red Cross/hiwassee Chapter | 304a 20th Street Se | 423-472-1595 |
| Cleveland, TN | Bradley Central High School | 1000 South Lee Highway | 423-476-0650 |
| Cleveland, TN | Prepare To Care Training Center | 750 Broad Street Nw | 423-614-3838 |
| Cleveland, TN | Walker Valley High School | 750 Lauderdale Memorial Hwy. | 423-364-5567 |
| Clinton, TN | Anderson County Career And Technical Center | 140 Maverick Circle | 865-457-4205 |
| Columbia, TN | Columbia Central High School | 921 Lion Parkway | 931-381-2222 |
| Columbia, TN | Nhc Healthcare | 101 Walnut Lane | 931-381-3112 |
| Columbia, TN | Nhc Healthcare | 2710 Trotwood Ave. | 931-388-7182 |
| Columbia, TN | Spring Hill High School | 1 Raider Lane | 931-486-2207 |
| Cookeville, TN | Bethesda Health Care & Rehab Center | 444 One Eleven Place | 931-525-6655 |
| Cookeville, TN | Nhc Healthcare | 815 South Walnut Avenue | 931-528-5516 |
| Copperhill, TN | Copper Basin High School | P.o. Box 250 | 423-496-4381 |
| Cordova, TN | Applingwood Health Care Center | 1536 Appling Care Lane | 901-385-1803 |
| Covington, TN | Covington Care Center | 765 Bert Johnston Avenue | 901-475-0027 |
| Covington, TN | Covington Manor Nursing Center | 1992 Highway 51 South | 901-476-1820 |
| Crossville, TN | Cumberland County High School | 660 Stanley St. | 931-484-6194 |
| Crossville, TN | Life Care Center Of Crossville | 80 Justice Street | 931-484-4782 |
| Crossville, TN | Stone Memorial High School Nursing Education Program | 2800 Cook Rd. | 931-484-5767 |
| Crossville, TN | Tennessee Technology Center | 910 Miller Avenue | 931-484-7502 |
| Crossville, TN | Wyndridge Health And Rehabilitation Center | 456 Wayne Ave | 931-484-6129 |
| Culleoka, TN | Tennessee Technology Center | 2145 Quality Street | 931-796-5351 |
| Dandridge, TN | Jefferson County Nursing Home | 914 Industrial Park Blvd | 423-397-3163 |
| Dayton, TN | Laurelbrook Nursing Home | 200 Sanitarium Circle | 423-775-0771 |
| Decaturville, TN | Westwood Health Care Center | 524 West Main Street | 731-852-3591 |
| Dover, TN | Manor House Of Dover | 537 Spring Street | 931-232-6902 |
| Dresden, TN | Dresden High School | 7150 Highway 22 | 731-364-2949 |
| Dresden, TN | Weakley County Nursing Home | 700 Weakley County Nursing Home Rd. | 731-364-3158 |
| Ducktown, TN | Lifecare Center Of Copperbasin | 166 Industrial Drive | 423-496-3245 |
| Dunlap, TN | Nhc Healthcare | 360 Dell Trail | 423-949-4651 |
| Dunlap, TN | Sequatchie County High School | 7067 Sr 28 | 423-949-2154 |
| Dyersburg, TN | Dyersburg High School | 125 Highway 51 By-pass | 731-286-2209 |
| Dyersburg, TN | Dyersburg Manor Nursing & Rehab Center | 1900 Parr Avenue | 731-286-1221 |
| Elizabethton, TN | Happy Valley High School | 121 Warpath Lane | 423-547-8364 |
| Elizabethton, TN | Ivy Hall Nursing Home, Inc. | 301 S. Watauga Avenue | 423-547-3840 |
| Elizabethton, TN | Tennessee Technical Center | 426 Highway 91 | 423-543-0070 |
| Erin, TN | Signature Health Care Of Erin | 278 Rocky Hollow Road | 931-289-4141 |
| Erwin, TN | Center On Aging And Health | 880 S. Mohawk Drive | 423-743-7669 |
| Erwin, TN | Erwin Health Care Center | 100 Stalling Lane | 423-743-4131 |
| Erwin, TN | Unicoi County High School | 100 Okolona Drive | 423-743-1639 |
| Fayetteville, TN | Lincoln County High School | 1233 Huntsville Hwy | 931-433-6505 |
| Fayetteville, TN | Lincoln Medical Center | 501 Amana Ave. | 931-433-6146 |
| Fayetteville, TN | Tennessee Technology Center | 1802 Winchester Hwy | 931-685-5013 |
| Franklin, TN | Centennial High School | 5050 Mallory Lane | 615-472-4270 |
| Franklin, TN | Claiborne And Hughes Health Center | 200 Strahl Street | 615-791-1103 |
| Franklin, TN | Nhc Healthcare | 216 Fairground Street | 615-790-0154 |
| Franklin, TN | Nhc Place At Coolsprings | 211 Cool Springs Blvd | 615-778-6800 |
| Franklin, TN | Page High School | 6281 Arno Road | 615-595-2080 |
| Gainesboro, TN | Mabry Health Care And Rehab Center | 1340 North Grundy Quarles Highway | 931-268-0291 |
| Greeneville, TN | Community Ctr For Tech High School | 1121 Hal Henard Rd. | 423-639-0175 |
| Greeneville, TN | Laughlin Memorial Hospital, Inc | 1420 Tusculum Blvd | 423-789-5091 |
| Greeneville, TN | Walters State Greeneville | 1121 Hal Henard Road | 423-639-0171 |
| Harriman, TN | Tennessee Technology Center | 1745 Harriman Highway | 865-882-6703 |
| Harrogate, TN | Tri-state Health And Rehabilitation Center | 600 Shawnee Road | 423-869-5376 |
| Hartsville, TN | Tennessee Technical Center | 716 Mcmurry Blvd E | 615-374-2147 |
| Henderson, TN | Chester County High School | East Main Street | 731-989-8125 |
| Hendersonville, TN | Nhc Healthcare | 370 Old Shackle Island Road | 615-824-0720 |
| Hermitage, TN | Mckendree Village,inc | 4347 Lebonan Road | 615-871-8446 |
| Hixson, TN | Hixson High School | 5705 Middle Valley Road | 423-847-4800 |
| Hohenwald, TN | Lewis County Manor | 119 Kittrell Street | 931-796-3233 |
| Hohenwald, TN | Tennessee Technical Center | 813 West Main Street | 931-796-7753 |
| Huntsville, TN | Tennessee Technology Center | 355 Scott High Drive | 423-663-4900 |
| Jacksboro, TN | Tennessee Technology Center | 265 Elkins Road | 423-566-9629 |
| Jackson, TN | Forest Cove Manor | 45 Forest Cove | 731-424-4200 |
| Jackson, TN | Jackson Central-merry High School | 332 Lane Avenue | 731-424-3521 |
| Jackson, TN | Maplewood Healthcare | 100 Cherrywood Place | 731-668-1900 |
| Jamestown, TN | Alvin C. York Institute | 701 Main St. N. | 931-879-8101 |
| Jamestown, TN | Signature Healthcare Of Fentress County | 208 N Duncan | 931-879-5859 |
| Jellico, TN | Beech Tree Manor | 240 Hospital Lane | 423-784-6626 |
| Jellico, TN | Jellico High School | 141 High School Lane | 423-784-9455 |
| Johnson City, TN | American Red Cross Of Northeast Tennessee | 2203 Mckinley Road, Ste 219 | 423-349-8067 |
| Johnson City, TN | Appalachian Christian Village | 2012 Sherwood Drive | 423-928-3168 |
| Johnson City, TN | Franklin Transitional Center/johnson City Medical Center | 1106 West Market Street | 423-431-6697 |
| Johnson City, TN | Nhc Healthcare | 3209 Bristol Highway | 423-282-3311 |
| Johnson City, TN | Science Hill High School Tech Center | 251 Coty Jones Lane | 423-232-2200 |
| Jonesborough, TN | David Crockett High School | 684 Old State Rt. 34 | 423-753-1150 |
| Kingsport, TN | Asbury Centers, Inc | 100 Netherland Lane | 423-245-0360 |
| Kingsport, TN | Brookhaven Manor | 2035 Stonebrook Place | 423-246-8934 |
| Kingsport, TN | Dobyns-bennett High School | 1801 E. Center Street | 423-378-8443 |
| Kingsport, TN | Holston Manor | 3641 Memorial Blvd | 423-246-2411 |
| Kingsport, TN | Tennessee Technology Center | 914 Broad Street | 423-543-0070 |
| Kingsport, TN | The Wexford House | 2421 John B. Dennis Highway | 423-288-3988 |
| Knoxville, TN | American Red Cross | 6921 Middlebrook Pike | 865-584-2999 |
| Knoxville, TN | Ben Atchley Tennessee State Veterans' Home | One Veterans Way | 865-862-8100 |
| Knoxville, TN | Fulton High School | 2509 Broadway Street | 865-594-1240 |
| Knoxville, TN | Goodwill Industries | 5307 Kingston Pike | 865-588-8567 |
| Knoxville, TN | Shannondale Health Care Center | 801 Vanosdale Road | 865-690-3411 |
| Knoxville, TN | South-doyle High School | 2020 Tipton Station Road | 865-577-4475 |
| Knoxville, TN | Tennessee Technical Center | 1100 Liberty Street Northwest | 865-546-5567 |
| La Follette, TN | Cumberland Village Care And Rehab Center | 136 Davis Lane | 423-562-0760 |
| Lake City, TN | Summit View Of Lake City | 204 Industrial Park Rd | 423-426-2147 |
| Lawrenceburg, TN | American Red Cross | P.o. Box 61, 181 Prosser Rd. | 931-762-1599 |
| Lawrenceburg, TN | Lawrence County High School | 1800 Springer Road | 931-762-9412 |
| Lawrenceburg, TN | Nhc Healthcare | 374 Brink Street | 931-762-6548 |
| Lebanon, TN | Quality Care Health Center | 932 Baddour Parkway | 615-449-5170 |
| Lebanon, TN | Wilson County Career Technical Center | 418 Harding Drive | 615-444-1104 |
| Lenoir City, TN | Baptist Health Care Center | 700 Williams Ferry Road | 865-986-3583 |
| Lewisburg, TN | Nhc Healthcare | 244 Oakwood Drive | 931-359-3563 |
| Lewisburg, TN | Nhc Healthcare | P.o. Box 2307 | 931-359-4506 |
| Linden, TN | Perry County High School | 1056 Squirrel Hollow Drive | 931-589-2831 |
| Linden, TN | Perry County Nursing Home | 127 East Brooklyn Ave. | 931-589-2134 |
| Livingston, TN | Overton County Nursing Home | 418 Bilbrey Street | 931-823-6403 |
| Livingston, TN | Tennessee Technical Center | 740 High Tech Drive | 931-823-5525 |
| Loretto, TN | Loretto High School | 525 2nd Avenue South | 931-853-4324 |
| Loudon, TN | Loudon Health Care Center | 1520 Grove Street | 865-458-5436 |
| Madisonville, TN | East Tennessee Health Care | 465 Isbill Road | 423-442-3990 |
| Manchester, TN | A+ Medical Inc. | 108 East Mclean St. | 931-723-3770 |
| Manchester, TN | Manchester Health Care Center | 395 Interstate Drive | 931-723-8744 |
| Martin, TN | Van Ayer Manor & Rehab Center | 640 Hannings Lane | 731-587-3193 |
| Martin, TN | Westview High School | 8161 Highway 45 S | 731-587-4202 |
| Maryville, TN | American Red Cross | 1741 Triangle Park | 865-983-0821 |
| Maryville, TN | Asbury Place At Maryville | 2648 Sevierville Road | 865-984-1660 |
| Maryville, TN | Blount Memorial Hospital | 907 East Lamar Alexander Parkway | 865-983-7211 |
| Maryville, TN | Fairpark Health Care Center | 307 North Fifth Street | 865-983-0261 |
| Maryville, TN | Heritage High School | 3741 East Lamar Alexander Park | 865-984-8110 |
| Maryville, TN | Maryville Healthcare And Rehab Center | 1012 Jamestown Way | 423-984-7400 |
| Maryville, TN | William Blount High School | 227 County Farm Rd. | 865-984-5500 |
| Maynardville, TN | Willow Ridge Care And Rehabilitation Center | 215 Richardson Way | 423-992-5816 |
| Mckenzie, TN | Mckenzie Health Care Center | 175 Hospital Drive | 731-352-3908 |
| Mcminnville, TN | Nhc Healthcare | 928 Old Smithville Rd. | 931-473-8431 |
| Mcminnville, TN | Tennessee Technology Center | 241 Vo-tech Drive | 931-473-5587 |
| Memphis, TN | Bridges | 477 North 5th Street | 901-527-5627 |
| Memphis, TN | Career Academy Cna Training Program | 2600 Poplar Avenue, Suite 415 | 901-761-4500 |
| Memphis, TN | Cna Training Academy | 3675 New Getwell Rd. | 901-864-3754 |
| Memphis, TN | Daughters Of Zion | 4400 Hickory Hill Road | 901-590-1166 |
| Memphis, TN | Harbor View Nursing And Rehabilitation Center | 1513 North Second Street | 901-272-2494 |
| Memphis, TN | Hooks Job Corps Center | 1555 Mcalister Avenue | 901-396-2800 |
| Memphis, TN | Maysept Healthcare Services | 4514 Summer Avenue, Ste. #1 | 901-864-1360 |
| Memphis, TN | Memphis Academy Of National Nursing Assistant | 175 East Brooks Rd | 901-598-3000 |
| Memphis, TN | Memphis Health Careers Academy | P.o. Box 820243 | 901-416-1950 |
| Memphis, TN | Southwest Career And Technology Center High School | 3746 Hornlake Rd. | 901-416-8186 |
| Memphis, TN | Tennessee Technical Center | 550 Alabama Avenue | 901-543-6100 |
| Memphis, TN | United Cerebral Palsy Of The Mid-south | 4189 Leroy Ave | 901-767-0922 |
| Milan, TN | Milan High School | 7060 Vanhook Street | 731-686-0841 |
| Monteagle, TN | The Bridge At Monteagle | 218 Second Street | 931-924-2041 |
| Monterey, TN | Standing Stone Health Care Center | 410 West Crawford Ave. | 931-839-2244 |
| Morristown, TN | Goodwill Industries | 2812 West Andrew Johnson Hwy | 423-587-9075 |
| Morristown, TN | Heritage Center Nursing Care | 1026 Mcfarland Street | 423-581-5100 |
| Morristown, TN | Lifecare Center Of Morristown | 601 W. Economy Road | 423-581-5435 |
| Morristown, TN | Tennessee Technical Center | 821 West Louise Avenue | 423-586-5771 |
| Morristown, TN | Walters State Community College | 500 South Davy Crockett Parkway | 423-585-2600 |
| Mount Juliet, TN | Mt. Juliet Health Care Center | 2650 N Mt Juliet Rd | 615-758-4100 |
| Mount Juliet, TN | Mt. Juliet High School | 1800 Curd Road | 615-758-5606 |
| Mountain City, TN | Mountain City Care & Rehabilitation Center | 919 Medical Park Drive | 423-727-7800 |
| Mountain City, TN | Tennessee Technology Center - Johnson County Hs | 510 Fairground Lane | 423-543-0070 |
| Mountain City, TN | Tennessee Technology Elizabethton - Mountain City | 326 Hospital Road | 423-543-0070 |
| Murfreesboro, TN | Adamsplace In Murfreesboro | 1927 Memorial Blvd | 615-904-9111 |
| Murfreesboro, TN | Community Care Of Rutherford County | 901 E. County Farm Road | 615-893-2624 |
| Murfreesboro, TN | Nhc Healthcare | 420 N. University Street | 615-893-2602 |
| Nashville, TN | American Red Cross | 2201 Charlotte Avenue | 615-250-4256 |
| Nashville, TN | Bordeaux Long Term Care | 1414 County Hospital Road | 615-862-6871 |
| Nashville, TN | Friendship Hospice | 333 Plus Park Blvd # 140 | 615-365 0220 |
| Nashville, TN | Glencliff High School | 160 Antioch Pike | 615-333-5070 |
| Nashville, TN | Hillwood High School | 400 Davidson Road | 615-353-2025 |
| Nashville, TN | Mcgavock High School | 3150 Mcgavock Pike | 615-885-8850 |
| Nashville, TN | Nats, Inc | 176 Thompson Lane Suite 100 | 615-333-8474 |
| Nashville, TN | New Hope Foundation, Inc. | 629 Woodlawn Street | 615-649-3026 |
| Nashville, TN | Saint Thomas Hospital | 4220 Harding Road | 615-222-6660 |
| Nashville, TN | Sash Nursing Assistant Training Program | 604 Gallatin Ave., Suite 107 | 615-321-2005 |
| Nashville, TN | Tennessee Technical Center | 100 White Bridge Road | 615-425-5500 |
| Nashville, TN | Tennessee Technical Center | 921 8th Avenue South | 615-425-5500 |
| New Tazewell, TN | Laurel Manor Health Care Facility | 902 Buchanon Road | 423-626-8215 |
| Newbern, TN | School Of Caring | 703 W. Main Street | 731-627-3050 |
| Newport, TN | Ben W. Hooper Vocational School | 210 Hedrick Drive | 423-623-6072 |
| Oak Ridge, TN | Nhc Healthcare | 300 Laboratory Drive | 423-482-7698 |
| Oneida, TN | Tennessee Technology Center | 180 Eli Lane | 423-663-4900 |
| Paris, TN | Paris Healthcare & Rehab | 800 Volunteer Dr. | 731-642-2535 |
| Paris, TN | Tennessee Technical Center | 312 S. Wilson Street | 731-644-7365 |
| Parsons, TN | Decatur County Manor | 726 Kentucky Ave | 731-847-6371 |
| Pleasant Hill, TN | Wharton Nursing Home | P.o. Box 447 | 931-277-3511 |
| Portland, TN | The Bridge At Highland | 215 Highland Circle | 615-325-9263 |
| Pulaski, TN | Giles County High School | 200 Sheila Frost Drive | 931-363-8154 |
| Pulaski, TN | Nhc Healthcare | 933 East College Street | 931-363-3572 |
| Reagan, TN | Scotts Hill High School | 7871 State Route 100 | 731-549-2900 |
| Red Boiling Springs, TN | The Palace Nursing Home | 309 Main Street | 615-699-2238 |
| Ridgely, TN | The Bridge At Ridgely | 117 North Main Street | 731-264-5555 |
| Rogersville, TN | Signature Healthcare Of Rogersville | 109 Highway 70 North | 423-272-3099 |
| Rutledge, TN | Ridgeview Terrace Of Life Care | 165 Coffey Ln. | 865-828-5295 |
| Savannah, TN | Harbert Hills Academy Nursing Home | 3575 Lonesome Pine Road | 731-925-5495 |
| Savannah, TN | Hardin County High School | 1170 Pickwick Street | 731-925-3976 |
| Savannah, TN | Hardin County Nursing Home | 935 Wayne Road | 731-926-8000 |
| Savannah, TN | Savannah Health Care Center | 1430 Florence Road | 731-926-4200 |
| Selmer, TN | Mcnairy County Health Care Center | Highway 64 Bypass, Box 0349 | 731-658-7649 |
| Sevierville, TN | Walters State Community College | 1720 Old Newport Hwy | 865-774-5851 |
| Shelbyville, TN | Shelbyville Central High School | 100 J.g. Helton Dr. | 931-684-1889 |
| Shelbyville, TN | Tennessee Technology Center | 1405 Madison Street | 931-685-5013 |
| Signal Mountain, TN | Alexian Village Of Tennessee | 100 James Blvd. | 423-886-0101 |
| Smithville, TN | Nhc Healthcare | 825 Fisher Ave | 615-597-4284 |
| Soddy Daisy, TN | Sequoyah High School | 9517 Ridge Trail Road | 423-843-4707 |
| Soddy Daisy, TN | Soddy-daisy Health Care Center | 701 Sequoyah Road | 423-332-0060 |
| Somerville, TN | Nhc Healthcare | 308 Lake Drive | 901-465-9861 |
| Sparta, TN | Life Care Center Of Sparta | 508 Moss Drive | 931-738-9430 |
| Spencer, TN | Tennessee Technology Center | 337 Sparta Street | 931-473-5587 |
| Spring City, TN | Spring City Health Care | 331 Hinch Street | 423-365-4355 |
| Surgoinsville, TN | Tennessee Technology Center | 323 Phipps Bend Rd. | 423-586-5771 |
| Sweetwater, TN | Wood Presbyterian Home | 520 Old Highway 68 | 423-351-1000 |
| Tracy City, TN | Tennessee Technology Mcminnville - Grundy County Adult Education | 14377 U.s. Highway 41 | 931-473-5587 |
| Trenton, TN | Trenton Place Care And Rehabilitation Center | 2036 Highway 45 Bypass | 731-855-4500 |
| Tullahoma, TN | Tennessee Technology Shelbyville - Tullahoma High School | 1001 North Jackson Street | 931-685-5013 |
| Union City, TN | Obion County Nursing Home | 1084 East County Home Rd. | 731-885-9065 |
| Union City, TN | Union City Manor | 1630 East Reelfoot Avenue | 731-885-8095 |
| Wartburg, TN | Lifecare Center Of Morgan County | 419 South Kingston Street | 423-346-6691 |
| Waverly, TN | Waverly Health Care Center | 895 Powers Blvd | 931-296-7552 |
| Waynesboro, TN | Wayne Care Nursing Home | 505 South High Street | 931-722-5832 |
| Waynesboro, TN | Wayne County Nursing Home | 104 J V Mangubat Drive | 931-722-3641 |
| Waynesboro, TN | Wayne County Technology Center | 703 South Main Street | 931-722-5495 |
| Westmoreland, TN | Westmoreland Care And Rehabilitation Center | 1559 New Highway 52 | 615-644-5111 |
| Winchester, TN | Tennessee Technology Shelbyville - Frankling Co. High School | 833 Bypass Road | 931-685-5013 |
CNA Classes In Other States: