CNA Classes In South Dakota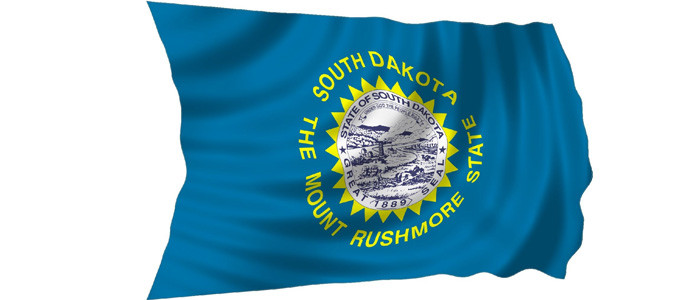 Have you wondered what it is like to work in a medical field? There may be a lot of things that holds you back like lack of money or time, but this does not have to be an issue. Getting your CNA classes in South Dakota could be much cheaper than you expect. After all, unlike many other medical degrees, becoming a CNA does not take years of studying. In fact, becoming a certified a CNA in South Dakota normally takes around 15 weeks. Considering that you can make around $25,000 annually after that, it does not sound like a bad deal now, does it? So why wait- find out more about South Dakota CNA classes today!
An average CNA training program in SC costs around $800 to $1,000. If this is too much for  you,  there are a lot of healthcare facilities that offer more affordable options for CNA training. Some of these facilities even provide grants to those who cannot afford the tuition fee or offer CNA training for free altogether. Most commonly these facilities include nursing homes and hospitals.
There is a catch however- if they offer you free CNA training, you will be required to work for them for number of years. So be careful before accepting any kind of free CNA training in South Dakota.
One thing to keep in mind, is that the schools in South Dakota have quite a large range in terms of their tuition fees,  just make sure that the course offered is approved by the state. You can find state approved CNA programs in South Dakota here. The CNA classes will teach you the basic skills that a Certified Nursing Assistant should have. It will be supervised by a Registered Nurse who has the necessary experience in the field.
So what do you need to become CNA in South Dakota?
First, you have to be 18 years or older with GED. There will be no high school diploma needed. Even if you did not finish high school, you can still undergo the CNA training program in SD.
Second, check to see whether the school offers 75 hours of classroom sessions and clinical training. The state of South Dakota requires all CNA's to have a set minimum hours of training, because they want to ensure that they have the best healthcare professionals in the country.
Third, you have to pass the certification exam. Basically, passing the CNA exam allows you to be eligible to work as a Certified Nursing Assistant in South Dakota. Make sure to review the topics you have learned in the training since the exam will have two parts. The first part is a written exam and the second part is a clinical exam. On the clinical exam, you will be asked to perform certain skills. There can only be two grades in both of the exams, pass or failure. If you failed, you can take the competency exam again however; a re-training is required if you still cannot make it for the third time. On the other hand, if you successfully passed the exam, your name will be listed on the South Dakota Nurse Aide Registry list and you will undergo a background check and fingerprinting.
South Dakota provides numerous opportunities to Certified Nursing Assistants. If you get certified, renew your license every two years and follow the requirements needed by the state. Do not waste any more time- find you CNA classes in SD today!
CNA Salary and Job Outlook in South Dakota
CNA Salary in South Dakota

While the average salary for nursing assistants in SD ($24,290) is slightly below national average which is around $26,500, the state has also lower cost of living than national average. Currently there are 6200 nursing assistants employed in SD, majority of whom work in nursing homes and hospitals. There are some employment opportunities in private healthcare facilities and hospices as well.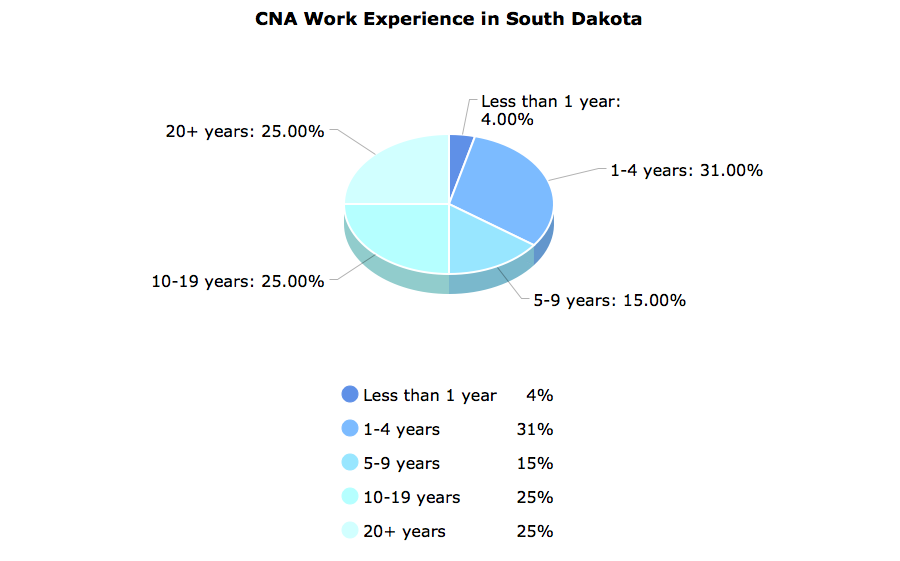 All South Dakota State Approved CNA Programs
| LOCATION | FACILITY | ADDRESS | PHONE |
| --- | --- | --- | --- |
| Aberdeen , SD | Aberdeen Health & Rehabilitation | 1700 North Hwy 281 | 605-225-7315 |
| Aberdeen , SD | Avera Mother Joseph Manor | 1002 North Jay Street | 605-622-5850 |
| Aberdeen , SD | Bethesda Home Of Aberdeen | 1224 S. High Street | 605-225-7580 |
| Aberdeen , SD | Prairie Heights Healthcare | 400 8th Ave Nw | 605-225-2550 |
| Alcester , SD | Alcester Care & Rehab | 101 Church Street Po Box 500 | 605-934-2011 |
| Arlington , SD | Arlington Care & Rehab Center | 120 Care Center Road Po Box 280 | 605-983-5796 |
| Armour , SD | Armour Health & Rehab Center | 106 Braddock | 605-724-2911 |
| Belle Fourche, SD | Belle Fourche Healthcare Community | 2200 13th Ave | 605-723-0204 |
| Beresford , SD | Bethesda Of Beresford | 606 W. Cedar | 605-763-2050 |
| Bowdle , SD | Bowdle Healthcare | 8001 W. 5th Street | 605-285-6391 |
| Bridgewater , SD | Diamond Care Center | Po Box 300 | 605-729-2525 |
| Bristol , SD | Sun Dial Manor Inc | 410 2nd St Po Box 337 | 605-492-3615 |
| Britton , SD | Wheatcrest Hills | 1311 Vander Horck St. Po Box 939 | 605-448-2251 |
| Brookings , SD | Brookings High School Career & Technical Education Center | 530 Elm Ave | 605-696-4760 |
| Brookings , SD | Neighborhoods At Brookview | 2421 Yorkshire Drive | 605-696-8700 |
| Brookings , SD | United Living Community | 405 1st Ave | 605-692-5351 |
| Bryant , SD | Bryant Parkview Care Center | 303 W 6th Ave Po Box 247 | 605-628-2771 |
| Canistota , SD | Good Samaritan Society - Canistota | 700 W Main St | 605-296-3442 |
| Canton , SD | Good Samaritan Society - Canton | 1022 N Dakota St | 605-987-2696 |
| Centerville , SD | Centerville Care & Rehab | 500 Vermillion Street | 605-563-2251 |
| Chamberlain , SD | Sanford Chamberlain Care Center | 300 South Byron Blvd | 605-234-6518 |
| Clear Lake, SD | Good Samaritan Society - Deuel County | 913 Col Pete St | 605-874-2159 |
| Corsica , SD | Good Samaritan Society - Corsica | 455 N Dakota Ave | 605-996-5467 |
| Dell Rapids, SD | Dells Nursing And Rehab Center | 1400 Thresher Drive | 605-428-5478 |
| Desmet , SD | Good Samaritan Society - Desmet | 411 Calumet Ave Nw | 605-854-3327 |
| Eagle Butte, SD | Medicine Wheel Village | 24266 1 Airport Rd Po Box 800 | 605-964-8155 |
| Elk Point, SD | Prairie Estates Healthcare Community | 600 S Franklin Po Box 486 | 605-356-2622 |
| Estelline , SD | Estelline Nursing & Care Center | 205 Fjerestad Ave Po Box Bo | 605-873-2278 |
| Eureka , SD | Avera Eureka Health Care Center | 202 J Ave Po Box 40 | 605-284-2145 |
| Faulkton , SD | Faulkton Senior Living | 1401 Pearl Street | 605-598-6214 |
| Flandreau , SD | Riverview Health Care Community | 611 E 2nd Avenue | 605-997-2481 |
| Freeman , SD | Oakview Terrace | 510 East 8th St Po Box 370 | 605-925-4000 |
| Gettysburg , SD | Avera Oahe Manor | 700 E. Garfield Ave | 605-765-2461 |
| Gregory , SD | Avera Rosebud Country Care | 300 Park Ave | 605-835-8296 |
| Highmore , SD | Highmore Health | 410 8th St Se | 605-852-2255 |
| Hot Springs, SD | Fall River Health Services | 1201 Hwy 71 South | 605-745-8910 |
| Hot Springs, SD | Mjf South Dakota Veterans Home | 2500 Minnekahta Avenue | 605-745-5127 |
| Howard , SD | Good Samaritan Society - Howard | 300 W Hazel Ave | 605-772-4481 |
| Hudson , SD | Hudson Care And Rehab | 720 Parkway | 605-984-2244 |
| Huron , SD | Independent Health Solutions | 1500 Dakota Ave S. | 605-352-4463 |
| Huron , SD | Sunquest Healthcare Center | 1345 Michigan Ave Sw | 605-352-8471 |
| Huron , SD | Violet Tschetter Memorial Home | 507th St Se | 605-352-8533 |
| Irene , SD | Irene Sunset Manor | 129 E Clay St | 605-263-3318 |
| Kadoka , SD | Kadoka Nursing Home | 605 Maple St Po Box 310 | 605-837-2270 |
| Lake Andes, SD | Lake Andes Senior Living | 740 East Lake Po Box 130 | 605-487-7071 |
| Lemmon , SD | Five Counties Nursing Home | 405 6th Ave West Po Box 479 | 605-374-3871 |
| Lennox , SD | Good Samaritan Society - Lennox | 404 E 6th Ave | 605-647-2251 |
| Madison , SD | Bethel Lutheran Home | 1001 S. Egan Ave | 605-256-4539 |
| Marion , SD | Tieszen Memorial Home Inc | 312 E State St | 605-648-3611 |
| Martey , SD | Ihanktonwan Community College | P.o. Box 295 | 605-384-3997 |
| Martin , SD | Bennett County Hospital & Nursing Home | Po Box 70 D | 605-685-6622 |
| Menno , SD | Menno-olivet Care Center | 402 S Pine St | 605-387-5139 |
| Milbank , SD | St Williams Care Center | 103 N Viola St | 605-432-5811 |
| Miller , SD | Good Samaritan Society - Miller | 421 E 4th St | 605-853-2701 |
| Mission , SD | Sinte Gleska University | Po Box 105 101 Antelope Lake Circle | 605-856-8284 |
| Mitchell , SD | Avera Brady Health & Rehab | 500 S. Ohlman | 605-996-7701 |
| Mitchell , SD | Dakota Wesleyan University | 1200 W. University Ave | 605-995-2727 |
| Mitchell , SD | Firesteel Healthcare Community | 1120 E. 7th Ave | 605-996-6526 |
| Mobridge , SD | Mobridge Care Center & Rehab | 1100 4th Ave E Po Box 937 | 605-845-7201 |
| Nemo , SD | Boxelder Job Corps | 22023 Job Corps Place Po Box 110 | 605-348-3636 |
| New Underwood, SD | Good Samaritan Society - New Underwood | 412 S Madison | 605-754-6499 |
| Parkston , SD | Avera Bormann Manor | 401 W. Glynn Drive | 605-928-3384 |
| Philip , SD | Philip Health Services, Inc | Box 790 | 605-859-2511 |
| Pierre , SD | Avera Maryhouse Long Term Care | 717 E. Dakota Ave | 605-224-3163 |
| Pierre , SD | Bhhc - Pierre Care And Rehab Center | 950 E Park Street | 605-224-8628 |
| Platte , SD | Platte Care Center Avera | Po Box 200 | 605-337-3131 |
| Rapid City, SD | Bhhc Training Center | 4624 Creek Drive Suite 5 | 605-519-5657 |
| Rapid City, SD | Good Samaritan Socety St. Martin Village | 4825 Jericho Way | 605-343-1919 |
| Rapid City, SD | Great Plains Tribal Chairmen's Health Board | 1770 Rand Rd | 605-721-1922 |
| Rapid City, SD | Peaceful Pines Senior Living | 1760 Tablerock Rd | 605-209-0209 |
| Rapid City, SD | The Village At Skyline Pines | 1050 Fairmont Blvd | 605-791-5121 |
| Rapid City, SD | Welcov-fountain Springs Healthcare Community | 2000 Wesleyan Blvd | 605-343-3555 |
| Rapid City, SD | Westhills Village/clarkson Health Care | 255 Texas Street | 605-342-0255 |
| Redfield , SD | Bhhc - Redfield, Groton, Ipswich | 1015 E 3rd St | 605-472-2288 |
| Redfield , SD | Eastern Star Home | 126 W 12th Ave | 605-472-2255 |
| Salem , SD | Salem Care & Rehabilitation Center | 500 Colonial Drive | 605-425-2203 |
| Scotland , SD | Good Samaritan Society - Scotland | 130 6th Street | 605-583-2216 |
| Selby , SD | Good Samaritan Society - Selby | 4861 Lincoln Ave | 605-649-7663 |
| Sioux Falls, SD | Avera Prince Of Peace | 4500 S Prince Of Peace Place | 605-322-5604 |
| Sioux Falls, SD | Bethany Home Sioux Falls & Brandon | 1901 S. Holly | 605-338-2351 |
| Sioux Falls, SD | Good Samaritan Communities Of Sioux Falls: Center, Village, Luther Manor, Memory Care | 401 W 2nd St | 605-336-1997 |
| Sioux Falls, SD | Grand Living At Lake Lorraine | 2815 S Westlake Dr | 605-799-1900 |
| Sioux Falls, SD | Lifescape | 2501 W. 26th Street | 605-444-9556 |
| Sioux Falls, SD | Primrose Retirement Communities | 7400 S Louise Ave | 605-334-9100 |
| Sioux Falls, SD | Sioux Falls Career & Technical Education Academy | 4700 West Career Circle | 605-367-5504 |
| Sioux Falls, SD | Southeast Technical Institute | 2320 N. Career Ave | 605-367-5721 |
| Sisseton , SD | Tekakwitha Living Center | 6 E Chestnut St | 605-698-7693 |
| Spearfish , SD | Sandstone Senior Living | 2010 Windmill Dr | 605-642-4910 |
| Spearfish , SD | Welcov : David Dorsett Healthcare Community | 1020 North 10th Street | 605-642-2716 |
| Sturgis , SD | Aspen Grove Assisted Living - Welcov | 2065 Moose Drive | 605-720-4738 |
| Sturgis , SD | Sturgis Regional Senior Care | 2140 Junction Ave | 605-720-2490 |
| Tyndall , SD | Good Samaritan Society - Tyndall | 2304 Laurel St | 605-589-3350 |
| Vermillion , SD | Sanford Vermillion Care Center | 125 South Walker St | 605-677-3693 |
| Viborg , SD | Pioneer Memorial Nursing Home | 15 N Washington St Box 368 | 605-326-5190 |
| Wagner , SD | Good Samaritan Society - Wagner | 515 W Hwy 46 | 605-384-3661 |
| Watertown , SD | Bhhc - Watertown, Milbank, Clark, Lake Norden | 415 4th Ave Ne | 605-886-8431 |
| Watertown , SD | Jenkins Living Center | 215 S Maple St | 605-886-1466 |
| Watertown , SD | Lake Area Technical Institute | 1201 Arrow Ave Po Box 730 | 605-882-5284 |
| Webster , SD | Bethesda Home | 129 W Hwy 12 | 605-345-3331 |
| Wessington Springs, SD | Weskota Manor Avera | 608 1st St Ne | 605-539-1621 |
| White Lake, SD | Aurora Brule Nursing Home | 408 S. Johnston Street | 605-249-2216 |
| Wichita , SD | Wecare Online | 601 E Douglas, Suite 112 | 888-932-2501 |
| Wilmot , SD | Wilmot Care Center | 501 4th St | 605-938-4418 |
| Winner , SD | Winner Regional Healthcare Center | 745 E 8th St | 605-842-7100 |
| Woonsocket , SD | Prairie View Healthcare Community | 401 1st Avenue | 605-796-4467 |
| Yankton , SD | Avera Cna Education & Staffing Online Training | 1000 W. 4th Street Suite 9 | 605-668-8475 |
| Yankton , SD | Avera Sr. James Care Center | 2111 W. 11th | 605-655-1600 |
| Yankton , SD | South Dakota Human Services Center | 3515 N Broadway Po Box 7600 | 605-668-8100 |
CNA Classes In Other States: