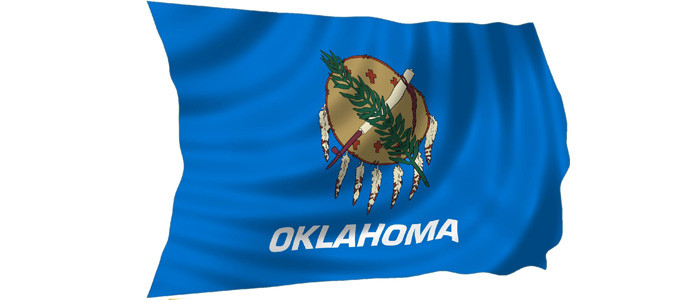 Working in the medical field is an exciting career. However, some people think that it takes a lot of money and time to be a healthcare professional. Truth is; you can be a Certified Nursing Assistant in just a short span of time. The state of Oklahoma requires 75 hours of classroom sessions and 100 hours of clinical experience for you to become a CNA. This means that the CNA classes in Oklahoma will take two to three months to complete and from there, you can be certified and start a new career as a Certified Nursing Assistant.
A CNA is responsible and helps patients with their everyday needs such as bathing, dressing and feeding, provide support in ambulation or pushing wheelchairs as well as maintaining their living environment safe and clean, always under the supervision of a Registered Nurse (RN). Also, helps nurses, in controlling infection, in taking vital signs, the proper operating and maintaining of medical equipment and provide emotional support to patients
The first step in order a candidate to work as Certified Nursing Assistant (CNA) in Oklahoma, is to complete an approved CNA training program that meets guidelines and Federal regulations. Such programs are offered at community colleges, vocational schools and in other educational facilities. Upon the completion of an approved CNA training program must pass the competency evaluation/exam. After that is added on the Oklahoma Nurse Aide Registry maintained by the Oklahoma State Department of Health (OSDH).
Furthermore, the state's Department of Health approves courses, which are provided at no cost to the student from many hospitals, nursing facilities, doctor's offices, where the student will receive a small amount of hourly pay, and upon completing the training will work for a specified period of time in the facility.
CNA Training Requirements
The Oklahoma State Department of Health (OSDH) is responsible for approving CNA training programs in state. Students who wish to enroll in an approved CNA training program must be at least 18 years old, to have a high school diploma or GED, and should have clean criminal record.
The program takes between six weeks to twelve weeks to complete and cover 75 hours of instruction, which includes classroom training and a minimum of 16 hours clinical training. The student is required to submit an enrollment fee, which can range from $500 to $1000. The education itself will focus on a wide variety of topics relating the anatomy, basic nursing skills and medical terminology, hygiene, nutrition and infection control, interpersonal skills and communicating with patients and their rights.
However, the state of Oklahoma does have two unique parts CNA training:
Nursing Assistant must take 10 hours of training in handling patients with Alzheimer's disease.
Oklahoma also provides "CNA Career Ladder Training", that focused at improving the quality and abilities of nursing assistants, specially at nursing homes.
This special education can last 27-30 hours and consists of 11 sections. The Oklahoma state approved nursing classes can be found here.
There are many different options for CNA classes in Oklahoma- Interim Healthcare of Tulsa, Oklahoma State University, Mid-American School of Technology, Grace College-Bethany, and Canadian Valley School of Technology and all of the school above are just some of them.
So how should you go about finding the right CNA course in Oklahoma? First of all make sure you do your research and find out as much as possible about each school. You can start your research by requesting more info from schools on this page- it will not cost you anything and will save you lot of time.
CNA Certification in Oklahoma
The licensure exam is administered by D & S Diversified Technologies, LLP &  or  Prometric  they will also give you the date, time and venue for it. In case you want to have a review, Prometric has practice tests that can help you give an overview of what the exam is all about. Just take into account the lessons learned during the training, particularly clinical skills, because you will be asked to perform it in front of a Registered Nurse.
After passing the exam, you will be asked to submit for a background check and fingerprints. The state of Oklahoma will not certify you as a CNA if you have a criminal record or any abuse cases.and consists of two distinct parts. The first part is a written exam multiple-choice, which tests your technical understanding. The second part is a skills evaluation in which examinees are asked to prove they know the clinical techniques they were trained during the training program. The cost to sit for the exam is $95.
Students must pass both portions of the exam before they will receive their certification that enables them to work as a CNA in facilities across Oklahoma. If they fail to pass the test within three tries, then they must re-take CNA training.
After successfully passing certification exam will need to apply for listing on the Oklahoma Nurse Aide Registry that keeps a record of all the Certified Nursing Assistants (CNAs) in the state.
This process is very important because employers will look your name on the registry list in order to verify whether you have passed the exam or not. You will be required to fill out a form, present a proof of training and a state ID. If you are approved,  you can start working as a CNA in Oklahoma.
Remember to renew your license every 2 years and present a proof of work experience. If you cannot renew your license, you will not be allowed to work as a CNA and you will be asked to take again the certification exam.
CNA Salary and Job Outlook in Oklahoma

When compared with most employment opportunities in the health care field, Certified Nursing Assistant (CNA) may go from education to real work very quickly. This field is expected to grow significantly in the following years, based on the U.S. Bureau of Labor Statistics (BLS). So, with a growing need for Nursing Assistants, will come more job opportunities and better salary.
The most common places of employment for CNAs are in hospitals, clinics, nursing homes, hospices, government agencies and other healthcare facilities in the state including the many INTEGRIS Health Centers, Oklahoma State University Medical Center, Saint Anthony Hospital and Saint Francis Hospital.
Once you become a Certified Nursing Assistant you could be earning an average annual salary of $22,890, but this can be considerably higher depending on your experience and place of work. CNAs employed in hospitals may work in a variety of departments, such as in progressive care or intensive care, in emergency rooms and offer healthcare services to the patients.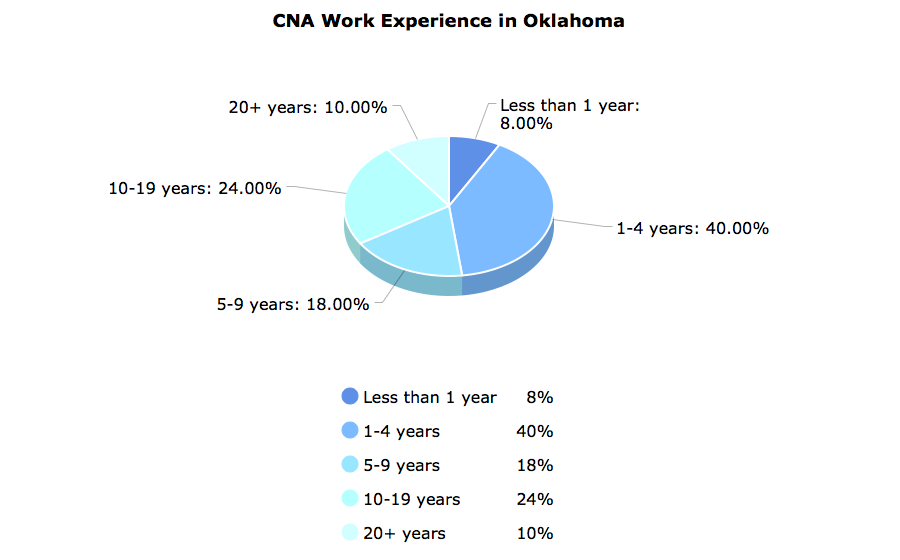 All Oklahoma State Approved CNA Programs
| LOCATION | FACILITY | ADDRESS | PHONE |
| --- | --- | --- | --- |
| Ada, OK | Pontotoc Technology Center | 601 West 33rd | 580-310-2200 |
| Afton, OK | Northeast Technology Center | 19901 S. Hwy 69 | 918-257-8324 |
| Altus, OK | Southwest Technology Center | 711 West Tamarack Rd. | 580-477-2250 |
| Alva, OK | Northwest Technology | 1801 S 11th St | 580-327-1340 |
| Ardmore, OK | Elmbrook Home | 1811 9th Ave Northwest | 580-223-3303 |
| Ardmore, OK | Lakeland Manor | 604 Lake Murray Dr | 580-223-4501 |
| Ardmore, OK | Southern Oklahoma Technology Center | 2610 Sam Noble Parkway | 580-223-2070 |
| Atoka, OK | Kiamichi Technology Center | 1301 West Liberty Road | 580-889-7321 |
| Bartlesville, OK | Osu-okc Bartlesville Care Center | 3434 Kentucky Pl | 918-333-9545 |
| Bartlesville, OK | Tri-county Technology Center | 6101 Se Nowata Road | 918-333-2422 |
| Bethany, OK | The Children's Center | 6800 Nw 39th Expressway | 405-789-6711 |
| Bluejacket, OK | Jeanie's Residential Care | 405 E Center | 918-784-2359 |
| Broken Arrow, OK | Osu-okc Senior Suites Healthcare | 3501 W Washington St | 918-250-5405 |
| Broken Arrow, OK | Tulsa Technology | 4000 W Florence | 405-334-2038 |
| Buffalo, OK | Grace Living Center | 111 Walnut Dr | 580-735-2415 |
| Chandler, OK | Chandler Nursing Center | 601 W 1st St | 405-258-1131 |
| Checotah, OK | Checotah Manor | 321 Se 2nd St | 918-473-2251 |
| Chickasha, OK | Canadian Valley Technology Center | 1401 Michigan Ave. | 405-224-7220 |
| Choctaw, OK | Eastern Oklahoma County Technology | 4601 N Choctaw Rd | 405-390-9591 |
| Claremore, OK | Northeast Technology | 1901 N Hwy 88 | 918-342-8066 |
| Claremore, OK | Oklahoma Veterans Center-claremore | 3001 W Blue Starr Dr | 918-342-5432 |
| Claremore, OK | Osu-okc Wood Manor Nursing Center | 2800 North Hickory St. | 918-341-4365 |
| Clinton, OK | Oklahoma Veterans Center-clinton | 1901 S 4th St | 580-331-2200 |
| Coweta, OK | Coweta Manor Nursing Home | 703 E South St | 918-486-2166 |
| Drumright, OK | Central Technology Center | 3 Ct Circle | 918-352-2551 |
| Duncan, OK | Duncan Community Residence | 1510 W Main | 580-255-3933 |
| Duncan, OK | Red River Technology Center | 3300 W. Bois D'arc | 580-255-2903 |
| Durant, OK | Durant High School | 802 W Walnut | 580-924-1321 |
| Durant, OK | Kiamichi Technology Center | 810 Waldron Road | 580-924-7081 |
| El Reno, OK | Canadian Valley Technology Center | 6505 East Highway 66 | 405-262-2629 |
| Elk City, OK | Osu-okc Elk City Nursing Center | 301 North Garrett | 580-225-2811 |
| Enid, OK | Autry Technology Center | 1201 West Willow | 580-242-2750 |
| Enid, OK | Osu-okc Greenbrier Nursing Home # 2 | 1119 E Owen K Garriott Rd | 580-233-0121 |
| Enid, OK | Veterans Acres Residential Care | 2911 N Grand | 580-242-3811 |
| Fairfax, OK | Fairfax Manor | 701 W Harrison | 918-642-3234 |
| Fairland, OK | Green Country Residential Center | 58300 E 200 Rd | 918-676-3534 |
| Fairview, OK | Northwest Technology | 801 Tech Dr | 580-227-3708 |
| Fort Cobb, OK | Caddo-kiowa Technology Center | 100 Careertech Road | 405-643-5511 |
| Frederick, OK | Great Plains Technology Center | 2001 E. Gladstone | 580-335-5525 |
| Grove, OK | Osu-okc Grove Nursing Center | 1503 W Har-ber Rd | 918-786-3223 |
| Guthrie, OK | Golden Age Nursing Home Of Guthrie | 419 E Oklahoma | 405-282-0144 |
| Guthrie, OK | Guthrie Job Corp Center | 3106 W University | 405-282-9930 |
| Guymon, OK | Dunaway Manor Nursing Home | 1401 N Lelia | 580-338-8688 |
| Hartshorne, OK | Dow Residential Care | 1515 Penn Ave | 918-297-2485 |
| Hollis, OK | Colonial Manor Ii | 120 W Versa | 580-688-9431 |
| Hugo, OK | Kiamichi Technology Center | 107 South 15th Street | 580-326-6491 |
| Idabel, OK | Kiamichi Technology Center | 3205 Lincoln Road Ne | 580-286-7555 |
| Indiahoma, OK | Treasure Lake Job Corps | Rt 1 Box 30 | 405-246-3342 |
| Kansas, OK | Northeast Technology Center | 450 N. Hwy 59 | 918-868-3535 |
| Lawton, OK | Great Plains Technology Center | 4500 W. Lee Blvd. | 580-355-6371 |
| Madill, OK | Scg Red River Management | 105 North 5th Ave | 580-916-2270 |
| Mangum, OK | Grace Living Center | 320 Carey | 580-782-3345 |
| Marietta, OK | Marietta Residential Care Facility | 200 Wanda St | 580-276-3323 |
| Mcalester, OK | Kiamichi Technology Center | 301 Kiamichi Drive | 918-426-0940 |
| Midwest City, OK | Mid-del Lewis Eubanks Technology Center | 1621 Maple Drive | 405-739-1707 |
| Muskogee, OK | Indian Capital Technology Center | 2403 N 41st Street East | 918-687-6383 |
| Muskogee, OK | Parkview Residential Care | 811 Gibson St | 866-653-9337 |
| Noble, OK | High Cedar Residential Care | 18601 Cedar Lane | 405-447-2532 |
| Norman, OK | Jensen's Harvest Home | 17364 St Hwy 9 | 405-387-5057 |
| Norman, OK | Moore Norman Technology Center | 4701 12th Avenue Nw | 405-801-5000 |
| Norman, OK | Oklahoma Veterans Center-norman | 1776 S Robinson | 405-360-5600 |
| Nowata, OK | Osage Nursing Home | 822 W Osage | 918-273-2012 |
| Oklahoma City, OK | Cna Training Academy | 3816 N Meridian | 405-946-4000 |
| Oklahoma City, OK | Francis Tuttle Technology | 7301 W Reno Ave | 405-717-7799 |
| Oklahoma City, OK | Francis Tuttle Technology | 3500 Nw 150th St | 405-717-7799 |
| Oklahoma City, OK | Francis Tuttle Technology Center | 12777 N. Rockwell Ave. | 405-717-7799 |
| Oklahoma City, OK | Full Term Cna Training Center | 5400 Nw 23rd St Ste 100 | 405-525-2328 |
| Oklahoma City, OK | Grace College | 4350 Will Rogers Pkwy | 405-943-1144 |
| Oklahoma City, OK | Metro Technology | 1700 Staton Dr | 405-424-8324 |
| Oklahoma City, OK | Metro Technology | 4901 S Bryant | 405-595-2202 |
| Oklahoma City, OK | Metro Technology Center | 1900 Springlake Drive | 405-424-8324 |
| Oklahoma City, OK | Moore Norman Technology | 13301 S Pennsylvania Ave | 405-364-5763 |
| Oklahoma City, OK | Morris Career Center | 3504 N Classen Blvd | 405-601-1165 |
| Oklahoma City, OK | Oklahoma State University | 900 N. Portland Ave. | 405-947-4421 |
| Oklahoma City, OK | Shadow Nursing Inc | 4801 N Classen Blvd Ste 141 | 405-749-9485 |
| Oklahoma City, OK | Southwest Health Care Training Center | 963 Sw 107th Room 2019 | 405-616-2144 |
| Oklahoma City, OK | Upscale Cna Program | 2245 Nw 39 | 405-524-1081 |
| Okmulgee, OK | Green Country Technology Center | P.o. Box 1217 | 918-758-0840 |
| Omega, OK | Chisholm Trail Technology Center | Rt. 1 Box 60 | 405-729-8324 |
| Owasso, OK | Mimosa Manor Assisted Living | 7410 N 127th E Ave | 918-272-2281 |
| Ponca City, OK | Pioneer Technology Center | 2101 N. Ash | 580-762-8336 |
| Poteau, OK | Kiamichi Technology Center | 1509 South Mckenna | 918-647-4525 |
| Pryor, OK | Northeast Technology Center | 6195 W. Hwy 20 | 918-825-5555 |
| Pryor, OK | Shady Rest Care Center | 210 S Adair | 918-825-4455 |
| Red Bird, OK | New Beginnings Residential Care Home | 214 S 4th St | 918-483-1425 |
| Sallisaw, OK | Don Mentzer Community Mental Health Center | 103 Wheeler Ave | 918-775-7751 |
| Sallisaw, OK | Indian Capital Technology Center | Hc 61 Box 12 | 918-775-9119 |
| Sallisaw, OK | Osu-okc Sequoyah Manor | 615 E Redwood | 918-775-4881 |
| Sand Springs, OK | Golden Haven Inc | 620 W 4th St | 918-245-7007 |
| Sapulpa, OK | Central Technology Center | 1720 S. Main St. | 918-224-9300 |
| Sapulpa, OK | Northside Nursing Home | 102 E Line | 918-224-0833 |
| Seminole, OK | Gordon Cooper Technology | 800 N Harvey | 405-303-2886 |
| Seminole, OK | Seminole Care & Rehabilitation Center | 1200 Wrangler Blvd | 405-382-1127 |
| Shattuck, OK | Shattuck Nursing Center | 201 N Alfalfa | 580-938-2501 |
| Shawnee, OK | Gordon Cooper Technology Center | One John C Bruton Boulevard | 405-273-7493 |
| Skiatook, OK | Skiatook Nursing Home | 318 South Cherry | 918-396-2149 |
| Spiro, OK | Kiamichi Technology | 610 Sw 3rd St | 918-962-3722 |
| Spiro, OK | Osu-okc Spiro Nursing Home | 401 South Main | 866-653-9337 |
| Stigler, OK | Kiamichi Technology Center | 1410 Old Military Road | 918-967-2801 |
| Stillwater, OK | Early Autumn Inc | 908 E 12th | 405-377-2439 |
| Stillwater, OK | Grace Living Center | 1215 W 10th St | 405-372-1000 |
| Stillwater, OK | Meridian Technology Center | 1312 South Sangre Road | 405-377-3333 |
| Stilwell, OK | Indian Capital Technology Center | Hwy 59 And Maryetta Rd. | 918-687-6383 |
| Stroud, OK | Stroud Health Care Center | 721 W Olive | 918-968-2075 |
| Sulphur, OK | Oklahoma Veterans Center-sulphur | 304 Fairlane | 580-622-7500 |
| Tahlequah, OK | Indian Capital Technology Center | 240 Votech Road | 918-456-2594 |
| Talihina, OK | Kiamichi Technology Center | 13739 Se 202 Road | 918-567-2264 |
| Tulsa, OK | Osu Health Training Center | 2502 E 71st St | 918-663-9293 |
| Tulsa, OK | Prepared 4 Care | 124 N. Greenwood Ste C | 918-794-6380 |
| Tulsa, OK | Procare Homes | 8177 S Harvard Ste 310 | 918-492-8420 |
| Tulsa, OK | Tulsa Community College | 909 South Boston Avenue | 918-595-7000 |
| Tulsa, OK | Tulsa Job Corps Center | 1133 N Lewis Ave | 918-585-9111 |
| Tulsa, OK | Tulsa Technology Center | 3420 S Memorial Dr | 918-828-1200 |
| Tulsa, OK | Tulsa Technology Center | 3850 N Peoria | 405-334-2038 |
| Vici, OK | Town Of Vici Nursing Home | 619 Speck | 580-995-4216 |
| Vinita, OK | Craig General Hospital | 735 N Foreman St | 918-256-7551 |
| Vinita, OK | Miller Cozy Home Inc | 203 N Gunter | 918-256-3796 |
| Wayne, OK | Mid-america Technology Center | 27438 Sh 59 | 405-449-3391 |
| Welling, OK | Sugar Mountain Retreat Inc | Rt 1 Box 772 | 918-456-1010 |
| Woodward, OK | High Plains Technology Center | 3921 34th Street | 580-256-6618 |
| Yale, OK | Tlc Residential Care | 219 S B St | 918-387-2856 |
| Yukon, OK | Canadian Valley Technology | 1701 Czech Hall Rd | 405-345-3333 |
CNA Classes In Other States: