CNA Classes In New Hampshire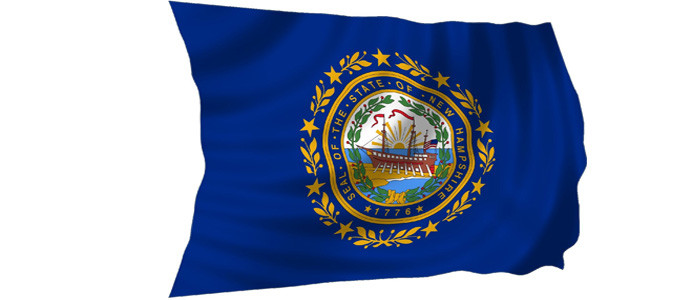 If you are searching for a rewarding career that does not require you to spend a big amounts of money for studies, then becoming a Certified Nursing Assistant is the right option for you. This job can be your gateway to a stable career in the healthcare field. In fact, getting a certification for CNA in New Hampshire does not require even a high school diploma. All you need is to get a GED then you can enrol for a CNA training program.
Employment as Certified Nursing Assistant (CNA) is often a starting point for many candidates looking to work into the rapidly growing healthcare field. In the state of New Hampshire, CNAs are called as Licensed Nursing Assistants or LNAs, and act as care takers of patients under the guidance of registered nurses and other medical professionals.
The New Hampshire Board of Nursing is responsible for approving CNA training programs, offered by American Red Cross, community colleges, nursing schools and healthcare facilities. Students that register in New Hampshire CNA programs are able to obtain the abilities and knowledge they require to achieve secure job opportunities in the health industry. Some healthcare facilities in New Hampshire might be willing to offer free on-the-job training to those who will work for them after completing training and certification.
CNA will perform a range of duties that fall within the scope of practice of nursing, and include taking and recording vital signs, measuring the patient's blood pressure, respiration, pulse, and temperature. Also, as a basic care provider, should assist patients with bathing, dressing, walking, toileting, feeding, and transporting with wheelchair, maintain patient's living environment safe and clean, and help in the proper operating and maintaining of medical equipment.
CNA Training Requirements in New Hampshire
Proper education plays an important role to become a good CNA. The requirements for a student to enroll in an approved CNA training program are the following:
should not be less than 18 years old
must have a high school diploma or GED certification
must have a clean criminal record
a TB test will need to be performed unless the applicant has proof of a negative TB test result in the past six months.
The training program comprises of theoretical and practical training. The theoretical study is conducted in the classrooms and the practical study is carried in the clinics.
Most programs require a 146 average hours of training, that consist of 48 hours classroom instruction, 24 hours clinical lab and 74 hours of supervised clinical in direct care. The courses last approximately 2 to 6 months and tuition for programs they cost from $600 – $1.800.
During CNA training, a student learns the necessary basic nursing skills and basic healthcare measures, medical terminology, taking vital signs of the patient, control of infection, CPR and related career skills, nutrition, how to respond to health emergencies, administering medications, interpersonal skills and communicating with patients and their rights.
First of all, the CNA classes should be passed in a state approved facility (you can see full list of NH state approved CNA classes here). If you mistakenly enrolled yourself in a wrong facility, quit right away because the state will not allow you to take the certification exam.
Secondly, the CNA classes should have a minimum of 75 hours classroom sessions and 100 hours clinical exposure. This will allow you to learn the basic responsibilities of a Certified Nursing Assistant and practice it under the supervision of a Registered Nurse.
New Hampshire has several accredited facilities offering CNA training classes. If you are still confused on where to take the CNA classes, few options include White Mountains Community College, St. Joseph School of Health Occupations, Salter School of Nursing and Allied Health, Lakes Regional Community College and Med Pro Educational Services and all the colleges above. Becoming a CNA in New Hampshire provides you with opportunities that other profession do not have.
CNA Certification in New Hampshire
The CNA certification will require you to provide an evidence of residency in New Hampshire and a background check stating that you have not been involved in a felony conviction, neglect or abuse cases.
After completion of training program, candidates need to pass the competency exam which is administered by three testing agencies: American Red Cross, Pearson Vue, and Excel Testing in collaboration with NH Department of Health and Human Services. There are 11 testing centers where these exams can be taken within 24 months from training.
The exam consists of two sections according to federal regulations and costs $165. There is a written test, which tests a candidate's knowledge and includes multiple-choice questions related to physical and psychosocial care of patients. Also, a clinical evaluation, which mimics a clinical setting and the student is asked to perform 5 skills chosen at random from a set of 25 skills which students learned during their CNA training.
For certification, the students are required to pass both these exams, and then will be added on the New Hampshire Nurse Aide Registry, that keeps a database of name, identification information, and date of registration of all certified nurse assistants in the state.
If the student fails the competency exam three times consecutively, he/she will be required to re-take the CNA training.
Once licensed, CNAs in New Hampshire should renew their certification every two years and are required to work 200 hours in the past 24 months and should fulfill continuing education requirements with 12 contact hours per year including conferences, lectures or other education offerings. The cost for renew is $35.
Practice the necessary skills in the training program and make sure to follow the guidelines carefully. Passing both exams means that you will also get certified so make sure that you reviewed everything.
CNA Salary and Job Outlook in New Hampshire
CNA Salary in New Hampshire

Certified Nursing Assistants in New Hampshire earn an annual salary of $29,740 on average, which is higher than national average of around $26,000 in 2015 according to Bureau of Labor Statistics.
According to the Bureau of Labor Statistics (BLS), there is a positive trend for the CNA career opportunities in New Hampshire, as the population ages. Healthcare facilities, nursing homes, hospitals, some private companies and government agencies, offer employment for CNAs that are able to build on their knowledge, experience and abilities.
CNAs have a promising future in the healthcare field, and employment opportunities are great for those who are eager to grow and advance in their careers. The Concord Hospital, Cheshire Medical Center, Catholic Medical Center and Wentworth Douglas Hospital are some of the hospitals and healthcare facilities in New Hampshire that may be able to offer work to Certified Nursing Assistants (CNAs).
Keep improving your skills and get employed as a Certified Nursing Assistant in hospitals, nursing homes, and long term healthcare facilities for this rewarding and stable career.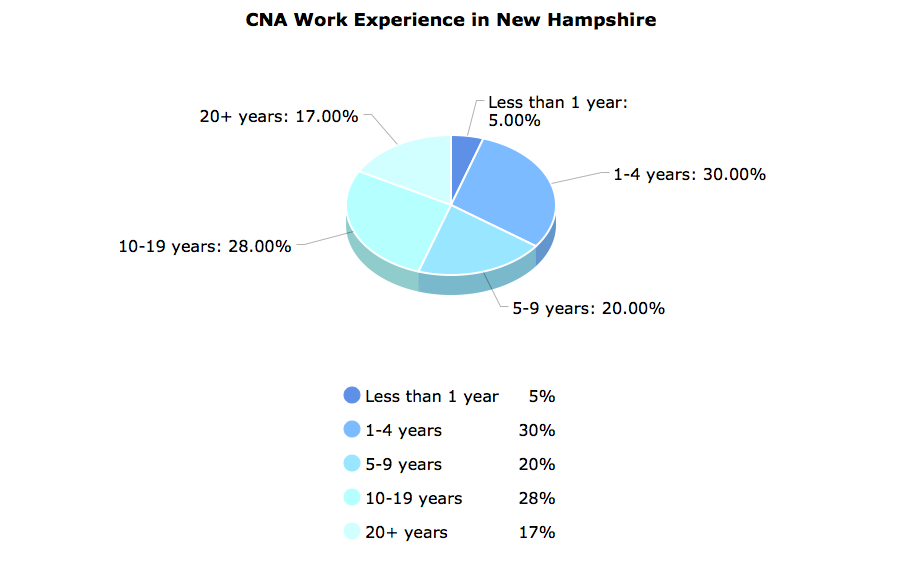 All New Hampshire State Approved CNA Programs
| LOCATION | FACILITY | ADDRESS | PHONE |
| --- | --- | --- | --- |
| Belin, NH | White Mountain Community College | 2020 Riverside Drive | 603-752-1113 |
| Bristol, NH | Clinical Career Training Llc | Po Box 19 | 603-744-6766 |
| Concord, NH | Genesis Healthcare Mna Program - Pleasant View Retirement Center | 227 Pleasant Street | 603-223-3518 |
| Glencliff, NH | Glencliff Home Mna Training Program | 393 High Street | 603-989-3111 |
| Goffstown, NH | Med Pro Educational Services Llc | Po Box 118 | 603-660-9040 |
| Manchester, NH | Lna Health Careers, Llc | 22 Concord Street 3rd Floor | 603-647-2174 |
| Manchester, NH | Wdc At Manchester Community College | 1066 Front Street | 603-206-8161 |
| Unity, NH | Sullivan County Health Care | 5 Nursing Home Drive, | 603-542-9511 |
| West Stewartstown, NH | Coos County Nursing Hospital | Po Box 10 River Road | 603-246-3321 |
CNA Classes In Other States: