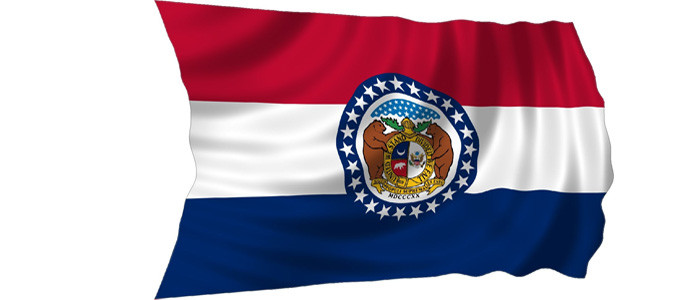 There are a lot of people who are unable to secure a stable job nowadays. However, the healthcare field opens many opportunities to those who want to have a well compensated and stable career. Becoming a Certified Nursing Assistant is one of the best ways to jumpstart a career in the healthcare field.  On this website, you can find many different options for your CNA classes in Missouri.
Certified Nursing Assistants (CNAs) provide support for medical professionals like, doctors and nurses, helping them make most efficient use of their time, and maintain a high level of healthcare. They perform basic nursing duties and work directly under the supervision of a licensed nurse.
To become a Certified Nursing Assistant in Missouri, you need to attend an approved CNA training program. Candidates that register in such a program are able to obtain the skills and knowledge they need to achieve important job opportunities in the health field.
Community colleges, vocational schools, online schools and medical facilities are some institutions that offer CNA approved training programs in Missouri. Also, there are facilities that provide free training to those who will work for them after completing training and certification.
General duties and responsibilities of a CNA include taking and recording vital signs, such as record blood pressure, temperature, pulse, respiration, weight and height, assisting the patients in dressing, exercising, bathing, feeding, the transportation with wheelchair, keeping medical records, and proper operating and maintaining of medical equipment.
Skills Required:
Good physique
Desire to help others
Emotional stability
Empathy
Good interaction skills
Caring attitude
Compassion
Ability to work with patients of all religions, nationalities, gender and ages
Interpersonal skills
Ability to perform repetitive duties daily
Coordination skills
The Red Cross Missouri Chapter offers CNA classes at day and night time with several extended options available. Even if you are still attending high school, you can freely take a CNA course at a very flexible time. The state of Missouri requires 75 hours classroom sessions and 100 hours clinical training. During the classroom sessions, nursing topics are taught like feeding, dressing, bathing, household duties, foot care, massage, personal care and many others. Meanwhile, the clinical training is usually done in a nursing home with the supervision of a Registered Nurse or a Licensed Practical Nurse. As soon as you completed both parts, you will then be eligible to take the certification exam for Certified Nursing Assistants.
CNA Certification Requirements
An aspirant must be at least 18 years of age, have successfully passed the high school diploma or general educational development (GED) certificate and a proof of Immunizations and tuberculosis test report of last 6 months before entering a training program. Also, there should be no criminal convictions against the aspirant.
Each CNA program is inspected and approved by the Missouri Department of Health & Senior Services and must be comprised of at least 75 hours of classroom instruction and 100 hours of on the job training or clinical work experience.
During the program, the candidate will study subjects related to roles and responsibilities of a certified nursing assistant, nutrition, control and prevention of infection, anatomy and physiology, medical terminology, while the practical part of the program includes, how to take vital signs, keeping the patient's bed clean and dry, observing the response of the patients towards the treatment, interpersonal skills and communicating with patients, how to respond to health emergencies, etc.
The fee of courses may range from $600 to $2000.  This will vary per institution but there are financial assistance available in case you cannot afford the payment. Remember that as soon as you get the financial assistance, you will be signing a contract stating to work for their facility right after the passing the certification exam. So make sure that these things are clear to you beforehand. If you are listed already as an employee in the Department of Health and Senior Services of Missouri, you will be disqualified in taking the CNA program.
CNA Certification Exam
The final step in becoming a Certified Nursing Assistant (CNA) is to pass a competency exam, which organized by the Missouri Department of Health & Senior Services.
The exam will be given in two parts. The first part is a multiple choice test wherein several nursing questions are tackled and the second part is a skills test wherein you will be asked to perform 5 out of 25 skills in a panel. The test costs about $60.
Prospective certified nursing assistants need to pass both sections and allowed three attempts for this, otherwise, they need to repeat the training program. If you successfully passed both exams, your name will be listed in the Nurse Aide Registry of Missouri and you will be allowed to work as a CNA in any nursing homes, hospitals and other healthcare facilities.
The certification must be renewed every 2 years, and CNAs should prove they have been employed for at least 8 hours during the same period, and must have completed 12 hours of continuous education every year for recertification.
CNA Salary and Job Outlook in Missouri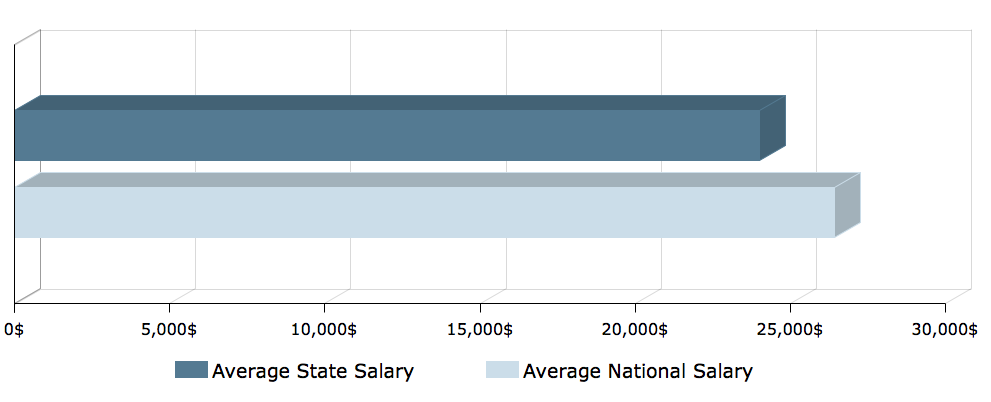 The average annual salary for CNAs in Missouri is $23,880 but it can be considerably higher if you have lots of experience and extra skills. Currently there are more than 40,000 CNAs working in the state of Missouri which makes it a considerable workforce.
There is a positive trend for CNA career in state of Missouri, and a promising future in the healthcare field, as employment opportunities are great for those who are willing to develop and advance their careers. Experience is usually the most important aspect in determining the CNA salary in Missouri. Experienced CNAs will enjoy many benefits and are able to build on their knowledge, experience and abilities.
The Barnes Jewish Hospital, Missouri Baptist Medical Center, St. Johns Mercy Medical Center and St. Anthony's Medical Center are some health care facilities in the state that may be able to offer employment to Certified Nursing Assistants (CNAs).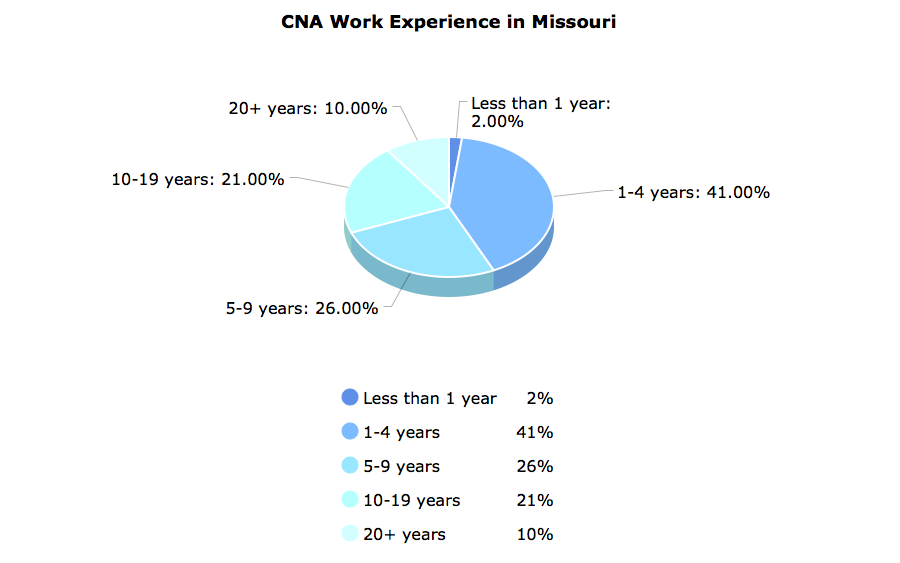 All Missouri State Approved CNA Programs
| LOCATION | FACILITY | ADDRESS | PHONE |
| --- | --- | --- | --- |
| Bethany , MO | Orth Central Career Center (Cmt Also) | 1401 Daily Road | 660 425-2196 |
| Bolivar , MO | Bolivar Technical College (Cmt Also) | 1135 N Oakland | 417 777-5062 |
| Bonne Terre, MO | Unitec Career Ctr (Cmt Also) | 7163 Raider Rd | 573 431-3300 |
| Boonville , MO | Boonslick Technical Education Ctr | 1694 West Ashley Rd | 660 882-5306 |
| Brookfield , MO | Linn County Area Career & Tech Ctr (Cmt Also) | 122 Pershing Rd | 660 258-2682 |
| Cape Girardeau, MO | Cape Girardeau Career & Tech Ctr (Cmt Also) | 1080 S Silver Springs Rd | 573 334-0826 |
| Carrollton , MO | Carrollton Area Career Center | 305 East Tenth Street | 660 542-0000 |
| Carthage , MO | Carthage Technical Center | 609 River Street | 417 359-7026 |
| Cassville , MO | Crowder College-cassville Campus | 4020 N Main | 417 847-1706 |
| Chillicothe , MO | Grand River Technical School (Cmt Also) | 1200 Fair Street | 660 646-3414 |
| Clinton , MO | Clinton Vo-tech School (Cmt Also) | 602 S 5th Street | 660 885-6101 |
| Columbia , MO | Columbia Area Career Center | 4203 S Providence Road | 573 214-3800 |
| Columbia , MO | Job Point-columbia | 400 Wilkes Blvd | 573 449-3431 |
| Dardenne Prairie, MO | St Charles County Comm College (Cmt Also) | 1 Academy Place | 636 922-8284 |
| Doniphan , MO | Current River Avts | 303 Spring Street | 573 996-3667 |
| Eldon , MO | Eldon Career Center (Cmt Also) | 112 S Pine | 573 392-8060 |
| Eolia , MO | Pike\lincoln Technical Ctr | 342 Votech Road | 573 485-2900 |
| Excelsior Spring, MO | Excelsior Springs Area Career Ctr (Cmt Also) | 614 Tiger Drive | 816 630-9240 |
| Fenton , MO | St Louis Coll Health Careers/county | 1297 N Hwy Drive | 636 529-0000 |
| Florissant , MO | Aspire Healthcare Solutions | 3991 North Highway 67 | 314 736-1146 |
| Hannibal , MO | Moberly Area Comm Coll - Hannibal | 190 Shinn Lane | 660 263-5865 |
| Harrisonville , MO | Cass Career Center | 1600 East Elm | 816 380-3253 |
| Hayti , MO | Pemiscot County Career & Tech Ctr | 1317 West State Hwy 84 | 573 359-2601 |
| Hillsboro , MO | Jefferson College (Cmt Also-1000 Viking Dr.-votech Bldg.) | 1000 Viking Dr-ats Bldg | 636 481-3457 |
| Hollister , MO | Ozarks Tech Comm Coll-hollister | 10698 Mo-165 | 417 447-8888 |
| Houston , MO | Texas County Technical Institute (Cmt Also) | 6915 S Hwy 63 | 417 967-5466 |
| Independence , MO | Career & Technical Ctr At Ft Osage (Cmt) | 2101 N Twyman Rd | 816 650-7180 |
| Independence , MO | Meds-medical Educ Dev And Support, Inc | 1425 S Noland Rd | 816 373-6337 |
| Independence , MO | Metro Comm College-blue River | 20301 East 78 Highway | 816 604-4022 |
| Independence , MO | Univ Of Central Missouri-independence | 1520 E 23rd St, St E | 660 422-8377 |
| Ironton , MO | Arcadia Valley Career Tech Ctr (Cmt Also) | 650 Park Drive | 573 546-9700 |
| Jefferson City, MO | Mo Assoc.of Nursing Home Admin. | 4100 Country Club | 573 634-5345 |
| Jefferson City, MO | Nichols Career Ctr | 605 Union | 573 659-3100 |
| Joplin , MO | Franklin Tech (Cmt Also) | 2220 Indiana Ave | 417 625-5260 |
| Kansas City, MO | Excelsior Springs Job Corp/kc | 2402 Swope Parkway | 816 861-2353 |
| Kansas City, MO | Penn Valley Community College Penny Vall (Cmt Also) | 3444 Broadway, Ste 216 | 816 604-4022 |
| Kansas City, MO | Univ Of Central Missouri-17th Terr | 1722 E 17th Terrace | 660 441-2484 |
| Kansas City, MO | Univ Of Central Missouri-north Kc | 3100 Ne 83rd Ste 2100 | 816 474-1783 |
| Kansas City, MO | Univ Of Central Missouri-paseo Kc | 1740 Paseo Blvd | 660 422-8377 |
| Kansas City, MO | Univ Of Central Missouri-prospect | 6025 Prospect | 660 543-6122 |
| Kansas City, MO | Univ Of Central Missouri- Woodland Lee's Summit | 1780 Woodland | 660 543-6122 |
| Kennett , MO | Kennett Career & Tech Center (Cmt Also) | 1400 W Washington St | 573 717-1123 |
| Kirksville , MO | Kirksville Area Tech Ctr | 1103 South Cottage Grove | 660 665-2865 |
| Lamar , MO | Lamar Career & Technical School (Cmt Also) | 501 Maple | 417 682-3384 |
| Lee's Summit, MO | Univ Of Central Mo-summit Center | 1101 Nw Innovation Pkwy | 660 543-6622 |
| Lees Summit, MO | Metro Comm College-longview | 500 Sw Longview Rd | 816 604-4022 |
| Lees Summit, MO | Summit Technology Academy | 777 Nw Blue Parkway St 3090 | 816 986-3410 |
| Lexington , MO | Lex La-ray Tech Ctr (Cmt Also) | 2323 High School Drive | 660 259-2688 |
| Louisburg , MO | Dallas County Career Center | 33 Vo Tech Rd | 417 752-3491 |
| Macon , MO | Macon R-1 Vo-tech School (Cmt Also) | 702 N Missouri | 660 385-2158 |
| Marshall , MO | Saline Cnty Career Ctr (Cmt Also) | 900 W Vest | 660 886-6958 |
| Maryville , MO | Northwest Tech School (Cmt Also) | 1515 S Munn Ave | 660 562-4181 |
| Mexico , MO | Davis H Hart Career Center | 905 North Wade Street | 573 581-5684 |
| Mexico , MO | Moberly Area Comm College-atc | 2900 Doreli Lane | 573 582-0817 |
| Moberly , MO | Moberly Area Comm Coll (Cmt Also) | 101 College Ave Room C-25 | 660 263-4100 |
| Monett , MO | Scott Regional Technology Center | 2 David Sippy Dr | 417 235-7022 |
| Mountain Grove, MO | Ozark Mountain Technical Center | 211 East Fifth Street | 417 926-3177 |
| Neosho , MO | Crowder College Technical Education Ctr (Cmt Also) | 601 Laclede Ave | 417 455-5596 |
| Nevada , MO | Crowder College-nevada Campus | 600 W Edwards | 417 667-0518 |
| Nevada , MO | Nevada Regional Tech Ctr (Cmt Also-417-448-2016) | 900 West Ashland | 417 448-2090 |
| New Madrid, MO | New Madrid Technical Skills Ctr | 310 Us Highway 61 | 573 688-2161 |
| Ozark , MO | Health Systems Ssi Training Ctr | 5340 N Town Centre Dr | 417-551-7066 |
| Perryville , MO | Perryville Area Career & Technology | 326 College St | 573 547-7500 |
| Pineville , MO | Crowder College-mcdonald County | 194 College Rd | 417 235-5537 |
| Platte City, MO | Northland Career Ctr | 1801 Branch Street | 816 858-5505 |
| Poplar Bluff, MO | Poplar Bluff Technical Career Ctr (Cmt Also) | 3203 Oak Grove Road | 573 785-2248 |
| Raytown , MO | Assumpta Allied Health Career Center | 6033 Raytown Road | 816 737-3575 |
| Raytown , MO | Herndon Career Center (Cmt Also) | 11501 East 350 Highway | 816 268-7140 |
| Reed Springs, MO | Gibson Technical Center | 386 W State Hwy 76 | 417 272-3271 |
| Rolla , MO | Rolla Technical Institute/rtc (Cmt Also) | 1304 E Tenth St | 573 458-0150 |
| Sedalia , MO | State Fair Comm College (Online) (Cmt Also) | 3201 W 16th Street | 660 596-7259 |
| Sikeston , MO | Sikeston R-6/career And Tech Ctr (Cmt Also) | 135 Plaza Dr Suite 201 | 573 472-5442 |
| Springfield , MO | Bryan University (Cmt Also) | 4255 Nature Center Way | 417 862-5700 |
| Springfield , MO | Cox College | 1423 N Jefferson Ste 449 | 417 269-4117 |
| Springfield , MO | Ozarks Tech Comm College (Cmt Also) | 1001 E Chestnut Expressway | 417 447-8888 |
| St Charles, MO | Lewis & Clark Career Center | 2400 Zumbehl Road | 636 946-7726 |
| St Joseph, MO | Hillyard Technical Center (Cmt Also) | 3434 Faraon St | 816 671-4170 |
| St Louis, MO | Clyde C Miller Academy | 1000 N Grand Ave | 314 533-2410 |
| St Louis, MO | Cna Training Academy - Lss Ctr | 1300 Strassner Dr | 314 262-8236 |
| St Louis, MO | Daruby School (Cmt Also) | 5415 Page Blvd, Ste G-01 | 314 454-6933 |
| St Louis, MO | St Louis College Of Health Careers/metro | 909 S Taylor | 314 652-0300 |
| St Louis, MO | St Louis Comm College/forest Park (Cmt Also) | 5600 Oakland Avenue | 314 539-5754 |
| St Louis, MO | St Louis Job Corps | 3860 Lindell | 314 679-8124 |
| St Louis, MO | Bka Medical Training Center Corp | 800 North Tucker, Fourth Floor | 314 459-0374 |
| St Louis, MO | Healthcare Education, Llc | 12526 Lusher Rd | 314 653-8863 |
| St Louis, MO | Made Whole Health Tech Service, Llc | 1202 Chambers Rd | 314 533-1717 |
| St Louis, MO | Walbridge Community Educ Ctr | 5019 Alcott Ave | 314 261-8282 |
| St Louis, MO | Yeatman Community Education Center | 4265 Athlone Ave | 314 261-8134 |
| Sunset Hills, MO | South Technical School/adult Education (Cmt Also) | 12721 West Watson Rd | 314 989-7452 |
| Union , MO | East Central College (Cmt Also) | 1964 Prairie Dell Rd | 636 584-6529 |
| Vandalia , MO | Salt River Vocational School | 1101 East Hwy 54 | 573 594-6686 |
| Warrensburg , MO | Preferred Futures Healthcare Academy (Online) | 234 Nw 41 Rd | 660 422-8377 |
| Warrensburg , MO | Univ Of Central Missouri-wrnsbrg | Humphreys 401 | 660 422-8377 |
| Warrensburg , MO | Warrensburg Area Career Center (Cmt Also) | 205 S Ridgeview Drive | 660 747-2283 |
| Waynesville , MO | Waynesville Career Center (Cmt Also) | 400 Gw Lane | 573 842-2500 |
| Webb City, MO | Crowder College-webb City Campus | 600 S Ellis | 417 673-2345 |
| West Plains, MO | Missouri State Univ-west Plains (Cmt) | 128 Garfield Avenue | 417 255-7247 |
| West Plains, MO | South Central Career Ctr (Cmt) | 407 W Thornburgh St | 417 256-6152 |
CNA Classes In Other States: