CNA Classes In Mississippi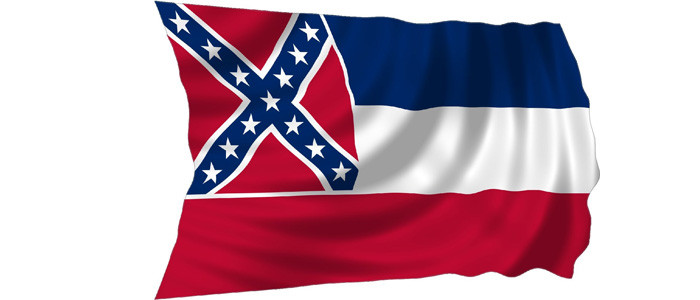 In the state of Mississippi those who wish to start a new and exciting career in health field as nursing assistants, must attend an approved training program by the Mississippi State Department of Health that offered by the various community colleges and universities, vocational schools and private schools or healthcare facilities and meet Mississippi's standards and the federal requirements.
Some CNA training classes are offered for free from facilities in exchange a period of employment after successful completing training and certification of the candidate. These free CNA classes are usually available through long-term care centers and assisted living nursing homes, which will even pay for the certification exam.
Advantage of these types of programs is that usually last a short period of time (about 2-6 weeks), and additionally, a student will already has a job in health field, once he/she become a Certified Nursing Assistant (CNA).
Ever wondered what the responsibility of a Certified Nursing Assistant is? In Mississippi, CNAs supervise the patients and monitor their condition from time to time. They help with their activities of daily living like toileting, dressing, bathing, grooming, foot care, mouth care, and personal care. Aside from that, they provide household chores like laundry and help the patient do grocery or prepare meals.
The duties of a CNA also typically include measuring and recording vital signs, providing a high level of care to patients, such as dressing, feeding and transporting, preparing of rooms, controlling the spread of infection, cleaning and proper operating of medical equipment, recording and reporting unusual behaviors of patients, etc.
If the patient needs a medical check-up, they assist in transporting the patient to his doctor and coordinate with other healthcare professionals such as Licensed Practical Nurse and Registered Nurse. Does this sound like something your would like to do as a job? If so, get your CNA classes in Mississippi!
CNA Training Requirements
Prospective for CNA programs in the state of Mississippi, should be at least 18 years old, needs to have a high school diploma or GED certification, should be able to speak and write in English, and also must have a clean criminal record. Also, must provide a proof of TB test report of last 6 months.
Trainees are required to attend an approved training program that provides at least 120 hours of instruction, with at least 75 hours of classroom and clinical practice in order to be qualified to take the certification exam.
Each curriculum that has been approved by the Mississippi State Department of Health and meets the Federal requirements, include courses and issues on basic nursing principles, anatomy and medical terminology, safety procedures, basic restorative services, interpersonal and communication skills, as well controlling infections.
Hence, if you want to be a Certified Nursing Assistant, take a training program and prepare to pay a tuition fee of around $400 to $1,000. Financial assistance is available for those who cannot afford but they have to sign a contract stating that they have to work for the facility after passing the certification exam. Certain requirements should be presented in the facility prior to CNA classes. These include a negative TB test result, a background check and physical assessment.
The entire CNA classes will take around 130 hours or 4 to 12 weeks of completion. Topics covered during the training include basic nursing skills, household tasks, patient monitoring, grooming, feeding, mobilization, personal care and many others.
CNA Certification Requirements in Mississippi
Upon completing the training program, a candidate will have to pass the competency exam within 24 months, that administered by Pearson Vue. Make sure to fill in the application form and pay the fee of $101.
The state has adopted the National Nurse Aide Assessment Program (NNAAP) as the competency exam, which includes two sections: a written exam consisting of 70 multiple-choice questions, which checks the theoritical understanding, and a clinical assessment of 2 hours, that checks the skill levels. In the skills test the examinees are asked to perform 5 randomly selected tasks, from a total of 25 skills, appropriate to a CNA job, to prove they know the clinical techniques they were taught during the training program. Be sure to practice beforehand because the panel is very particular in every procedure you presented. Your grade will either be pass or fail.
If the student fail the exam up to three times in total, should resume the CNA training before being allowed to sit for the final exam again.
After successful completion of both sections, candidates are listed on the Mississippi Nurse Aide Registry and then are able to work as Certified Nursing Assistant (CNA) in the state of Mississipi.
A Certified Nursing Assistant (CNA) must always be an active member on the Mississippi Nurse Aide Registry, and in order to maintain his/her position as a CNA, the certification must be renewed every two years and she/he is required to be employed for at least 8 hours during the same period, and additional to have completed 12 hours of continuing education every year.
The Nurse Aide Registry of Mississippi will be responsible for your license so ensure to renew it every two years. Do not forget to provide a proof of CNA employment in the last two years and submit it together with the application form and renewal fee of $26. Becoming a Certified Nursing Assistant in Mississippi provides you with several job opportunities. You can work in hospitals, nursing homes, long term care facilities and many others. In fact, you can even go further than being a CNA. You can proceed to higher studies and become a Licensed Practical Nurse or a Registered Nurse. These health care professions are definitely rewarding and can be your stepping stone towards a successful and stable career.
CNA Salary Job Outlook in Mississippi
CNA Salary in Mississippi

The hourly rate for CNAs in Mississippi varies according to the institution he/she is working. However, it is estimated that nursing assistants receive an annual salary of $21,290, which is higher if they are certified according to Mississippi Labour Department. This does not include several benefits like health and dental insurance, paid vacation, sick leave coverage and many more.
In the future, the Bureau of Labor Statistics (BLS) expects that there will be even more employment opportunities and higher salaries, as the need for CNAs will rise with an increasing number of seniors patients needed long-term care services.
There are possibility of employment in some of the largest hospitals, nursing homes, healthcare facilities and related medical facilities in the state of Mississippi, including the Baptist Memorial Hospital, North Mississippi Medical Center, Tupelo Hospital and University of Mississippi Medical Center.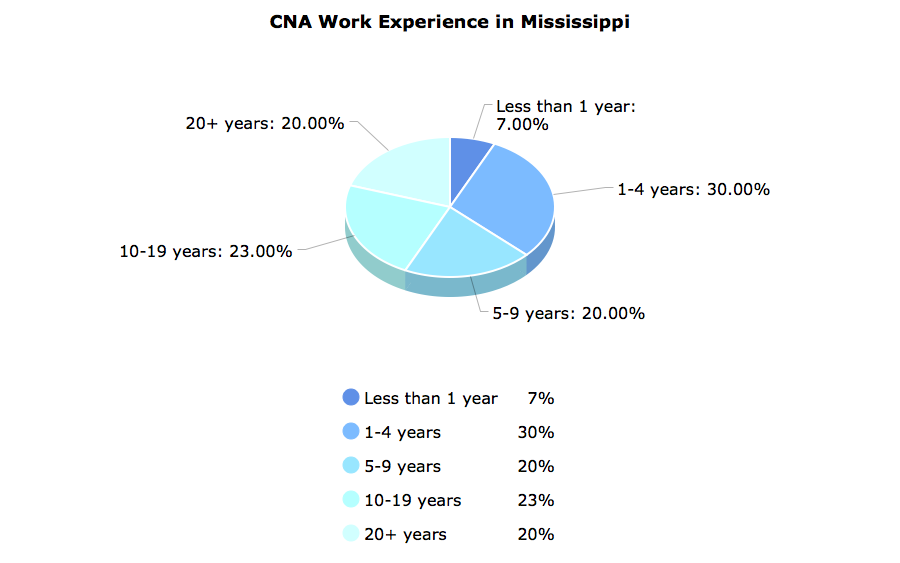 All Mississippi State Approved CNA Programs
| LOCATION | FACILITY | ADDRESS | PHONE |
| --- | --- | --- | --- |
| Aberdeen, MS | Care Center Of Aberdeen | 505 Jackson St | 662-369-6431 |
| Belzoni, MS | Humphreys County Nursing Home | 500 Ccc Rd | 931-296-2532 |
| Biloxi, MS | Biloxi High School Career Technology Center | 1845 Richard Drive | 228-435-6318 |
| Booneville, MS | Northeast Mississippi Community College | 101 Cunningham Blvd. | 662-728-7751 |
| Brandon, MS | Brandon Court | 100 Burnham Road | 601-664-2259 |
| Brandon, MS | Brandon Nursing And Rehabilitation | 355 Crossgate Blvd | 601-825-3192 |
| Brookhaven, MS | Silver Cross Nursing Home | 503 Silver Cross Drive | 601-833-2361 |
| Byhalia, MS | Trinity Mission H & R Great Oaks, Llc | 111 Chase St. | 662-838-3670 |
| Carthage, MS | Leake County Vo-tech Center | 703 Northwest Street | 601-267-8442 |
| Centreville, MS | Wilkinson County Senior Care | 116 South Lafayette Street | 601-645-5253 |
| Choctaw, MS | Choctaw Residential Center | 135 Hospital Circle | 601-656-2582 |
| Clarksdale, MS | Coahoma Community College | 3240 Friars Point Road | 662-627-2571 |
| Clinton, MS | Trinity Mission Health And Rehab Center | 102 Woodchase Park Drive | 601-924-7043 |
| Collins, MS | Covington County Nursing Center | P. O. Box 1089 | 601-765-8262 |
| Corinth, MS | Mississippi Care Center Of Alcorn County 1 | 3701 Joanne Drive | 662-287-8071 |
| Crystal Springs, MS | Allied Health Institute | 208 West Marion Avenue | 601-647-1310 |
| Crystal Springs, MS | Copiah Living Center | 806 W Georgetown Avenue | 601-892-1880 |
| Crystal Springs, MS | Mississippi Job Corps Center | 400 Harmony Road | 601-892-3348 |
| Ellisville, MS | Jones County Junior College | 900 South Court Street | 601-477-4000 |
| Ellisville, MS | Jones County Rest Home | 683 County Home Road | 601-477-3334 |
| Fayette, MS | Jefferson County Vo-tech Center | 205 Industrial Park Drive | 601-786-3642 |
| Fulton, MS | Itawamba Community College | 900 South Court Street | 662-862-8000 |
| Fulton, MS | Itawamba County Vocational Center | 200 Vo Tec Road | 662-862-3137 |
| Goodman, MS | Holmes Community College | No. 1 Hill Street | 662-472-2312 |
| Greenville, MS | Mississippi Delta Community College | 2900 Hwy 1 South | 662-246-6322 |
| Greenwood, MS | Crystal Health And Rehab Of Greenwood | 902 John Pittman Road | 662-453-9173 |
| Greenwood, MS | Mississippi Delta Community College | 2901 Highway 82 East | 662-453-6323 |
| Grenada, MS | Holmes Community College | 1060 Avent Drive | 662-226-0830 |
| Gulfport, MS | Mississippi Gulf Coast Community College | 2226 Switzer Rd. | 228-896-3355 |
| Gulfpot, MS | Boyington Training Center | 1530 Broad Avenue | 228-864-6544 |
| Hattiesburg, MS | Pearl River Community College | 5448 Highway 49 South | 601-554-5500 |
| Hattiesburg, MS | Windham House Of Hattiesburg | 37 Hillcrest Drive | 601-264-0058 |
| Hazlehurst, MS | Pine Crest Guest Home Inc | 133 Pine Street | 601-894-1411 |
| Indianola, MS | Keplere Institute Of Technology | 612 North Sunflower Ext. | 662-887-6199 |
| Itta Bena, MS | Cna Training Center | 40100 Hwy 82 W | 662-254-9911 |
| Jackson, MS | Cna Training Center | 350 West Woodrow Wilson Drive | 601-364-1188 |
| Jackson, MS | Healthcare Institute Of Jackson | 405 Briarwood Drive | 601-956-3940 |
| Jackson, MS | Hinds Community College | 1750 Chadwick Drive | 601-376-4800 |
| Kosciusko, MS | Attala County Nursing Center | 326 Highway 12 West | 662-289-1200 |
| Kosciusko, MS | Kosciusko-attala County Vocational Center | 450 Hwy 12 East | 662-289-2689 |
| Laurel, MS | A. P. Fatherree Vocational School | 2409 Moose Drive | 601-425-2378 |
| Laurel, MS | Care Center Of Laurel | 935 West Dr | 601-649-8006 |
| Laurel, MS | Pine Belt Education Service Center | 923-b Sawmill Road | 601-649-4141 |
| Leakesville, MS | Leakesville Rehabilitation And Nursing Home | 1300 Melody Lane | 601-394-2331 |
| Louisville, MS | Stepping Stones Career College | 311 West Main Street | 662-446-2220 |
| Luka, MS | Tishomingo Manor | 230 Kaki Avenue | 662-423-9112 |
| Madison, MS | Madison Career & Tech Center | 142 Calhoun Parkway | 601-859-6847 |
| Mccomb, MS | Camellia Estates | 1714 White Street | 601-250-0066 |
| Mccomb, MS | Mccomb Nursing And Rehabilitation | 415 Marion Ave | 601-684-8700 |
| Meadville, MS | Meadville Nursing Home | 300 Hwy 556/route 2 Box 66 | 601-384-5861 |
| Meridian, MS | Meridian Community College | 910 Hwy 19 North | 601-483-8241 |
| Meridian, MS | Queen City Nursing Center | 1201 28th Avenue | 601-483-1467 |
| Monticello, MS | Lawrence County Nursing Center | 700 Jefferson Street | 601-587-2593 |
| Moorhead, MS | Mississippi Delta Community College | Hwy 3 & Cherry Street | 662-246-6409 |
| Morton, MS | Mississippi Care Center Of Morton | 96 Old Highway 80 East | 601-732-6361 |
| Natchez, MS | Adams County Nursing Center | 587 John R Junk1n Drive | 601-446-8426 |
| Oxford, MS | Northwest Mississippi Community College | 1310 Belk Drive | 662-236-2023 |
| Pascagoula, MS | Plaza Nursing Center | 4403 Hospital Road | 228-762-8960 |
| Picayune, MS | Covenant Health & Rehab Of Picayune | 1620 Read Road | 601-798-1811 |
| Poplarville, MS | Pearl River Community College | 101 Highway 11 North | 601-403-1000 |
| Port Gibson, MS | Claibome County Vocational Complex | 161 Old Hwy 18 #1 | 601-437-3800 |
| Quitman, MS | Clarke County Vocational Center | 910 North Archusa Avenue | 601-776-5219 |
| Raleigh, MS | Rolling Acres Retirement Center | 309 Magnolia Dr | 601-782-4244 |
| Ripley, MS | Tippah County Nursing Home | 1005 City Avenue North | 662-837-9221 |
| Sardis, MS | Sardis Community Nursing Home | 613 East Lee Street | 662-487-2720 |
| Senatobia, MS | Northwest Mississippi Community College | 4975 Hwy 51 | 662-562-3200 |
| Senatobia, MS | Senatobia Convalescent Center | 402 Getwell Drive | 662-562-5664 |
| Starkville, MS | Millsaps Career & Technology Center | 803 Louisville Road | 662-324-4170 |
| Summit, MS | Southwest Mississippi Community College | 1156 College Drive | 601-276-2000 |
| Tupelo, MS | Itawamba Community College | 2176 S. Eason Blvd. | 662-620-5000 |
| Tupelo, MS | Mississippi Methodist Senior Services Training Center | 2800 W. Main Street | 662-844-1441 |
| Tupelo, MS | Tupelo Training Center | 144 S. Thomas Street | 662-841-6814 |
| Tylertown, MS | Billdora Senior Care | 314 Enochs St | 601-876-2173 |
| Vicksburg, MS | Covenant Health & Rehab Of Vicksburg | 2850 Porter's Chapel Road | 601-638-9211 |
| Water Valley, MS | Yalobusha County Nursing Home | 630 South Main Street | 662-473-1411 |
| Waynesboro, MS | Wayne County Vocational Technical Center | 800 Collins Street | 601-735-5036 |
| Whitfield, MS | Mississippi State Hospital | 3550 Highway 468 W | 601-351-8000 |
| Winona, MS | Winona Career & Tech Center | 300 N. Applegate | 662-283-2314 |
| Yazoo City, MS | Oasis Health & Rehab Of Yazoo City | 925 Calhoun Avenue | 662-746-7770 |
CNA Classes In Other States: