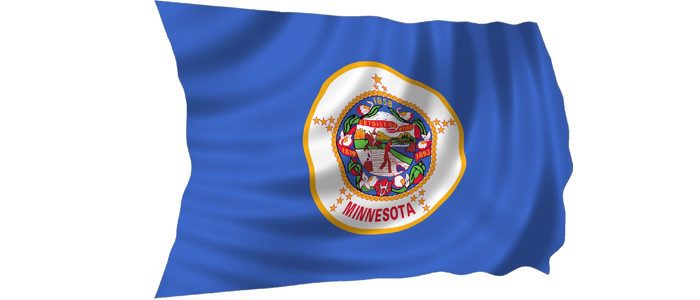 If you wish to achieve an extraordinary and rewarding career within the healthcare field, the CNA profession is among the most growing in the state of Minnesota, as well as has a high successful rate for people who search a nursing assistant position.
Making a difference starts within your community and if you want to make an impact, you can start taking CNA classes in Minnesota. CNA's are the first healthcare professionals to care for the patients and provide them comfort or medical care when needed. They assist the other members of the healthcare team in order to provide the best care or treatment as possible. There are a number of people who take the training program because they know that becoming a CNA imposes several benefits.
In the state of Minnesota, Certified Nursing Assistants (CNAs) receive specific training because their role is to offer important healthcare services and treatments to patients. Those who wish to work as a nursing assistant in health care field, must complete a CNA training program approved by the Minnesota Department of Health.
Approved training programs offered throughout the state within specialized schools, universities, community colleges, as well as online courses through distance education schools which make it easy to access the experiential learning. Furthermore, there are several hospitals, nursing homes, hospices or other healthcare facilities offering their own free training programs and a job position upon completion of the training. Also, the American Red Cross offers regular CNA training classes in an affordable price.
All programs meet the national guidelines and Federal regulations and are designed to provide all the skills needed for someone to become a certified nursing assistant.
Duties and responsibilities of Certified Nursing Assistants (CNAs) include moving and transporting patients, administering medication, bathing, toileting, dressing and proper feeding, changing bedpans and linens, checking the vital signs, such as taking blood pressures or temperature a patient, proper maintenance and sterilizing medical equipment as well as precautions for safety and keeping a clean environment for the patients. They do all of this under the supervision of a licensed nurse or a licensed practical nurse in hospitals, clinics, nursing homes, hospices and in other healthcare facilities in the state.
CNA Training Requirements in Minnesota
According to federal requirements, applicants who enroll in a CNA approved program training, must be at least eighteen years old, need to have a high school diploma or GED certification, clean criminal record and will must also pass the mandatory tests required including a physical exam and a tuberculosis test.
The Minnesota Department of Health regulates and approves CNA training programs in the state of Minnesota, that require at least 75 hours of classroom coursework and 100 hours of clinical practice. These programs can last from 4 to 9 weeks and their fees may range from $300 to $2200.
During CNA courses, a student learns about the legal and ethical issues of nursing, anatomy, physiology, medical terminologies, basic clinical skills, emergency response procedures, dietary issues, hygiene issues and environmental cleanliness issues, nutrition, infection control, and many other nursing related topics.
The Department of Health in Minnesota provides the complete listing of state approved facilities offering CNA classes. You can find there the organizations that offer a low cost training or a free of charge training. If you grab the free training, you will have to work on the facility after passing the certification exam.  This is a great opportunity to work as a CNA right after the training. The most important thing to remember is you have to pass the exam and get a certification in order to become eligible in working as a CNA.
The CNA classes will not take that long. In fact, the state requires 75 hours of training only and you can work as a Certified Nursing Assistant even if you are not yet certified or you are still undergoing the training. You simply have to complete the course and pass the exam within four months from the start of your employment.
Minnesota CNA Certification
The state of Minnesota has adopted National Nurse Aide Assessment Program (NNAAP) test developed by National Council of State Boards of Nursing (NCSBN) and controlled by Pearson VUE.
The competency exam in Minnesota consist of two sections. One written test which includes 70 multiple-choice questions that covers the technical protocols of working as a CNA pertaining to physical care, psycho-social care, and role of nursing assistant, and it takes around two hours to completed.
The second section is a practical exam which includes demonstration in a clinical setting 5 skills chosen at random out of a set of 25 practical skills learned during the CNA training. If examinee fail to pass the competency exam within three tries, then will must retake CNA training. Successful candidates can apply for inclusion within 120 days on the Minnesota Nurse Aide Registry that maintained by the Minnesota Department of Health and keeps a database of individuals certified as nursing assistants in the state.
As soon as you completed the training and successfully passed the certification exam, your name will be placed on the Minnesota Nurse Aide Registry list. There will be no fees involved in the process including the renewal of license. You only have to present a minimum of 8 hours CNA work experience in the past 24 months. The state of Minnesota does not have in-service requirements but the Federal government obligates at least 12 hours of in-service training annually. This is to ensure that Certified Nursing Assistants are updated with the latest skills and training in the field so that they will be able to provide the best care as possible.
Renewal of certification is every two years and the aide must have worked at least 8 hours during the same period. Also, in order to stay eligible to work, CNAs must complete 48 hours of continuing education units every two years.
CNA Salary and Job Outlook in Minnesota

There are really 3 key reasons why you would want to become a CNA in the state of Minnesota.
First of all,  the CNA salary in the state of Minnesota is above national average and around $28,670, with the demand for Certified Nursing Assistants (CNAs) expected to grow significantly, according to the U.S. Bureau of Labor Statistics (BLS). This includes benefits like annual salary increase, sick leave, paid vacation as well as dental insurance and health benefits. Aside from that, you can work flexible working hours.
Secondly lots of employers in Minnesota are looking for Certified Nursing Assistants so you have a several options to choose from. You can work in hospitals, nursing homes, hospices, long-term care facilities or various healthcare organizations. Government agencies, hospitals, and several other healthcare facilities are also able to offer employment and a good salary for well trained and experienced Certified Nursing Assistants (CNAs).
Thirdly, becoming a CNA is the most effective way to get into better paid career as you can always get additional training and become a Licensed Practical Nurse or a Registered Nurse. Both of these jobs pay considerably more than CNA jobs.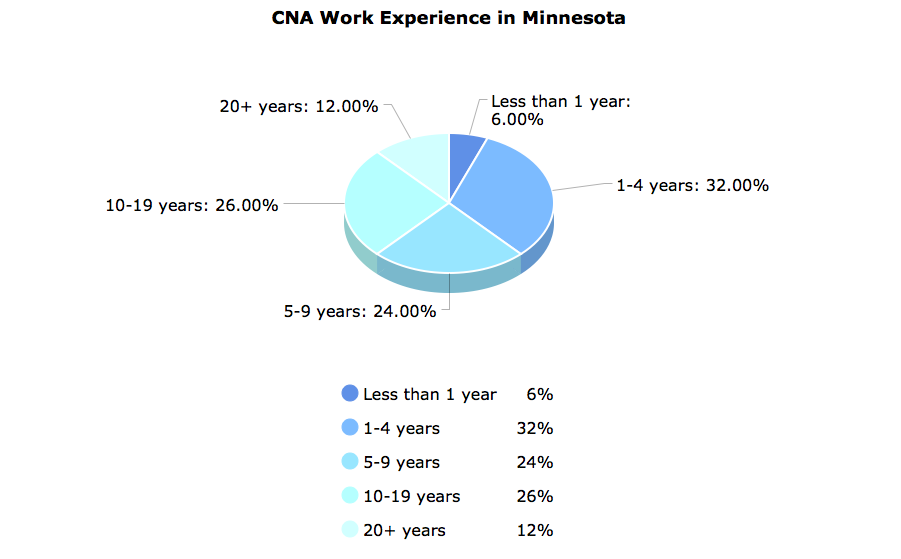 All Minnesota State Approved CNA Programs
| LOCATION | FACILITY | ADDRESS | PHONE |
| --- | --- | --- | --- |
| Ada, MN | Bridges Care Community  | 201 9th St. W. | 218-784-5500 |
| Albert Lea, MN | Good Samaritan Society-albert Lea  | 75507 240th Street | 507-379-2762 |
| Alexandria, MN | Alexandria Technical & Community College * | 1601 Jefferson St | 320-762-0221 |
| Anoka, MN | Anoka Technical College * | 1355 W. Hwy 10 | 763-433-1100 |
| Anoka, MN | Anoka Technical College Online  | 1355 West Highway 10 | 763-576-4842 |
| Arlington, MN | Sibley Health Science Program  | 202 Third Avenue Nw Po Box 1000 | 507-317-9231 |
| Aurora, MN | Essentia Health-northern Pines Care Center  | 5211 Highway 110 | 218-229-4228 |
| Austin, MN | Riverland Community College Rtd Na  | 1900 8th Avenue Nw | 507-433-0653 |
| Austin, MN | St Mark's Living  | 400 15th Avenue Sw | 507-434-7209 |
| Barrett, MN | West Central Area School District  | 301 County Road 2 | 218-205-5613 |
| Baudette, MN | Lakewood Care Center  | 600 Main Avenue South | 218-634-3488 |
| Belle Plaine, MN | The Lutheran Home: Hope Residence  | 611 West Main Street | 952-873-2198 |
| Bemidji, MN | Bemidji Optivation  | 905 Grant Ave Se | 218-333-6629 |
| Bemidji, MN | Northwest Technical College - Bemidji * | 905 Grant Avenue Se | 218-333-6645 |
| Bigfork, MN | Bigfork Valley Hospital  | 258 Pine Tree Drive | 218-743-4243 |
| Bloomington, MN | Bloomington College And Career Academy  | 2575 West 88th Street | 612-590-4808 |
| Bloomington, MN | Normandale Community College  | 9700 France Ave. South | 952-487-8442 |
| Bloomington, MN | Zandu Health Initiative  | 10800 Lyndale Avenue South Suite 114 | 952-479-0172 |
| Blue Earth, MN | St. Luke's Lutheran Care Center  | 1219 South Ramsey | 507-526-2184 |
| Brainerd, MN | Brainerd Senior High School | 702 South 5th Street | 218-824-6247 |
| Brainerd, MN | Central Lakes College * | 501 West College Drive | 218-855-8118 |
| Breckenridge, MN | St Francis Healthcare Campus  | 2400 St Francis Drive | 218-643-0544 |
| Brooklyn Center, MN | Avid Home And Community Healthcare Services  | 7030 Brooklyn Blvd | 612-284-8186 |
| Brooklyn Park, MN | Hennepin Technical College-brooklyn Park * | 9000 Brooklyn Boulevard | 952-995-1300 |
| Brooklyn Park, MN | Jj School Of Technology  | 7420 Unity Ave. Suite 301 | 763-560-0544 |
| Brooklyn Park, MN | North Metro Health Institute  | 7420 Unity Avenue North Suite 209 | 763-438-3314 |
| Browerville, MN | Browerville High School  | Box 185, Sixth And Park Avenue | 320-594-2272 |
| Buffalo, MN | Wright Technical Center, School District #0966  | 1405 3rd Ave Ne Po Box 239 | 763-682-4112 |
| Burnsville, MN | Burnsville High School, Hs Students Only  | 600 East Highway 13 | 952-707-2000 |
| Cambridge, MN | Anoka Ramsey Com Col, Cambridge Campus  | 300 South Spirit River Drive | 763-433-1100 |
| Cambridge, MN | Blended Online Nursing Assistant/home Health Aide  | 300 Spirit River Drive | 763-433-1200 |
| Cambridge, MN | Scofield Nursing Assistant Training Center  | 1001 First Avenue East Suite 65 | 320-396-3014 |
| Canby, MN | Mn West Community & Tech College-canby  | 1011 First St W | 507-223-7252 |
| Canby, MN | Sanford Canby Medical Center/sylvan Court  | 112 St. Olaf Avenue South | 507-223-7277 |
| Carlton, MN | Inter-faith Care Center  | 811 Third Street | 218-384-8429 |
| Chaska, MN | South West Metro Intermediate District #288  | 401 East 4th Street | 952-567-8068 |
| Chatfield, MN | Chosen Valley Care Center  | 1102 Liberty Street Se | 507-867-4220 |
| Cloquet, MN | Fond Du Lac Community College * | 2101 Fourteenth St | 218-879-0846 |
| Cokato, MN | Kathryn's Nursing Assistant Training  | 1611 County Road 4 Sw | 320-286-5304 |
| Cold Spring, MN | Assumption Community  | 715 First Street North | 320-348-2304 |
| Columbia Heights, MN | Caring Hands Healthcare And Training  | 4148 5th Street Ne | 763-291-5125 |
| Cook, MN | Cook Hospital & Care Center  | 10 Fifth Street Se | 218-666-6278 |
| Cottonwood, MN | Mary Neuman Na Training  | Po Box 125 | 507-530-7373 |
| Crookston, MN | Villa St Vincent  | 516 Walsh St | 218-281-3424 |
| Crookston, MN | Villa St Vincent E-learning Nurse Aide Class  | 516 Walsh Street | 218-281-3424 |
| Deer River, MN | Deer River High School  | 101 First Ave Ne Po Box 307 | 218-246-8241 |
| Deer River, MN | Essentia-homestead  | 115 10th Avenue Ne | 218-246-4208 |
| Detroit Lakes, MN | Ecumen Detroit Lakes  | 1414 Madison Ave | 218-844-7184 |
| Detroit Lakes, MN | Ecumen Dl Ontrack  | 1415 Madison Ave | 218-844-7184 |
| Detroit Lakes, MN | Essentia Health Oak Crossing-on Track Program  | 1040 Lincoln Ave | 218-314-7015 |
| Detroit Lakes, MN | Minnesota State Community And Technical College - Dl  | 900 Highway 34 E. | 218-299-6903 |
| Duluth, MN | Lake Superior College * | 2101 Trinity Rd | 218-733-7600 |
| East Grand Forks, MN | Northland Community And Technical College - Egf * | 2022 Central Avenue Ne | 218-773-3441 |
| Eden Prairie, MN | Hennepin Techncal College Naha Hybrid Course  | 1300 College View Drive | 952-995-1592 |
| Eden Prairie, MN | Hennepin Technical College-eden Prairie * | Eden Prairie 13100 College View Drive | 952-995-1300 |
| Eden Prairie, MN | Intermediate District #287 Htc - Ep  | 13100 College View Drive | 952-995-1510 |
| Elk River, MN | Guardian Angels Care Center | 400 Evans Avenue | 763-441-1213 |
| Ely, MN | Boundary Waters Care Center  | 200 West Conan Street | 218-365-8042 |
| Eveleth, MN | Mesabi Range Comm & Tech College-eveleth * | 1100 Industrial Park Drive | 218-741-3095 |
| Faribault, MN | South Central College - Faribault * | 1225 Sw 3rd St | 507-332-5802 |
| Fergus Falls, MN | Minnesota State Community And Technical College - Fergus Falls  | 1414 College Way | 218-299-6903 |
| Golden Valley, MN | Colonial Acres At Covenant Village Of Golden Valley  | 5825 St Croix Avenue North | 763-732-1435 |
| Graceville, MN | Essential Health Grace Home  | 116 West Second Street | 320-748-7261 |
| Grand Rapids, MN | Grand Village  | 923 Hale Lake Pt | 218-322-4624 |
| Grand Rapids, MN | Itasca Community College * | 1851 E Hwy 169 | 218-322-2300 |
| Granite Falls, MN | Mn West Community & Tech College-granite  | 1593 11th Avenue | 320-564-4511 |
| Hayfield, MN | Ronda's Hayfield Nursing Assistant Program  | 318 Second Street Ne | 507-993-0773 |
| Hendricks, MN | Hendricks Community Hosp. & Nursing Home  | 503 East Lincoln Po Box 106 | 507-275-3134 |
| Hibbing, MN | Health Science Program Hccc/na  | 1515 East 25th Street | 218-262-7200 |
| Hills, MN | Tuff Ontrack Nursing Assistant Training  | 505 E 4th Street | 507-962-3275 |
| Howard Lake, MN | Anderson's Nar/hha Training | 600 8th Ave Suite 1 | 320-583-4820 |
| Hutchinson, MN | Ridgewater College - Hutchinson Campus * | 2 Century Avenue | 320-234-8500 |
| International Falls, MN | Good Samaritan-international Falls  | 2201 Keenan Drive | 218-283-1314 |
| International Falls, MN | Rainy River Community College * | 1501 Hwy 71 | 218-285-7722 |
| Inver Grove Heights, MN | Inver Hills Community College * | 2500 80th St. East | 651-450-8500 |
| Jackson, MN | Mn West Community & Tech College-jackson  | 401 West Street | 507-847-3320 |
| Karlstad, MN | Karlstad Senior Living  | 304 Washington | 218-436-2161 |
| Lake Park, MN | Sunnyside Care Center  | 16561 Us Hwy 10 | 218-238-5944 |
| Lakeville, MN | Mncaps/prior Lake High School  | 17685 Juniper Path #205 | 952-435-0120 |
| Le Sueur, MN | Ridgeview Lesueur Medical Center  | 621 South 4th Street | 507-665-2262 |
| Little Falls, MN | Little Falls Community High School, Health Occupations  | 1001 Se Fifth Avenue | 320-616-2242 |
| Luverne, MN | Good Samaritan Society, Luverne  | 110 South Walnut Ave | 507-283-3112 |
| Luverne, MN | Minnesota Veterans Home-luverne  | 1300 N. Kniss Avenue | 507-283-6200 |
| Mankato, MN | Mankato Area Public Schools  | Intergovernmental Center 10 Civic Center Plaza | 507-207-4282 |
| Mankato, MN | Monarch Healthcare Management Na Training Program  | 638 Southbend Avenue | 507-388-2913 |
| Mapleton, MN | Mch On Track  | 301 Troendle Street Sw | 507-524-3315 |
| Melrose, MN | Centracare Health Regional Na Program  | 520 Railroad Ave Nw | 320-252-0010 |
| Menahga, MN | Greenwood Connections  | 427 Main Street Ne | 218-564-4101 |
| Menahga, MN | Menahga Public Schools Isd 821  | 216 Aspen Avenue Po Box 160 | 218-564-4141 |
| Milaca, MN | Elim Care And Rehab Center  | 730 Second Street Se | 320-982-8243 |
| Minneapolis, MN | American Nursing & Technical Institute  | 1425 10th Avenue South | 612-558-0895 |
| Minneapolis, MN | American Red Cross Na Training-blended Learning  | 1201 West River Parkway | 612-872-3213 |
| Minneapolis, MN | Augustana Care-ontrack Program  | 1425 10th Avenue South | 612-238-5242 |
| Minneapolis, MN | Excellence Health Career Center  | 1007 West Broadway | 612-547-0095 |
| Minneapolis, MN | Lincoln International High School  | 2520 Minnehaha Ave | 612-872-8690 |
| Minneapolis, MN | Midwest Career Institute  | 1625 Park Avenue South | 612-588-9410 |
| Minneapolis, MN | Minneapolis Community & Tech. College * | 1501 Hennepin Ave | 612-659-6000 |
| Minneapolis, MN | North American Medical Academy  | 5201 Bryant Avenue North Suite 108 | 612-521-0602 |
| Moorhead, MN | Eventide Senior Living  | 1405 7th Street South | 218-291-2289 |
| Moorhead, MN | M State C&t College- Workforce Development Solutions * | 1110 14th Street South | 218-299-6903 |
| Moose Lake, MN | Augustana Mercy Hcc  | 710 South Kenwood Avenue | 218-351-9420 |
| Morris, MN | West Wind Village  | 1001 Scott Avenue | 320-760-9232 |
| New Hope, MN | Accredited School Of Nursing Assistant/hha  | 7600 Bass Lake Road Suite 103 | 763-746-0412 |
| New York Mills, MN | New York Mills Public Schools  | 209 Hayes Avenue | 218-385-4216 |
| North Mankato, MN | High Step Health Science Academy  | 2075 Lookout Drive | 507-386-2960 |
| North Mankato, MN | South Central College - Mankato * | 1920 Lee Boulevard | 507-389-7200 |
| Northfield, MN | Northfield Retirement Community  | 900 Cannon Valley Drive | 507-664-7353 |
| Northfield, MN | Three Links Care Center  | 815 Forest Avenue | 507-664-8861 |
| Onamia, MN | Mille Lacs Health Care System Long Term Care  | 200 Elm Street North | 320-532-2802 |
| Ortonville, MN | Fairway View Neighborhoods Ontrack  | 201 Mark Drive | 320-839-4175 |
| Osakis, MN | Galeon  | 410 West Main | 320-248-5566 |
| Osseo, MN | Osseo Senior High  | 317 Second Avenue Nw | 763-391-8519 |
| Park Rapids, MN | Heritage Living Center  | 619 West 6th Street | 218-237-8315 |
| Park Rapids, MN | Park Rapids Area High School | 401 Huntsinger Avenue | 218-237-6441 |
| Parkers Prairie, MN | St Williams Living Center  | 212 West Soo Street Po Box 30 | 218-338-4671 |
| Perham, MN | Perham Living  | 665 3rd Street Sw | 218-346-1181 |
| Perham, MN | Perham Living Ontrack  | 735 3rd Street Sw | 218-347-1800 |
| Pierz, MN | Horizon Health, Inc.  | 26814 143rd Street P.o. Box 220 | 320-468-6451 |
| Pine City, MN | Pine T &c College Healthcare Core Curriculum  | 900 Fourth Street | 320-629-6764 |
| Pipestone, MN | Mn West C&t College, Hybrid Na  | 1314 North Hiawatha | 507-825-6860 |
| Plainview, MN | Plainview-elgin-millville High School  | 500 West Broadway | 507-534-3128 |
| Princeton, MN | Elim Care Inc.  | 701 First Street | 763-389-1171 |
| Red Wing, MN | Minnesota State College - Southeast Tech * | 308 Pioneer Road | 651-385-6300 |
| Rochester, MN | Hawthorne Educational Center, Rochester Public  | 700 Fourth Avenue Se | 507-273-0713 |
| Rochester, MN | Madonna Towers Of Rochester  | 4001 19th Avenue Nw | 507-206-2221 |
| Rochester, MN | North Shore Healthcare Training Program  | 501 8th Avenue Se | 507-288-6514 |
| Rochester, MN | Rochester Community & Technical College * | 851 30th Ave Se | 507-285-7210 |
| Rochester, MN | Rochester Public School # 525  | 2130 College View Road East | 507-328-4240 |
| Rochester, MN | Samaritan Bethany Arbor Terrace Na Trg Prg  | 24 Nw 8 St. | 507-289-4031 |
| Roseau, MN | Lifecare Roseau Manor  | 715 Delmore Drive | 218-463-2500 |
| Rosemount, MN | Center For Workforce Development Open Enrollment  | 1300 145th Street East | 651-423-8549 |
| Rosemount, MN | Dakota County Technical College * | 1300 E 145th St | 651-423-8549 |
| Rushford, MN | Good Shepherd Lutheran Services  | 800 Home Street | 507-864-7714 |
| Rushford, MN | Rushford-peterson School District  | 102 North Mill Street | 507-864-7786 |
| Sartell, MN | Country Manor Hlth Care & Retirement Ctr  | 520 - 1st Street Ne | 320-253-1920 |
| Shakopee, MN | Shakopee High School  | 100 17th Avenue West | 952-496-5152 |
| Silver Bay, MN | Minnesota Veterans Home, Silver Bay  | 50 Outer Drive | 218-353-8700 |
| Silver Bay, MN | Mn Veterans Home Ontrack  | 56 Outer Drive | 218-353-8700 |
| Spring Lake Park, MN | Spring Lake Park High School | 1100 81st Ave Ne | 763-786-5571 |
| St Cloud, MN | St Cloud T&c College Health Training Solutions  | 1540 Northway Drive | 320-308-5940 |
| St Cloud, MN | St Cloud Technical & Community College * | 1540 Northway Dr | 320-203-2386 |
| St Paul, MN | Guadalupe Alternative Program  | 381 East Robie Street | 651-222-0757 |
| St Paul, MN | Hubert H Humphrey Job Corps Center  | 1480 N Snelling Ave | 651-647-0442 |
| St Paul, MN | International Institute Of Minnesota  | 1694 Como Ave. | 651-647-0191 |
| St Paul, MN | St Paul College * | A Community And Tech. Coll 235 Marshall Ave | 651-846-1600 |
| St. Peter, MN | Benedictine Living Community  | 1907 Klein St. | 507-934-8274 |
| Staples, MN | Lakewood Health System Care Center  | 401 Prairie Avenue Ne | 218-894-8326 |
| Staples, MN | Staples Motley High School  | 401 Centennial Lane | 218-894-2439 |
| Thief River Falls, MN | Northland Community & Tech College - Trf * | 1101 Hwy #1 East | 218-683-8800 |
| Waconia, MN | Auburn Home In Waconia  | 594 Cherry Drive | 952-227-0476 |
| Waite Park, MN | Scrubs Academy, Llc  | 50 10th Avenue South | 320-230-9939 |
| Walker, MN | Walker, Hackensack And Akeley High School Program  | Box 4000 | 218-547-5322 |
| Waseca, MN | Lakeshore Inn Nursing Home  | 108 Nw 8th Street | 507-835-2800 |
| White Bear Lake, MN | Century Community & Technical College * | 3300 Century Ave N | 651-779-3341 |
| White Bear Lake, MN | Century Online Na/hha  | 3300 Century Avenue North | 651-779-3902 |
| Willmar, MN | Ridgewater College - Willmar Campus * | 2101 15th Avenue Nw | 320-222-5214 |
| Winona, MN | Minnesota State College - Southeast Tech  | 1250 Homer Road | 507-453-2740 |
| Winona, MN | Saint Anne Of Winona Ontrack  | 902 East Second Street | 507-474-4980 |
CNA Classes In Other States: