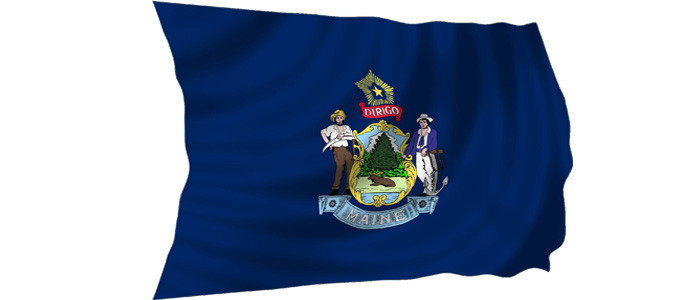 Certified Nursing Assistant (CNA) in Maine, is a field in bloom that offers a satisfying career with significant advancement opportunities and a flexible training program. The state of Maine has some of the most stringent CNA training programs, however with very affordable prices.
State-approved training programs can be found in local adult education centers, various community colleges and universities, the American Red Cross, vocational schools and private schools or healthcare facilities and online courses through distance education schools which meet Maine's standards and the federal requirements. Additional, there are some employers that provide free training to those who will work for them for a certain period of time after completing the training and certification.
Often, CNAs work under the supervision of a licensed nurse or a licensed practical nurse in hospitals, clinics, nursing homes, hospices and in other healthcare facilities in the state. They take care of patients and help them with their everyday needs such as eating, dressing, mobility, recovery, bathing, toileting and they also perform duties involved in the observational side of treatment such as logging behavior, measuring and recording vital signs, such as taking blood pressures or temperature a patient, recording patient progress in a daily log, and proper operating and maintaining of medical equipment.
Certified Nursing Assistants work together with a Registered Nurse and they cannot do any private duty work. Maine's Division of Licensing and Regulatory Services is responsible in overseeing all the facilities that offer CNA classes and the Maine Department of Education is also responsible for the location information. The state of Maine will require all CNA students to take a test consisting of two parts. The multiple choice exam and skills demonstration must be passed in order to be certified and be eligible in working as a CNA in the area.
CNA Training Programs in Maine (ME)
Applicants who enroll in a CNA approved program training of Maine, must be at least 18 years old, must be able to write and read in English, they shouldn't have any past criminal record and they have to provide a proof of immunizations and tuberculosis test report of the last 6 months.
The CNA classes in Maine are different from other states. Each CNA training programs in Maine, is overseen by the Department of Health and Human Services. Students are required to complete an extensive training that consists of 180 hours instruction, which is well above the national average.
Out of 180 hours, 90 hours should be dedicated to classroom study, 20 hours should be given to the clinical coursework and 70 hours should be dedicated to clinical practice (which is to be carried under a health care supervisor). CNA class fees range from $800 to $2000 in the state of Maine.
The training program curriculum includes CNA basic skills, ethical aspects and legal ramifications of giving care, patient and peer communication, fire prevention, emergency procedures, patient assessment, infection control, human anatomy, proper way of dealing patients with special needs, personal safety and geriatric care. In order to be eligible for the training program, you have to be 16 years old and above. Being a high school graduate is not a general requirement but it is necessary to provide a proof of passing all grades until grade 9.
During CNA courses, the candidate will study a variety of general health care subjects like infection control, body mechanics, dietary issues, medical terminology, safety procedures, hygiene issues and environmental, cleanliness issues, and basic anatomy and physiology. In addition, some curriculum will be dedicated to the monitoring of vital signs, mobility, caring of the aging, observing the response of the patients towards the treatment, interpersonal skills and communicating with patients.
Maine CNA Certification
After completing the training program, candidates should take a competency exam within 24 months, which developed by the Maine Department of Health & Senior Services and is divided into two parts. A two-hour written or an oral multiple-choice exam consisting of 70 questions on direct patient care, and a skills demonstration, which tests the techniques learned in the clinical settings.
Prospective Certified Nursing Assistants (CNAs) have to pass both sections and allowed three attempts for this, otherwise, they need to repeat the training program. The certification must be renewed every 2 years, and CNAs should prove they have been employed for at least 8 hours during the same period, and must have completed 12 hours of continuous education every year for recertification.
After successfully completing the competency exam, candidate's name is placed on the Maine Nurse Aide Registry, which maintains a record of all the Certified Nursing Assistants (CNAs) working in the state. There is no fee for placement into the registry.
It is very important that your name is included in the list of Maine CNA Registry. You have to submit an application form together with your CNA training certificate, Social Security Card, current ID, letters from the employer and a clean criminal background check. There will be no fees involved in this process including the renewal of your CNA license status. But with license renewal, you have to submit a certificate stating that you have worked a minimum of 8 hours for the last two years, an application form for license renewal and a certification of good conduct.
When you work as a Certified Nursing Assistant in Maine, you have to abide on the regulations imposed by the state. It is essential that you keep a clean record of work experience in order to renew the license. Moreover, once you work as a Certified Nursing Assistant, you can always proceed to nursing in order for you to obtain a higher position in the health care field. Several opportunities are waiting for you in this field so start it now and become a CNA.
CNA Salary and Job Outlook in Maine
The average salary of a CNAs  in Maine is approximately $25,210 per annum, depending on the experience and the employer. There are several employment opportunities and a promising future in the healthcare field in Maine where a CNA can have a successful career. Government agencies, hospitals, nursing homes, hospices and several other healthcare facilities are able they offer possibilities of employment and a good salary for well trained and experienced Certified Nursing Assistants (CNAs). The need for CNAs is on the rise with an increasing number of seniors needing long-term care services.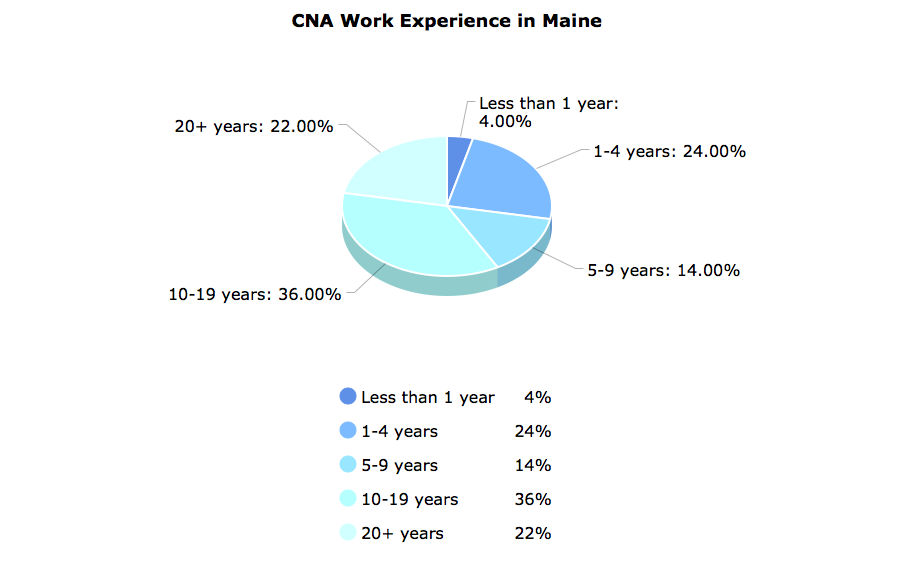 All Maine State Approved CNA Programs
| LOCATION | FACILITY | ADDRESS | PHONE |
| --- | --- | --- | --- |
| Auburn, ME | Auburn Adult Education | 77 Harris Street | 207-333-6661 |
| Augusta, ME | Augusta Adult & Community Education | 33 Union Street | 207-626-2470 |
| Augusta, ME | Capitol Area Tech Center | 40 Pierce Drive | 207-626-2475 |
| Augusta, ME | Kennebec Learning Center | 33 Union Street | 207-626-2470 |
| Bangor, ME | Bangor Adult Education | 885 Broadway | 207-992-5522 |
| Bangor, ME | Eastern Maine Community College | 354 Hogan Road | 207-974-4600 |
| Bangor, ME | Penobscot Job Corps Academy | 1375 Union Street | 207-990-3000 |
| Bangor, ME | United Technologies Center | 200 Hogan Road | 207-942-5296 |
| Bath, ME | Bath Regional Career And Technical Center | 800 High Street | 207-443-8257 |
| Bath, ME | Southern Maine Community College | 11 Park Street | 207-386-0013 |
| Biddeford, ME | Biddeford Adult Learning Center | 189 Alfred Street | 207-282-3883 |
| Biddeford, ME | Biddeford Regional Center Of Technology | 10 Maplewood Avenue | 207-282-1501 |
| Boothbay Harbor, ME | Boothbay Region Ace | 236 Townsend Avenue | 207-633-2421 |
| Boothbay Harbor, ME | St. Andrews Village | 145 Emery Lane | 207-633-6996 |
| Brunswick, ME | Region Ten, Brunswick | 68 Church Road | 207-729-6622 |
| Calais, ME | St Croix Regional Technical Center | 34 Blue Devil Hill | 207-454-2581 |
| Calais, ME | Washington County Community College | One College Drive | 207-454-1000 |
| Caribou, ME | Caribou Adult Education | 308 Sweden Street | 207-493-4270 |
| Caribou, ME | Caribou Nursing Home | 10 Bernadette Street | 207-498-3102 |
| Casco, ME | Crooked River Adult And Community Education Center | 1437 Poland Spring Road | 207-627-4291 |
| Coopers Mills, ME | Madison Adult Education - Country Manor Nursing Home | 132 Main Street | 207-549-7471 |
| Damariscotta, ME | Central Lincoln County Adult Education | 35 Miles Street | 207-563-2811 |
| Damariscotta, ME | Central Lincoln County Adult Education | 767 Main Street | 207-563-2811 |
| Deer Isle, ME | Deer Isle Adult & Community Education | 251 North Deer Isle Road | 207-348-6443 |
| Dexter, ME | Tri County Tech Center | 14 Abbott Hill Road | 207-924-7670 |
| Dover-foxcroft, ME | Hibbard Nursing Home | 1037 W Main St | 207-564-8129 |
| Dover-foxcroft, ME | Mayo Regional Hospital | 897 West Main Street | 207-564-8401 |
| Dover-foxcroft, ME | Piscataquis Valley Adult Education Cooperative | 48 Morton Avenue | 207-564-6525 |
| East Machias, ME | Washington Academy | 66 High Street | 207-255-8301 |
| Ellsworth, ME | Courtland Rehabilitation Center | 42 Bucksport Road | 866-414-4548 |
| Ellsworth, ME | Hancock County Technology Center | 112 Boggy Brook Road | 207-667-9729 |
| Falmouth, ME | Southern Maine Community College | 191 Foreside Road | 207-844-2102 |
| Farmington, ME | Foster Technology Center | 374 High Street | 207-778-6416 |
| Farmington, ME | Msad #9 Ace Program - Franklin Memorial Hospital | 111 Franklin Health Commons | 800-398-6031 |
| Farmington, ME | Msad #9 Ace Program - Orchard Park & Living Center | 107 Orchard Street | 207-778-4416 |
| Farmington, ME | Mt. Blue Rsd Franklin County Adult Basic Education | 108 Fairbanks Road | 207-778-3460 |
| Fort Kent, ME | Msad #24 Adult & Community Education | 84 Pleasant Street | 207-834-3536 |
| Freeport, ME | Southern Maine Community College | 6 Old Country Road | 207-741-5500 |
| Frenchville, ME | St John Valley Technology Center | 431 Us Route 1 | 207-543-6606 |
| Gardiner, ME | Msad #11 Adult Education - Gardiner Area High School | 40 West Hill Road | 207-582-3774 |
| Gorham, ME | Auburn Adult Education - Great Falls School | 41 Morrill Avenue | 207-795-4141 |
| Gorham, ME | Gorham Adult Education | 106 Weeks Road | 207-222-1095 |
| Gorham, ME | Gorham House | 50 New Portland Road | 207-839-5757 |
| Greenville, ME | Greenville Adult Education | 150 Pritham Avenue | 207-695-2666 |
| Greenville, ME | Greenville Adult Education - Charles A. Dean Memorial Hospital And Nursing Home | 364 Pritham Avenue | 207-695-5200 |
| Houlton, ME | Madigan Home Health Care | 93 Military Street | 866-531-0695 |
| Houlton, ME | Region Two School Of Applied Technology | P.o. Box 307 | 207-532-9541 |
| Lewiston, ME | Central Maine Medical Center | 300 Main Street | 207-795-0111 |
| Lewiston, ME | Lewiston Adult Education | 145 Birch Street | 207-784-2928 |
| Lewiston, ME | Lewiston Regional Technical Center | 156 East Avenue | 207-795-4144 |
| Lincoln, ME | Northern Penobscot Tech Region Iii | 35 West Broadway | 207-794-3004 |
| Lubec, ME | Oceanview Nursing Home | 2 South Street | 207-733-4900 |
| Madawaska, ME | High View Manor | 517 Riverview Street | 207-728-3338 |
| Madawaska, ME | Madawaska Adult Education | 135 Seventh Avenue | 207-728-6314 |
| Madison, ME | Madison Area Memorial High School | 486 Main Street | 207-696-3395 |
| Mexico, ME | Region 9 Adult Education Learning Center | 377 River Road | 207-364-2012 |
| Millinocket, ME | Region Three, Millinocket - Stearns High School | 199 State Street | 207-723-6430 |
| Naples, ME | Lake Region Vocational Center | 1879 Roosevelt Trail | 207-693-3864 |
| North Berwick, ME | Noble Adult & Community Education - Noble High School | 388 Somersworth Road | 207-676-3223 |
| Orono, ME | Orono Adult Community Education - Orono Commons | 117 Bennoch Road | 207-866-4914 |
| Pittsfield, ME | Msad #53 Ace - Sebasticook Valley Hcf | 33 Leighton Street | 207-487-3131 |
| Portland, ME | Portland Adult Education | 1600 Forest Avenue | 207-775-0432 |
| Portland, ME | Portland Arts & Tech High School | 196 Allen Avenue | 207-874-8165 |
| Portland, ME | Southern Maine Community College | 850 Baxter Blvd | 207-774-7878 |
| Portland, ME | Southern Maine Community College | 630 Ocean Avenue | 207-741-5500 |
| Presque Isle, ME | Mars Hill Adult Education Msad #42 - Aroostook Medical Center | 140 Academy Street | 207-425-2811 |
| Presque Isle, ME | Presque Isle Adult Education | 16 Griffin Street | 207-764-0121 |
| Presque Isle, ME | Presque Isle Rehab & Nursing Center | 162 Academy Street | 207-764-0145 |
| Rockland, ME | Mid-coast School Of Technology Adult Education | 1 South Main Street | 207-594-2161 |
| Sanford, ME | Sanford Regional Vocational Center | 52 Sanford High School Boulevard | 207-324-2942 |
| Skowhegan, ME | Madison Adult Education | 61 Academy Circle | 419-589-2600 |
| South Berwick, ME | Sanford Regional Vocational Center - Marshwood High School | 260 Dow Highway | 207-384-4500 |
| South Paris, ME | Oxford Hills Comprehensive High School | 256 Main Street | 207-743-8914 |
| South Portland, ME | Southern Maine Community College | 2 Fort Road | 207-741-5500 |
| Springvale, ME | Sanford Community Adult Education | 21 Bradeen Street | 207-490-5145 |
| Sullivan, ME | Sumner Adult Education | 1888 Us Hwy 1 | 207-422-3889 |
| Topsham, ME | Merrymeeting Adult Education | 35 Republic Avenue | 207-729-7323 |
| Turner, ME | Msad 52 Upper Androscoggin Collaborative | 486 Turner Center Road | 207-225-1010 |
| Waldo, ME | Waldo County Technical Center | 1022 Waterville Road | 207-342-5231 |
| Waterboro, ME | Massabesic Center For Adult Learning | 84 West Road | 207-247-2022 |
| Waterville, ME | Mid Maine Tech Center | 3 Brooklyn Avenue | 207-873-0102 |
| Westbrook, ME | Westbrook Regional Vocational Center | 125 Stroudwater Street | 207-854-0820 |
| Winslow, ME | Helping Hands Trade School | 410 China Road | 207-872-9075 |
CNA Classes In Other States: