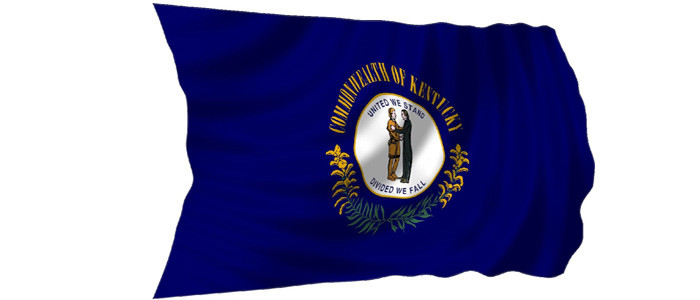 Are you tired of getting a minimum wage from your work? Do you want to jump start a new career with good compensation? Why not work in the healthcare field and become a Certified Nursing Assistant?
A Certified Nursing Assistant (CNA) in the state of Kentucky is usually referred as a SRNA (State Registered Nurse Aide), and assists patients and clients with healthcare needs under the direct supervision of an RN or physician. The outlook for this position of career in healthcare is excellent, as many health facilities recognize the important role that a qualified and professional CNA can play in providing the best quality of care for their patients, especially with regards to the elderly population.
To becoming a CNA in Kentucky, you should first enroll in a state-approved CNA training program, which approved by the Kentucky Cabinet of Health and Family Services and meets the national guidelines and Federal regulations. The courses included in these education programs will prepare properly the students for the certification exams.
There are many different ways to get the training you need. You can enroll in programs offered by community colleges, state universities, vocational schools, hospitals, online courses and distance education schools, nursing facilities and other healthcare establishments, either through the American Red Cross, where the courses are some of the more affordable and accessible in the field.
CNAs are primarily there to assist the patients in everything they need and are in constant contact with the patient by providing basic care and support under the supervision of a head nurse or any qualified professional. The basic duties of nursing assistants include the infection control, toileting, bathing and grooming, dressing, feeding, administering medication, keeping rooms clean, basic life support and emergency procedures, taking vital signs, such as record blood pressure, temperature, pulse, respiration, weight and height, observing and noting changes in a patient's condition or behavior, as well as the proper operating and maintaining of medical equipment.
It is a high responsibility job and everything that CNAs do must conform to national guidelines and Federal regulations such as the Health Insurance Portability and Accountability Act (HIPAA), the Joint Commission on Accreditation of Healthcare Organizations (JCAHO), Clinical Laboratory Improvement Amendments (CLIA) and Occupational Safety and Health Administration.
CNA Training Requirements in Kentucky
Candidates must be at least 18 years if they wish to enroll in a CNA program and they should complete a high school diploma or GED certification, before applying for admissions. Also, they should have good physical and mental health, clean criminal record and ability to read and write in English. Usually, the fee which is to be submitted prior to the enrollment lies between $900 and $2000 (depending on the city in which the school is located).
CNA training in Kentucky has been approved by the Kentucky Cabinet of Health and Family Services and consists of a minimum of 75 hours of instruction, split at 59 hours into classroom training and 16 hours into clinical training. Most training programs last between 4 and 12 weeks in length.
CNA program topics include:
 Basic Nursing and Clinical Skills
Body Anatomy
Emergency Care Procedures and Infection Control
Nutrition and CPR Services
Personal Care Skills
Communication and Interpersonal skills
Medical Terminology and Safety Techniques
Promotion and Respect of Patients' Rights and Independence
Providing Hospice Care
Providing Dementia Care
Caring for Patients with Cognitive Disabilities
Mental Health Care, Restorative Care and Physiology
Before you work as a CNA, you need to undergo a proper training. The training programs should be state approved in order to be qualified for the certification exam. There may be differences in the program duration but the state of Kentucky requires 75 hours of study, 16 hours of which will be for clinical training. Along the training program, a Registered Nurse or a Licensed Practical Nurse will supervise and teach you on the basic topics. These healthcare professionals should have a minimum of two years experience in order to teach. The fees for the CNA training program will cost around $600 to $1000, depending on the location and the type of facility offering it. The entire training program can be completed within two to three weeks.
CNA Certification in Kentucky
Once you finish the training, you are now qualified for the certification exam. The Kentucky Cabinet for Health and Family Services will be held responsible for the administration of exam. This exam will be a test of your knowledge on nursing skills particularly in areas like emergency procedures, resident's rights and patient care.
It is also divided in two parts; the written and oral exam and this can be taken in any healthcare facilities, technical schools or locations of Kentucky Cabinet for Health and Family Services. Before you are allowed to take the exam, you have to present a state issued photo ID, Social Security Card, proof of eligibility to work in US and pertinent documents about yourself.
After completing a training program the candidates should take a competency exam within 24 months, which is administered by the Kentucky Board of Nursing. The competency test is breakdown into a written test and a clinical exam that is conducted by National Council of State Boards of Nursing (NCSBN), that is a primary exam for CNA certification in the United States. There are 70 multiple-choice questions on test, which examines knowledge pertaining to physical care of patients, psychosocial care, and role of nurse aide. Out of 70 questions, 60 are scored, while 10 are non-scored pretest items. Test duration of written component is 2 hours.
The clinical test is accomplished in 25 minutes. It involves practical demonstration of nursing skills related to nurse aide job. There are 25 competency skills listed by NSCBN, out of which, any five could be selected at random for demonstration in clinical exam. It is necessary to pass both components of test, within 24 months from completing a state approved training, in order to get registered. There are maximum three attempts that can be availed by a candidate for passing the test. If a trainee is not able to qualify NNAAP in all attempts, he/she will have to retake the training program. You must pass 70% of the 75 multiple-choice questions and perform 5 nursing skills with an accuracy of 70%.
The state exam of Kentucky needs to be completed and reported to the Kentucky Cabinet of Health and Family Services so that your name can be listed to the Kentucky Nurse Aide Registry, which keeps track of all Certified Nursing Assistants (CNAs) in the state.
The certification should be renewed every 24 months. As long as the nursing assistant is working for pay during this time, they do not need to take another competency examination, but they do need to prove they are working or have worked during the past two years. Continuing education also plays an important role in the career of highly successful CNAs in Kentucky
The Kentucky Nurse Aide Registry will place your name on their list if you passed the exam. The certification you obtained from passing the exam will make you eligible to work in healthcare facilities like hospitals, nursing homes and long-term care facilities. The license will expire after two years and you have to renew it in order to continue working as a CNA. The Nurse Aide Registry will require 12 hours of work experience in staff development and 8 hours of CNA experience within 2 years. If you cannot meet these requirements, you will not be able to renew your license. Hence, you have to work as a CNA for you not to waste your investment in the training program and certification exam.
Becoming a CNA paves a way towards success in your personal and professional life. This respectable profession can be your first step towards other fields of study like medicine or nursing. Contact an accredited facility now and start the CNA training program right away.
CNA Salary and Job Outlook in Kentucky

One reason why more and more people are attracted to a career in the healthcare sector is the positive career outlook for the coming years. The United States Bureau of Labor Statistics (BLS) has announced that CNAs nationwide can look forward to an 18% growth in employment between the years 2008-2018.
Possible places of employment in the state of Kentucky include long term health care facilities, nursing homes, rehabilitation centers, adult care centers, hospice centers, mental health facilities and hospitals. The CNA salary in Kentucky ranges from around $18,000 to $28,000 a year, plus benefits, while the average annual wage is $24,480. This amount is largely influenced by education, training and work experience an employee has acquired.
Many employers prefer to hire a CNAs who have at least one year of work experience. Also, the geographic location is a factor affecting the salary. Several rural areas of Kentucky will be challenging places to seek for a job, because they do not require as many CNAs compared to metropolitan areas where the number of hospitals and nursing home communities is far greater.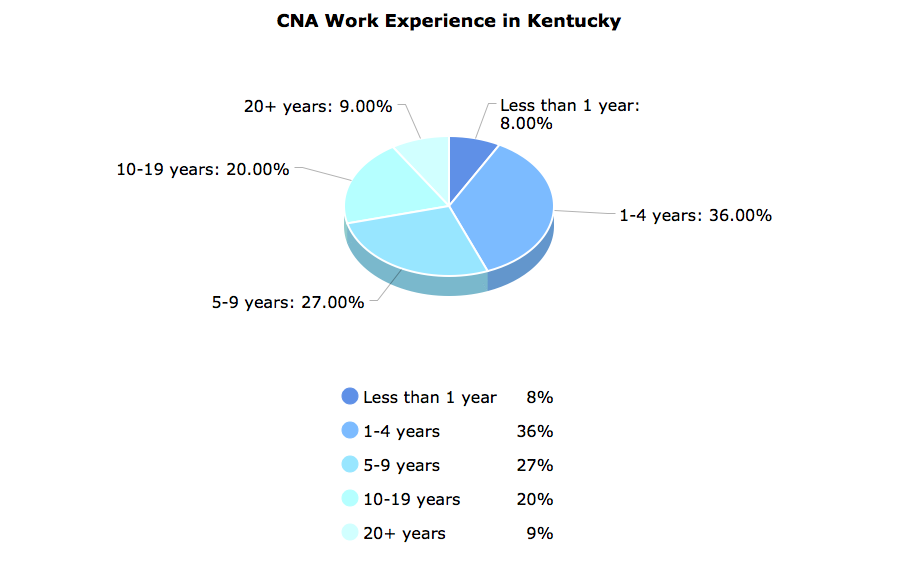 All Kentucky State Approved CNA Programs
| LOCATION | FACILITY | ADDRESS | PHONE |
| --- | --- | --- | --- |
| Ashland, KY | Ashland Community & Technical College | 1400 College Dr. | 606-326-2000 |
| Edgewood, KY | Gateway Community & Technical College | 790 Thomas More Parkway | 859-441-4500 |
| Elizabethtown, KY | Elizabethtown Community & Technical College | 600 College Street Road | 270-769-2371 |
| Glasgow, KY | Bowling Green Technical College | 129 State Ave. | 270-651-5673 |
| Hazard, KY | Hazard Community And Technical College | One Community College Drive | 606-436-5721 |
| Henderson, KY | Henderson Community College | 2660 S. Green Street | 270-827-1867 |
| Hopkinsville, KY | Hopkinsville Community College | 720 North Dr. | 270-707-3700 |
| Lexington, KY | Bluegrass Community & Technical College | 470 Cooper Drive | 859-246-6200 |
| Louisville, KY | Jefferson Community & Technical College | 109 East Broadway | 502-213-5333 |
| Madisonville, KY | Madisonville Community College | 2000 College Drive | 270-821-2250 |
| Maysville, KY | Maysville Community & Technical College | 1755 U.s. Highway 68 | 606-759-7141 |
| Owensboro, KY | Owensboro Community & Technical College | 4800 New Hartford Road | 270-686-4400 |
| Paducah, KY | West Kentucky Community & Technical College | 4810 Alben Barkley | 270-554-9200 |
| Pineville, KY | Southeast Kentucky Community And Technical College | 10350 Us Hwy 25 E | 606-337-3106 |
| Prestonsburg, KY | Big Sandy Community & Technical College | 1 Bert T. Combs Drive | 606-886-3863 |
| Somerset, KY | Somerset Community College | 808 Monticello Street | 606-679-8501 |
CNA Classes In Other States: