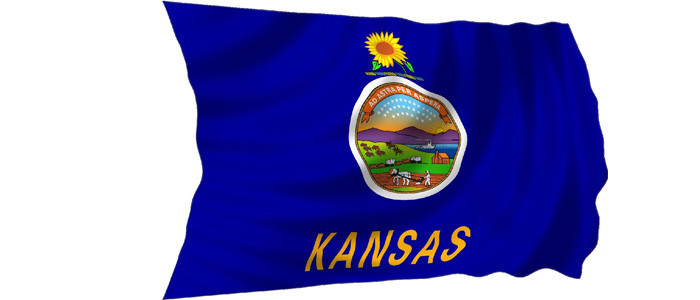 The profession of a Certified Nursing Assistant (CNA) in Kansas, is an excellent career selection currently because of the great demand in the healthcare facilities as the health is an ever-growing field and requires optimum care for the patients.
In order to become a CNA in Kansas a candidate must complete a training program that meets or exceeds all curriculum requirements set forth by the Kansas Department of Health and Environment (KDHE) and pass the certification test. The training will prepare the candidate to provide support and assistance to any medical professional and involves both mental and physical preparedness.
Kansas is one of the states, where a CNA training can be taken without any cost, as encourages the reimbursement of training fee and any candidate that undergoes a training program can request reimbursement. Most programs can be found in community colleges, technical colleges, education centers, hospitals, health centers and nursing homes that offer CNA training to current employees. Online programs are not approved in the state of Kansas, though some websites still sell courses to become a Certified Nursing Assistant (CNA).
CNAs can find employment in hospitals, nursing homes, assisted living facilities, home care situations and private doctors offices. They work under the guidance of skilled and experienced nurses and should perform their duty respecting moral values associated with this profession.
There is a wide range of responsibilities and tasks to be performed by a certified nursing assistant and may vary with the employer; taking vital signs, like measuring blood pressure, taking specimens, taking temperature, administering medication, helping the patient with personal needs like grooming, walking, personal hygiene, bathing, toileting, record keeping, cleaning and sterilization of medical equipment, are some of the duties of a CNA.
CNA Program Requirements
CNA programs in Kansas are approved by the Kansas Department of Health and Environment Office of the Secretary. Some of the requirements that the applicant should submit is a negative TB test within the past 6 months and proof of immunizations. Will also be required to show a high school diploma or GED certification and a clean criminal record.
In order to be eligible for CNA certification in Kansas, a student is required to undergo 90 hours of training. Out of ninety hours, 45 hours should be dedicated to classroom coursework and 45 hours should be given to clinical practice. During this program, a student will study subjects related to roles and responsibilities of a certified nursing assistant, end of life care, nutrition, control and prevention of infection, fluids, etc. The clinical training is performed under the supervision of an RN and requires the student aide practicing actual care on a resident. This clinical practice teaches the student how to take vital signs, observe and present health changes in a documented form, make reports, address needs of the patient's family, etc.
Typical programs take around 6-12 weeks and will prepare potential CNAs to sit for a state competency examination, administered by the Kansas Department of Health and Environment (KDHE). The admission fee charged by a class may range from $500 to $1500. The exact tuition fee depends on the class provider and there are several grants that you can get as well. As soon as you are done with the training and you are now ready for the certification examination, you have to present a photo ID issued by the state, a Social Security card, a negative test on TB and a fee of $20. The facility where you undergo the training will update you the time, date and venue of the exam so be prepared for it.
If you want to work as a CNA in Kansas, several accredited agencies are available to provide CNA training courses. Most of these programs will take almost two months to complete which is around 90 hours of classroom sessions and clinical training. There is a certain curriculum that training facilities follow and these are done in order to prepare the students in the working field.
Students will learn their roles and responsibilities as well as the common medical abbreviations that will be encountered along the way. In addition to that, the training will also cover topics on long-term, hospital, homecare and private facilities. They will also be taught on primary nursing care such as proper grooming, bathing, safety, mobility, infection control, vital signs taking, charting, CPR, first aid training and many others. All of these topics are necessary in order to become a fully equipped Nursing Assistant in the future.
Kansas CNA Certification
Upon completing the CNA training program, a candidate should obtain the state's authorization before can be allowed to take the exam. Pearson Vue is the one who conducts the examinations and administered by the Kansas Department of Health and Environment (KDHE). The exam is comprised of two sections. A clinical test on five randomly practical skills, which mimics a clinical setting, and a written exam which consists of multiple-choice questions. The skills evaluation comes first and examinee must pass all five practical skills in order to be able to take the written exam. The examinee must receive a score of at least 70% or above to gain certification.The cost of certification in Kansas is $20.
If you successfully passed the examination, the Kansas Nurse Aide registry will place your name on their list. This will make you eligible to work as a CNA in any healthcare facilities. The registry plays an inevitable role in maintaining licensing and certification requirements, and it is equally accountable for implementation of healthcare laws enforced by Omnibus Reconciliation Act of 1987 (OBRA-87) in the state.
Take note that the license you have will expire after two years so you have to renew it and update your clinical experience. Most of the time, the state of Kansas will require the applicants to have at least 10 hours of experience in resident care, 30 hours in administrative field and 10 hours CNA work in the past 24 months. If you cannot present these requirements, you might not be able to renew your license. The state of Kansas always make it sure that their Certified Nursing Assistants are updated with the latest skills and techniques in the healthcare field so be sure to practice this profession once a certification is obtained
If the examinee fails the competency evaluation exam three times, will need to re-take the CNA training, before being allowed to sit for the final exam again. Renewal of certification is every two years and the aide must have worked at least 8 hours in the preceding 24 months.
CNA Salary and Job Outlook in Kansas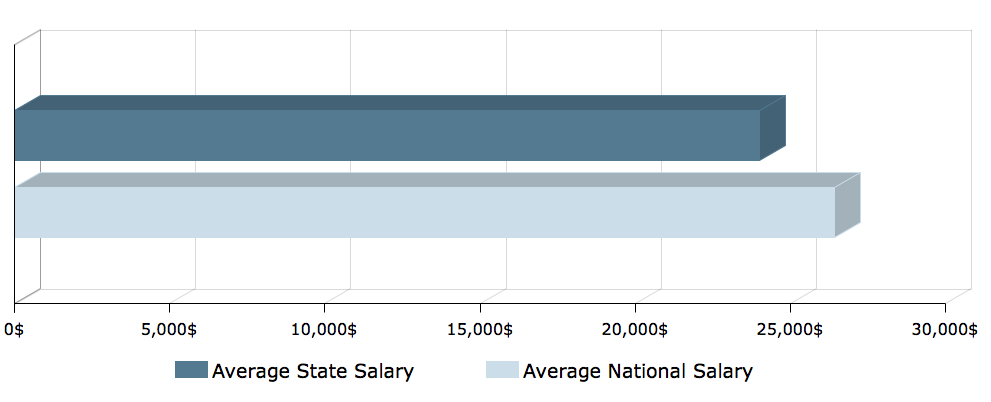 After successful certification, CNA in Kansas can legally obtain employment and hope for a promising professional outlook. As people age, they need more medical care. Therefore, CNAs will continue to be in demand, to be hired and earn a stable salary. Taking into account that salaries for CNAs may differ widely depending on training, certification, years of professional experience and geographic region, CNAs in state of Kansas earn about $24,000 a year.
Several employers require at least a year of experience for CNA, where will have better benefits such as paid vacations and paid sick days. Nursing homes and home health care agencies tend to pay lower salaries than hospitals or government agencies.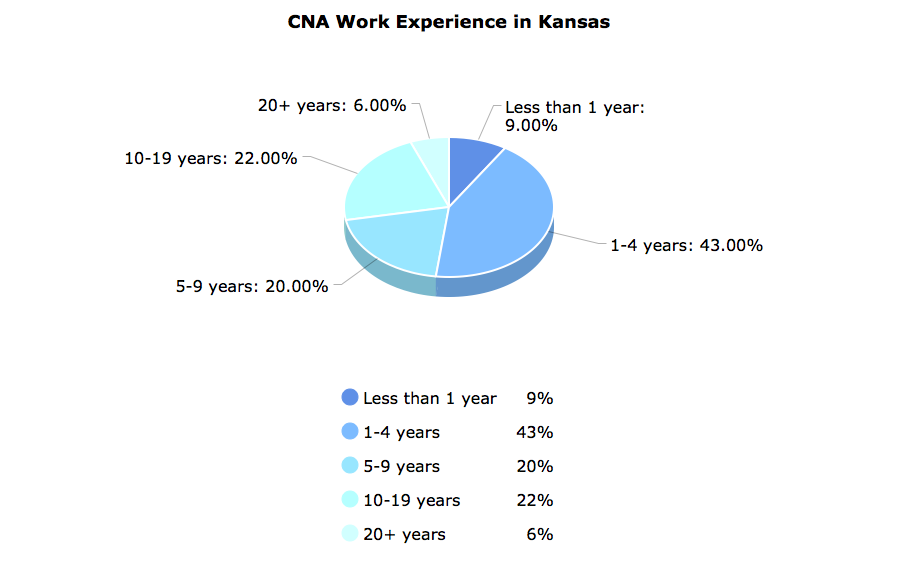 All Kansas State Approved CNA Programs
| LOCATION | FACILITY | ADDRESS | PHONE |
| --- | --- | --- | --- |
| Andover , KS | Butler Co Community College Of Andover | 110 E 21st | 316-323-6072 |
| Chanute , KS | Neosho Co Community College-chanute | 800 W 14th St | 620-431-2820 |
| Coffeyville , KS | Coffeyville Community College Technical Division | 600 Roosevelt | 620-251-3910 |
| Columbus , KS | Coffeyville Community College/ats At Columbus | 509 W Elm | 620-429-3896 |
| Concordia , KS | Cloud Co Community College Allied Health | P O Box 1002 | 785-243-1435 |
| Concordia , KS | Mount Joseph Senior Community | 1110 W 11th | 785-243-1347 |
| Dodge City, KS | Dodge City Community College | 2501 N 14th Ave | 620-227-9328 |
| El Dorado, KS | Butler Co Community College | 131 N Haverhill Rd | 316-320-7375 |
| Emporia , KS | Flint Hills Technical College | 3301 W 18th St | 620-343-4600 |
| Fort Riley, KS | Fort Riley | 8044 Normandy Dr Bldg 8044 | 620-665-3500 |
| Fort Scott, KS | Ft Scott Community College | 2108 S Horton | 620-768-2908 |
| Fort Scott, KS | Medicalodges Fort Scott | 915 S Horton Po Box 510 | 620-223-0210 |
| Frontenac , KS | Ft Scott Community College Frontenac | 724 N Industrial Dr | 620-231-3819 |
| Garden City, KS | Garden City Community College | 801 Campus Dr | 620-276-9560 |
| Girard , KS | Westridge | 950 W St John St | 620-724-6760 |
| Goodland , KS | Northwest Kansas Technical College | Po Box 668 | 785-890-1547 |
| Great Bend, KS | Barton Co Community College | 245 Ne 30th Rd | 620-792-9298 |
| Hays , KS | North Central Ks Technical College At Hays | 2205 Wheatland | 785-625-2437 |
| Highland , KS | Highland Community College | Po Box 68 | 785-442-3236 |
| Hutchinson , KS | Wesley Towers | 700 Monterey Pl | 620-663-9175 |
| Hutchinson , KS | Hutchinson Community College | 815 N Walnut | 620-665-4948 |
| Independence , KS | Independence Community College | Po Box 708 | 620-332-5498 |
| Iola , KS | Windsor Place At Iola Llc | 600 E Garfield St | 620-365-3183 |
| Iola , KS | Allen Co Community College | 1801 N Cottonwood | 620-365-5116 |
| Kansas City, KS | Kansas City Ks Community College | 7250 State Ave | 913-288-7465 |
| Kansas City, KS | Delores Homes Training Center | 7735 Washington Ave Ste E And F | 913-299-9534 |
| Lawrence , KS | Trinity Career Institute Lawrence | 1942 Massachusetts | 785-331-2025 |
| Lawrence , KS | Neosho Co Community College Lawrence | 3320 Peterson Rd Ste 105 | 785-727-4131 |
| Leavenworth , KS | Kansas City Ks Community College Leavenworth Ctr | 225 Cherokee | 913-651-2111 |
| Lenexa , KS | Kansas College Of Nursing Lenexa | 7721 Quivera Rd | 913-248-2838 |
| Liberal , KS | Seward County Community College | P O Box 1137 | 620-626-3137 |
| Lindsborg , KS | Lindsborg House Ii | 127 W Mcpherson St | 785-227-3652 |
| Manhattan , KS | Manhattan Area Technical College | 3136 Dickens Ave | 785-587-2800 |
| Mcpherson , KS | Multi Community Diversified Services Inc | 2107 Industrial Dr | 620-241-6693 |
| Mcpherson , KS | The Cedars | 1021 Cedars Dr | 620-241-0919 |
| Merriam , KS | Mid America Nursing & Allied Health Institute | 10000 W 75th St Bldg A Ste 241 | 913-708-8323 |
| Nickerson , KS | Nickerson High School Usd309 | 305 S Nickserson | 620-422-3226 |
| Olathe , KS | Jccc Health Occupations Dept | 21201 W 152nd St | 913-469-2350 |
| Overland Park, KS | Midwestern College Overland Park | 9545 W 87th St | 913-385-2144 |
| Paola , KS | Ft Scott Community College Paola | 501 S Hospital Dr Ste 300 | 913-294-4178 |
| Parsons , KS | Labette Community College - Parsons | 200 S 14th St | 620-421-6700 |
| Pratt , KS | Pratt Community College/ Allied Hlth Dept | 348 Ne Sr 61 | 620-672-5641 |
| Salina , KS | Salina Area Tech College | 2562 Centennial Rd | 785-309-3100 |
| Tecumseh , KS | Shawnee Heights Public Schools | 4401 Se Shawnee Heights Rd | 785-379-5800 |
| Topeka , KS | Kansas Neurological Institute | 3107 Sw 21st St | 785-296-5389 |
| Topeka , KS | Washburn Tech | 5724 Huntoon | 785-228-6392 |
| Topeka , KS | Kansas Health Care Association | 1100 Sw Gage | 785-267-6003 |
| Wichita , KS | Wecareonline | 4601 E Douglas Ste 119 | 888-932-2501 |
| Wichita , KS | Allied Health Career Training Llc | 2622 W Central B112 | 316-854-3892 |
| Wichita , KS | Midwestern College | 7607 E Harry | 316-684-5122 |
| Wichita , KS | Bethel House Training Institute | 3825 E Harry | 316-771-7315 |
| Wichita , KS | Lakepoint Wichita | 1315 N West St | 316-943-1295 |
| Wichita , KS | D&r Tender Loving Care Home Health Services Llc | 2201 E 13th St Ste B | 316-684-3230 |
| Wichita , KS | Wsu Tech | 213 N Mead | 316-677-9400 |
| Wichita , KS | Wsu Tech | 4501 E 47th St South | 316-677-1500 |
| Winfield , KS | Cowley Co Comm College - Winfield Center | 1406 E 8th | 620-221-3392 |
CNA Classes In Other States: