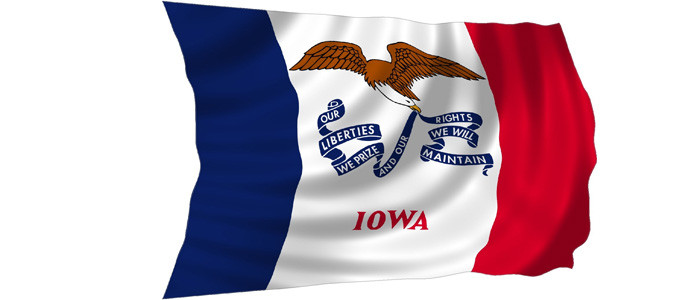 The career of nursing assistant is a great choice in the state of Iowa as there will be increase in the number of jobs available over the next years, due growing requirement for better healthcare and long term insurance coverage. In order to become a Certified Nursing Assistant (CNA) in Iowa, an individual has to complete an approved CNA training program and pass the CNA competency exam.
There are several private schools, community colleges and healthcare facilities which offer CNA training program in the state but only those who have been approved by the Iowa Department of Inspections and Appeals can provide eligibility for the CNA state competency exams.
The American Red Cross offers affordable, flexible nursing assistant training programs, and some facilities, such as nursing homes, offer free CNA training provided the candidate will work for the company for a certain amount of time.
The responsibilities and duties of a Certified Nursing Assistant include assisting doctors and nurses, assist in daily activities of patients such as bathing, feeding, grooming, preparing beddings etc. Also, she / he is responsible for checking and measuring a patient's vital signs such as blood pressure, temperature, weight, height, and recording a patient's health progress, always under the supervision of a registered nurse or a physician.
Working as a Certified Nursing Assistant in Iowa is a rewarding and a challenging career. CNA's work together with doctors,  Registered Nurses and Licensed Practical Nurses and they are the primary healthcare staff that the patients deal with. That is why  CNAs are  important healthcare professionals without whom it would be very difficult to run any larger healthcare sector.
Certain requirements are needed in becoming a CNA in Iowa. First of all you have to undergo CNA classes in Iowa, which approved by the Iowa Department of Public Health. These programs will help you learn the responsibilities of a Certified Nursing Assistant particularly in dealing with patients and peers around you. The educational requirement of CNA program is 75 hours and 80% of which is for classroom sessions. The remaining number of hours will be for clinical training which enables you to know the necessary skills that a CNA should possess.
CNA Program Requirements
CNA training in Iowa is quite affordable and depends on the institution. If you are working already in the health care field, there is no need to pay for the fees. On the other hand, if you cannot afford for the CNA classes in Iowa, you can contact the facility and negotiate with them to work after getting certified. This is a great chance to have a work after the certification process. Just make sure that before entering the training program, you have to have a clean criminal record because the state will not accept CNA's who are convicted with theft, murder and any other criminal offense. Aside from this, you will also be required to undergo a TB test because having such disease will make the health of co-workers and patients at risk. A healthy and disease free nursing assistant is highly needed to give optimal care to patients having disabilities and other conditions requiring assistance.
Most schools require a high school diploma or GED certificate, a TB test report of last 6 months and immunization's proof and a physical exam; also is required a criminal background check before admission to the program.
The Iowa Department of Inspections and Appeals is responsible for approving CNA classes in the state of Iowa and the courses and exams must meet all standards set forth by the federal and state regulations.
According with federal regulation, 75 hours are the minimum instruction time that needs to be spent for CNA training program in the state of Iowa. Out of the 75 hours, the initial 30 hours will have to be in a clinical training and 45 hours of classroom coursework. However, there are some training providers offering even more extensive training.
These courses will equip you to embark on an exciting new career as a Certified Nursing Assistant and they include basic nursing topics and the study of medical terminology, anatomy and physiology, infection prevention and control, nutrition, clinical practicum, personal care skills, mental health and social service needs, taking readings such as blood pressure, temperature, and pulse, how to respond to health emergencies, recording medical histories, administering medications, interpersonal skills and communicating with patients and their rights. Students will acquire nursing skills and experience in working closely with other nurses and doctors.
The training usually lasts for 6 to 7 weeks and the price is a minimum of $150 per student and will depend on the training program, as some programs will be more expensive than others. There are also programs which provide financial assistance to those who cannot afford their tuition fees.
CNA Certification in Iowa
Moving on, once the classroom sessions and clinical placement are complete, you will undergo a certification test. This is administered by the facility where you are trained and it will cost around $15 and $45, depending on the facility where you are affiliated.
After completing the training, the candidate has to appear for the CNA competency exam which is known as DCRE (direct care registry exam) and is usually administered at the training facilities.
The competency exam consists of a written exam and a clinical assessment. The written exam consisting of 70 questions and students must have to achieve the score of at least 70% in this test. In the skills assessment test, students are required to demonstrate their ability to perform the tasks they have learned during training, as they will be asked to perform 5 skills chosen at random from a set of 25 skills. It is mandatory for examinees to pass both tests separately, and they have only three chances to pass the competency exam before retake a CNA training program. The exam fee may vary between training program providers. However, exam usually cost between $15-45.
If you successfully passed the exam, the facility will place your name in the list of Iowa Nurse Aide Registry and you will be given a 6-digit number for your identification as a Certified Nursing Assistant.
Certified Nursing Assistants (CNAs) in Iowa do not receive a license. Instead, they receive an identification number and they are placed on the Iowa Nurse Aide Registry, which maintains records of all CNAs in the state. The certification remains valid for a period of 2 years and must be renewed since the aide has work at least for 8 hour during the same period through at least 12 hours of in-service training annually.
Being on the list entitles you for an ample of job opportunities. You can work in long term care facilities, hospitals, nursing homes and even healthcare organizations. Plus you can upgrade your skills in order to receive greater compensation and make your career a more stable one.
CNA Salary and Job Outlook in Iowa

There is a high demand for CNA's in this state and undergoing the CNA classes in Iowa is definitely a good investment to make. The training will not take that long so you can be assured that you can start earning in just a short span of time.
The profession of nursing assistant is attracting more and more people, because of the positive career outlook projected by the U.S. Bureau of Labor Statistics (BLS). The certification promotes career advancement in related healthcare technical professions such as medical aides and home health aides. Also, it is a prerequisite to gain admittance into nursing school.
A Certified Nursing Assistant (CNA) can work in a number of different healthcare facilities including hospitals, nursing homes and extended care facilities. Each of these places needs CNAs on their  staff to ensure proper care for their patients. The average CNA salary in Iowa is around $26,300.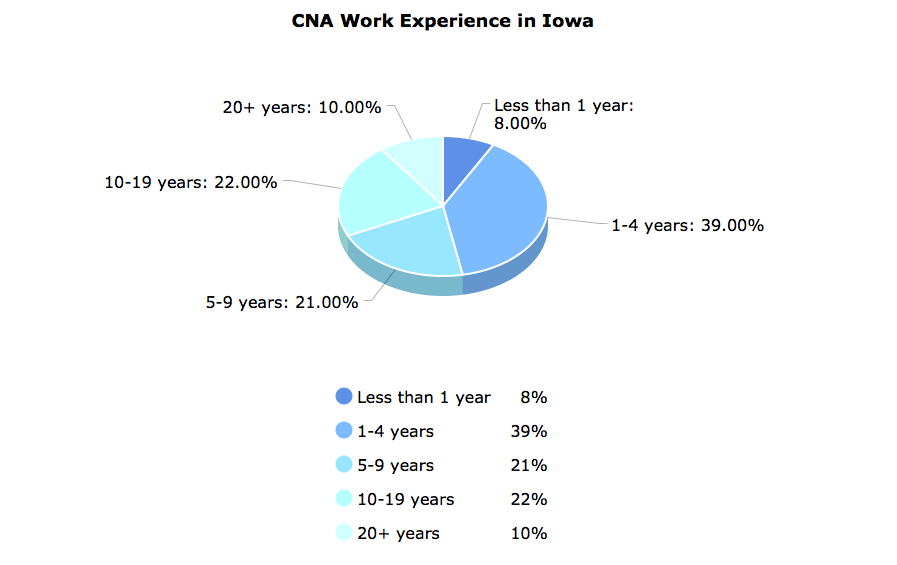 All Iowa State Approved CNA Programs
| LOCATION | FACILITY | ADDRESS | PHONE |
| --- | --- | --- | --- |
| Sheldon, IA | Northwest Iowa Community College | 603 W. Park Street | 712-324-5066 |
| Estherville, IA | Iowa Lakes Community College | 19 South 7th Street | 712-362-2604 |
| Mason City, IA | North Iowa Area Community College | 500 College Drive | 888-466-4222 |
| Calmar, IA | Northeast Iowa Community College | 1625 Hwy 150 S P. O. Box 400 | 800-728-2256 |
| Sioux City, IA | Western Iowa Tech Community College | 4647 Stone Avenue P. O. Box 5199 | 712-274-6400 |
| Fort Dodge, IA | Iowa Central Community College | One Triton Circle | 800-362-2793 |
| Marshalltown, IA | Iowa Valley Community College | 3702 South Center Street | 641-752-4643 |
| Waterloo, IA | Hawkeye Community College | 1501 E. Orange Road Box 8015 | 319-296-4201 |
| Bluffs, IA | Iowa Western Community College | 2700 College Road Box 54-c Council | 712-325-3200 |
| Ankeny, IA | Des Moines Area Community College | 2006 South Ankeny Blvd. | 515-964-6200 |
| Cedar Rapids, IA | Kirkwood Community College | 6301 Kirkwood Blvd. Sw | 319-398-5411 |
| Davenport, IA | Eastern Iowa Community College | 306 W. River Drive | 563-336-3300 |
| Creston, IA | Southwestern Community College | 1501 West Townline Street | 641-782-7081 |
| Ottumwa, IA | Indian Hills Community College | 525 Grandview Avenue | 641-683-5111 |
| West Burlington, IA | Southeastern Community College | 1500 West Agency Road Box 180 | 319-752-2731 |
CNA Classes In Other States