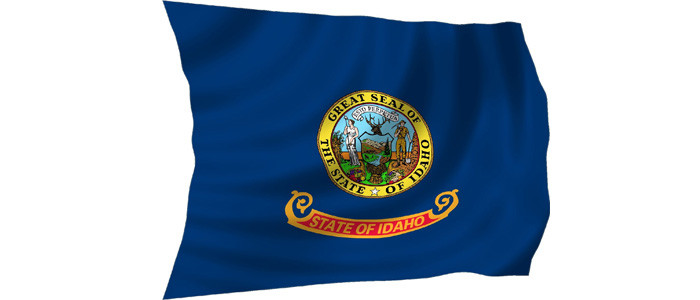 In Idaho, one of the rapidly growing careers in health field is the position of Certified Nursing Assistant (CNA) in healthcare facilities. According to the U.S. Bureau of Labor Statistics (BLS), increased demand for quality healthcare is expected to create an almost 20 percent growth in available jobs in the coming years for certified nursing assistants in the state of Idaho. This fast paced healthcare profession provides a sense of social responsibility, flexible working hours, continuous education and even health benefits.
In order to work as a CNA in the state of Idaho, you will must complete a CNA training program approved by the Idaho Department of Health and Welfare (IDHW), thereafter you'll need to take and pass a CNA certification test and your name to be listed on the Idaho Nurse Aide Registry.
Community colleges and vocational schools in Idaho, are the most popular choices for approved training courses, and are designed to give you all the knowledge and experience you need to be able to provide support to medical professionals in a health care setting. Also, there are some hospitals and nursing homes offering their own training programs, as well as several nursing facilities that provide free CNA training in exchange the candidate to work there for a certain amount of time. All courses meet the guidelines of State Board of Nursing and the federal regulations for the purpose of safeguarding the public health.
Certified Nursing Assistant (CNA) is responsible for taking patient vital signs, such as record blood pressure, temperature, pulse, respiration, weight and height, noting changes in a patient's condition or behavior, the infection control, as well as the proper operating and maintaining of medical equipment. Also, their responsibilities and duties include basic nursing care services – always under the supervision of a qualified professional – such as toileting, bathing and grooming, dressing, feeding, administering medication, keeping rooms clean, preparing beddings, etc. Certified Nursing Assistants work together with Registered Nurses and Physicians and they are the first line of healthcare professionals to deal with the patients. If you like this challenging career, undergo a training program approved by the state and become certified afterwards.
CNA Training Requirements in Idaho (ID)
Although requirements differ between facilities, a negative result for TB test within the past 6 months and proof of immunizations will be required. You will also be required to show a high school diploma or GED certificate and criminal background checks.
The Idaho Department of Health and Welfare (IDHW) is responsible for approving CNA training programs in the state, and all state-approved programs contain at least 120 hours of training, with 80 hours of classroom instruction and 40 hours dedicated to clinical practice. The courses last for 6 to 12 weeks and require an enrollment fee that may range from $400 to $2000.
These specialized courses involve CPR training, lectures, videos, topics such as medical terminology, anatomy and physiology, human body mechanics, communication and interpersonal skills, basic nutrition, grooming and dressing, mobility, infection control, emergency procedures, restorative care, patient's rights, etc. Also, at some healthcare facilities, CNAs are taught to handle and maintain medical equipment.
Currently, the state of Idaho provides six locations for CNA training namely; the College of Western Idaho, North Idaho College Workforce Training Center, Lewis-Clark State College, Eastern Idaho Technical College and College of Southern Idaho. You have to contact any of these schools in order to know the possible costs of the program and its corresponding schedules. Take note that the training program should cover 120 hours of CNA training; 40 hours for clinical experience and 80 hours for classroom instructions. Check out also Idaho Department of Health and Idaho Board of Nursing for more information on this.
Idaho CNA Certification
Once you are done with the training, you have to take the certification examination through the Prometrics. There are several requirements that you have to complete before taking the test. Since the exam is done online, you have to make sure that you review all the topics covered by the training because your knowledge and skills will be tested. If you successfully passed this, you will get a certification stating that you are eligible to work as a Nursing Assistant in the state of Idaho. However, you also have to send an application form online in order to be included in the Idaho Nurse Aide Registry list. The cost of the exam is $29 and it will still vary on the training program and to the administrative charges.
In the state of Idaho, the certification exam is administered by Prometric, and consists of two sections. A two-hour written test with 60 multiple-choice questions that is divided in the following principal categories:
Basic nursing care
Promotion of safety
Promotion of function and health of residents
Role of nurse aide
Specific care provided to patients with changes in health
Also, a clinical test involving demonstration of practical nursing skills, that is continuously supervised by the course instructors and the RNs. In the skills assessment test, examinees are required to demonstrate their ability to perform the tasks they have learned during training, as they will be asked to perform 5 skills chosen at random from a set of 25 skills. It is mandatory for examinees to pass both tests separately, and they have a maximum of three chances to pass the competency exam before re-take CNA training.
The certification that you get is good for two years and it should be renewed prior to its expiration. There will be no fees required for this process but it should be done 45 days prior to expiration. You need to fill in the required form and submit it in the Registry. This office will also verify whether you have worked at least 8 hours in the course of two years or in the last 24 months. Volunteer hours will not be counted so you have to make sure that you get the necessary hours of experience for CNA certification renewal. Taking CNA classes and processing the certification is so easy to do. There are no hassles to think about because everything can be done through the internet. If you get the license to work as a Certified Nursing Assistant, it will be a great opportunity for you to receive great compensation and field of work.
After successfully completing the competency exam, candidate's name is placed on the Nurse Aide Registry which is maintained by the Idaho State Department of Health and was constituted in accordance to OBRA-87. The Registry plays a vital role in enforcing healthcare laws and regulations, as maintains records all of Certified Nurse Aides (CNA) practicing in the state.
CNA Salary and Job Outlook in Idaho

A choice to become CNA in Idaho, is a smart one, as it is a secure and rewarding career. There is a positive employment outlook for nursing assistants and there is a sustained growth expected  in this sector as more and more people are living longer and need quality healthcare.
The CNA salary in Idaho ranges from $18,000 to $28,000, with those needing additional income, can supplement their salary with overtime work. There are currently 7030 CNAs working in Idaho and their average salary is $24,340 annually. CNAs work in nursing homes, hospitals and other health care facilities across the state, including the Eastern Idaho Regional Medical Center, Complex Care Hospital, St. Luke's Boise Medical Center and St. Luke's Children's Hospital.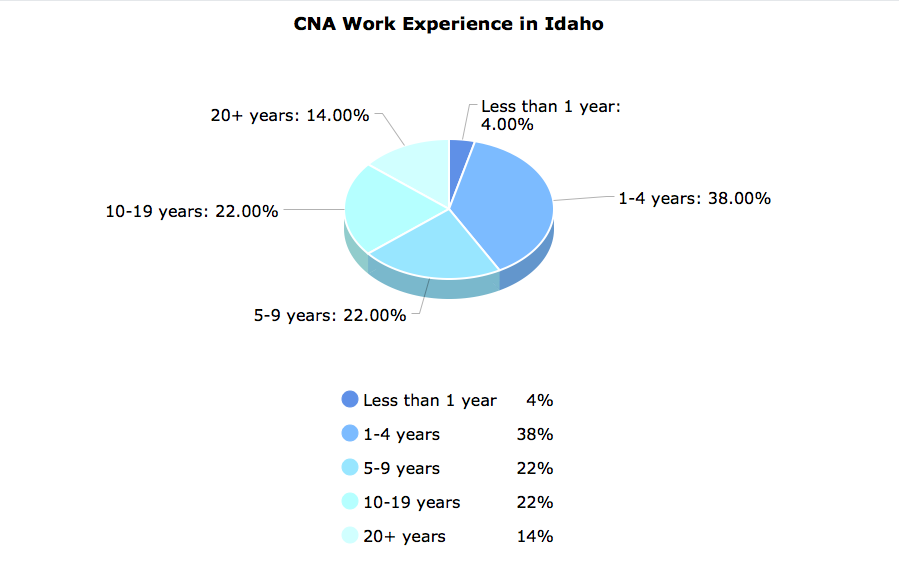 All Idaho State Approved CNA Programs
CNA Classes In Other States: