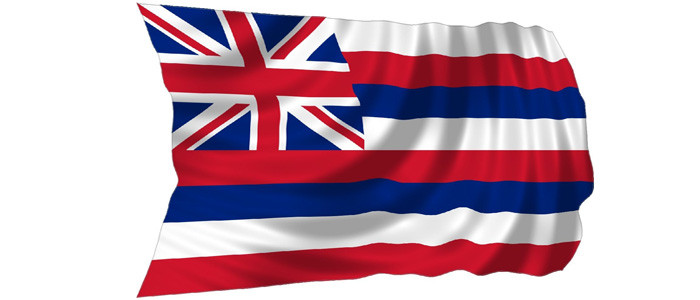 As a Certified Nursing Assistant (CNA) in the state of Hawaii, you will be given the opportunity to work as a professional nurse. This is considered to be a rewarding career option as more and more people are looking healthcare services either at home or in health care facilities.
To qualify for CNA jobs in this state, an aspirant must complete a state-approved CNA program, pass the certification exam successfully and undergo a criminal background check conducted by the State Board of Nursing in order to be listed to the Hawaii Nurse Aide Registry.
Finding State Approved CNA Programs in Hawaii
The state of Hawaii currently approves around 29 CNA training programs which provide quality education and offered by community colleges and public schools, vocational schools, medical and health care institutions, the local Red Cross Chapters and online courses depending upon the facility that offers the classes.
Also, there are some facilities in Hawaii which offer free training in aspirants (eg. nursing homes), provided that they must work for the same facility after complete their training.
CNAs collaborate with other health personnel in nursing facilities, and are involved with the day to day routine activities of patients depending on the directions of the supervising nurse or physician. Their duties include taking patients' vital signs, helping doctors with medical procedures, assist patients with their grooming, bathing, dressing, mobility, cleaning up patient rooms, feeding the patients, administration of medications, record keeping, proper operating and maintaining medical equipment, etc.
Working in Hawaii as a Certified Nursing Assistant will require you to complete a Hawaii Department of Health approved training program, get a certification through passing the written as well as skills tests and undergo a criminal background check. The CNA training programs will vary on the facility you choose but these institutions have similar standards like the number of training hours.
If you are planning to undergo a training program for Certified Nursing Assistants, you will have to go through 100-hour training, inclusive of which are 30 hours of classroom sessions and 70 hours of clinical experience. During this process, you can learn more about the bedside manner, patient care, infection control and prevention, emergency care, dressing skills, patient lifting, range of motion exercises and many others. Currently, there are 29 programs approved by the state for CNA training and you can contact the coordinator on how to register the program as well as the necessary fees involved.
The American Red Cross in Hawaii is the most common training ground for aspiring Certified Nursing Assistants. They offer 130 hours of training with a small class size, ensuring that direct attention is given to every student. The training will include 84 hours of classroom sessions and 35 hours of clinical experience with a classroom fee of $1340 or $1475 on online fees. Upon application, you have to submit a proof of negative TB test within the last 12 months and a written consent for Red Cross to do the background check. This institution has a dress code and strict compliance to attendance so you have to abide on this all the time.
CNA Training Requirements in Hawaii (HI)
Most training institutions accept applicants who possess a high school diploma or GED certificate, have a TB test report of last 6 months and immunization's proof, as well as clean criminal record before admission to the program.
The approved CNA training programs in Hawaii are regulated by the Department of Commerce and Consumers Affairs, last around 6-12 weeks and the fee lies between $1000 and $1500. Each program must include 100 hours of training, which broken up into 30 hours of classroom instruction and 70 hours of clinical training, though some programs will cover even more time.
Classroom courses include typical topics on:
Anatomy and physiology
Basic nutrition
General healthcare
Elderly and cognitively impaired patients
Emergency procedures
Human bodily functions
Medical terminology
Patient rights
Preventive health care measures
Professional conduct
Safety techniques
Clinical instruction allows students to practice what they have learned in the classroom at a nursing facility. Includes the following areas:
Caring for dying patients
Communication and interpersonal skills
Maintenance of patient environment
Measuring height and weight
Personal hygiene
Proper record keeping
Prosthetic and orthodontic materials
Providing with medication as per the prescription
Recognizing and documenting abnormalities in body functioning
Skin care
Taking vital signs
Transference and positioning of patients
Hawaii CNA Certification
Individuals who complete a state-approved training program, they have to pass the CNA certification exam to become eligible to be placed in the Hawaii Nurse Aide Registry, in order to work legally as a nursing assistant in the state.
The Department of Commerce and Consumer Affairs is in contract with the American Red Cross which collectively manage the examination, certification, licensing process, and the Nurse Aide Registry. The CNA exam for certification and licensing consist of a written test and a clinical exam. The written test is a two-hour test with 70 multiple-choice questions written in English, based on domains such as: basic nursing skills, basic restorative skills, communication of information, resident's rights, personal care skills, mental health and social service needs.
In the clinical exam, examinee should perform 5 randomly selected nursing assistant skills out of a set of 25 competency skills, under the supervision of senior nurses. In state of Hawaii, examination fee of written test is $90 and of clinical test is $150, and each examinee has maximum three chances of passing the exam within two years of finishing the program.
Upon successful completion of training and the certification examination, candidate's name is placed as eligible on the Hawaii Nurse Aide Registry that maintains records of all those who work as CNA in state. Recertification is necessary every two years ($35) and applicants must prove that they have worked as a certified nurse assistant during the past 24 months.
CNA Salary and Job Outlook Hawaii

Becoming a Certified Nursing Assistant in Hawaii is a great opportunity to have a stable career. Certified Nursing Assistants (CNAs) are in high demand due to the aging population in the state, and will have many career opportunities once they have completed the curriculum and the certification exam. The salary range varies depending on experience, job position, qualifications, place of employment and the type of employer. The annual median salary for certified nurse assistants in Hawaii is $30,780 in 2015 according to Bureau of Labor Statistics.
Hospitals are of the facilities where CNAs usually want to work because of the high pay and great benefits such as paid vacations and paid sick days as well as insurance and free continuing education. However, there are other places, such as nursing homes, convalescent homes, long-term care centers, private and public health care facilities, mental care centers, clinics of private practitioners, and home health agencies where a CNA can work.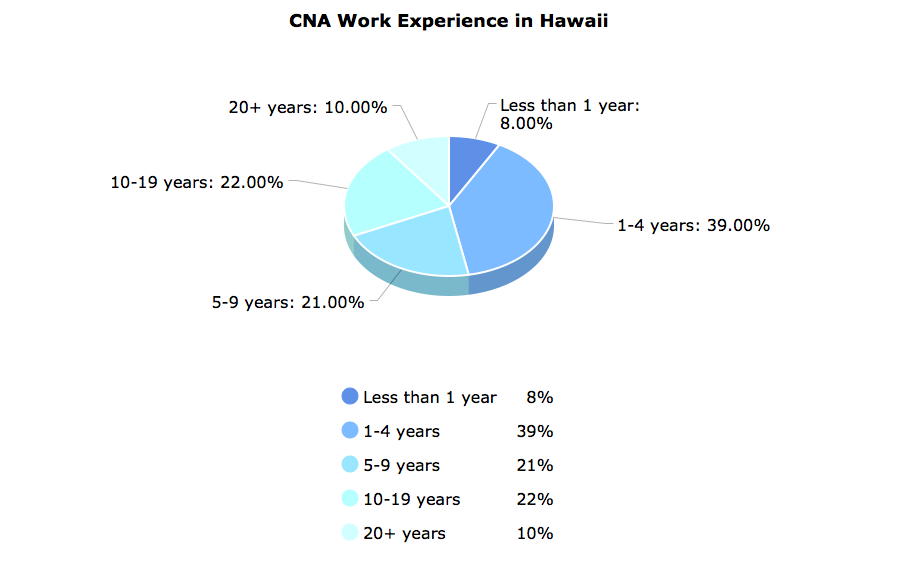 All Hawaii State Approved CNA Programs
| LOCATION | FACILITY | ADDRESS | PHONE |
| --- | --- | --- | --- |
| Aiea, HI | Community Healthcare Precision Services (Flores, William, Jr., Rn) | 98-530 Kaamilo Street | 808-753-2808 |
| Aiea, HI | Healthcare School Of Hawaii (Jacob, Marianela, Rn) | 98-025 Hekaha St | 808-488-9449 |
| Hilo, HI | Hawaii Institute Of Healthcare & Training Services, Hilo | 1059 Kilauea Ave, | 808-933-1295 |
| Hilo, HI | Island Cpr, Hilo | 234 Waianuenue Ave | 808-326-7836 |
| Hilo, HI | Kamaaina Nurse Aide Training School, Hilo | 1170 Manono St | 808-935-6918 |
| Hilo, HI | Mid Pacific Medical Training Institute, Llc (Blanset, Janice, Rn) | 180 Kinoole Street, Suite 210 | 808-935-5050 |
| Hilo, HI | Sweetwater Health Education Services, Hilo (Draculan, Michelle, Rn) | 357 Waianuenue Ave | 808-961-3338 |
| Hilo, HI | Hawaii Community College, Kona | 1175 Manono Street | 808-934-2650 |
| Hilo, HI | Kamaaina Nurse Aide Training School, Pearl City | 1170 Manono St | 808-455-6573 |
| Honolulu, HI | Aim Health Care Institute (Atmosphera-walch, Nancy, Rn) | 1188 Bishop Street Suite 2502 | 808-778-3832 |
| Honolulu, HI | Arcadia Home Health Services | 1660 S. Beretania Street Ste. 201 | 808-983-5900 |
| Honolulu, HI | Care Giver Training School Corporation | 1320 Kalani St., Suite 288 | 808-848-9988 |
| Honolulu, HI | Caregiving Sensei | 2459 10th Ave | 808-346-3780 |
| Honolulu, HI | Caregiving Sensei At Hiolani Care Center | 4389 Malia St | 808-763-7782 |
| Honolulu, HI | Hale Nohea Maunalani (Mosher, Patricia, Rn) | 5071 Maunalani Cir | 808-225-6214 |
| Honolulu, HI | Healthcare Training & Career Consultants, Inc., Waipahu | 2130 N King St | 808-676-4933 |
| Honolulu, HI | Kapiolani Community College | 4303 Diamond Head Rd | 808-734-9305 |
| Honolulu, HI | Nagomi Foster Homes | 4475 Wahinekoa Place | 808-398-4194 |
| Honolulu, HI | Professional Healthcare Educators, Honolulu | 1286 Kalani St, B-204, | 808-847-3366 |
| Honolulu, HI | Korean Care Home Nurse Aide Training Program | 1832 Liliha Street | 808-341-5500 |
| Kahului, HI | Hawaii Healthcare Academy | 250 Alamaha St | 808-866-8624 |
| Kahului, HI | University Of Hawaii Maui College, Kahului | 310 W. Ka'ahumanu Ave | 808-984-3476 |
| Kailua Kona, HI | Laiopua Lapaau Health Academy | 74-5599 Luhia Street #e5 | 808-327-1221 |
| Kailua-kona, HI | Island Cpr, Kona | 73-5574 Maiau St | 808-326-7836 |
| Kailua-kona, HI | Life Care Center Of Kona | 78-6957 Kamehameha Iii Rd | 808-322-2790 |
| Kāne'ohe, HI | Windward Community College | 45-720 Kea'ahala Rd | 808-235-7384 |
| Kaneohe, HI | Ohana Pacific, Kaneohe | 45-181 Waikalua Rd | 808-247-0003 |
| Kaunakakai, HI | University Of Hawaii Maui College, Molokai | 375 Kamehameha V Highway P.o. Box 440 | 808-984-3476 |
| Keaau, HI | Stubbert, Scott, Rn | 16-1510 Pohaku Circle | 808-319-9386 |
| Kealakekua, HI | Paramedical Services And Training Center Of Kona, Llc | P.o. Box 1244 81-1004 Konawaena School Road | 808-989-4275 |
| Lana'i City, HI | University Of Hawaii Maui College, Lanai | 329 7th Street P.o. Box 630648 | 808-984-3476 |
| Lihue, HI | Kauai Community College | 3-1901 Kaumualii Hwy | 808-245-8373 |
| Lihue, HI | Kauai Nurse Aide Training Center | 3877 Kaia Place | 808-482-0267 |
| Lihue, HI | West Kauai Nurse Aide Training, Lihue | 3-3178 Kuhio Hwy | 808-346-1916 |
| Mililani, HI | Advanced Care Training (Fka Lou's Quality Home Health Care Services, Llc) | Po Box 893224 | 808-623-7109 |
| Pearl City, HI | Leeward Community College, Pearl City | 96-045 Ala Ike | 808-455-0500 |
| Waianae, HI | Leeward Community College, Waianae Health Academy | 87-380 Kulaaupuni St | 808-455-0500 |
| Waianae, HI | Puuwai O Makaha (Fka Leeward Integrated Health Services) | 84-390 Jade St | 808-247-0003 |
| Wailuku, HI | Hale Makua Health Services, Wailuku | 1540 Lower Main St | 808-243-1700 |
| Wailuku, HI | Healthcare Training & Career Consultants, Inc., Wailuku | 33 Central Avenue | 808-249-0207 |
| Waimanalo, HI | Hawaii Job Corps | 41-467 Hihimanu St | 808-259-6032 |
| Waipahu, HI | Professional Healthcare Educators, Waipahu | 94-877 Farrington Hwy | 808-847-3366 |
 Classes In Other States