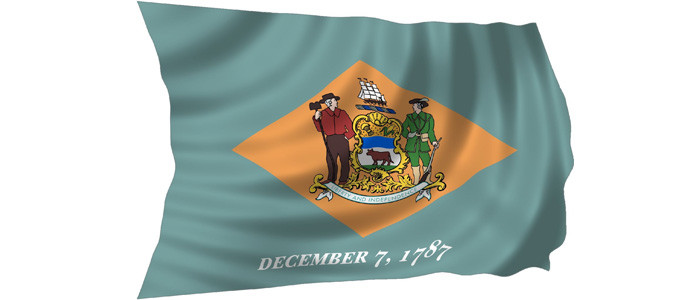 The healthcare industry employs hundreds of thousands of Certified Nursing Assistants (CNAs) nationwide and is acclaimed as one of the fastest-growing fields. In the state of Delaware, prospective nursing assistants have to follow the implemented guidelines and regulations regarding training and applications as they seek to ensure the safety and well-being of their citizens.
To become a Certified Nursing Assistant, candidates must complete a training program approved by the Division of Long Term Care Residents Program and must also pass a certification exam. There are many organizations that offer such programs including vocational-technical schools, community colleges, high schools, nursing homes, hospitals, adult education programs, rehabilitation centers, and online institutions. Also, there are a lot of healthcare facilities that provide free CNA training programs to qualified applicants who are willing to work for them for a certain period after becoming certified.
What are the tasks of a CNA?
Certified Nursing Assistants are responsible for a wide array of tasks under the guidance and supervision of nurse or physician. These tasks can be taking patients' vital signs, helping doctors with medical procedures, assist patients with their grooming, bathing, dressing, mobility, feeding, tidying patients' room, administration of medications, record keeping, proper operating and maintaining medical equipment, etc.
CNA Training & Classes in Delaware
In Delaware, the Division of Long Term Care Residents Protection (DLTCRP) oversees the CNA training, examination, and certification. DLTCRP regulates and approves CNA training, and some of the prerequisites for admissions are a high school diploma or GED certificate, a negative TB test within the past six months, proof of immunization, as well as a clean criminal record. If you want to start undergoing the training, you can do it through the programs approved by the division. Always remember that you should not take any program that is not included on the list because it will not qualify you for certification. CNA training is not time-consuming as you can get trained and certified within two months.
Meanwhile, approved CNA training programs last around six to twelve weeks, and the fee is between $1,500 to $2,500. Students are required to have a minimum of 150 hours of training, equally divided between classroom coursework and clinical practice. CNA classes in Delaware typically cover topics that are essential in the healthcare field. The training provides students the necessary skills and knowledge in healthcare field and covers topics such as emergency procedures and patient safety, basic medical procedures, anatomy and physiology, medical terminology, human bodily functions, basic nutrition, infection control, patient's rights, professional conduct, disease control, hand washing, infection prevention, immunization, disease transmission, feeding and personal safety.
Moreover, prospective CNAs are also trained in lifting, delegating, wound dressing, charting, and ways of dealing with clients and significant others. The clinical practice is provided in an actual clinical environment and covers all the clinical concepts of nursing along with their practice, as it helps the prospective CNAs to get used to the actual professional work environment and to learn various additional skills such as handling and operating medical equipment, communication, and interpersonal skills, taking vital signs, proper record keeping, etc.
Delaware CNA Certification
Within 24 months from the conclusion of the training, applicants must undergo a certification exam, which comprises of two sections: a written test with multiple-choice questions written in English and administered at testing centers of Prometric, and a clinical exam conducted under the supervision of an examiner and involves performing five nursing aide skills that are selected randomly from a list of 25 essential skills. The fee is $40 for the written test and $68 for the clinical test. If an examinee is not able to pass the certification exam in maximum three attempts, he or she has to retake an approved training program.
Upon passing the certification exam, the candidate's name will be placed on the Delaware Nurse Aide Registry, which maintains the records of all nursing aides licensed to work in the state. Currently, the license can be renewed every two years and a CNA must have at least 64 hours of paid work as a nursing assistant and 24 hours of continuing education during the same period.
The state of Delaware requires all the Certified Nursing Assistant to continuously educate their selves on the latest healthcare updates and skills. In order to be qualified for the license renewal, they have to undergo continuing education within two years. CNA's also have to complete 6 hours training on dementia patients, 2 hours training in patient abuse prevention, 16 hours on general healthcare training, and 64 hours of work experience as a Certified Nursing Assistant. If you have questions regarding the training program and license renewal, you can browse the Prometric website or the training facilities approved by the state.
Becoming a Certified Nursing Assistant in Delaware is very rewarding considering the fact that it is stable and well-compensating. You can also proceed to Nurse if you want a career higher than CNA.
CNA Salary and Job Outlook Delaware

There are a variety of job opportunities for a CNA in the state of Delaware. The highest-paid CNAs in Delaware work in hospitals and their wage is around $34,000 per year, while the lowest-paid CNAs are working in-home health agencies, who are typically responsible for taking care of an elderly with a wage of approximately $18,000 per year. On average the CNA salary in Delaware is $23, 053 to $36,928. However, it depends on the employer, job experience and job position.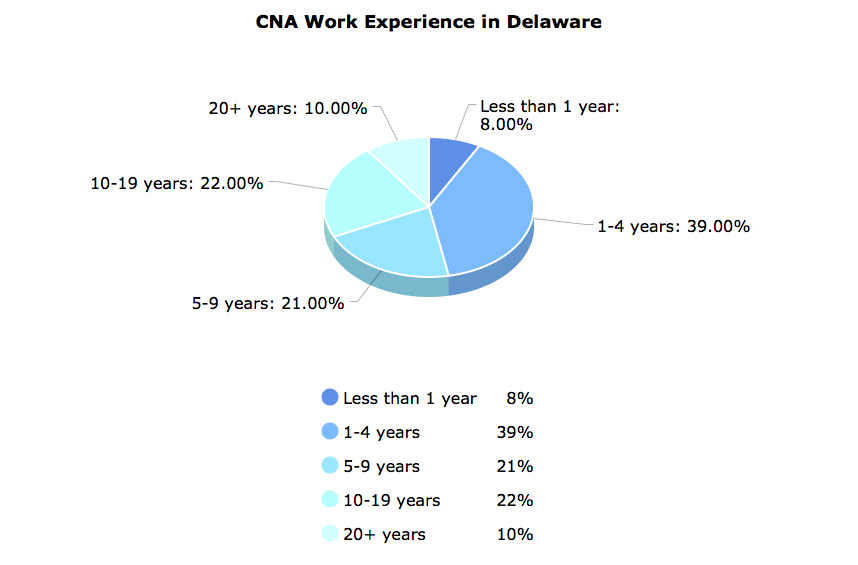 All Delaware State Approved CNA Programs
| LOCATION | FACILITY | ADDRESS | PHONE |
| --- | --- | --- | --- |
| Bear, DE | Bear Professional Institute, Inc. | 2500 Wrangle Hill Rd., Suite 120 | 410-800-1466 |
| Newport, DE | Camtech, Inc. | 240 N. James Street, B2 | 302-998-8166 |
| Wilmington, DE | Conrad Schools Of Science High School | 210 Jackson Ave | 302-992-5545 |
| Newark, DE | Dawn Career Institute, Inc. | 252 Chapman Road, Suite 100 | 302-273-3560 |
| Wilmington, DE | Delcastle Technical High School | 1417 Newport Road | 302-995-8100 |
| Wilmington, DE | Del Tech Workforce Development Wilmington | 333 Shipley Street | 302-571-5300 |
| Dover, DE | Del Tech Workforce Development Terry | 100 Campus Drive | 302-857-1500 |
| Georgetown, DE | Del Tech Workforce Development Owens | P. O. Box 610, Rt. 18 | 302-259-6344 |
| Newark, DE | Del Tech Community College Hlh 130 Stanton | Office C283 400 Stanton-christiana Rd . | 302-283-3158 |
| Dover, DE | Del Tech Community College Hlh 130 Terry | 100 Campus Drive Office - Set 110 | 302-857-1334 |
| Georgetown, DE | Del Tech Community College Hlh 130 Owens | 21179 College Drive | 302-259-6639 |
| Dover, DE | Dover High School, Cte | One Dover High Drive | 302-241-2400 |
| Newark, DE | Hodgson Vo-tech High School | 2575 Glasgow Avenue | 302-834-0990 |
| Wilmington, DE | Howard High School Of Technology (Day) | 401 E. 12th Street | 302-571-5400 |
| Dagsboro, DE | Indian River High School | 29772 Armory Road | 302-732-1500 |
| Wilmington, DE | Lee Training Institute | 623 W. Newport Pike | 302-575-9281 |
| Wilmington, DE | New Castle County Votech - Adult Education Division | 1703 School Lane | 302-683-3651 |
| Wilmington, DE | Nurse Maggie Nursing Assistant Institute, Dba/maggie Career Institute | Larch Corporate Center 102 Larch Circle, Suite 104 | 302-660-7100 |
| Woodside, DE | Poly Tech - Adult Education Division | 823 Walnut Shade Road P. O. Box 102 | 302-697-4545 |
| Woodside, DE | Poly Tech High School (Day) | P. O. Box 97 | 302-697-3255 |
| Georgetown, DE | Sussex Tech School District - Adult Education Division | 17099 County Seat Highway | 302-856-9035 |
| Georgetown, DE | Sussex Technical High School | P. O. Box 351 | 302-856-0961 |
| Middletown, DE | St. Georges Technical High School | 555 Hyetts Corner Road | 302-449-3609 |
| Rehoboth Beach, DE | Tri-state Technical School | 19266 Coastal Hwy Unit 4-1133 | 888-601-0116 |
| Wilmington, DE | Wilmington Job Corps Center | 9 Vanderver Avenue | 302-230-2583 |
| Greenwood, DE | Woodbridge High School | 14712 Woodbridge Road | 302-232-3345 |
CNA Classes In Other States