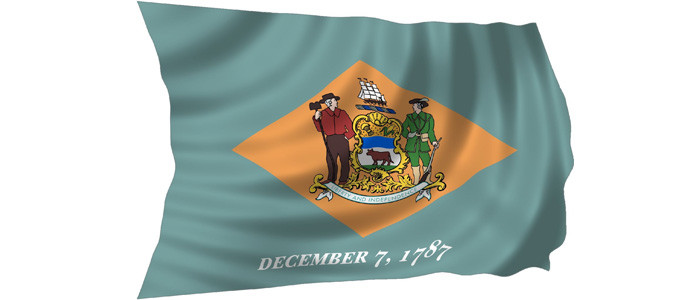 The health care industry employs hundreds of thousands of Certified Nursing Assistants (CNAs) nationwide, and is acclaimed as one of the fastest-growing segments of the medical industry. As a CNA, one can enter the nursing field and with continuing education or professional practice to obtain a working experience that will enables her/him to reach in higher level positions.
Delaware is one of the strictest states in implementing guidelines and regulations regarding training and applications for certification of nursing assistants, as they seek to ensure the safety and well-being of their citizens.
In order to become a CNA in the state, candidates must have completed a CNA training program approved by the Division of Long Term Care Residents Program and pass a certification exam. There are many different types of organizations that run approved training programs including vocational technical schools, community colleges, high schools, nursing homes, hospitals, adult education programs, rehabilitation centers, as well as the opportunity to take specialized classes online. Also, for those who cannot afford the fees, there are free classes offered by many facilities in exchange the students to work for them for a specified time after graduation.
What are CNA Job Tasks?
CNAs are responsible for a wide array of tasks under the guidance and supervision of nurse or physician, such as taking patients' vital signs, helping doctors with medical procedures, assist patients with their grooming, bathing, dressing, mobility, feeding, tidying patients' room, administration of medications, record keeping, proper operating and maintaining medical equipment, etc.
CNA Training & Classes in Delaware
In Delaware, the Division of Long Term Care Residents Protection (DLTCRP) oversees the CNA training, examination and certification. DLTCRP regulates and approves CNA training and some of the prerequisites for admissions are: a high school diploma or GED certificate, negative TB test within the past 6 months and submission of immunization proofs, as well as clean criminal record. If you want to start undergoing the training, you can do it through the programs approved by the division. Always remember that you should not take any program that is not included on the list because it will not qualify you for a certification. CNA training is not time consuming as you can get trained and certified within two months.
Approved CNA training programs last around 6-12 weeks and the fee lies between $1,500 to $2,500. They are required to have a minimum of 150 hours of training, equally divided between classroom coursework and clinical practice. Delaware CNA classes will cover topics that are essential in the healthcare field. The training provides students the necessary skills and knowledge in healthcare field and covers topics such as emergency procedures and patient safety, basic medical procedures, anatomy and physiology, medical terminology, human bodily functions, basic nutrition, infection control, patient's rights, professional conduct, disease control, hand washing, infection prevention, immunization, disease transmission, feeding and personal safety.
Aside from that, you will also be trained on lifting, delegating, wound dressing, charting, and ways to deal clients and significant others. In order to become a Certified Nursing Assistant in Delaware, you have to complete and successfully pass the approved training program of the state, as regulated by Delaware Health Department.
The clinical practice is provided in an actual clinical environment and covers all the clinical concepts of nursing along with their practice, as helps the prospective CNAs to get used to the actual professional work environment and to learn various additional skills such as handling and operating medical equipment, communication and interpersonal skills, taking vital signs, proper record keeping, etc.
Delaware CNA Certification
Within 24 months from the conclusion of their training, applicants must pass a certification exam, which comprises of two sections: A written test with multiple-choice questions written in English, which is administered at testing centers of Prometric, and a clinical exam conducted under the supervision of an examiner and involves performing five nursing aide skills that are selected randomly from a list of 25 essential skills. Fee is $40 for written test and $68 for clinical test and if a examinee is not able to pass certification exam in maximum three attempts, have to retake an approved training program.
Upon successful completion of the certification exam, candidate's name is placed as eligible on the Delaware Nurse Aide Registry, which maintains records of all nursing aides licensed to work in the state. Currently, the license can be renewed every 2 years and CNA must perform at least 64 hours of paid work as nursing assistant and 24 hours of continuing education during the same period.
If you pass the Delaware CNA certification exam, your name will be listed in the Delaware CNA Registry and you can work in any healthcare institution. Since the certification exam includes written and practical tests, the passing rate will be 95.88% in written test and 82.365 in practical test. Basically, the CNA training program will be taught by a Registered Nurse with two years of experience. Students will definitely learn several nursing related topics and skills, making them an expert on their field.
The state of Delaware requires all the Certified Nursing Assistant to continuously educate their selves on the latest healthcare updates and skills. In order to be qualified for the license renewal, they have to undergo continuing education within two years. CNA's also have to complete 6 hours training on dementia patients, 2 hours training in patient abuse prevention, 16 hours on general healthcare training, and 64 hours of work experience as a Certified Nursing Assistant. If you have questions regarding the training program and license renewal, you can browse the Prometric website or the training facilities approved by the state.
Becoming a Certified Nursing Assistant in Delaware is very rewarding considering the fact that it is stable and well-compensating. You can also proceed to Nursing if you want a career higher than CNA. Hence, becoming a CNA is a great career in this tough economic times.
CNA Salary and Job Outlook Delaware

There are variety of job opportunities for a CNA in the state of Delaware, such as in nursing homes, hospitals, private and public health care facilities, convalescent homes, long-term care centers, clinics of private practitioners, and home health agencies.
The highest-paid CNAs in Delaware work in hospitals and their wage is around $34,000 per year, while the lowest-paid CNAs are working in-home health agencies, who are typically responsible for taking care of an elderly and their wage is approximately $18,000 per year. On average the CNA salary in Delaware is $28, 360. However, it depends on employer, job experience and job position.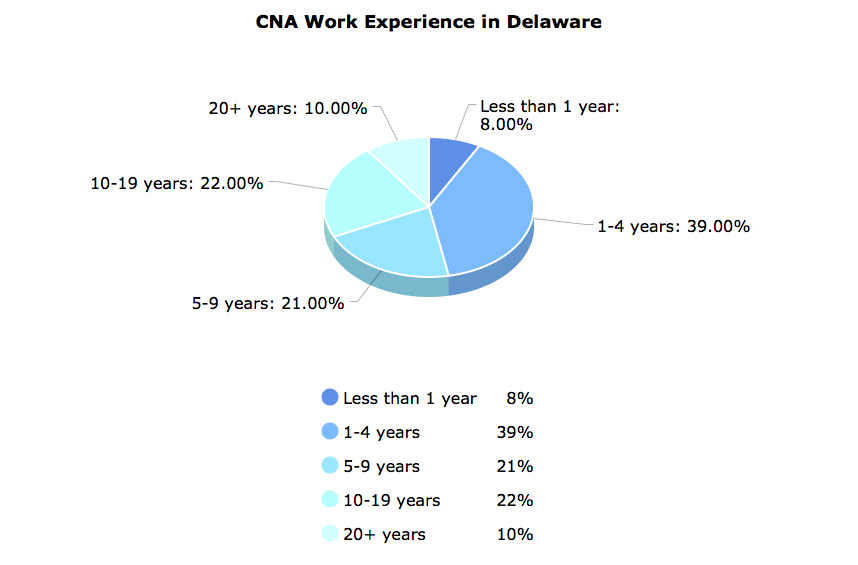 CNA Classes In Other States