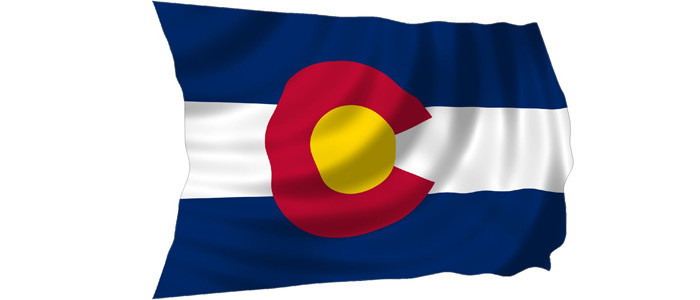 Colorado ranked third among the fastest growing states in the US which offer many opportunities for a Certified Nursing Assistant (CNA). According to Colorado Department of Public Health, these healthcare professionals are in-demand nowadays and even in the years to come because the baby boomer generation is aging and have stopped working. Hospitals, private homecare settings as well as assisted living facilities are providing a wealth of job opportunities for those who pursue a CNA career.
To become a Certified Nursing Assistant in Colorado, it is necessary to complete a CNA training program approved by the state Board of Nursing and pass the certification exam through Pearson Vue. There are more than 300 approved nurse aide training programs in the state that meet the requirements of the Board of Nursing and the federal regulations. These programs are offered by schools, community colleges, vocational and technical schools, adult learning institutes and medical institutions. Also, prospective participants can study through online distance learning programs which are recognized by the Board of Nursing. If you want to see the list, you can browse the website of Colorado Nurse Aide Registry and check the nearest facility where you can undergo the training.
Basically, the CNA program will train you on the necessary nursing skills needed for the hospital duties. You will be acquainted with medical terminologies, the role of a CNA and other members of the health care team, patient care, emergency procedures, and many other things. The entire training will not take long. In fact, you can take the certification exam once you finished the 80 hours training. The number of hours may vary per institution but the state of Colorado requires 80 hours of classroom sessions and clinical exposure.
What Do CNAs Do?
Certified Nursing Assistants work under the supervision of Licensed Practical Nurses or Registered Nurses, and they are responsible for a wide array of tasks in a variety of health care settings, like helping doctors with medical procedures, taking vital signs, administering medications, record keeping, observing patients and noting changes their behavior or condition, infection control, assisting patients with their bathing and grooming needs, dressing, feeding, mobility, proper operating and maintaining medical equipment, etc.
CNA Class Requirements in Colorado
The state of Colorado does not require a high school diploma to enroll in a CNA program, but individuals without this qualification should at least secure a GED equivalent. Aside from that, in order to gain entry into any of the approved CNA programs in Colorado, applicants are required to submit an enrollment fee, which can range from $1000 to $2000. These programs usually last for 8 to 12 weeks, and applicants must be familiar with English language and mathematics, and must have a clean criminal record, a TB screening within the last 6 months and proof of immunization.
Every approved CNA training program by the Colorado Board of Nursing, covers at least 150 hours of training, with 70 hours devoted to classroom instruction and 80 hours dedicated for clinical practice. The training courses will be taught by Registered Nurses who have worked for at least 24 months and who will ensure to fully equip the students with knowledge that cover topics related with basic nursing skills, safety and emergency procedures, infection control, anatomy and physiology, human body mechanics, basic nutrition, patient's rights, communication skills with patients, basic restorative services, etc.
Colorado CNA Certification
After completion of a training program, students need to qualify to pass the National Nurse Aide Assessment Program (NNAAP) examination within 24 months to get licensed. The certification exam has a two-hour written test with 70 multiple-choice questions administered at testing centers of Pearson Vue, and a clinical exam which it asks the students to perform any 5 random clinical tasks from a list of 25 essential skills under the supervision of course instructors and registered nurses (RNs). A score of 75% or higher is required in order to pass CNA evaluation.
If the examinee fails the tests after three tries he or she will need to re-take the training courses. The examination fee for the written exam is $25 and $70 for the clinical test. After successfully passing the certification exam, Pearson Vue will notify the Colorado Department of Regulatory Agencies, and the CNA can be entered into the Colorado Nurse Aide Registry, which maintains the records of certified nurse aides in the state. In order to ensure employment, the status of a candidate should always be active in the registry. Therefore, the license must be renewed every 24 months, and CNAs must have worked at least 8 hours during the same period.
You will only become eligible to work as a CNA if you passed the certification exam. Make sure to study everything because the exam will test your knowledge on the different nursing topics and it will also measure the skills you have learned during the training. If you cannot pass it for the third time, you will undergo a re-training. Pearson Vue will take responsibility in the certification exam and they will provide an application form, a candidate handbook, proof of CNA training, equipment list, SSN affidavit, testing schedules, and regional testing sites. Your license as a CNA will be regulated by the Department of Regulatory Agencies Board of Nursing and it will be valid for two years. Make sure to follow the requirements prior to renewal because you might not be able to receive an approval if there are some discrepancies found.
Becoming a CNA only requires a high school diploma and even if you cannot afford the training program, there are several grants available within the state. People who want to pursue a higher career in the healthcare field can make CNA a stepping stone. This will provide a rich experience in the healthcare facility and it will enable the person to be more equipped and skillful.
CNA Salary and Job Outlook in Colorado

There is a high demand for certified nursing assistant in the state of Colorado, that is due to the constantly increasing need for healthcare. This means that a CNA can expect exceptional job stability and a variety of opportunities for both personal and professional growth.
The CNA salary in Colorado ranges from around $21,000 to $32,000 a year (average CNA salary in Colorado is about $29,380). The exact salary is largely influenced by the education, training and work experience the employee has acquired. Many employers prefer to hire a CNAs with at least 1 year of work experience. Also, the geographic location is a factor affecting the level of salary.
Possible places of employment in the state include long-term health care facilities, nursing homes, rehabilitation centers, adult care centers, hospices, mental health facilities and hospitals in the state, including the Colorado Acute Long Term Care Hospital, Colorado Children's Hospital, Denver Health Medical Center and Memorial Hospital.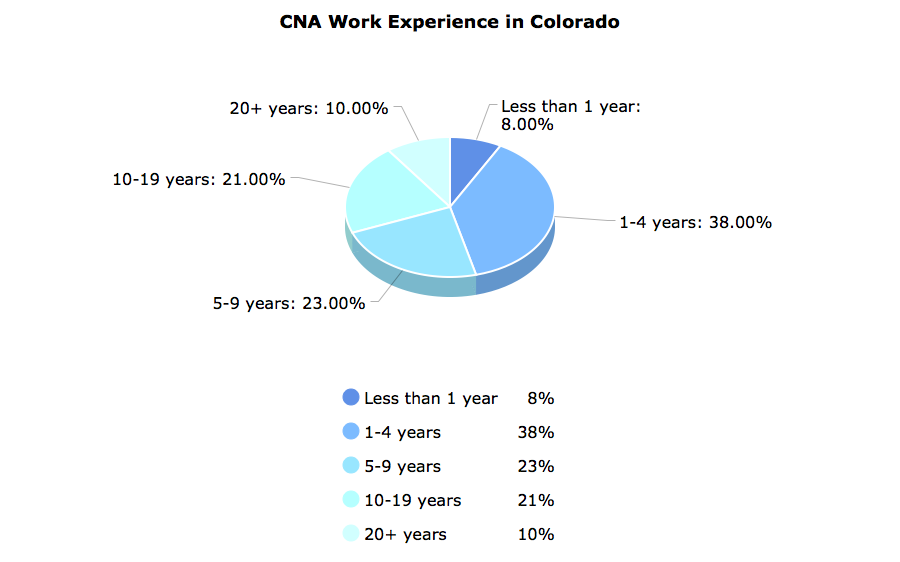 All Colorado State Approved CNA Programs
| LOCATION | FACILITY | ADDRESS | PHONE |
| --- | --- | --- | --- |
| Akron, CO | Washington County Nursing Home Nurse Aide Program | 482 Adams Ave | 970-345-2211 |
| Alamosa, CO | Centauri High School | 1011 Main St | 719-589-7042 |
| Alamosa, CO | Trinidad State Junior College/san Luis Educ. Ctr-valley Campus | 1011 Main St | 719-589-7000 |
| Animas, CO | Bent County Health Care Center Nurse Aide Training Program | 810 Third St, Las | 719-456-1340 |
| Arvada, CO | Red Rocks Community College | 5430 Miller St | 303-914-6081 |
| Arvada, CO | Warren Tech - North | 11325 Allendale Dr | 303-982-9399 |
| Aurora, CO | Accent Learning Systems | 2620 S Parker Rd, Ste 360 | 303-696-7664 |
| Aurora, CO | Apl Med Academy | 2600 S Parker Rd, Bldg 6, Ste 300 | 303-752-0000 |
| Aurora, CO | Bright Beginnigs Nursing Assistant School | 2600 S Parker Rd Bldg 1, Ste 211 | 720-775-2849 |
| Aurora, CO | Healthcare Training Institute | 14201 E. 4th Ave., #130, Bldg 4 | 720- 327-1533 |
| Aurora, CO | Naypree Enterprises Healthcare Division | 1450 S Havana St, Ste 808 | 720-204-3351 |
| Aurora, CO | Pickens Technical College - Hste | 500 Airport Blvd | 303-344-4910 |
| Aurora, CO | Tenderhearts Pc | 10190 Montview Blvd | 303-364-2022 |
| Aurora, CO | Veterans Community Living Center-fitzsimons | 1919 Quentin St | 720-857-6400 |
| Brighton, CO | Brighton High School - Hste | 270 S 8th Avenue | 303-655-4126 |
| Brush, CO | C.a.r.e. Sunset Manor | 2200 Edison St | 970-842-2825 |
| Brush, CO | Eben Ezer Lutheran Care Center | 122 Hospital Rd. | 970-842-2861 |
| Buena Vista, CO | Colorado Mountain College-buena Vista | 27900 Cty Rd 319 | 719-395-8419 |
| Burlington, CO | Morgan Community College -- Burlington | 340 S 14th St | 970-542-3100 |
| Canon City, CO | Pueblo Community College - Fremont Campus | 51320 W Hwy 50 | 719-549-3409 |
| Canon City, CO | Pueblo Community College-canon City | 1313 College Ave. | 719-276-5870 |
| Centennial, CO | Littleton Public Schools Health Sciences Technology | 7300 S Clermont Dr | 303-347-4124 |
| Centennial, CO | South Denver School Of Nursing Arts | 7853 E Arapahoe Ct, Ste 3300 | 303-945-4203 |
| Collins, CO | C.a.r.e. Training At Ft. Collins Health Care | 1000 S Lemay Ave Ft | 970-420-3148 |
| Colorado Springs, CO | Avanza Training, Llc | 2598 Palmer Park Blvd | 719-362-7711 |
| Colorado Springs, CO | Beo Training Center | 5055 Mark Dabling Blvd | 719-385-0200 |
| Colorado Springs, CO | Cavt Allied Health Institute | 2766 Janitell Rd. | 719-219-9636 |
| Colorado Springs, CO | Collegeamerica - Colorado Springs | 2020 N Academy Blvd | 719-622-3600 |
| Colorado Springs, CO | Independence Center, The | 711 S Tejon St | 719-648-1020 |
| Colorado Springs, CO | Interim Healthcare Nurse Aide Training Program-cs | 1901 N Union Blvd | 719-314-4865 |
| Colorado Springs, CO | Mga Academy, Llc | 1355 Garden Of The Gods Rd, Ste 150 | 719-418-7813 |
| Colorado Springs, CO | Ntsoc Nurse Aide Training Program | 1130 W Woodmen Rd | 719-574-5562 |
| Colorado Springs, CO | Pikes Peak Community College - Post Secondary | 11195 Hwy 83 | 719-502-3111 |
| Colorado Springs, CO | Pikes Peak Community College Area Voc Program | 5675 S Academy Blvd Ppcc Avp Box C34 | 719-502-3465 |
| Cortez, CO | Unlimited Learning | 640 E Second St | 970-565-1601 |
| Craig, CO | Colorado Northwestern Community College | 2801 W 9th Street | 970-824-1104 |
| Craig, CO | Sandrock Ridge Care & Rehab Nursing Assistant Class | 943 W 8th St | 970-826-4100 |
| Delta, CO | Technical College Of The Rockies | 1765 Us Hwy 50 | 970-874-6519 |
| Denver, CO | Amberwood Court Care & Rehab Ctr | 4686 E Asbury Cir | 303-756-1566 |
| Denver, CO | Careprox Academy | 7000 N Broadway, Ste 204 | 720-285-7033 |
| Denver, CO | Cec Early College | 2650 Eliot St | 720-423-6600 |
| Denver, CO | Colorado Nurse Aide School | 6460 E Yale Ave, Unit E40 | 303-757-5858 |
| Denver, CO | Community College Of Aurora | 9235 E 10th Dr | 303-340-7329 |
| Denver, CO | Community College Of Denver | 1070 Alton Way | 303-365-8300 |
| Denver, CO | Community Health Institute | 4705 Paris St, #100 | 303-307-8855 |
| Denver, CO | Emily Griffith Technical College | 1860 Lincoln St, 506-a | 720-423-4700 |
| Denver, CO | Florence Crittenton High School | 26 S Zuni St | 720-423-7900 |
| Denver, CO | Pima Medical Institute - North | 7475 Dakin St, Ste 100 | 303-426-1800 |
| Denver, CO | St. Joseph Hospital Foundation | 1375 E 19th Ave | 303-812-2000 |
| Denver, CO | Vista Academy Nursing Assistant Program | 4800 Telluride, Bldg 6 | 720-423-7679 |
| Durango, CO | Four Corners Health Care Center | 2911 Junction St | 970-247-2215 |
| Durango, CO | Pueblo Community College Southwest- Durango | 701 Camino Del Rio | 970-247-2929 |
| Eads, CO | Weisbrod Memorial County Hospital And Nursing Home | 1208 Luther St | 719-438-5401 |
| Edwards, CO | Colorado Mountain College-edwards | 150 Miller Ranch Road | 970-569-2924 |
| Falcon, CO | Pikes Peak Community College- Falcon Nurse Aide Training Program | 10255 Lambert Rd | 719-495-1149 |
| Florence, CO | St. Thomas More Hospital Nurse Aide Program | 521 W. 5th St. | 719-285-2170 |
| Frisco, CO | Summit High School Health Sciences | Po Box 7 | 970-368-1187 |
| Ft Collins, CO | Front Range Community College Larimer - Medical Careers Exploration | 4616 S Shields St - Bp 151 M | 970-204-8222 |
| Ft Collins, CO | Geriatric Education Centre | 802 W Drake Rd | 970-492-6230 |
| Ft Lupton, CO | Aims Community College -- Fort Lupton | 260 College Ave | 970-339-6218 |
| Ft Morgan, CO | Morgan Community College - Hste | 920 Barlow Rd | 970-542-3100 |
| Glenwood Springs, CO | Colorado Mountain College-glenwood Springs | 1402 Blake Ave. | 970-945-7481 |
| Grand Junction, CO | Larchwood Inns | 2845 N 15th St | 970-245-0022 |
| Grand Junction, CO | Western Colorado Area Health Education Center | 2938b North Ave. | 970-434-5474 |
| Grand Junction, CO | Western Colorado Community College | 2508 Blickman | 970-255-2600 |
| Greeley, CO | Aims Community College | 5401 W 20th St | 970-339-6218 |
| Greeley, CO | Fairacres Manor | 1700 18th Ave | 970-353-3370 |
| Gunnison, CO | Gunnison Valley Health Senior Care Center | 1500 W Tomichi Ave | 970-641-0704 |
| Haxtun, CO | Northeastern Junior College-haxtun | 235 W. Fletcher Ave. | 970-521-6701 |
| Kremmling, CO | Colorado Northwestern Community College- Kremmling | 208 12th St. | 970-824-0809 |
| Lafayette, CO | Compass Nursing Arts | 108 W Baseline Rd | 303-484-9650 |
| Lajunta, CO | Otero Jr College | 1802 Colorado Ave | 719-384-6898 |
| Lakewood, CO | Allied Health Career Training | 441 Wadsworth Blvd, Ste 200 | 720-419-2077 |
| Lakewood, CO | Colorado Cna Academy | 2201 Kipling St., Ste. 203 | 303-862-8941 |
| Lamar, CO | Lamar Community College | 2401 S Main St | 719-336-1594 |
| Limon, CO | Morgan Community College - Limon | 940 2nd St | 970-542-3100 |
| Littleton, CO | Arapahoe Community College | 5900 S Santa Fe Dr, A2325 | 303-797-5962 |
| Littleton, CO | Life Care Center Of Littleton | 1500 W Mineral Ave | 303-658-5313 |
| Longmont, CO | Career Development Center | 1200 S Sunset St | 303-772-4339 |
| Longmont, CO | Life Care Center Of Longmont | 2451 Pratt St | 303-776-5000 |
| Loveland, CO | C.a.r.e. Training In Loveland | 177 S Madison Ave | 970-420-3148 |
| Loveland, CO | Front Range Community College Larimer - Post Secondary | 800 S Taft | 970-613-7580 |
| Mancos, CO | Pueblo Community College Southwest- Mancos | 33057 Hwy 160 | 970-564-6200 |
| Mancos, CO | Valley Inn, The | 211 3rd Ave | 970-533-9031 |
| Meeker, CO | Walbridge Wing Nurse Aide Training | 100 Pmc Drive | 970-878-9374 |
| Montrose, CO | Volunteers Of America Nurse Aide Program | 300 North Cascade | 970-596-0809 |
| Montrose, CO | Western Colorado Community College- Montrose | 245 S Cascade Ave, Unit A | 970-249-7009 |
| Morrison, CO | Genesis Nurse Aide Training Program | 150 Spring St. | 303-697-8181 |
| Northglenn, CO | Northern Colorado Training Institute | 10190 Bannock St, Ste 100 | 800-276-0274 |
| Oak Creek, CO | Colorado Northwestern Community College Sorroco Hs | 303 Grant Ave. | 970-824-1104 |
| Pagosa Springs, CO | Pine Ridge | 119 Bastille Dr | 970-731-4330 |
| Pueblo, CO | Aim Health Academy | 1130 Eagleridge Blvd | 719-334-8560 |
| Pueblo, CO | Intellitec College | 3673 Parker Blvd | 719-542-3181 |
| Pueblo, CO | Interim Healthcare Nurse Aide Training Program-pueblo | 720 N Main St, Ste 400 | 719-545-1184 |
| Pueblo, CO | Pueblo Community College | 900 W Orman Ave | 719-549-3409 |
| Rangely, CO | Colorado Northwestern Community College- Rangely | 225 Eagle Crest Dr. | 970-824-0809 |
| Rifle, CO | Colorado Mountain College - West Garfield | 3695 Airport Road | 970-625-1871 |
| Rifle, CO | Colorado State Veterans Community Living Center Rifle | 851 E 5th St | 970-625-0842 |
| Salida, CO | Columbine Manor Care Center | 530 W 16th St | 719-539-6112 |
| Springfield, CO | Southeast Colorado Hospital & Long Term Care Ctr | 373 E 10th Ave | 719-523-4501 |
| Springs, CO | Colorado Mountain College-steamboat Springs | 1330 Bob Adams Dr Steamboat | 970-870-4527 |
| Springs, CO | Colorado Senior Residence Dba Casey's Pond Senior Living | 2855 Owl Hoot Trail Steamboat | 970-879-8855 |
| Sterling, CO | Devonshire Acres | 1330 N Sidney Ave | 970-522-4888 |
| Sterling, CO | Northeastern Junior College - Post Secondary | 100 College Dr | 970-521-6701 |
| Thornton, CO | Bollman Technical Education Center | 9451 N Washington St | 720-972-5845 |
| Thornton, CO | New Directions | 2501 E 104th Ave, Bldg C | 720-550-9090 |
| Trinidad, CO | Trinidad Inn Natp | 409 Benedicta Ave | 719-846-9291 |
| Walsenburg, CO | Spanish Peaks Natp | 129 Kansas Ave | 719-738-5211 |
| Westminster, CO | Agape Angelicum School Of Nursing Arts, Inc. | 5005 81st Pl | 720-470-6563 |
| Westminster, CO | Ann Rose School Of Nursing Arts, Inc. | 7280 Irving St., Ste B205 | 303-650-2994 |
| Westminster, CO | Front Range Community College- Westminster | 3645 W 112th Ave | 303-404-5261 |
| Westminster, CO | Nightingale School Of Nursing Arts | 4955 W 72nd Ave, Unit D | 303-960-7004 |
| Westminster, CO | Westminster High School Health Studies | 6993 Raleigh St | 303-657-3980 |
| Wheat Ridge, CO | Altruistic Institute | 3760 Vance St, Ste 102 | 720-999-7212 |
| Wheat Ridge, CO | Pacific School Of Nursing Arts | 6990 W 38th Ave, Ste 100 | 303-233-8488 |
| Wray, CO | Hillcrest Care Center Natp | 360 Canyon Ridge Dr | 970-332-2102 |
| Wray, CO | Morgan Community College -- Wray | 32415 Hwy 34 | 970-542-3100 |
CNA Classes In Other States: