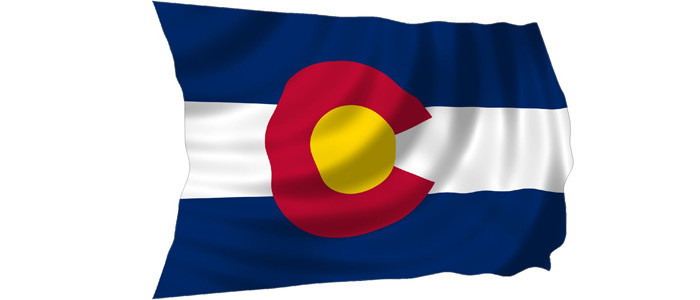 Colorado ranked third among the fastest growing states in US, and offers many opportunities for a Certified Nursing Assistant (CNA), as there is increased demand from hospitals, assisted living centers, home health agencies, and a variety of other healthcare facilities which claim a large number of CNAs. Certified Nursing Assistants are highly needed in the state of Colorado, according to Colorado Department of Public Health. This has continued to increase over the years as the baby boomer generation is aging and have stopped working. Hospitals, private homecare settings as well as assisted living facilities are providing a wealth of job opportunities for those who pursue a career in the healthcare field. If you want to have a stable career, start it now by taking a CNA classes in Colorado.
For those who are interested to become CNA in Colorado, it is first necessary to have complete a CNA training program that has been approved by the Colorado Board of Nursing and then to pass the state's certification exam through Pearson Vue.
There are more than 300 approved nurse aide training programs in the state that meet the requirements of the State Board of Nursing and the federal regulations, and offered by many schools, community colleges, vocational and technical schools, adult learning institutes and medical institutions. Also, there's online distance learning and approved programs offered by institutions that are charged with the cost of tuition for individuals seeking employment at that particular field.
f you want to see the list, you can browse the website of Colorado Nurse Aide Registry and check the nearest facility where you can undergo the training. There will be a certain amount involved in this process and if you cannot pay it, you can request the facility to sponsor you in exchange of your employment after passing the certification exam.
Basically, becoming a Certified Nursing Assistant starts with undergoing a Colorado state approved training program. Colorado CNA classes will train you on the necessary nursing skills needed for the hospital duties. You will be acquainted with medical terminology, role of a CNA and other members of the health care team, patient care, emergency procedures and many other things. The entire training will not take long. In fact, you can take the certification exam once you finished the 80 hours training. The number of hours may vary per institution but the state of Colorado requires 80 hours of classroom sessions and clinical exposure.
What Do CNAs Do?
CNA works under the supervision of LPNs or RNs, and she / he is responsible for a wide array of tasks in a variety of health care settings, like helping doctors with medical procedures, taking vital signs, administering medications, record keeping, observing patients and noting changes their behavior or condition, infection control, assisting patients with their bathing and grooming needs, dressing, feeding, mobility, proper operating and maintaining medical equipment, etc.
CNA Class Requirements in Colorado
The state of Colorado does not require a high school diploma or GED in order to enroll in a CNA program, but the implied education inherent therein may be useful for succeed in health field. In order to gain entry into any of the approved CNA programs in Colorado, applicants are required to submit an enrollment fee, which can range from $1000 to $2000. These programs usually last for 8 to 12 weeks, and applicants must be familiar with English language and mathematics, have clean criminal record and a TB test report of last 6 months and immunization's proof before admission to the program.
Every approved CNA training program by the Colorado Board of Nursing, covers at least 150 hours of training, with minimum 70 hours devoted to classroom instruction and 80 hours dedicated for clinical practice. The training courses will be taught by registered nurses who have worked for at least 24 months and will fully equip the students with knowledge that cover topics related with basic nursing skills, safety and emergency procedures, infection control, anatomy and physiology, human body mechanics, basic nutrition, patient's rights, communication skills with patients, basic restorative services, etc.
Colorado CNA Certification
After completion of a training program, students need to qualify to pass the National Nurse Aide Assessment Program (NNAAP) examination within 24 months to get licensed. The certification exam has a two-hour written test with 70 multiple-choice questions administered at testing centers of Pearson Vue, and a clinical exam which it asks the students to perform any 5 random clinical tasks from a list of 25 essential skills under the supervision of course instructors and registered nurses (RNs). A score of 75% or higher is required in order to pass CNA evaluation.
If the examinee fails the tests after three tries will need to re-take the training courses. The examination fee of written exam is $25 and of clinical test is $70. The fees has to be paid every time, a test is taken.
After successfully passing the certification exam, Pearson Vue will notify the Colorado Department of Regulatory Agencies, and the CNA can be entered into the Colorado Nurse Aide Registry, which maintains the records of certified nurse aides in the state. In order to ensure employment, the status of a candidate should always be active in the registry. Therefore, the license must be renewed every 24 months, and CNAs must have worked at least 8 hours during the same period.
You will only become eligible to work as a CNA if you passed the certification exam. Make sure to study everything because the exam will test your knowledge on the different nursing topics and it will also measure the skills you have learned during the training. If you cannot pass it for the third time, you will undergo a re-training. Pearson Vue will take responsibility in the certification exam and they will provide an application form, a candidate handbook, proof of CNA training, equipment list, SSN affidavit, testing schedules and regional testing sites. Your license as a CNA will be regulated by the Department of Regulatory Agencies Board of Nursing and it will be valid for two years. Make sure to follow the requirements prior to renewal because you might not be able to receive an approval if there are some discrepancies found.
Becoming a CNA only requires a high school diploma and even if you cannot afford the training program, there are several grants available within the state. People who want to pursue a higher career in the healthcare field can make CNA a stepping stone. This will provide a rich experience in the healthcare facility and it will enable the person to be more equipped and skilful.
CNA Salary and Job Outlook in Colorado

There is a high demand for certified nursing assistant in the state of Colorado, that is due to the constantly increasing need for healthcare. This means that a CNA can expect exceptional job stability and a variety of opportunities for both personal and professional growth.
The CNA salary in Colorado ranges from around $21,000 to $32,000 a year (average CNA salary in Colorado is about $29,380). The exact salary is largely influenced by the education, training and work experience the employee has acquired. Many employers prefer to hire a CNAs with at least 1 year of work experience. Also, the geographic location is a factor affecting the level of salary.
Possible places of employment in the state include long term health care facilities, nursing homes, rehabilitation centers, adult care centers, hospices, mental health facilities and hospitals in the state, including the Colorado Acute Long Term Care Hospital, Colorado Children's Hospital, Denver Health Medical Center and Memorial Hospital.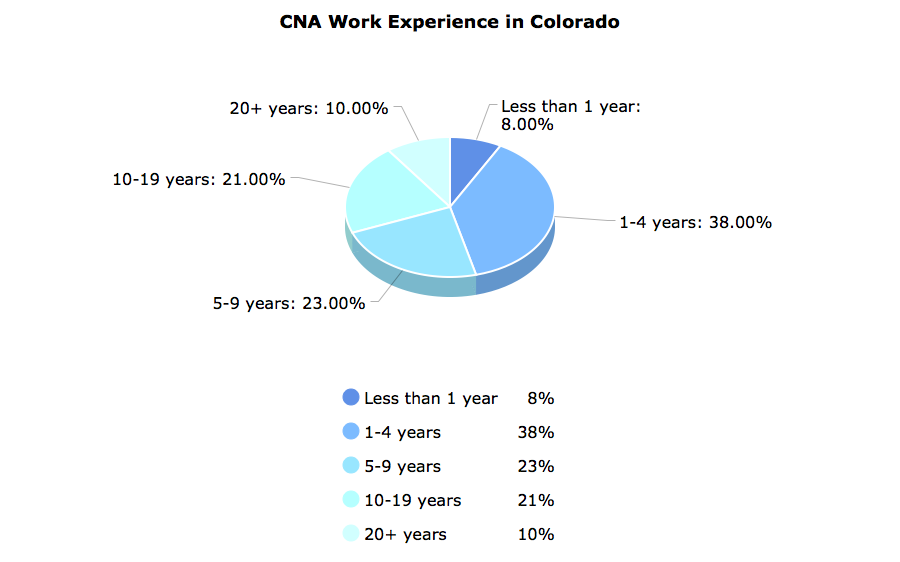 CNA Classes In Other States: