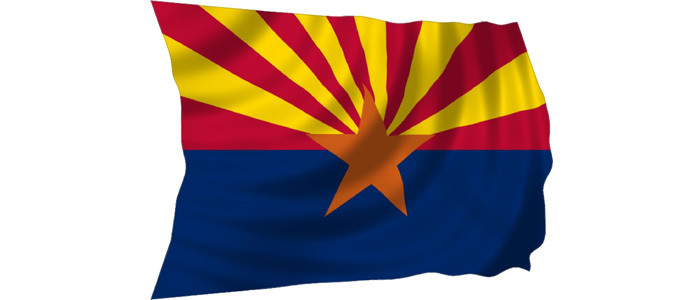 The health care industry is in need of several Certified Nursing Aides due to the aging population of baby boomers. This has been a lot of stress to the healthcare system considering the fact that they have to entice the younger generation to pursue a career in this field. Although a disadvantage for them, this growing need of health care professionals opens a lot of opportunities to people who are seeking a career in the health care field. It is estimated that there has been a growth of 30% in this field particularly in the CNA's, palliative care and companion aides. You can find out more about Arizona healthcare industry on Arizona Department of Health Services website.
In the state of Arizona, thirteen facility programs and three hospital programs are available to train the aspiring Certified Nursing Assistants. One of the known hospital program is the Banner Health CNA Program provided to the Banner employees. Moreover, the Tucson Medical Center and Southern Arizona Veterans Administration Medical Center offers CNA training programs to the public. If you want to attend any of these training programs, you can contact the facility right away. All the information can be obtained at the website of Arizona State Board of Nursing. Just remember that there are few fees involved in the process and if you cannot afford, you can always call the municipal WIC office to cover the costs.
In order to qualify for CNA programs in Arizona, applicants must be at least 18 years; have a high school diploma or GED certificate and they should be able to read and write in English. Also, a negative TB test within the past 6 months and submission of immunization proofs, as well as clean criminal record. Approved CNA training programs last around 6-12 weeks and training costs can vary from $540 to $2,250.
Over the years, graduates of CNA programs have done an incredible job in passing the examination. They have an average passing rate of 88.8%, showing that the state of Arizona provides a good training ground for aspiring Certified Nursing Assistants. Basically, the purpose of the training program is to nurture the skills of the students, making them competent to work in the healthcare field.
CNA Classes in Arizona
So what are the CNA training classes in Arizona like?  Well, the first few classes will be a classroom learning experience wherein it covers topics on rehabilitation, home care, acute or long term care and assisting living. Later on the students will also learn the organizational structure of the healthcare professionals, code of conduct, ethical behaviour, certification examination, duties and responsibilities, and many others.
There are various institutions offering CNA training in Arizona that are in accordance with the Omnibus Funds Reconciliation Act (1987), such as high schools, vocational schools, community colleges, online schools, as well as nursing homes, hospitals, medical schools, health care centers, convalescent homes, long-term care centers and American Red Cross CNA training program. Some healthcare facilities in Arizona might be willing to offer free on-the-job training to those who will work for them after graduating and passing the certification exam.
CNA Exam Requirements
After undergoing the training program and field exposure, students have to pass the requirements for certification examination. They have to submit a certificate of completion within two years after the training program. In lieu to that, they also have to attach a copy for CNA working hours based on what is required by the State Board of Nursing.
The Arizona State Board of Nursing requires a minimum of 120 hours training are comprised of 80 hours of classroom instruction and 40 hours of clinical practice. The classroom instruction can vary depending upon the training program chosen, however the basics include medical terminology, nursing fundamentals, human body mechanics, anatomy and physiology, controlling infections, medical ethics, patient rights and privacy, emergency care, and rehabilitation care.
Clinical practice requires working with other CNAs and nurses at actual clinical environment and covers all the clinical concepts of nursing along with their practice, as helps the prospective CNAs to learn various additional skills such as handling and operating medical equipment, communication and interpersonal skills, recognizing vital signs, providing medication, keeping health records, safety measures, safe transfer, feeding and bathing of patients.
Once they meet and completed the educational requirements, students can take the exam, complete the fingerprinting card as well as the application form for CNA examination. There will be a corresponding fee for the certification examination and this will be around $108. In case a certificate has to be obtained from the board, then a $50 fee will be required.
The Arizona State Board of Nursing provides guidelines for the certification exam and governs the licensing procedure for nursing assistants, as well as impose the necessary disciplinary actions for those who are found to be guilty of committing violations as nurse aides.
The candidates must pass the certification exam within 24 months of completing the CNA program in Arizona, and are required to obtain a minimum of 75% passing grades in written test and minimum 80% in practical skills test. The application for the CNA exam costs $50.
The two-hour written test includes multiple-choice questions in topics basic nursing care, promotion of safety, promotion of function and health of residents, role of nurse aide and specific care provided to patients with changes in health.
The clinical test involving demonstration of practical nursing skills and are required to demonstrate their ability to perform the tasks they have learned during training, as they will be asked to perform 5 skills chosen at random from a set of 25 skills. Examinees have a maximum of three chances to pass the competency exam before re-take CNA training.
After successfully completing the competency exam, candidate's name is placed on the Arizona Nurse Aide Registry that keeps records of certified nursing assistants licensed in the state and plays a vital role in enforcing healthcare laws and regulations. All CNA licenses need to be renewed every 24 months and nurse aides must have worked a minimum of 160 hours during the same period.
CNA Jobs & Salary in Arizona

Certified Nursing Assistants (CNAs) are considered the backbone of the healthcare field, as the position has the most contact with patients and provides basic nursing care. CNAs can work in nursing homes, hospitals, or even for the federal government in a setting such as a public health clinic, in rehabilitation centers and hospice centers.
The average salary for CNAs in Arizona was around $28, 890  in 2015, based on the salary survey of BLS. However, those who need additional income, they can supplement this salary with overtime work. Additional, pay is lowest in nursing homes and highest in the federal government.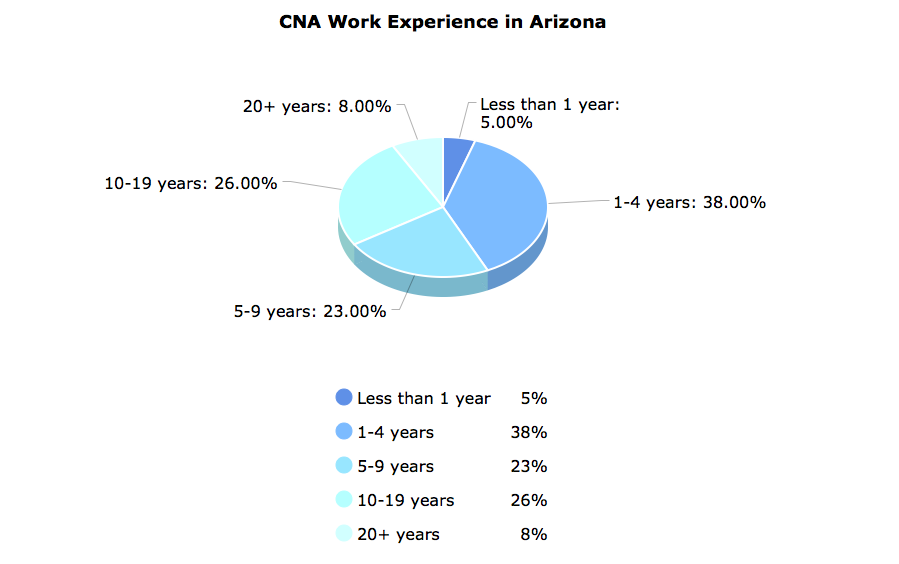 CNA Classes In Other States: