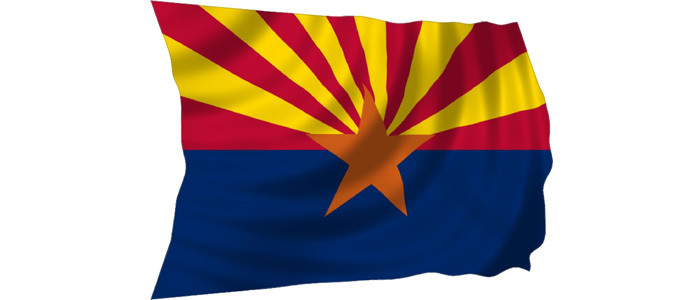 The health care industry is in need of several Certified Nursing Aides due to the aging population of baby boomers. This has been a lot of stress to the healthcare system considering the fact that they have to entice the younger generation to pursue a career in this field. That being said, the growing need for health care professionals opens a lot of opportunities to people who are seeking a career in the health care field. It is estimated that there has been a growth of 30% in this field particularly in the CNA's, palliative care and companion aides. You can find out more about Arizona healthcare industry on Arizona Department of Health Services website.
The Arizona State Board of Nursing regulates the registration of Certified Nursing Assistants. They created two levels of this healthcare profession; the Certified Nursing Assistant (CNA) and the Licensed Nursing Assistant (LNA). Certified Nursing Assistants are individuals who pass the approved CNA course, the written/manual exams, and whose names are placed in the CNA registry. On the other hand, the Licensed Nursing Assistants are individuals who meet the CNA educational and exam requirements, other than submitting an application, appropriate fees, and fingerprints to the Board. LNAs are regulated by the Board for any unprofessional conduct.
In order to qualify for CNA programs in Arizona, applicants must be at least 16 years old, have a high school diploma or GED certificate and be able to read and write in English. Also, a negative TB test within the past 6 months, proof of immunization, proof of legal residency or citizenship, as well as clean criminal record are required. Approved CNA training programs last around 6-12 weeks and training costs can vary from $540 to $2,250.
Over the years, graduates of CNA programs have done an incredible job in passing the examination. They have an average passing rate of 88.8%, showing that the state of Arizona provides a good training ground for aspiring Certified Nursing Assistants. Basically, the purpose of the training program is to nurture the skills of the students, making them competent to work in the healthcare field.
CNA Classes in Arizona
So what are the CNA training classes in Arizona like?  Well, the first few classes will be a classroom learning experience wherein it covers topics on rehabilitation, home care, acute or long term care and assisting living. Students will also learn the organizational structure of the healthcare professionals, code of conduct, ethical behavior, certification examination, duties and responsibilities, and many others.
There are various institutions offering CNA training in Arizona that are in accordance with the Omnibus Funds Reconciliation Act (1987). This is not limited to high schools, vocational schools, community colleges, online schools, as well as nursing homes, hospitals, medical schools, health care centers, convalescent homes, long-term care centers and American Red Cross CNA training program. Some healthcare facilities in Arizona might be willing to offer free on-the-job training to those who will work for them after graduating and passing the certification exam.
CNA Exam Requirements
After undergoing the training program and field exposure, students have to pass the requirements for the certification examination. They have to submit a certificate of completion within two years after the training program. In lieu of that, they also have to attach a copy for CNA working hours based on what is required by the State Board of Nursing.
The Arizona State Board of Nursing requires a minimum of 120 hours of training comprising of 80 hours classroom instruction and 40 hours of clinical practice. The classroom instruction can vary depending upon the training program chosen, however, the basic topics include medical terminology, nursing fundamentals, human body mechanics, anatomy and physiology, controlling infections, medical ethics, patient rights and privacy, emergency care, and rehabilitation care.
Meanwhile, the clinical practice requires working with other CNAs and nurses at an actual clinical environment. It covers all the clinical concepts of nursing along with their practice, as it helps the prospective CNAs to learn various additional skills such as handling and operating medical equipment, communication and interpersonal skills, recognizing vital signs, providing medication, keeping health records, safety measures, safe transfer, feeding and bathing of patients.
Once they meet and completed the educational requirements, students can take the exam, complete the fingerprinting card as well as the application form for CNA examination. There will be a corresponding fee for the certification examination. In case a certificate has to be obtained from the board, then a $50 fee will be required.
The Arizona State Board of Nursing provides guidelines for the certification exam and governs the licensing procedure for nursing assistants, as well as impose the necessary disciplinary actions for those who are found to be guilty of committing violations as nurse aides.
The candidates must pass the certification exam within 24 months of completing the CNA program in Arizona, and are required to obtain a minimum of 75% passing grades in written test and minimum 80% in practical skills test. The application for the CNA exam costs $50.
The two-hour written test includes multiple-choice questions in topics basic nursing care, promotion of safety, promotion of function and health of residents, role of nurse aide and specific care provided to patients with changes in health.
The clinical test involving demonstration of practical nursing skills and are required to demonstrate their ability to perform the tasks they have learned during training, as they will be asked to perform 5 skills chosen at random from a set of 25 skills. Examinees have a maximum of three chances to pass the competency exam before re-take CNA training.
After successfully completing the competency exam, candidate's name is placed on the Arizona Nurse Aide Registry that keeps records of certified nursing assistants licensed in the state and plays a vital role in enforcing healthcare laws and regulations. All CNA licenses need to be renewed every 24 months and nurse aides must have worked a minimum of 160 hours during the same period.
CNA Jobs & Salary in Arizona

Certified Nursing Assistants (CNAs) are considered the backbone of the healthcare field, as the position has the most contact with patients and provides basic nursing care. CNAs can work in nursing homes, hospitals, or even for the federal government in a setting such as a public health clinic, in rehabilitation centers and hospice centers.
The average salary for CNAs in Arizona was around $28,890 in 2015 and this may increase as the years pass by. However, those who need additional income can supplement this salary with overtime work.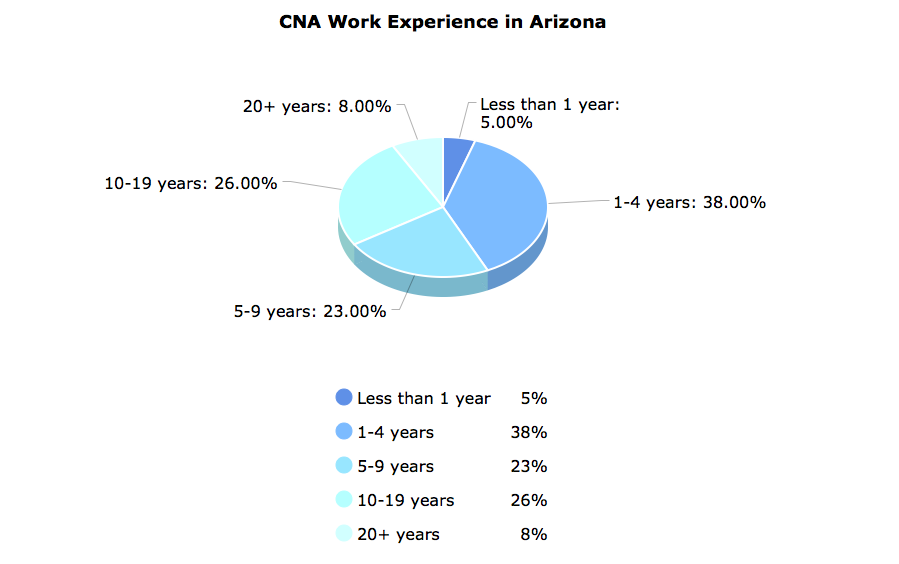 All Arizona State Approved CNA Programs
| LOCATION | FACILITY | ADDRESS | PHONE |
| --- | --- | --- | --- |
| Phoenix, AZ | A Plus Healthcare Training | 11024 N 28th Dr #260 | 480-376-2590 |
| Glendale, AZ | Academic Training Az (Fka K's Training & Learning Center) | 8751 N 51st Ave #102 | 602-350-5154 |
| Tucson, AZ | Academy For Cargiving Excellence | 4725 N 1st Ave | 520-338-4402 |
| Phoenix, AZ | Accord Healthcare Institute | 3816 N 27th Ave | 602-714-3439 |
| Mesa, AZ | Arizona Cna Training Program | 801 S Power Rd # 203 | 480-388-7897 |
| Mesa, AZ | Arizona Medical Training Institute | 1530 N Country Club Dr #11 | 480-835-7679 |
| Yuma, AZ | Arizona Western College | P.o. Box 929 | 928-344-7554 |
| Chandler, AZ | Basha High School | 5990 S Val Vista Dr | 480-224-2314 |
| Prescott Valley, AZ | Bradshaw Mountain High School | 6000 E Long Look Dr | 928-759-4100 |
| Phoenix, AZ | Brookline College | 2445 W Dunlap Ave Ste 100 | 602-242-6265 |
| Tempe, AZ | Brookline College - Tempe | 1140 S. Priest Drive | 480-545-8755 |
| Tucson, AZ | Caregiver Training Institute – Main | 710 S Kolb Rd #4 | 520-325-4870 |
| Winkelman, AZ | Central Arizona College – Aravaipa | 80440 E Aravaipa Rd | 520-357-2800 |
| Maricopa, AZ | Central Arizona College - Maricopa Campus | 17945 Regent Dr | 520-494-6400 |
| San Tan Valley, AZ | Central Arizona College - San Tan Campus | 3736 E Bella Vista Rd | 480-677-7825 |
| Coolidge, AZ | Central Arizona College - Signal Peak | 8470 N Overfield Rd | 480-677-7712 |
| Apache Junction, AZ | Central Arizona College – Superstition Mountain | 805 S Idaho Rd | 480-677-7700 |
| Coolidge, AZ | Central Arizona Valley Institute Of Technology (Cavit) | 1789 W Coolidge Ave | 520-423-2991 |
| Yuma, AZ | Cibola High School | 4100 W 20th St | 928-502-6795 |
| Benson, AZ | Cochise College - Benson Center | 1025 Az-90 | 520-586-1981 |
| Rdbisbee, AZ | Cochise College – Bisbee High School | 325 School Terrace | 520-432-5714 |
| Sierra Vista, AZ | Cochise College – Buena High School | 5225 Buena School Boulevard | 520-515-2714 |
| Douglas, AZ | Cochise College - Douglas Campus | 4190 West Highway 80 | 520-515-5309 |
| Douglas, AZ | Cochise College - Douglas High School | 1550 15th St | 520-364-3462 |
| San Simon, AZ | Cochise College - San Simon High School | 2226 I-10bl | 520-845-2275 |
| Sierra Vista, AZ | Cochise College - Sierra Vista Campus – Main | 901 Colombo Ave | 520-515-7471 |
| St David, AZ | Cochise College - St. David High School | 70 E Patton St | 520-720-4781 |
| Tombstone, AZ | Cochise College – Tombstone High School | 1211 N Yellow Jacket Way | 520-457-2215 |
| Elfrida, AZ | Cochise College – Valley Union High School | 4088 W Jefferson Rd | 520-642-3482 |
| Willcox, AZ | Cochise College - Willcox Center | 470 N Bisbee Ave | 520-384-4502 |
| Willcox, AZ | Cochise College - Willcox High School | 240 N Bisbee Ave | 520-384-8601 |
| Flagstaff, AZ | Coconino Community College | 2800 S Lone Tree Rd | 928-526-7640 |
| Flagstaff, AZ | College America - Flagstaff | 399 South Malpais Lane, 2nd Floor | 928-213-6060 |
| Phoenix, AZ | College America - Phoenix | 9801 North Metro Parkway East | 602-589-9860 |
| San Tan Valley, AZ | Combs High School | 2505 E Germann Rd | 480-882-3540 |
| Glendale, AZ | Deer Valley High School | 18424 N 51st Ave | 623-845-4066 |
| Mesa, AZ | East Valley Institute Of Technology (Evit) Adult Evening Na Training Program | 1601 W Main St | 480-461-4018 |
| Mesa, AZ | East Valley Medical College, Inc. | 205 E Southern Ave | 480-776-0070 |
| Thatcher, AZ | Eastern Arizona College – Thatcher Campus | 615 N Stadium Ave | 928-428-8396 |
| Kingman, AZ | Gardens Rehabilitation & Care | 3131 Western Ave | 928-718-0718 |
| Phoenix, AZ | Gateway Community College | 108 N 40th St | 602-286-8531 |
| Phoenix, AZ | Gateway Community College - Central City | 1245 East Buckeye Road | 602-238-4367 |
| Globe, AZ | Gila Community College/eastern Arizona College Gila Pueblo Campus | 8274 South Six Shooter Canyon Road | 520-428-3151 |
| Payson, AZ | Gila Community College/eastern Arizona College Payson Campus | 201 N Mud Springs Rd | 520-474-2224 |
| Yuma, AZ | Gila Ridge High School | 7150 E 24th St | 928-502-6788 |
| Glendale, AZ | Glendale Community College | 6000 W Olive Ave | 623-845-3264 |
| Camp Verde, AZ | Haven Of Camp Verde | 86 W Salt Mine Rd | 928-567-5253 |
| Cottonwood, AZ | Haven Of Cottonwood | 197 S Willard St | 928-634-5548 |
| Flagstaff, AZ | Haven Of Flagstaff | 800 W University Ave | 928-779-6931 |
| Phoenix, AZ | Haven Of Phoenix | 4202 N 20th Ave | 602-264-3824 |
| Sedona, AZ | Kachina Point Na Program | 505 Jacks Canyon Rd | 928-284-1000 |
| Yuma, AZ | Kofa High School | 7904, 3100 S Avenue A | 928-502-5400 |
| Bullhead City, AZ | Legacy Rehab And Care Center | 2812 Silver Creek Rd | 928-763-8901 |
| Kingman, AZ | Lingenfelter Center | 1099 Sunrise Ave | 928-718-4852 |
| Prescott, AZ | Meadows Of Northern Arizona Cna Training | 809 Gail Gardner Way | 928-778-3570 |
| Peoria, AZ | Medstar Academy | 14100 North 83rd Avenue, Ste 230 | 623-773-9000 |
| Mesa, AZ | Mesa Community College | 1833 W Southern Ave | 480-461-7106 |
| Phoenix, AZ | Metro Tech High School | 1900 W Thomas Rd | 602-764-8000 |
| Bullhead City, AZ | Mohave Community College Bullhead City Campus - Main | 3400 Az-95 | 928-758-3926 |
| Kingman, AZ | Mohave Community College Kingman Campus | 1971 Jagerson Ave | 928-757-4331 |
| Havasu City, AZ | Mohave Community College Lake Havasu Campus | 1977 Acoma Blvd. West Lake | 928-505-3378 |
| Kingman, AZ | Mohave Community College Lee Williams High School | 400 Grandview Ave | 928-753-6216 |
| Colorado City, AZ | Mohave Community College North Mohave Campus | 480 S Central St | 928-875-2799 |
| Bullhead City, AZ | Mohave Community College River Gardens Rehab & Care Center | 2150 Silver Creek Rd | 928-763-8700 |
| Glendale, AZ | Moon Valley High School Glendale Union High School District | 7650 N 43rd Ave | 602-616-1798 |
| Tucson, AZ | Mountain View Care Center | 1313 W Magee Rd | 520-797-2600 |
| Chinle, AZ | Navajo Technical University | Po Box 849 | 928-674-5764 |
| Phoenix, AZ | North Mountain Medical And Rehab Center | 9155 N 3rd St | 602-218-9483 |
| Winslow, AZ | Northland Pioneer College Little Colorado Campus | 1400 East Third Street | 928-532-6133 |
| Snowflake, AZ | Northland Pioneer College Silver Creek Campus | 1611 S. Main St | 928-532-6136 |
| Springerville, AZ | Northland Pioneer College Spingerville/eager Center (Navit) | 940 E. Maricopa St | 928-333-2498 |
| Show Low, AZ | Northland Pioneer College White Mountain Campus – Pc103, M3 | 1001 W. Deuce Of Clubs | 928-532-6136 |
| Whiteriver, AZ | Northland Pioneer College Whiteriver Center | 720 S. Chief Ave | 928-674-5218 |
| Phoenix, AZ | Paradise Valley Community College | 18401 N 32nd St | 602-787-7284 |
| Cave Creek, AZ | Paradise Valley Community College Cactus Shadows High School | 5802 E Dove Valley Rd | 602-787-7007 |
| Phoenix, AZ | Paradise Valley High School | 3950 E Bell Rd | 602-867-5554 |
| Gilbert, AZ | Perry High School | 1919 E Queen Creek Rd | 480-812-7616 |
| Phoenix, AZ | Phoenix Job Corps Center | 518 S 3rd St | 602-254-5921 |
| Nogales, AZ | Pierson Vocational High School | 451 N Arroyo Blvd | 520-325-8470 |
| Tucson, AZ | Pima Community College Ctd – Desert Vista | 5901 S Calle Santa Cruz | 520-206-5140 |
| Tucson, AZ | Pima Community College West Campus Nra 101 | 2202 W Anklam Rd | 520-206-6661 |
| Tucson, AZ | Pima County Joint Technical Education District Jted - 22nd St Campus | 2855 W Master Pieces Dr | 520-352-5833 |
| Tucson, AZ | Pima County Joint Technical Education District Jted - Camino Seco Central Campus | 8727 E 22nd St | 520-352-5833 |
| Mesa, AZ | Pima Medical Institute - Dobson Road Campus | 957 S. Dobson Road | 480-644-0267 |
| Mesa, AZ | Pima Medical Institute – Power Road Campus | 2160 S. Power Road | 480-644-0267 |
| Glendale, AZ | Providence Training Institute | 9189 N 59th Ave #2 | 602-606-8879 |
| Queen Creek, AZ | Queen Creek High School | 22149 E. Ocotillo Rd | 480-987-5965 |
| Somerton, AZ | Regional Center For Border Health, Inc. Dba College Of Health Careers | 950 E. Main Street, Building A | 928-315-7600 |
| Yuma, AZ | Regional Center For Border Health, Inc. - Aztec Dba College Of Health Careers | 330 W. 24th St. Ste-2 | 928-314-1918 |
| Parker, AZ | Regional Center For Border Health, Inc. Dba College Of Health Careers Parker Campus | 601 Riverside Dr #7 | 928-669-4436 |
| Rio Rico, AZ | Rio Rico High School | 590 Camino Lito Galindo | 520-325-4870 |
| Bullhead City, AZ | River Gardens Rehab & Care Center | 2150 Silver Creek Rd | 928-763-8700 |
| Scottsdale, AZ | Saguaro High School | 6250 N 82nd St | 480-484-7100 |
| Phoenix, AZ | Star Canyon School Of Nursing | 8900 N Central Ave #104a | 602-943-1337 |
| Mesa, AZ | Sun Valley High School | 1143 S Lindsay Rd | 480-497-4800 |
| Peoria, AZ | Sunrise Mountain High School | 21200 N 83rd Ave | 623-487-5125 |
| Scottsdale, AZ | Thunderbird Adventist Academy Na Program | 7410 E Sutton Dr | 480-634-6876 |
| Cottonwood, AZ | V'acte-valley Academy For Career & Technology Education (Fka Mingus Union High School) | 3405 E. State Route 89a, Building B | 928-634-7131 |
| Tempe, AZ | Valley Vocational Academy | 1845 E Broadway Rd #114 | 480-247-9388 |
| Prescott, AZ | Yavapai Community College – Main Campus | 1100 E. Sheldon Street | 928-445-7300 |
| Clarkdale, AZ | Yavapai Community College – Verde Valley Campus | 601 Black Hills Dr | 928-634-7501 |
CNA Classes In Other States: