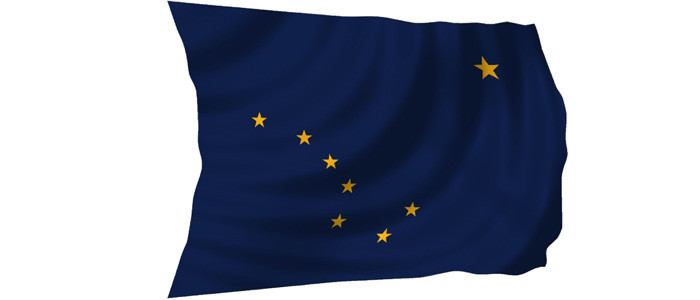 Over the years, the demand for healthcare professionals in Alaska is increasing based on the data released by the Alaska Department of Health. In fact, it is estimated that the state of Alaska will have a vast job vacancies in order to replace the retiring members of the medical field in the next coming years.
CNAs, as well as licensed practical nurses, are much needed in several health care institutions. If you are interested in becoming a CNA or Certified Nursing Aide, there are several programs in Alaska that can help you obtain a certification. Having such certification signifies that you have the appropriate credentials and have undergone proper training in working with the patients. This is necessary for all Certified Nursing Aides because they are the primary healthcare professionals who care for the ill and aging clients.
CNA Programs and Requirements in Alaska
To be eligible for enrollment in one of the Alaska's CNA programs, an applicant must be at least 18 years old with a high school diploma or GED certificate, a clean criminal record, a negative TB test report of last 6 months, an immunization's proof, and a capability to meet the physical demands of the profession. Depending on the school or facility that offers the CNA training program, the fee that has to be submitted before enrollment can range from $1000 to $2000 with a length of about 8 to 13 weeks.
The Alaska State Board of Nursing requires approved CNA programs to have a minimum of 140 hours of instruction. This includes 60 hours of theoretical learning and 80 hours of clinical practice which is done in a hospital setting or in nursing homes under the supervision of RN or LPN. However, there are some schools that offer more than 140 hours of instruction for the CNA class.
Basically, the training for Certified Nursing Assistants do not normally take long, and it is conducted in facilities approved by the state of Alaska. If you came from other states or from Canada, you have to possess a clean license, and you should complete at least a year of clinical nursing and classroom experience. Original documents should be submitted together with translations. To know more about the application process, several websites on the internet provides a wealth of information particularly the Nurse Aide Registry of Alaska. There will be fees associated with CNA registration, and it includes $50 for the application, $100 for certification fee, $60 for fingerprint processing, and $50 for the examination. Candidates who choose to undergo an oral examination have to pay an additional $5, which means there is a total due of $260 or $265 for the exam itself.
The training program will teach you the necessary skills that every Certified Nursing Aide should possess. Since the CNA profession has similar duties and responsibilities of a nurse, you will be trained in medical terminologies, basic patient care, vital signs taking, proper grooming and bathing, feeding and many others. Prospective students should meet the required number of hours for classroom sessions and field training before they can become eligible for the certification examination.
CNA Certification Requirements in Alaska
Within twenty-four months from completion of an approved CNA program, all applicants must pass the state CNA exam administered by Pearson VUE. The state of Alaska uses the National Nurse Aide Assessment Program (NNAAP) examination for the inclusion of successful test takers into the Alaska Nurse Aide Registry. These exams are based on the knowledge and skills taught during an approved CNA training program.
The examination is divided into two parts; the written test and clinical skills test or CST. If you cannot pass one of these exams, you will have to take it again in order to get certified. The certification will serve as proof that you can do the tasks of a CNA and that you are eligible to work in any medical facilities.
Essentially, the exam is consist of a written test with multiple-choice questions on physical care, psychosocial care and job responsibilities of nursing assistants. The clinical or practical exam, on the other hand, includes a demonstration on various nursing skills, such as moving patients, maintenance of hygiene, providing medication to patients as instructed by the registered nurse, taking vital signs and subjective measurements, etc. During the clinical examination, the examinee is required to perform five randomly selected nursing assistant skills out of a set of twenty-five competency skills.
Upon successful completion of the exam, a candidate's name will be placed on the Alaska Nurse Aide registry that maintains all records of Certified Nursing Assistants in the state. Recertification is necessary every two years and applicants are required to have 12 hours of continuing education and 160 hours of work experience as a nursing assistant to obtain their license again.
The renewal of the license is based on the regulations imposed by the Alaska Nurse Aide registry. Most of the time, this should be done before March 31st. Individuals who work as nursing assistants will have to follow the requirements to be in the register while on a professional practice. Nevertheless, working as a Nursing Aide in different healthcare institutions is a great path to take considering that there are several job opportunities available in the state.
CNA Salary and Job Outlook in Alaska

Students earning their certification in the state of Alaska can kickstart their career as certified nursing assistants at various health care and allied health care settings like convalescent homes, long-term care centers, nursing homes, hospitals, elderly care centers, home health agencies, etc.
Presently, Certified Nursing Assistants in the state of Alaska are among the highest paid CNAs in the US which is around $37,200 on average. CNAs with more years of work experience receive better hourly rates than those who just started their career. However, this profession can also be a stepping stone for a career in nursing and to other healthcare fields.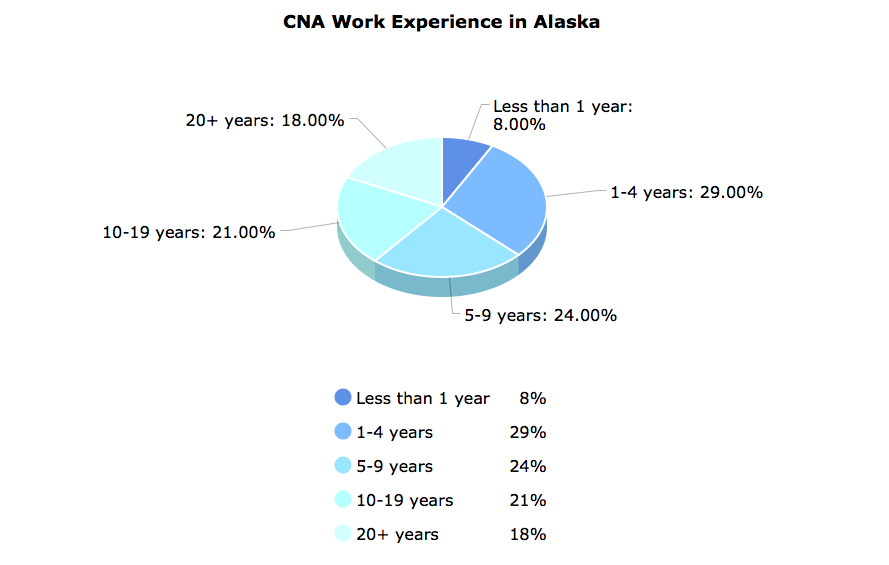 All State Approved CNA Training Programs in Alaska
The following is the most current list of State of Alaska approved Nurse Aide training programs. For specific information about the programs, locations, availability, dates, times and fees, please contact the program representatives directly.
| LOCATION | FACILITY | ADDRESS | PHONE |
| --- | --- | --- | --- |
| Anchorage, AK | Alaska Cna Program | Po Box 220553 | 907-267-9113 |
| Anchorage, AK | Anchorage School District/king Career Center | 2650 E. Northern Lts. Blvd | 907-742-4136 |
| Anchorage, AK | Caregiver Training Academy | 203 West 15th Avenue #104 | 907-258-0535 |
| Bethel, AK | Bethel Cna Program/kuskokwim Campus, Uaf | Po Box 368 | 907-543-0528 |
| Chugiak, AK | Chugiak - Eagle River Health Education Cna Program | 22424 N Birchwood Loop | 907-688-2603 |
| Cordova, AK | Cordova – Prince William Sound Community College | Po Box 1248 | 907-424-7598 |
| Fairbanks, AK | University Of Alaska Fairbanks Community & Technical College | 604 Barnette Street Rm. 401 | 907-455-2876 |
| Homer, AK | Kachemak Bay Campus - Kenai/peninsula College - Homer | 533 E. Pioneer Ave | 907-235-7743 |
| Juneau, AK | Juneau – University Of Alaska Southeast | 1415 Harbor Way | 907-796-6125 |
| Ketchikan, AK | Ketchikan – University Of Alaska Southeast | 2600 7th Avenue | 907-228-4537 |
| Kodiak, AK | Kodiak College | 117 Benny Benson Dr | 907-539-2805 |
| Kotzebue, AK | Kotzebue - Alaska Technical Center | Po Box 51 | 907-442-3733 |
| Nome, AK | Nome - Uaf Northwest Campus/norton Sound Health Corp. | Po Box 966 | 907-443-9588 |
| Palmer, AK | Alaska Job Corps | 800 E Lynn Martin Dr | 907-861-8808 |
| Petersburg, AK | Petersburg Medical Center | Po Box 589 | 907-772-4291 |
| Sitka, AK | Sitka – University Of Alaska Southeast | 1332 Seward Avenue | 907-747-9476 |
| Soldotna, AK | Heritage Place | 232 Rockwell | 907-252-7337 |
| Soldotna, AK | Kenai Peninsula College/kenai Peninsula School District | 156 College Road | 907-262-0379 |
| Valdez, AK | Valdez – Valdez Combined Program-providence Valdez Medical Center/prince Williamsound College | Po Box 550 | 907-834-1801 |
| Wasilla, AK | Mat-su Career & Tech High School | 2472 Seward Meridian | 907-352-0426 |
| Wrangell, AK | Wrangell Medical Center | Po Box 1081 | 907-874-7000 |
You can also check the Nurse Aide Registry in Alaska at
Lisa Maroney
Nurse Aide Registry
Department of Commerce, Community &
Economic Development
Division of Corporations, Business & Professional
Licensing
550 W. 7th Avenue, Suite 1500
Anchorage, AK 99501
Phone: 907.269.8169
Fax: 907.269.8196
Email: Lisa.Maroney@alaska.gov
Website:
https://www.commerce.alaska.gov/web/cbpl/Pr
ofessionalLicensing/NurseAideRegistry.aspx
CNA Classes In Other States: