Full CNA Scholarship at IT Works Learning Center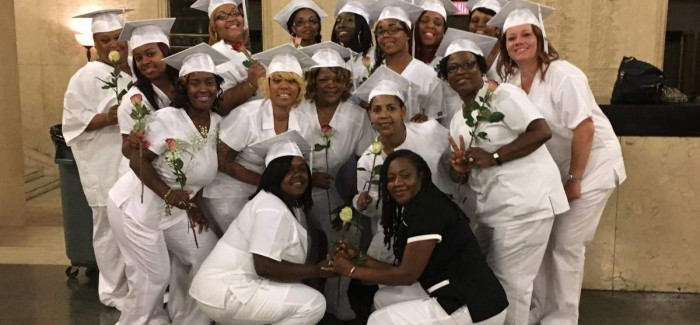 Updated Dec 3rd, 2016
We are pleased to announce a FULL SCHOLARSHIP for Baltimore City residents for the It Works Learning Center – Certified Nursing Assistant and Geriatric Nursing Assistant Certified Training Program. Celebrating our 19th year in business! As heard on 92Q radio! Visit us on www.itworkslearning.com and like us on Facebook.
► Be a Licensed Nursing Assistant in 13 weeks
► All tuition, books, materials, CNA/GNA licenses included
► Board of Nursing approved part-time Evening class!
► No hidden costs! Lab fees, clinical fees and graduation fees included!
► Classes held on Mon and Tue 5-11pm
► Class start Dec 12, 2016
► Class completes Mar 10, 2017
► LIFETIME JOB PLACEMENT!!!
To qualify for this scholarship:
* Live in Baltimore City, including Westside and Eastside
* 18 years or older
* HS/GED or transcripts
* Clear background, no exceptions
* Drug free, no exceptions
* Pass the TABE assessment test
* Able to work full-time in a nursing home for a year.
If you do not qualify for this scholarship, we have pay-as-you-go weekly, bi-weekly and monthly tuition plans.
That's why IT WORKS! — The skills to pay your bills.
INFORMATION SESSIONS – Call It Works to pre-register for your seat in an Information Session Mon-Fri 9am-5pm at (410) 626-0200. First-come-first-served. Limited seating. Enrollment is not guaranteed.
Option A: Tue, Dec 6 @ 5pm sharp!
Option B: Thu, Dec 8 @ 5pm sharp!
IT WORKS LEARNING CENTER, INC. @
Fayette Health and Rehabilitation Center
1217 W. Fayette Street
Baltimore, MD 21223
MTA BUSES: 1, 10, 15, 20 or 35
There is no commitment or cost to attend an information session, so please join us if you're interested in learning more and bring any eligible friends and family. Please do not bring any young children to the facility!
DIRECTIONS: Located on the Westside, at the corner of N. Carey Street in Poppleton, about 6 city blocks from MLK Blvd.
DOCUMENTS – To qualify for the scholarship, please bring
1. Picture ID
2. Social Security Card
3. Birth Certificate, Passport or Permanent Resident Card
4. HS/GED
5. Proof of Baltimore City address (i.e. utility bill, lease, business mail, benefits award letter, etc.)
IF YOU DO NOT QUALIFY FOR THE SCHOLARSHIP – You do NOT need your HS/GED or Proof, but you will need your $50 registration fee to reserve your seat in class.
NOTE: If you do not have all of your documents ready, you should still attend the registration, you will be able to provide any missing documents at a later date.
PROGRAM INFORMATION
Since 1998, It Works Learning Center, Inc. has trained thousands of graduates and placed them in employment in and around Baltimore City. Our CNA/GNA program is licensed by and in good standing with the Maryland Board of Nursing and the Maryland Higher Education Commission. We are also a WIOA eligible school.
ALL CLASSES ARE SUBJECT TO CHANGE.
New Day and Evening classes forming monthly. We also have a Dec 17 weekend class at Anne Arundel Community College in Hanover/Arundel Mills – Financial Aid is available.
LIFETIME JOB PLACEMENT
We provide all of our graduates with lifetime job placement services. Using our proprietary job tracking system, we are able to maintain a current list of job openings.
TUITION
If you do not qualify for the scholarship…
Our program is competitively priced at $1,800.00 for both the Certified Nursing Assistant AND Geriatric Nursing Assistant tuition. This INCLUDES your textbook, work book, skills book, stethoscope, nurse's watch, lab fees, clinical fees, graduation fees, unlimited GNA review classes and Lifetime Job Placement. After payment of your $50 registration fee, $350 is due at the class start to receive your books and supplies. Your remaining $1,400 tuition balance can be paid $175 weekly (8 payments), $350 bi-weekly (4 payments, odd or even weeks), or you can pay $600 monthly (3 payments). No other tuition plans are available for this class and we do not offer financial aid.
HEALTH SCREEN
Students may provide their own pre-employment drug screen/urine toxicology and tuberculosis/TB test or can have this done in class for $60. Included for scholarship recipients.
CPR
Students may provide their current, valid "Healthcare Provider" or "BLS" CPR certification from American Red Cross or American Heart Association or can have it done in class for $60. No other CPR certifications are acceptable for this program. Included for scholarship recipients.
SCRUBS
All students must provide their own scrubs — any color or pattern in class and all white scrubs must be worn at the graduation.
If you have any further questions, you can reach a live member of our staff between 8:30 am and 5:00 pm Monday through Friday at (410) 626-0200 or you can reach the automated system after hours or visit us at www.itworkslearning.com. Like us on Facebook for regular updates.
NB! Our website does not endorse any particular program- we simply provide information about available programs out there. If you find out that the training option is no longer available please contact us! We do not hold the copyright for the images used above.